14 Quick Stress Relievers For Women (Not Exercise or Sleep!)
Stress relievers for women? 
Don't worry; this won't be about exercise or sleep advice. Because what about if you need simple stress relievers you can use right now? 
I'm no stranger to chronic stress and its impacts both through life experiences and my years as a practicing Social Worker. But I've learned practical and effective ways to reduce stress and wanted to share these 14 powerful and proven stress relievers for women like you.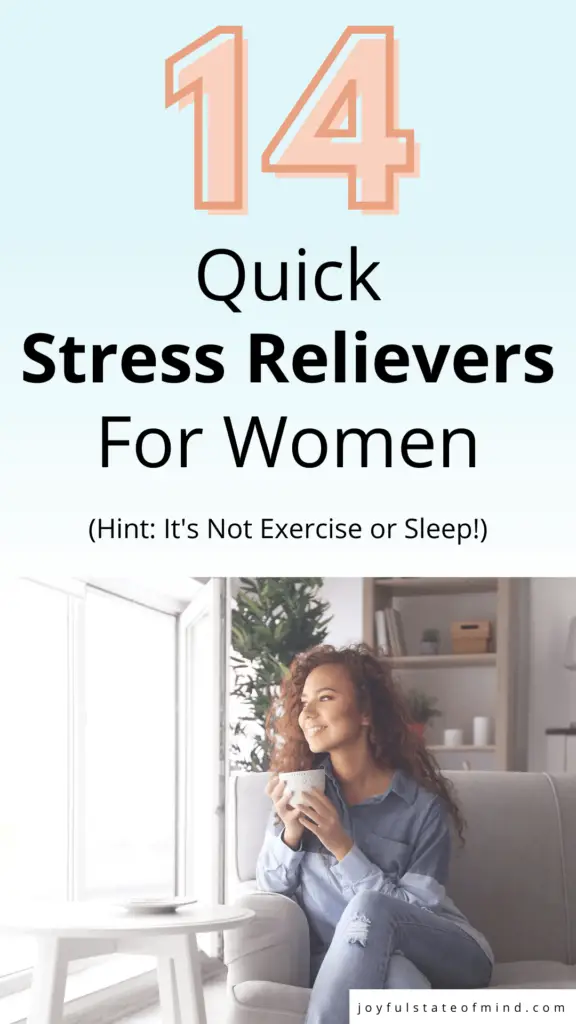 This post contains affiliate links, which means I may earn a small commission if you make a purchase, at no cost to you. See my disclaimer for more info.
Those Stressful Workdays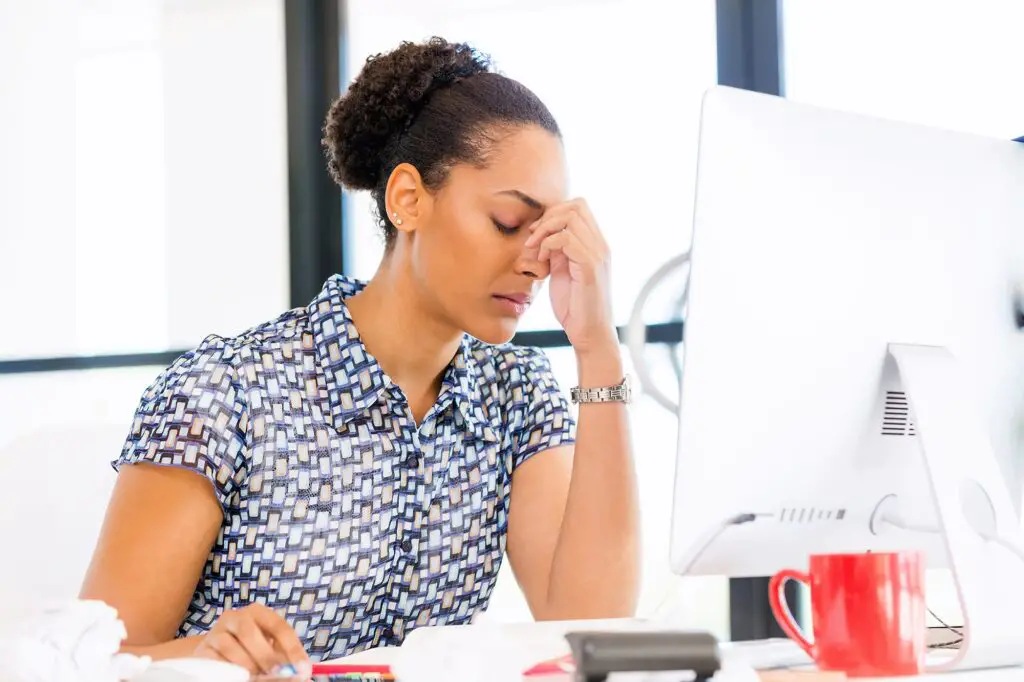 One morning as I'm driving to work, I get a call from my supervisor (never a good sign), who tells me there's an issue I need to deal with as soon as I get in-yikes.🤦🏻‍♀️ 
I get off the phone, my stomach in knots as I feel my anxiety and stress level rise, meanwhile I'm not even in the office yet. 
When I walk in, my secretary hands me a sticky note with people I need to call, and all I can see is that voice message flashing light on my phone like a blinding light. 
The day unfolds; I barely drink water, skip lunch, have a terrible headache while trying to juggle a million things at once. Before I know it, it's 5 pm, and I realize I'll be at the office another couple of hours to finish everything.
There Is A Way Out
This was a typical day at work, and I know you're in that same boat of stress, overwhelm and exhaustion. Whether it's work, school, a relationship, parenting, side hustles or most likely a combination of all of them (plus more) causing your stress.
But I know things can improve for you. Despite hustle culture and unrealistic expectations of women, you don't have to accept merely surviving stress as a way of life and being too exhausted to relax or have fun.  
With the simple stress relievers for women I'm sharing below, you can better manage and reduce your stress. They are easy but can make a big difference in how you're feeling. 
The trick is being gentle with yourself and tending to your needs through self-care because when you take care of yourself you'll reduce your stress. 
The Important Difference Between Stress and Stressors
Before diving into these stress relief techniques, it's essential to understand the difference between stress and stressors.
I never gave much thought to the difference between the two until I read,  "Burnout: The Secret To Unlocking the Stress Cycle." I highly recommend this book to any woman struggling with stress and overwhelm.
The authors give insight into how stress works in addition to practical tips on minimizing stress to live more joyfully. So let's take a look at the difference…
Stressors are the things that cause you stress. They can be events, people, situations, and even thoughts you perceive as dangerous or possible threats. 

External stressors include work, money, time, family conflict, illness and expectations. Internal stressors can be even more harmful but often go unnoticed since they're not right in front of us. Examples of internal stressors are self-criticism, identity, body image, memories and thinking about the uncertainty of the future. (1)
Whereas stress is our body's emotional and physical response to those possible threats. It's a state of psychological strain or tension in our bodies resulting from our stressors. (2)

Interestingly, stress is a physiological response that helps protect us from harm, which brings me to the next point.
Stress Is Good, Say What?
Even though we may not be able to eliminate stress entirely, there are strategies and habits that will help you cope. 
And surprisingly…
Some stress is good for you since our stress response is a tool our minds and bodies use to help overcome challenging situations or obstacles. (3)
Stress is our body's fight-or-flight response which is helpful in dangerous situations because it gets us to act quickly and keep us safe. For example, running if we need to leave a dangerous situation. 
The problem is chronic stress and not dealing with or managing it. This constant stress can lead to anxiety, depression and long-term health issues like heart disease.
I know firsthand the debilitating impact of chronic stress as I dealt with it for decades and just kept pushing through. That was a significant factor that caused my anxiety, and I don't want that for you.
Let's Get Through This Together
After decades of ongoing stress, I've learned to manage it using simple strategies, mindset shifts, and most importantly practicing self-compassion. I'd love to welcome you into the community so we can get through this together. 
Click the link in the box below to sign-up for my biweekly emails and get your FREE bonus delivered to your inbox, a practical cheat sheet to reduce stress and have more time for what you love. Here's what a reader had to say about this cheat sheet:
"I have my cheat sheet at my desk. 🙂 I am definitely going to start implementing these into my life. Saying 'no' is a big one for me, but I am finding it more and more necessary to create a better life. For those of you who aren't subscribed and may see my comment, it is pure gold, just like this post!"  –Ashley
BONUS: Don't miss out, get your free handy cheat sheet:
The Master Key to Unlocking More Free Time & Reduce Stress: 8 Easy + Unconventional Techniques.
14 Simple Yet Powerful Stress Relievers for Women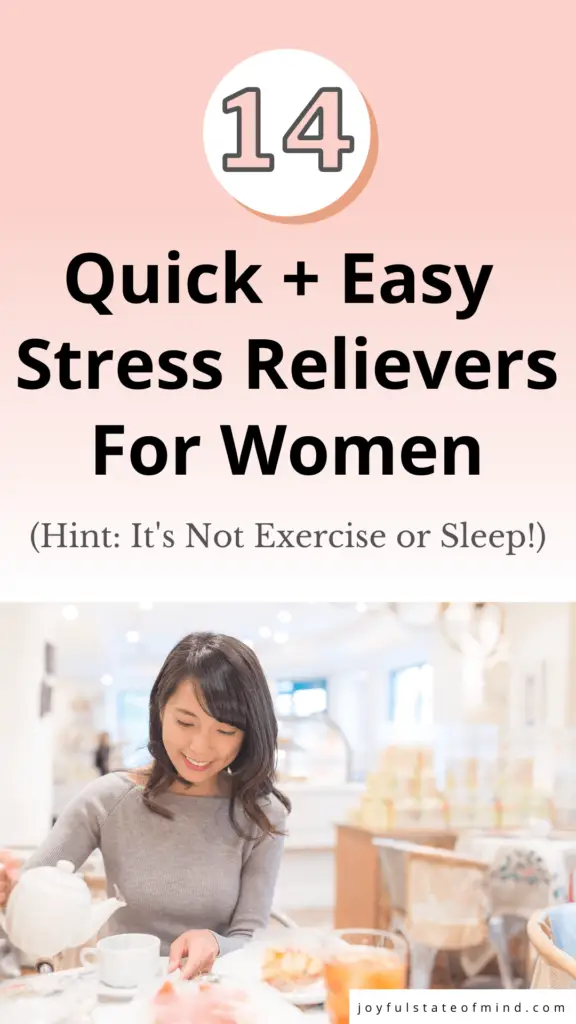 These are my go-to stress relievers for women and are all backed by science. They don't require a lifestyle change and are positive habits to develop for a healthier life.
Pick a couple to start with–many of them take only minutes and through trial-and-error, you can see what works best for you.
_______________
1. Use Your Senses.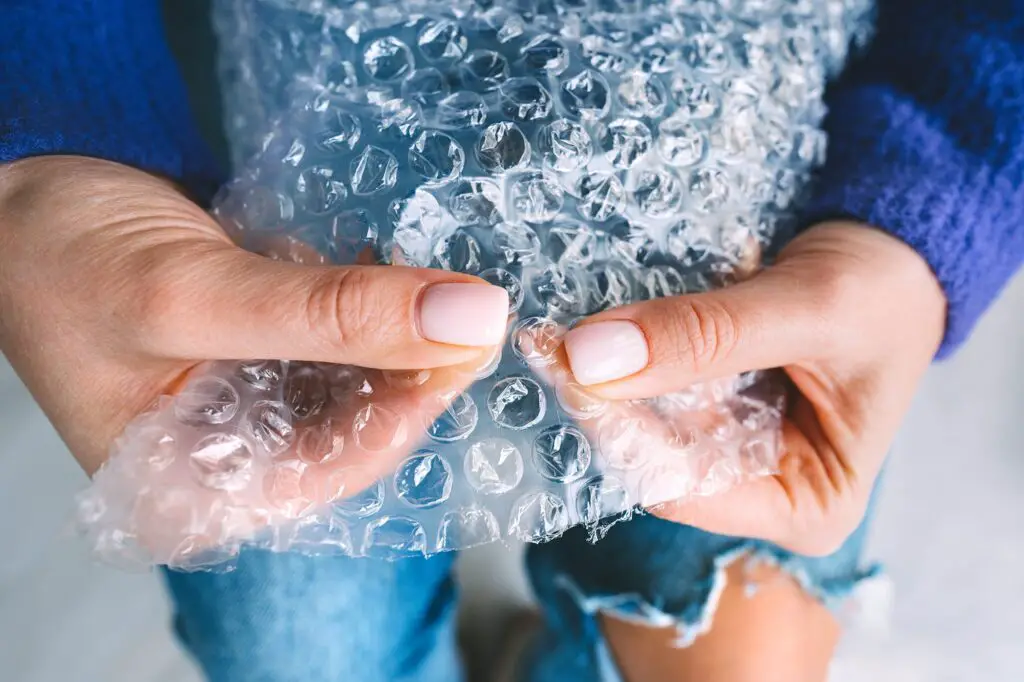 Sensory activities are an easy and effective way to destress because they increase awareness of our fingers and the present moment we're in. This helps reduce stress and as a result, promotes better concentration.  
Here are some examples to try:
Similar to bubble wrap, a new toy my girls love to play with is Pop It's. They keep the kiddos busy and entertained, plus they're inexpensive and a sensory stress-reliever for adults. 
Or if you like baking or cooking, try making some bread since kneading dough is a satisfying and calming activity.
Other simple ideas just using your body: 
Hand squeezes
Wall pushes
Do some superhero poses. (It may sound silly, but give it a try. I'm a firm believer in lighthearted fun and laughter as medicine for our souls and minds. Laughter is one of the best stress-relievers.)
2. Travel To The Past.
Looking through old photo albums from trips, family events, and other special occasions always helps ease my mind since it takes me back to those happy moments. This is one of the simplest stress relievers for women that I use and I encourage you to give it a try.
Recalling positive memories is an easy but powerful way to release tension, also old pictures and mementos remind us that things will change, and this stress will pass.
DIY Idea: I created a vacation memory box and have a collection of sentimental things I've collected on trips from seashells to postcards, fridge magnets, plane tickets, show tickets, and other memorabilia. 
If you're not creative, pick up a decorative box from a dollar or hobby store. Opening that box will be an instant happiness booster since it brings back special and unforgettable memories.
A couple of my photos from the past that instantly put a smile on my face: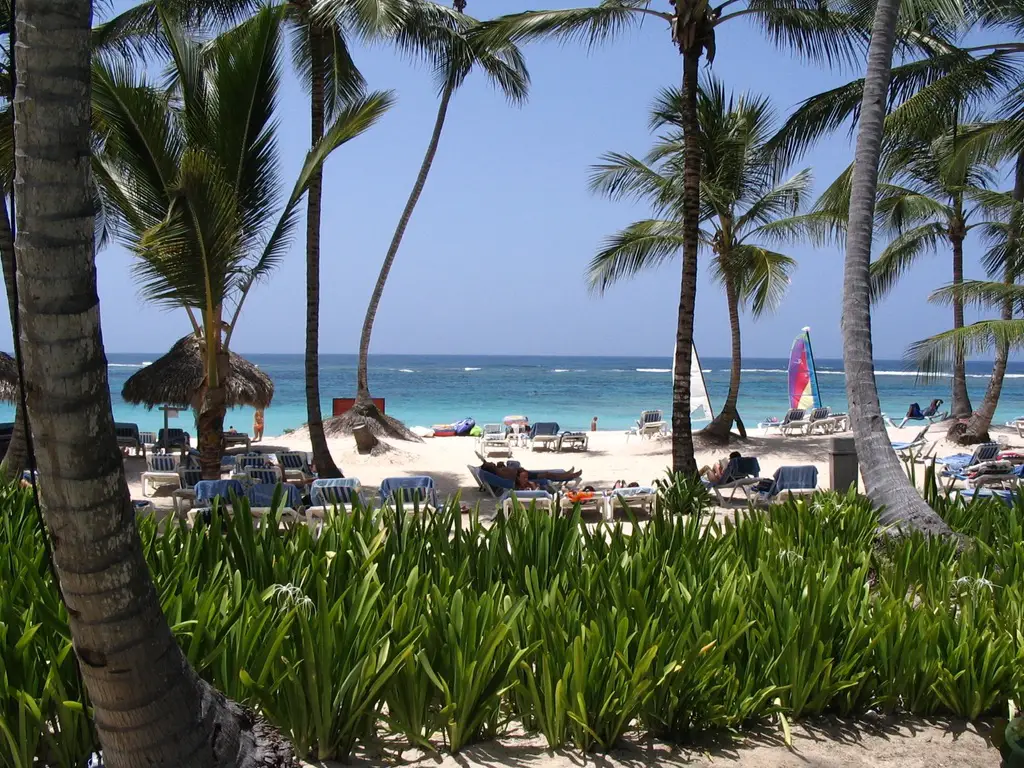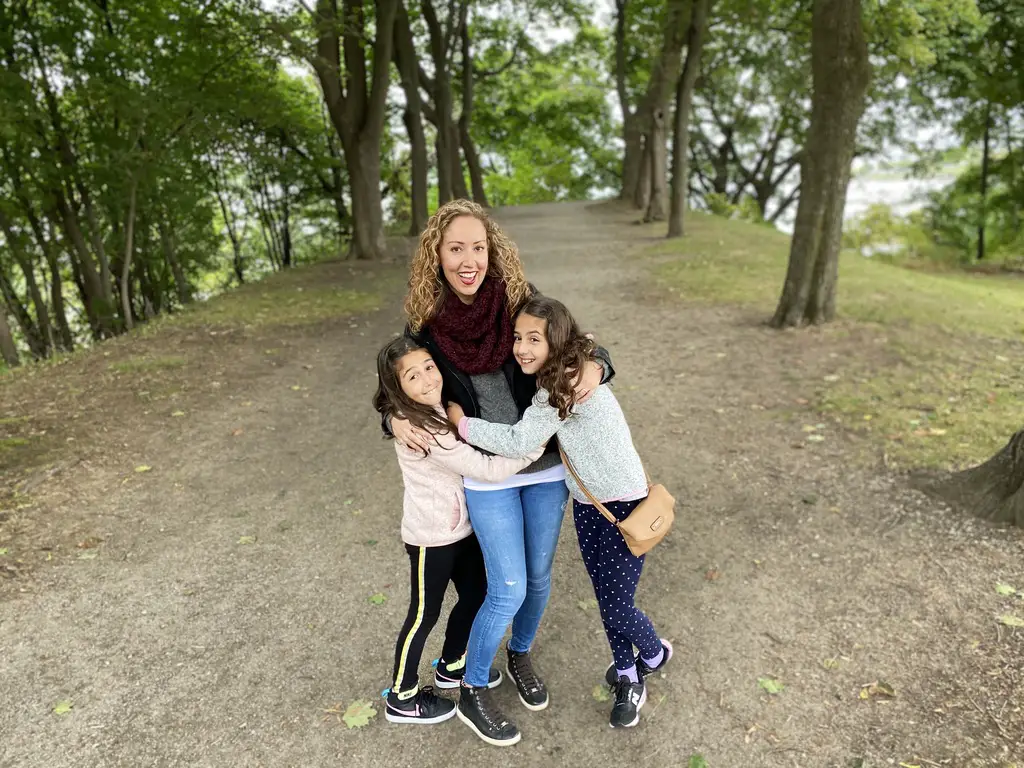 3. Treat Yo'Self To Dark Chocolate
Eating more dark chocolate is a habit I think we can all get used to.🍫😋 
Not only is dark chocolate delicious, but it's also nutritious and has many health benefits, including reducing stress, lowering blood pressure, reducing the risk of heart disease, and improving brain function. (4)
The trick is to get a good quality dark chocolate that contains at least 70% cocoa. The best dark chocolate should have few ingredients, and cocoa or chocolate liquor should be listed first. (5)
4. Jot It Down.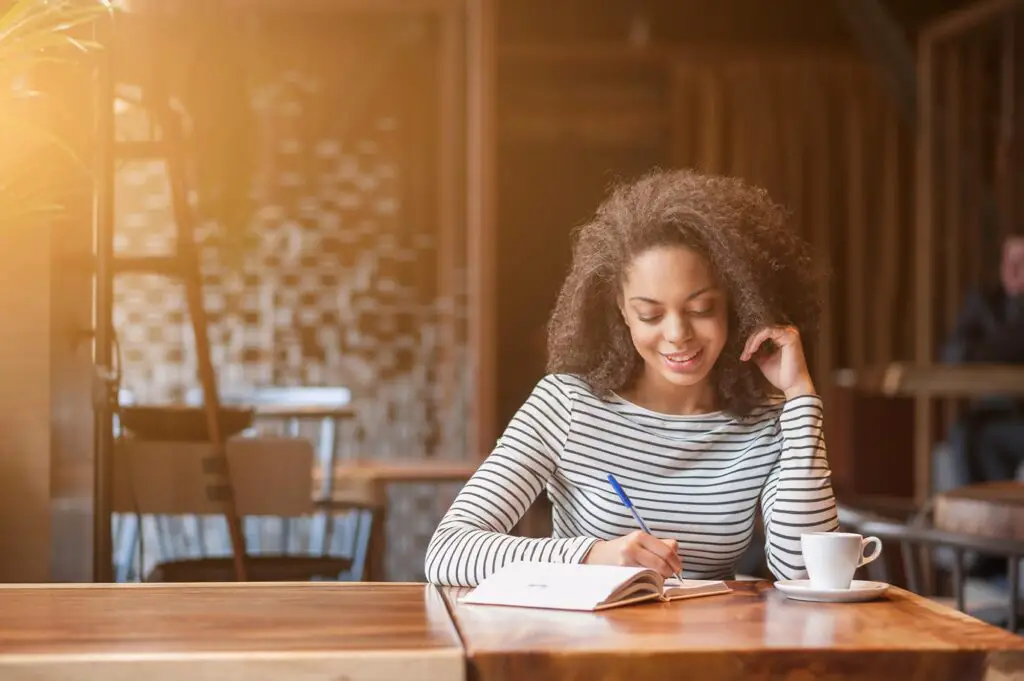 Journaling has many benefits, and helping you destress is one of them specifically when you try stress-relief journaling. Journaling is also one of the most used stress relievers for women.
Stress-relief journaling doesn't have to be an hour-long writing session (although if you want it to be, that's fine too). 
Take 5-10 minutes and try answering some of the following stress relief journal prompts:
What has helped when you've felt stress in the past?
What steps can you take right now to overcome this stressful situation? Give 1-3 strategies (deep breathing, prayer, yoga, talking to someone, crying it out, hugging a loved one, etc.)
Write about one person you're grateful for and why.
Try a brain dump and write out everything that's on your mind, no matter how silly or crazy it might seem. Show yourself grace, and don't judge yourself.
What is a positive takeaway or something you learned from this situation, person or event? 
Journaling provides a safe place to be vulnerable and process challenging feelings or overthinking. It's important to be honest and authentic, write whatever you feel, and don't hold back. 
5. Enjoy the Silence.
Prayer time is one of the more calming stress relievers for women. If you're not a spiritual person, this is still something you can try if you're comfortable with it. Alternatively, sitting somewhere quiet and doing deep breathing is another helpful way to destress.
Sitting in silence while talking to God about what's stressing or weighing you down and asking for His guidance, protection and support is a powerful way to relax and recenter. 
It's my top go-to stress reliever as I feel more at peace and a sense of relief because I can let go knowing that not everything is in my control.
A Harvard Medical School psychology professor, Dr. David Rosmarin noted:
"…the research that has been done on prayer shows it may have similar benefits to meditation: It can calm your nervous system, shutting down your fight or flight response. It can make you less reactive to negative emotions and less angry." (6)
6. Soak In Salt.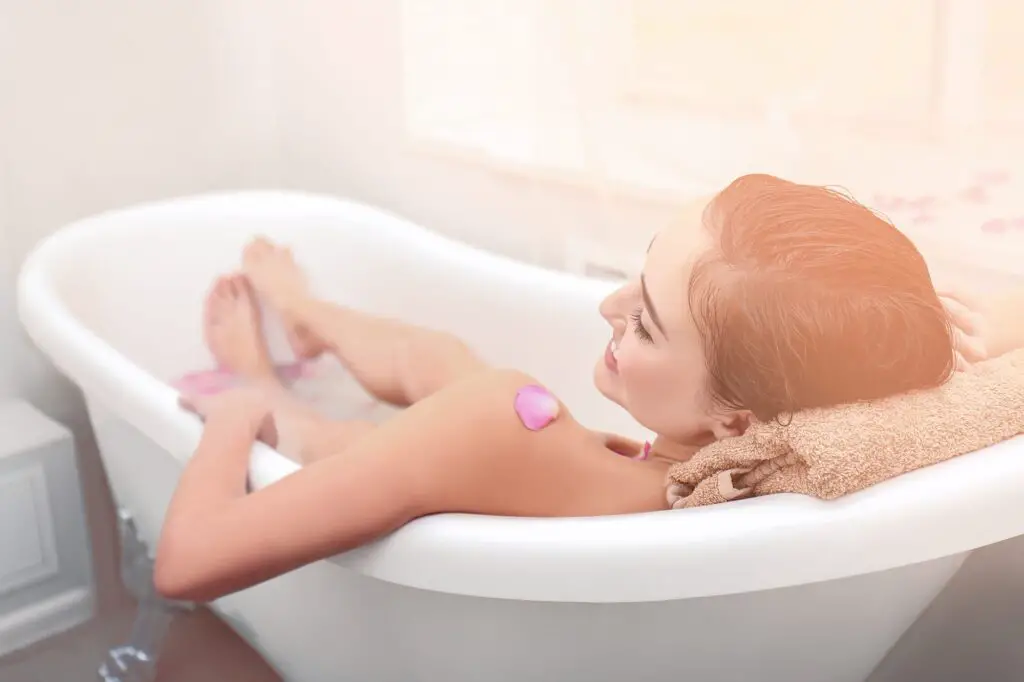 A warm bath (or shower) is a proven way to relax and unwind after a bad day. 
Stress has many negative impacts on our bodies and minds such as causing depression and anxiety, tension, headaches, stomach aches, back pain, and more. 
Stepping into soothing warm water with bath salts is a therapeutic way to calm yourself down and let go of those stressful feelings. 
Fun tip: To create a spa ambiance, use this beautiful essential oil aromatherapy diffuser lamp, play relaxing music and light some candles. You can also use this diffuser in your office, bedroom or any space to create a more enjoyable relaxing environment.
7. Give Big Bear Hugs.
Who doesn't love hugs? Hugs actually strengthen our immune system and increase our level of happiness because of the close contact and bonding they promote. 
Hugs are proven to lift your mood as they help your body and brain boost feel-good chemicals such as dopamine, serotonin, and oxytocin. (7) 
Deep or big bear hugs have even more benefits. For example, a 20-second hug reduces the harmful impact of stress, lowers our blood pressure, and even helps with heart health. (8)
8. Take Up This Popular British Pastime.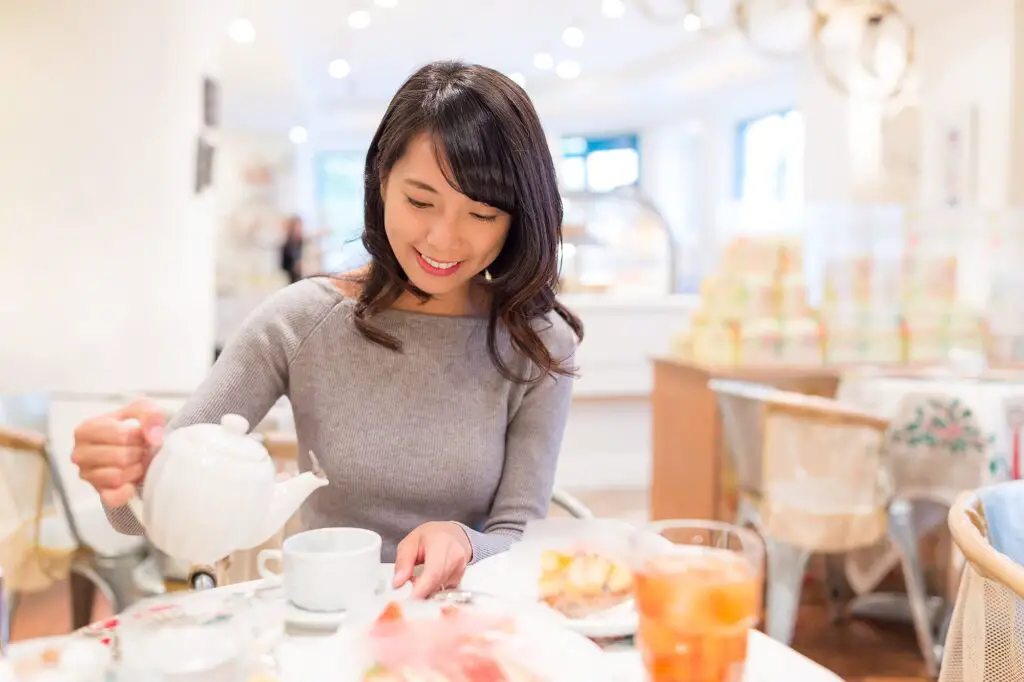 Have you ever gone for high-tea as the English often do? 
Black tea and some herbal teas promote feelings of calmness and are also perfect for warming up on a winter day.
Not only is it relaxing, but certain teas have health benefits that can help reduce stress and anxiety and may reduce your risk of heart disease. (9)
According to some studies, two of the best options are Chamomile and green tea given that chamomile is known to reduce stress, and green tea calms the mind.
9. Attack Your Tension.
Who doesn't love a relaxing Swedish massage or foot massage at the spa? Even though you can't always treat yourself or have the time to go on a stressful day, you can give yourself a relaxing massage with these cost-effective gadgets:
I have this Shiatsu neck and back massager, and it works wonders. Like many people, I carry all of my tension from stress in my neck and shoulders, so I love using this massager after a stressful day. 
I get comfy on my sectional, throw a blanket on and give myself a massage for anywhere from 10-30 minutes. After a bad day, this is a great way to unwind and squeeze in self-care time. 
10. Visit Your Happy Place.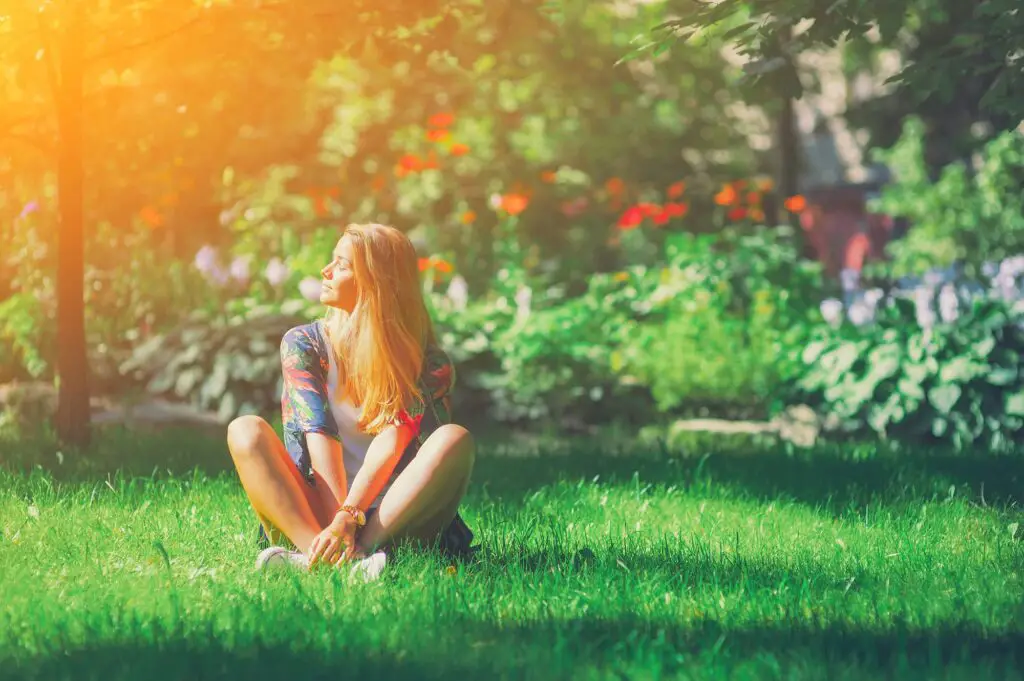 It's probably not likely that you can physically visit your happy place in stressful moments since you're probably at work or busy at home. But that doesn't mean you can't have the benefits and incredible feelings those places bring you.  
Visualization is a simple relaxation technique that anyone can use to lower stress. 
You use your five senses to imagine yourself in a place that makes you happy.
This is a step-by-step visualization technique you can try:
Find a quiet and safe space where you can spend a few minutes without distractions.
Put on some calming spa or nature music (optional).🎶
Then begin to imagine somewhere you feel calm and happy.
Close your eyes and think about every detail of that place.
Then one by one, go through all five senses, starting with sight. Imagine what you're seeing and say this aloud with a gentle tone. For example, crystal clear water, bright sunshine, and white sand as far as I can see. Then move on to smell and so forth. 
By mentally placing yourself there, you can calm your mind and body since it evokes positive feelings. 
Visualizing helps lessen your body's negative responses, such as shallow breathing, muscle tension, and a racing heartbeat when dealing with heightened stress. 
Your mind may drift, and that's okay; do your best to focus back on that beautiful place you love.
Related post: Simple Visualization Exercise
11. Tense Up To Calm Down.
Progressive muscle relaxation is a helpful way to release tension when you're experiencing stress and is one of the powerful stress relievers for women. 
To do this, you'll be tensing each muscle (not to the point of pain) and then gently releasing that tension.
We'll start with your toes and then repeat these steps as you work up your body, tensing all of the muscles up to your head:
 Sit back or lie down in a comfortable position where you are free from distractions. Then close your eyes.
Tense the muscle in your toes by curling them in. Then notice how it feels when you tense up your foot. Hold that for 5 seconds.
Then release the tension from your toes and let them relax. Notice how your toes feel differently after you release the pressure.
Next, tense the muscles in your calf and hold that for 5 seconds. Notice how it feels when you tense your legs up.
Now release the tension from your calf and notice the feeling of relaxation and how much better it feels. 
Repeat moving up your body. (10) 
For a detailed progressive relaxation script to follow along, click here.
The more you practice, the easier you'll be able to relax when you're stressed, and your adrenaline and mind are running a mile a minute.
12. Love Your Pet.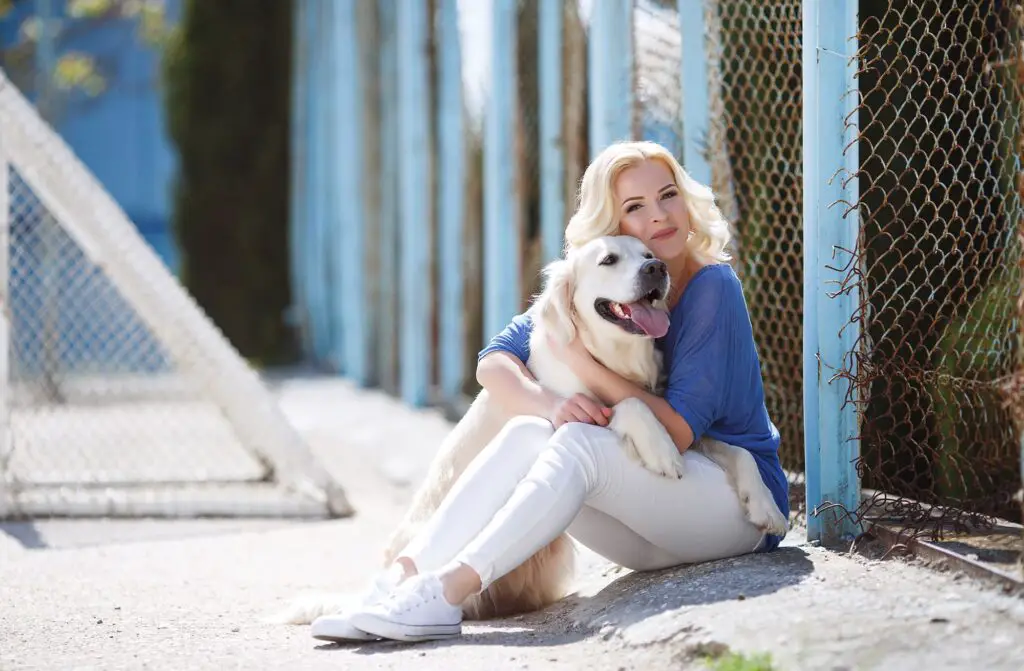 Like hugging a loved one, cuddling or sitting with your pet on your lap has benefits and can easily lift your spirits.
It's also an activity that bonds you to your pet and helps release tension. 
One study from UCLA found that when a therapy dog visited heart patients, their stress hormones fell 20%, and they were 25% less anxious. (11)
13. Grab'N'Go.
Some foods help reduce stress because of the nutrients, healthy fatty acids, and antioxidants they contain. 
For example, spinach, salmon, citrus fruits, sweet potatoes, garlic, kimchi, eggs, and chickpeas.
If you don't have time to make a meal, these are some easy grab 'N' go snacks that help with stress relief: 
Pistachios 
Pumpkin seeds
Blueberries
Bananas
Sunflower seeds
Another yummy option is avocados as they have many health benefits.
Avocados are rich in omega-3 fatty acids. These essential acids are known to reduce stress and anxiety, boost concentration, and improve mood. (12)
I admit I can live off guacamole and tortilla chips because I love them. So you'll probably catch me having guacamole for breakfast, lunch, and dinner when I'm in Mexico.🇲🇽😋
14. Embrace The Power of Sound.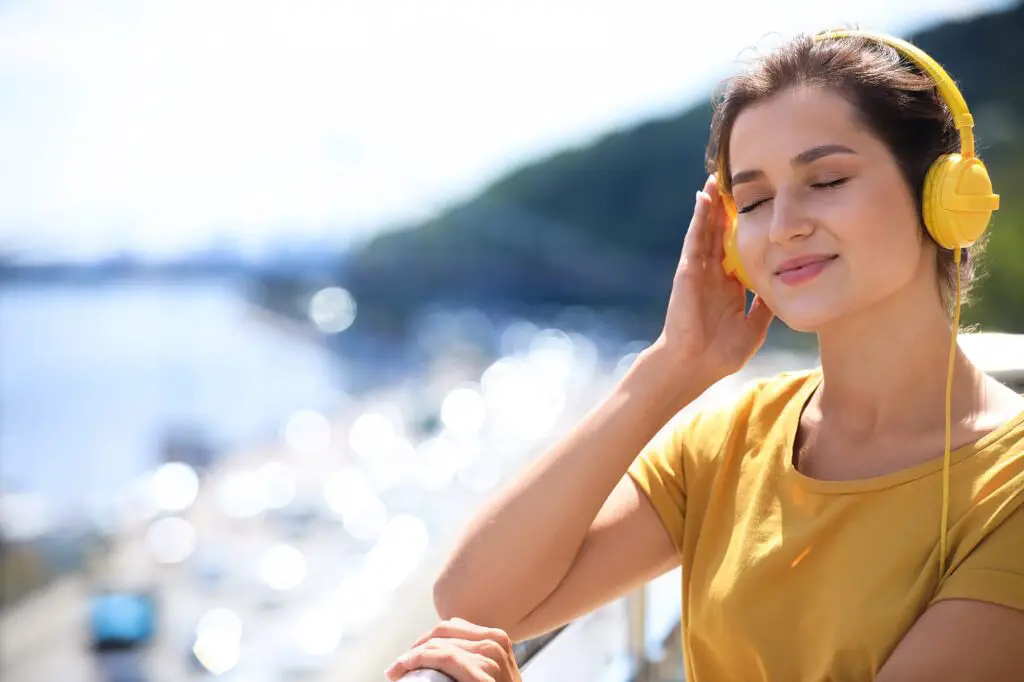 I'm a big fan of music and believe it's medicine for our souls. Also, studies have found that listening to your favourite music has many health benefits. (13) 
Not to mention it's an easy and budget-friendly way to destress and lift your spirits.
Some of the benefits of listening to music are (14):
Soothing pain
Reducing stress and anxiety
Better sleep
Helping memory
Relaxing your body
Improving your mood
Depending on your mood, you can put on different types or genres of music or try Apple Music or Spotify to curate a list or check out their recommended lists.
When you feel stressed and want to relax, try:
Spa soundtracks
Nature sounds
Classical music
Gospel music
For a pick-me-up or energy boost, try:
70's disco
Musical soundtracks like Grease or Dancing Queen
Retro 80's
Coldplay
When you want to chill out and have some self-care time, try:
Enya
Josh Groban
Andrea Bocelli
Any soft pop
For a confidence boost or when you need to get pumped up, try:
Tubthumping by Chumbawamba
Stronger by Kelly Clarkson
Any hip-hop
No No's When It Comes To Stress Relievers For Women
As much as I love and regularly use these stress-relievers, like most of us I've also had a few unhealthy habits to reduce stress in the past. 🤷🏻‍♀️
Here are a few things to avoid when trying to address stress: 
Alcohol
Sugar
Binge-watching TV 
Mindlessly scrolling for hours 
Expensive retail therapy
And please don't get me wrong since I love cupcakes, a sip of wine, and shopping as much as any other girl. There's nothing wrong with them and treating yourself is important too but being responsible is key.
The issue is when you rely on these methods to cope with stress.
Although they can give quick relief, they don't address the root of our stressors. So other than providing a temporary high, they often cause us to crash even harder, can become dangerous addictive habits and that's what we want to avoid when dealing with stress.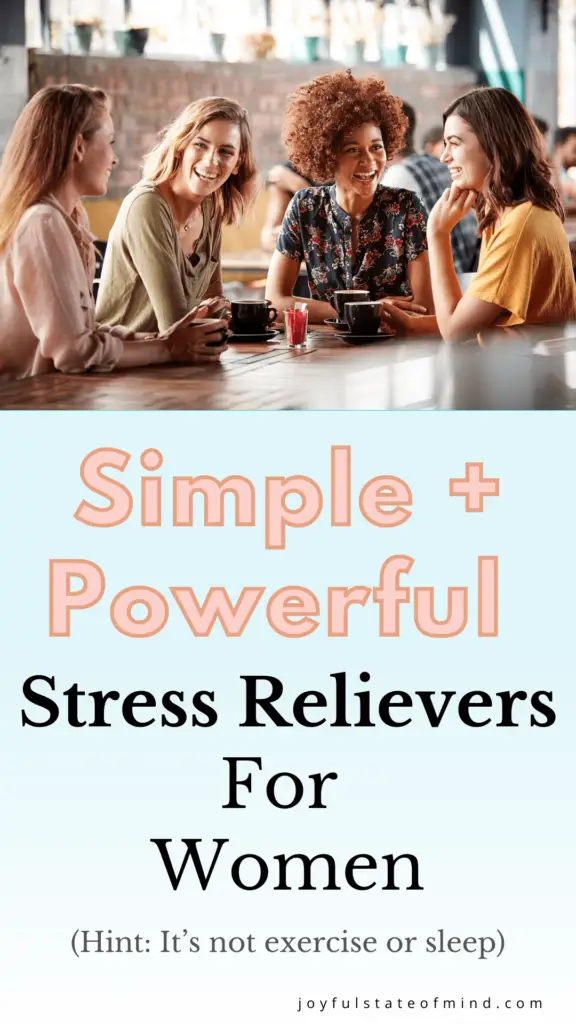 Stress-Relievers For Women: The Key To Relieve Stress
After that crazy stressful workday I had, the thing that helped me the most was meeting up with my sweet boyfriend (he was a keeper, so now he's my hubby🥰) and crying it out with him. I was a total wreck, but he listened and helped me process it and get all those feelings off my chest. 
Having a social support system to lean on is vital for coping with stress because we are social beings by nature.
You don't have to have a vast social circle; just a few meaningful, safe, and loving relationships are all you need.  
I've put effort into building a positive support system. Although it's a tiny circle (after all, I'm an introvert with social anxiety), it's one I know I can rely on, and that's more than good enough. 
Start Building Your Social Support System Now
If you don't have a good social support system, that's okay just do your best to start building one. For example, you can join a support group, connect with old friends or family, start therapy or get involved in your faith community.
I want to invite you to join the LifeShine Lane community so we can be a part of your social support system. You'll get biweekly emails with practical tips and tricks to go from constantly stressing about everything to thriving. Click the link below to sign-up. 
As a bonus, I'll send you this FREE handy cheat sheet:
The Master Key to Unlocking More Free Time & Reduce Stress: 8 Easy + Unconventional Techniques.
Bonus: Stress-Relief Quotes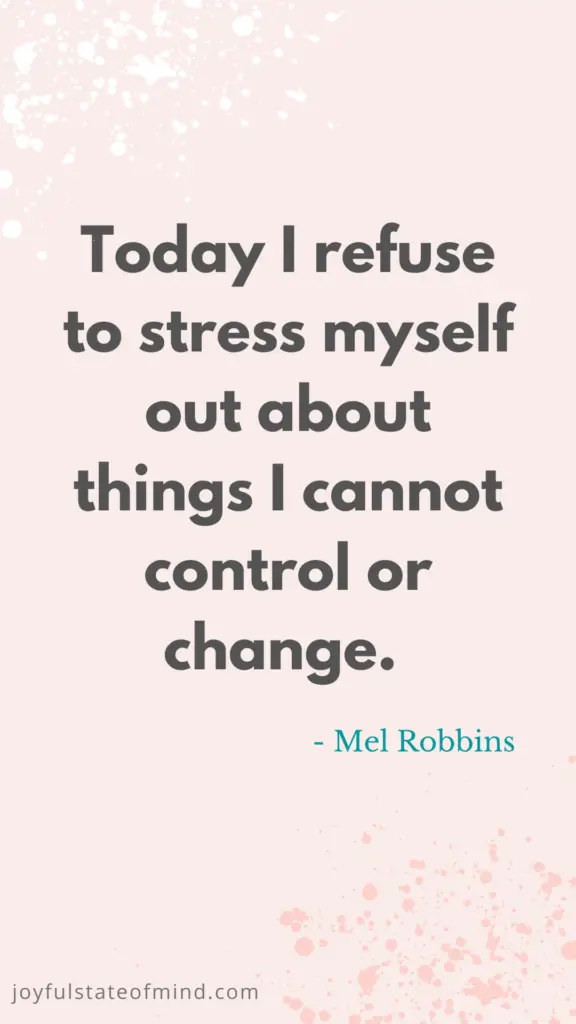 Today I refuse to stress myself out about things I cannot control or change. –Mel Robbins
I promise you nothing is as chaotic as it seems. Nothing is worth diminishing your health. Nothing is worth poisoning yourself into stress, anxiety and fear. –Steve Maraboli
Stress is largely self-inflicted, so the ability to manage stress more effectively comes from managing oneself. –Michael Hetherington
Saying yes to happiness means learning to say no to the things and people that stress you out. –Thema Davis
Stress is not what happens to us. It's our response to what happens, and response is something we can choose. –Maureen Killoran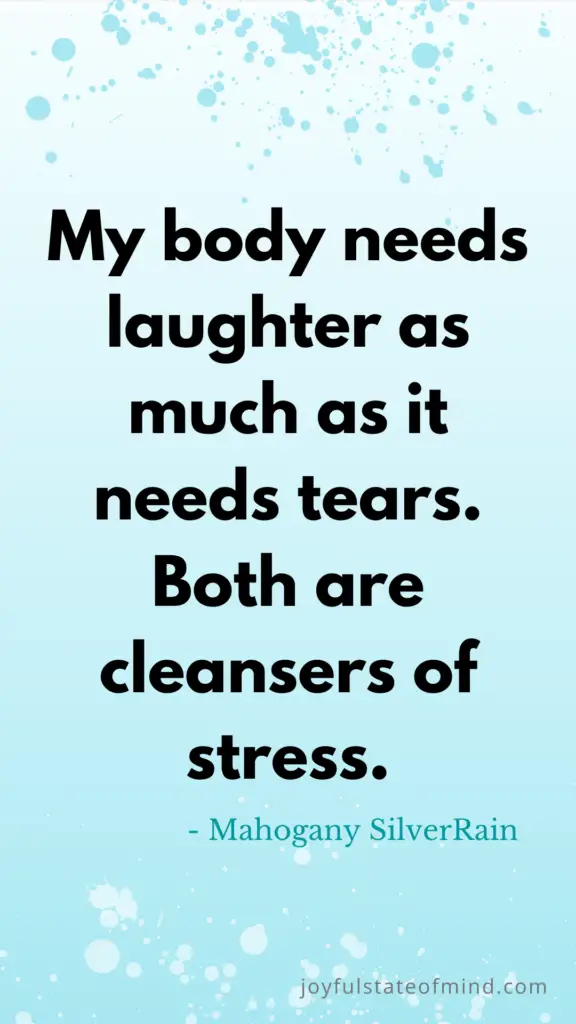 My body needs laughter as much as it needs tears. Both are cleansers of stress. –Mahogany SilverRain
In times of stress, the best thing we can do for each other is to listen with our ears and our hearts and to be assured that our questions are just as important as our answers. –Fred Rogers
Don't think about the past. Just be here now. Don't think about the future. Just be here now. –Ram Dass
Breath. Let go. And remind yourself that this very moment is the only one you know you have for sure. –Oprah Winfrey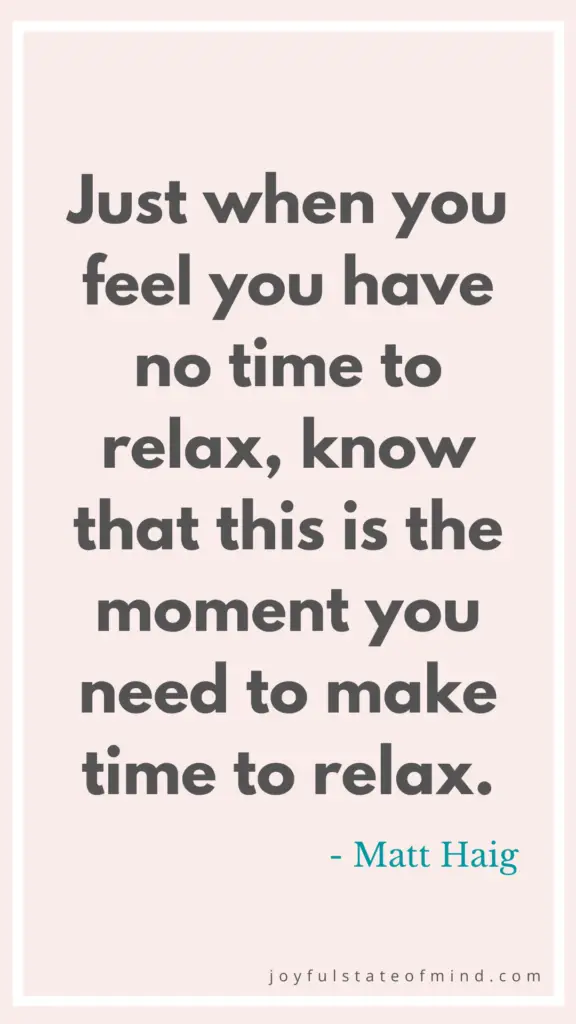 Just when you feel you have no time to relax, know that this is the moment you need to make time to relax. –Matt Haig
Disclaimer: Please note this post is not medical advice and you should connect with a professional doctor or therapist if you are struggling with any mental or physical health concerns. See our disclaimer page.
Resources:
1 Burnout
2 Stress Definition & Meaning – Merriam-Webster
3 Stress Management & (Stress Management (Guide) | Therapist Aid)
4 7 Proven Health Benefits of Dark Chocolate
5 Best Dark Chocolate: The Ultimate Buyer's Guide
6 The Science of Prayer
7 How Do Hugs Make You Feel? 11 Benefits of a Proper Deep Hug
8 same as above
9 The 10 Best Teas for Stress in 2022 | Psych Central
10 Relaxation Techniques
11 Snuggling With Your Pet Has Great Health Benefits
12 10 Best Foods to Fight Off Stress | Everyday Health
13 Can Listening to Music Reduce Stress? Research, Benefits, and Genres
14 same as above