58 Ultimate Stress Relief Affirmations To Restore Calm
Stress relief affirmations are a quick and easy strategy to help relieve stress. 
They're free, don't require much time, and can be done anywhere. Sounds good to me. ✅
The keys are to be consistent, use affirmations with confidence, and be realistic with your statements. 
Complaining or focusing on negative thoughts like "This sucks," or "I hate my life", may give a quick sense of relief, but ultimately, they add to your stress. 
But a positive affirmation such as this, "I will not stress over things I can't control" is powerful and more likely to change your perspective. These helpful phrases can reduce stress and restore a sense of calm to a hard day or situation
Affirmations aren't a form of toxic positivity or trying to pretend everything is great; they're meant to help change your negative thought patterns so you can manage and get through stress more effectively. 
Be mindful that affirmations aren't a cure and may not work for everyone.
This post contains affiliate links, which means I may earn a tiny commission if you make a purchase, at no cost to you. See my disclaimer for more info.
Negative Thoughts = More Stress
As the saying goes, stress begins with one negative thought, and those thoughts worsen your anxiety. 
I still work on challenging those thoughts when they come up. Healing and personal growth are lifelong processes; we all have a path, and I hope sharing mine will help you.
Although we can't eliminate negative thinking or worry, we can tackle and reframe our unhelpful thought patterns to live a calmer and more joyful life. 
Years ago, I became accustomed to negative thoughts and complaining at a previous job. My coworkers were unhappy, so we commiserated and fed off each other's energy. 
In a way, we were rebelling against our toxic 9-5 environment. But, ultimately, it worsened our stress and made us feel stuck. 
Those were difficult times, but in hindsight, I know my thought patterns only made matters worse. They caused me more overwhelm and kept me drowning in a sea of anxiety that eventually turned into burnout.
An easy way I now avoid falling into that negative trap is by using positive affirming statements, otherwise known as affirmations! 
Stress relief affirmations can make a difference in shifting your outlook and better controlling your stress level.  
💡TIP: For a detailed insight into effective stress management for women and how to end your stress cycles, I highly recommend reading Burnout for scientific-backed research to break these patterns.
What Are Positive Affirmations?
Affirmations are short and encouraging statements you create to empower yourself. They are often "I am…" statements but don't have to be. 
They help calm you, reduce anxiety, build self-esteem, and reassure you during difficult times. There are also empirical studies and theories such as the self-affirmation theory that point to the benefit of affirming positive statements about yourself. (1)
You repeat them to yourself to develop a more hopeful and positive mindset. 
We are unfairly critical of ourselves, so affirmations help us be more self-compassionate and build our self-esteem over time.
There's a reason you can find countless studies and academic articles in psychology publications about the value of affirmations.
However, as with any self-help strategy, they will not work for everyone and the more regularly you do them, the better.
How Do Positive Affirmations Relieve Stress? 🤔
There's a science behind our words' healing power and their impact on our brains. Words can actually change how your brain works. (2)
Positive words such as "love" and "calm" can strengthen areas in our brain (frontal lobes) and promote better cognitive functioning. These positive words set certain areas in your brain into motion or action, building resiliency. (3)
Creating and repeating these short statements is a form of positive self-talk. It helps shift your negative thoughts about stressors in your life.
Affirmations also help give you a new perspective on your problems and challenge your limiting beliefs, which is essential in helping you reduce stress. 
In my experience when practiced regularly, they restore a sense of calm to your mind because they help shift and quiet racing thoughts. 
How To Practice Affirmations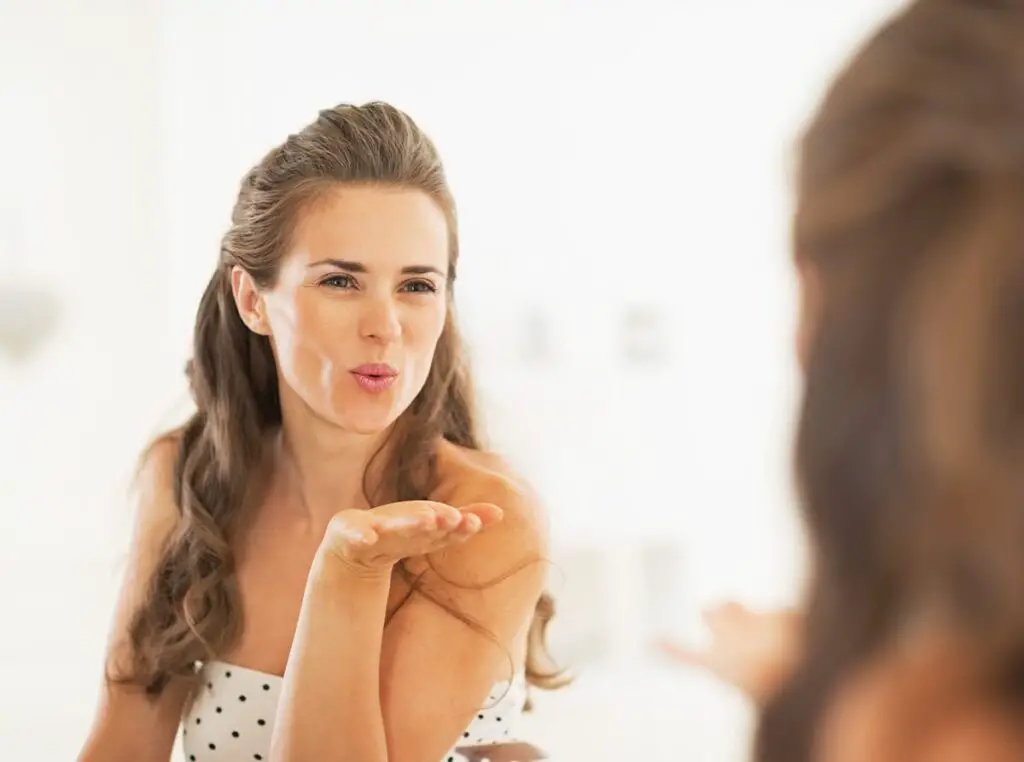 The phrase, 'how to do affirmations', is a common search query on Google and I have great news to answer that.
There's no exact or complex way to practice affirmations; affirmations are a simple strategy that anyone can start.
Here are a few ways to do or practice affirmations:
Say them out loud in front of a mirror (this is my go-to for daily affirmations & what I recommend)
Write them out in a journal
Repeat them in your mind
Say them to a trusted loved one or have them participate (I sometimes do this with my daughters, and it's an excellent activity to help build their self-esteem. Sometimes we get silly and go over the top, which is a lot of fun too!) 😊
How To Create Affirmations 📝
Creating stress relief affirmations is straightforward. I broke it down into these four steps: 
1. Think about and identify the area(s) you need help with. 
For example, do you struggle with anxiety, low self-esteem, high stress, lack of confidence, social anxiety, etc?
2. Reflect on what your beliefs or thoughts about this area(s) are. 
For example, if you struggle with chronic high stress, what do you tell yourself about it? Do you say things like "Nothing ever comes easy to me," or "My life sucks"?
Or if you struggle with social anxiety, maybe common thoughts are that you're not likeable, awkward, or don't have the skills to be more outgoing.
These types of limiting beliefs significantly impact your ability to move forward healthily.
Think of your limiting beliefs as an anchor; the only way you can start moving is to release the anchor and start sailing toward your destination, which in this case, is to have less stress.
Practicing positive affirmations is one way to release the anchor and help combat those harsh beliefs, transform them into more positive thoughts, and encouraging self-talk.
Check out these positive affirmations to help reduce many forms of anxiety.
3. Write down your common beliefs & thoughts about that area.
4. Now rephrase those negative beliefs & thoughts into positive, affirming statements.
For example, if you feel you're not good enough, you can create an affirmation:
"I do enough. I am enough."
If you have low self-esteem, try:
"I am a person of worth." or "I love the person that I am."
The key to creating your affirmations is to be authentic and realistic; these statements shouldn't feel like a big stretch for you because they won't be effective if you don't believe them.   
Self-Compassion and Positive Affirmations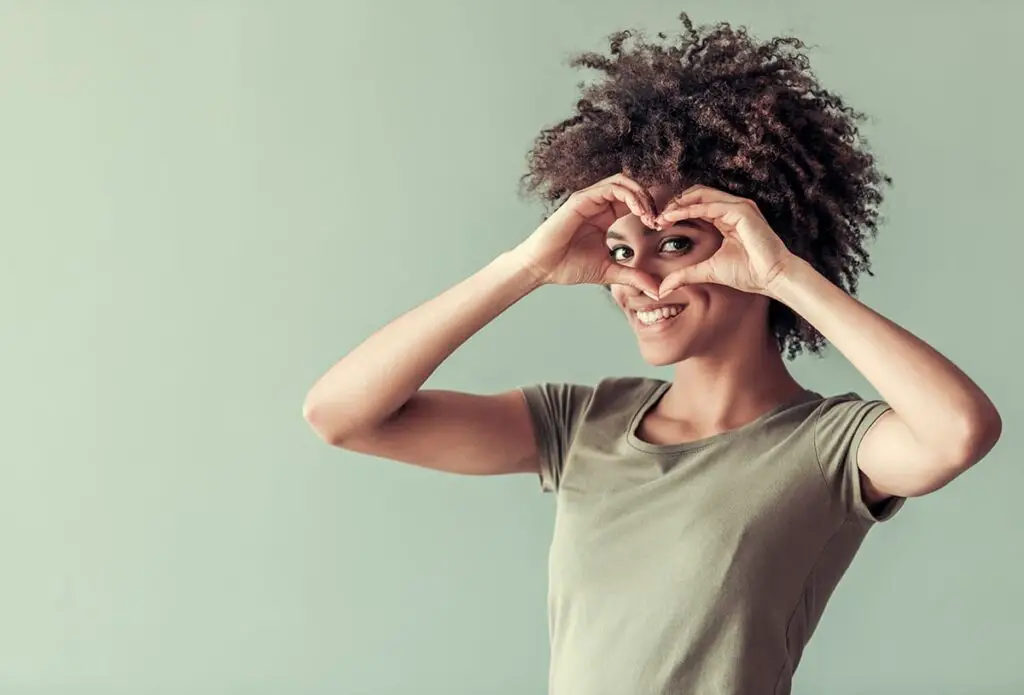 Self-compassion is essential to creating affirmations; instead of being your worst critic, my mantra is to become your own BFF. Practicing self-love affirmations is a great way to do this.
In other words, show yourself the same grace and kindness you extend to others and forgive yourself for mistakes or things that happened in the past.  
No one is perfect, and we've all made poor choices or failed at things, and that's okay and a part of being human. 
The fact that you're looking to improve yourself and try affirmations speaks volumes, be proud and give yourself credit for doing that.
So let's dive into the 58 positive affirmations for stress relief I created.
💡TIP: Be patient; affirmations, like anything we try, only work if we put in the effort and trust the process.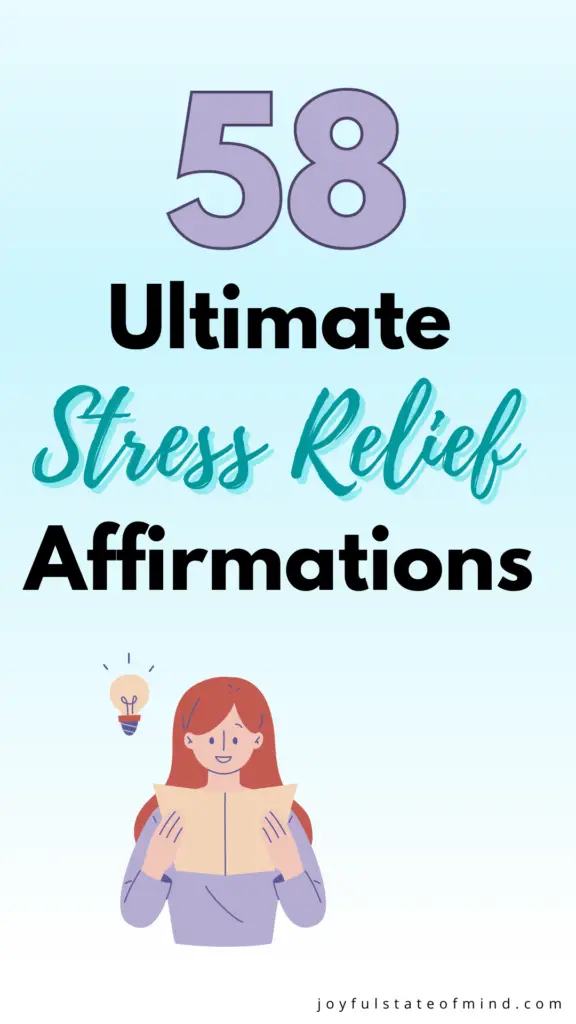 58 Ultimate Stress Relief Affirmations To Restore Calm
There's no pressure to repeat all of these stress relief affirmations. Choose a few that resonate with you or personalize an affirmation to suit your needs. 
Challenges will arise, but I know I can handle them.
Everything will be okay.
I have gone through so much and have overcome.
I handle stress by remaining calm and problem-solving.
Everything I have been through has made me stronger.
I release any tension from today.
I trust myself to deal with problems that arise.
Today I will tackle whatever comes my way with confidence.
This will pass.
I am capable of dealing with this and will remain calm.
I will not let this problem ruin my day.
Perspective is everything, so I choose to see the good in all situations.
I am in control of my reactions.
Stress is fleeting, and I will not give it power over me.
I will focus on my inner peace today no matter what happens
Giving in to a stressful situation will only worsen it.
I have what I need to handle this.
I can do all things through Christ who strengthens me. (Philippians 4:13)
I will be able to handle issues that arise.
This situation is not permanent.
I choose to have a positive attitude every day.
I take one step at a time, and that is enough.
Stress is a signal that it's time to slow down.
I show myself grace even when I make mistakes.
My home is a stress-free zone.
I will ask for help when I need it.
I choose to deal with stress from a centred place.
I will let go of my stress.
My challenges are my greatest learning opportunities.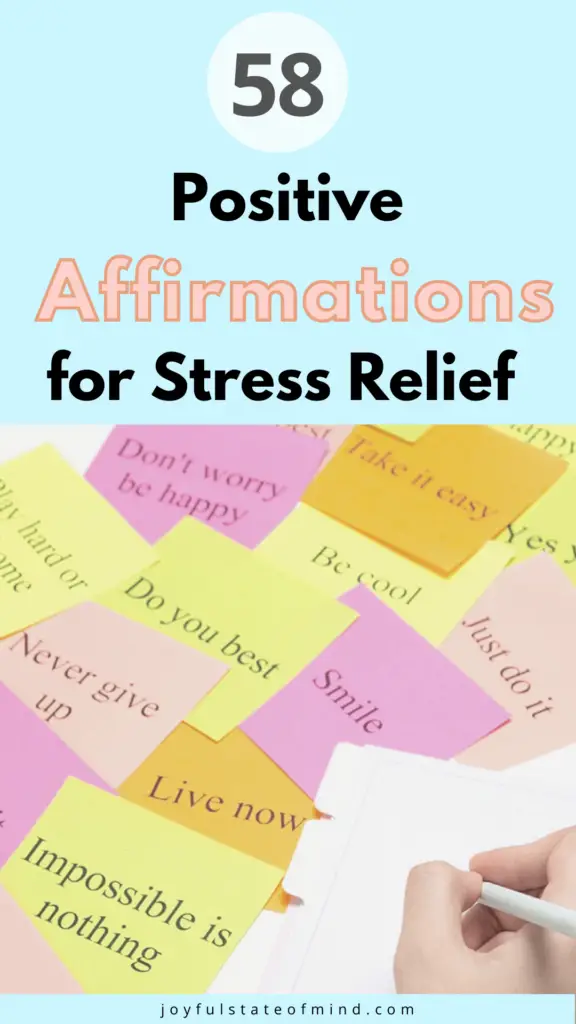 More Positive Affirmations For Stress
I have the power to accomplish my goals.
I'm an overcomer.
I choose not to let things overwhelm me.
Worrying does not change my circumstance, so I will not give in to it.
I'm safe and secure within myself.
I am loved.
I will not be shaken.
I believe in myself.
This stress is only temporary.
There's no need to worry about things I can't control.
Just breathe.
My faith is bigger than these problems.
I will move on from things taking away my peace.
I can and will let go of this.
Everything I need is within me.
It is what it is, and I accept it.
I surround myself with positive people.
I will remain calm even when problems arise.
Perfection is an illusion.
It's okay not to feel okay.
I will ask for help when I need it.
God is watching over me.
I'm not alone on this. 
I choose peace today.
I'm just uncomfortable, but I will make it through this.
I will be fine.
My anxious thoughts are not always accurate.
My thoughts are making the problem more significant than it is.
You've got this.
How to Increase the Power of Stress Relief Affirmations 
The best way to increase or boost the power of positive affirmations is by making them a daily habit. It can be as short as 1-2 minutes every morning, and then you can use them throughout the day whenever stress or anxiety increases.
My quick morning routine consists of prayer, positive affirmations, and acknowledging a few things I'm grateful for. This easy routine clears my mind and gets my day off to the right start. 
Please remember, if affirmations don't work for you, that's also okay so don't be hard on yourself.  
A professional therapist or psychologist can help you with other strategies and coping mechanisms. Do seek support if your stressors are increasing and you're struggling with any mental health issues.
Bonus: Stress-Relief Gift Ideas 🎁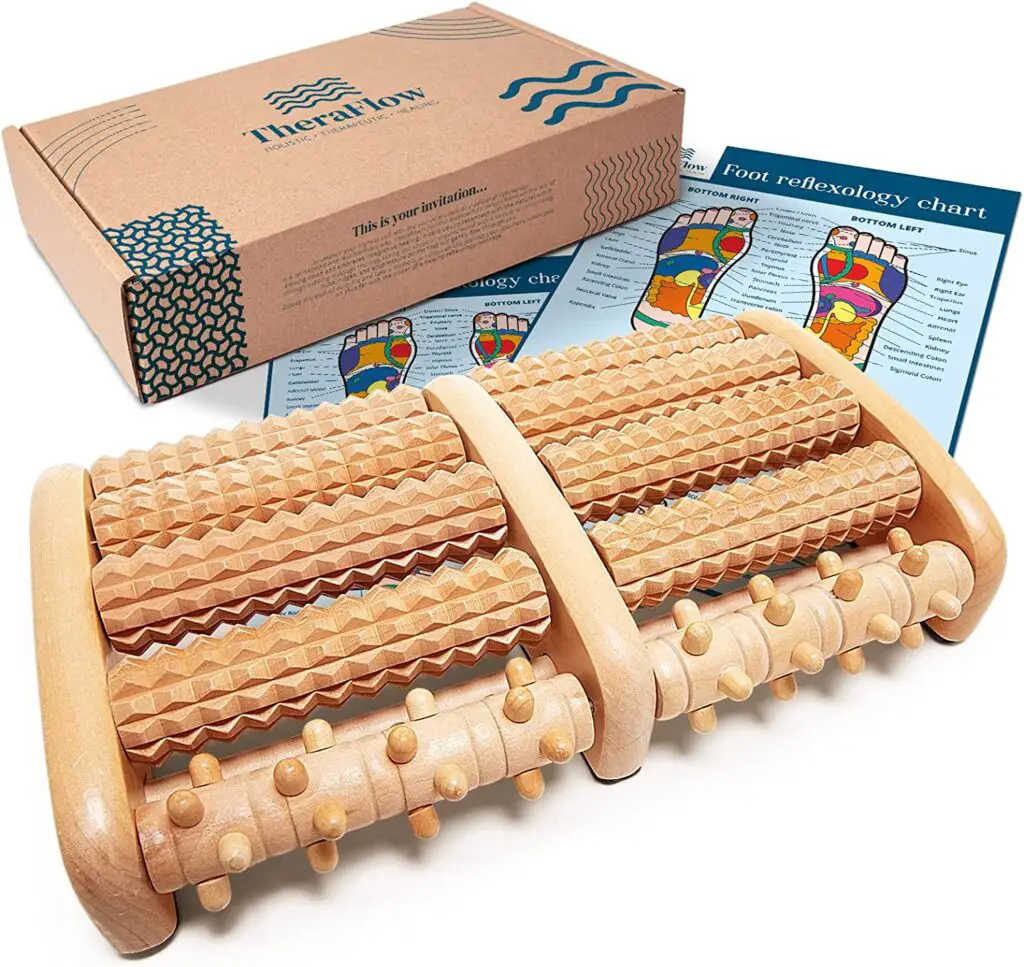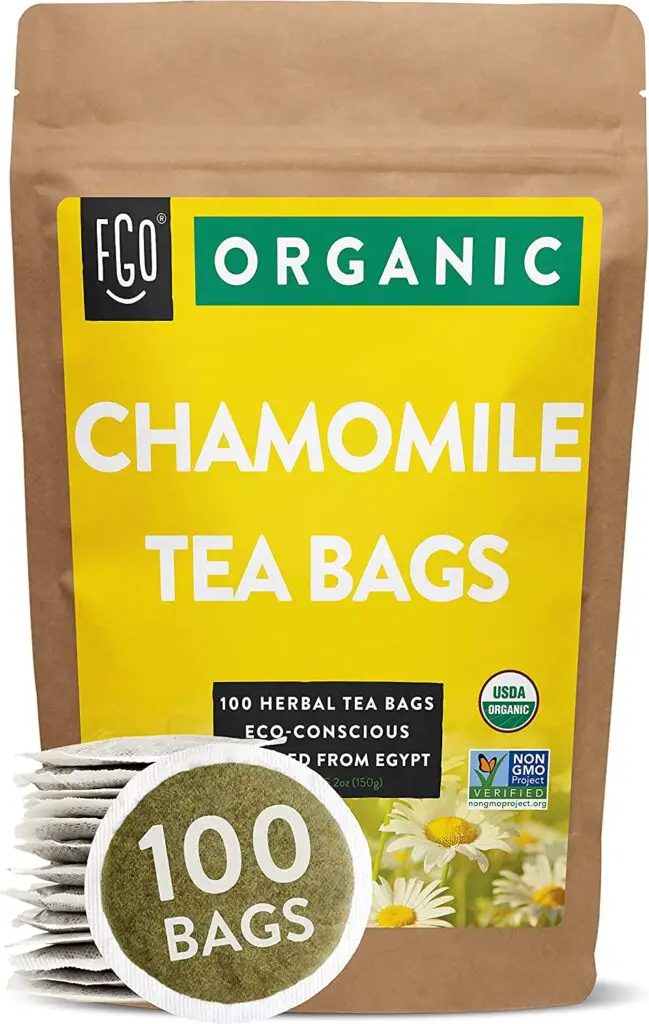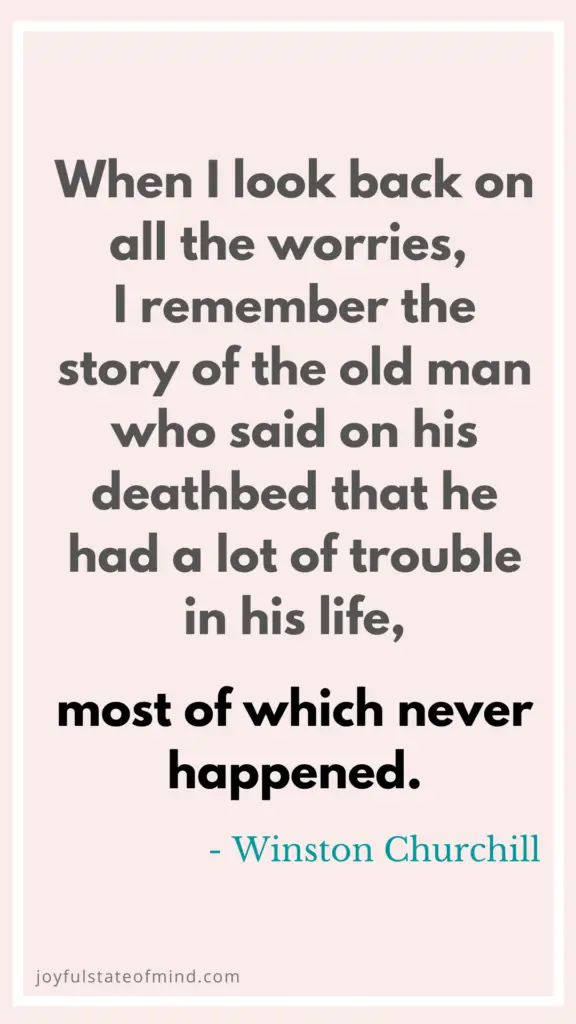 When I look back on all the worries, I remember the story of the old man who said on his deathbed that he had a lot of trouble in his life, most of which never happened. –Winston Churchill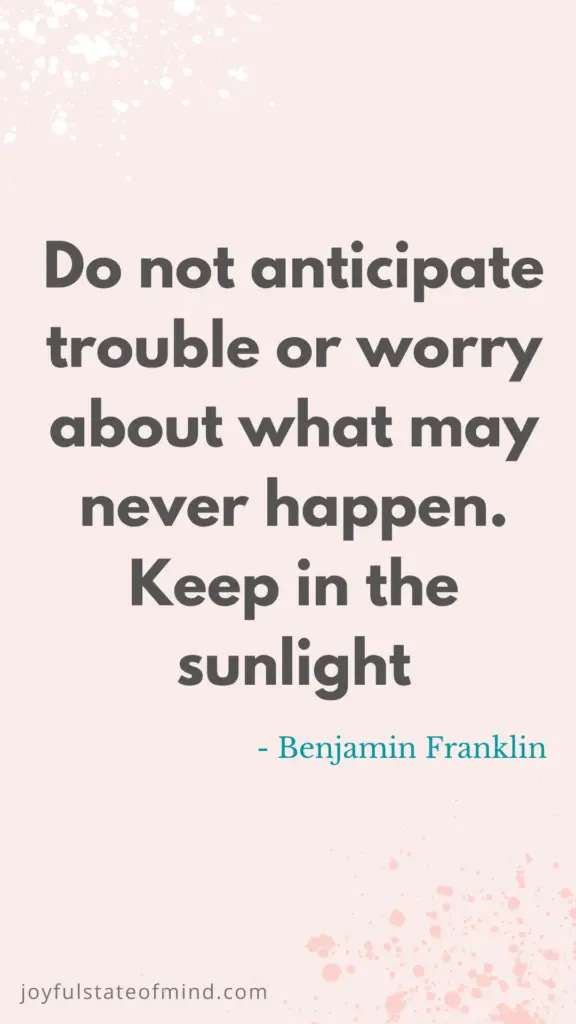 -Do not anticipate trouble or worry about what may never happen. Keep in the sunlight. – Benjamin Franklin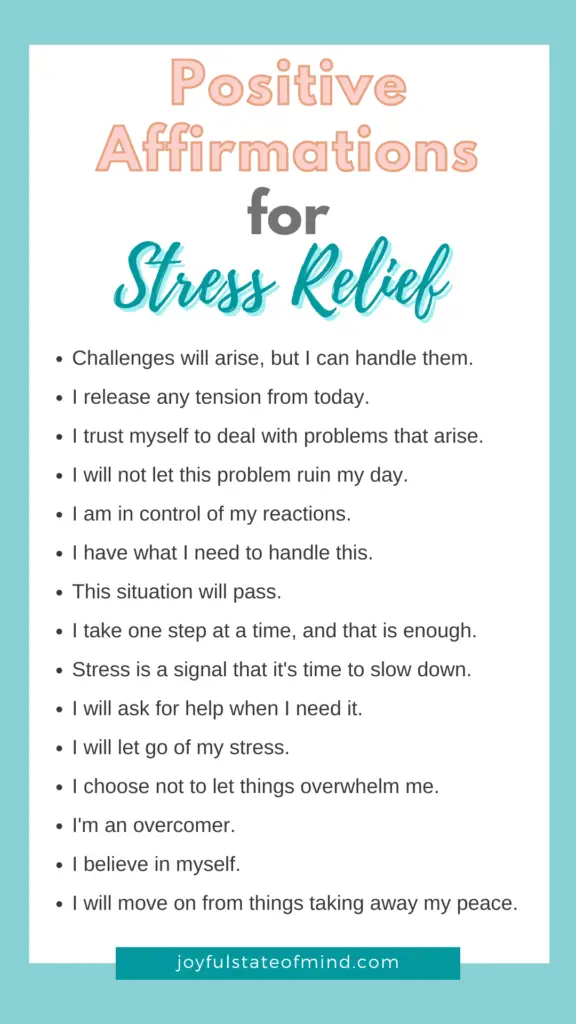 Disclaimer: This post is not medical advice. Connect with a doctor or therapist if you're struggling with any mental health concerns. Any resources shared in this post are for informational purposes and do not replace professional treatment. See disclaimer for more details.
REFERENCES:
Same as above.