Calm Your Mind Now: 101 Powerful Affirmations for Anxiety
When you're feeling anxious, affirmations are a simple and effective way to cope with anxiety. I'm excited to share 101 positive affirmations for anxiety below.
Meet pre-affirmations me: Almost any sign of big trouble ahead or something not going right would make me panic. My stomach would instantly feel off, I'd feel nervous and sweaty, and my heart rate would go up. 
I didn't show kindness or grace during those years and blamed myself for these symptoms. I would beat myself up over not having better coping skills–but that was my mean inner critic talking. 
I've suffered from anxiety for years without realizing it and, well, trying to ignore it, hoping it would disappear. 
Affirmations For Shifting Your Mindset
Then affirmations came to my rescue at the right time. Slowly but surely, they helped decrease my anxiety and shift my mindset.
Affirmations are a strategy to help with managing anxiety and stress. Affirmations have played an essential role in my healing journey. They've helped me reframe negative thinking patterns, boosted my confidence, lowered my stress, and significantly cultivated self-compassion.
Disclaimer: Please note this post is not medical advice and you should connect with a professional doctor or therapist if you are struggling with any mental or physical health concerns. See our disclaimer page.
What Are Positive Affirmations?
Positive affirmations are short statements or phrases you create. You then repeat them to yourself for encouragement and to cultivate a more positive mindset.
They are a form of positive self-talk and can help shift your negative thoughts, particularly about yourself.
These statements are most effective with practice and when they are aligned with your values, are realistic, and are something that you believe in.
Some Examples:
If you are a forgiving person but struggle with forgiveness when it comes to yourself, try:
"I show myself the grace I give to others."
Instead of something grandiose like "I will be a multimillionaire," try:
"I will be successful in my endeavours."
If you value kindness, try:
"I freely show kindness to others, and in return, I receive kindness."
Why Practice Affirmations?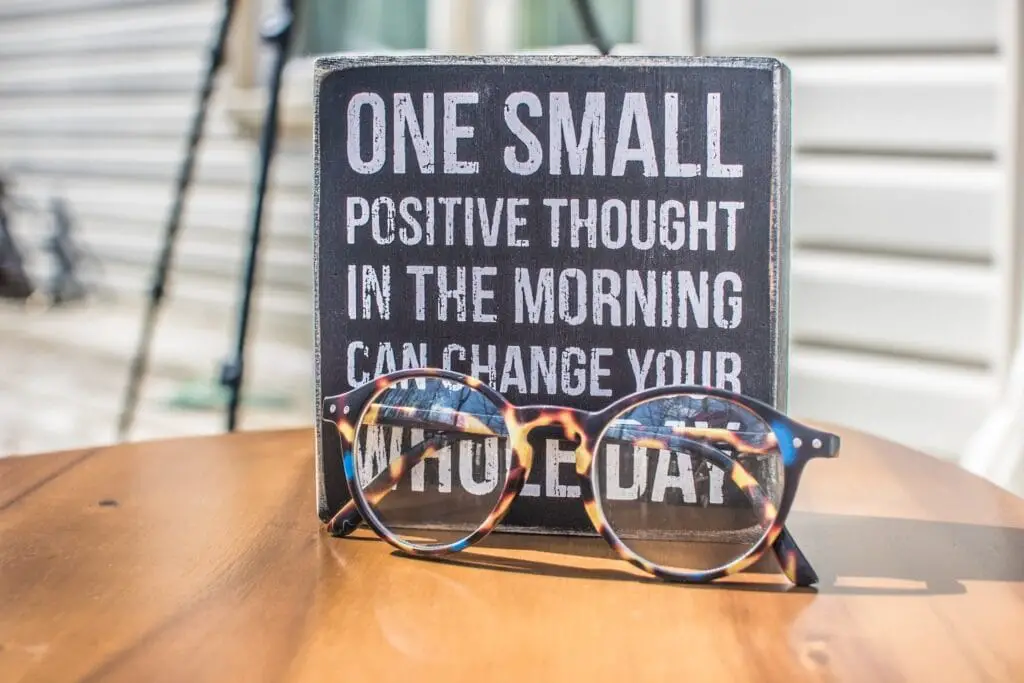 Positive affirmations are an easy self-help strategy. The goal of affirmations is to encourage uplifting self-talk rather than being too hard on ourselves.
We tend to be easily critical of ourselves, so affirmations are meant to help us be more self-compassionate, and build our self-esteem and confidence over time.
Repeating a statement can positively impact your thought pattern, but it takes commitment and effort.
How To Practice Positive Affirmations for Anxiety?
There are no rules for practicing affirmations, so there is no need to worry. The main thing is to make it enjoyable so you look forward to doing them.
Also, this should be something you want to try and believe in. Our minds are influential, so if you think this won't work for you, chances are you're probably right.
It doesn't have to be complicated. Most often, people practice affirmations in the morning to help start their day on the right foot. But I also use them anytime, especially when feeling anxious.
I spend about 1-2 minutes max in the morning, which helps me feel more positive and empowered. I combine this with listing things I'm thankful for, and those few minutes are an important part of my daily self-care routine.
Positive affirmations for anxiety have also helped improve my self-esteem. I went from having a moderate self-esteem level to consistently having high self-esteem for the last few years.
With time and persistence, positive affirmations can make a difference.
Related article: The Importance of Self-Love: 11 Ways To Start
What Affirmations Don't Do and The Importance of Self-Love❤️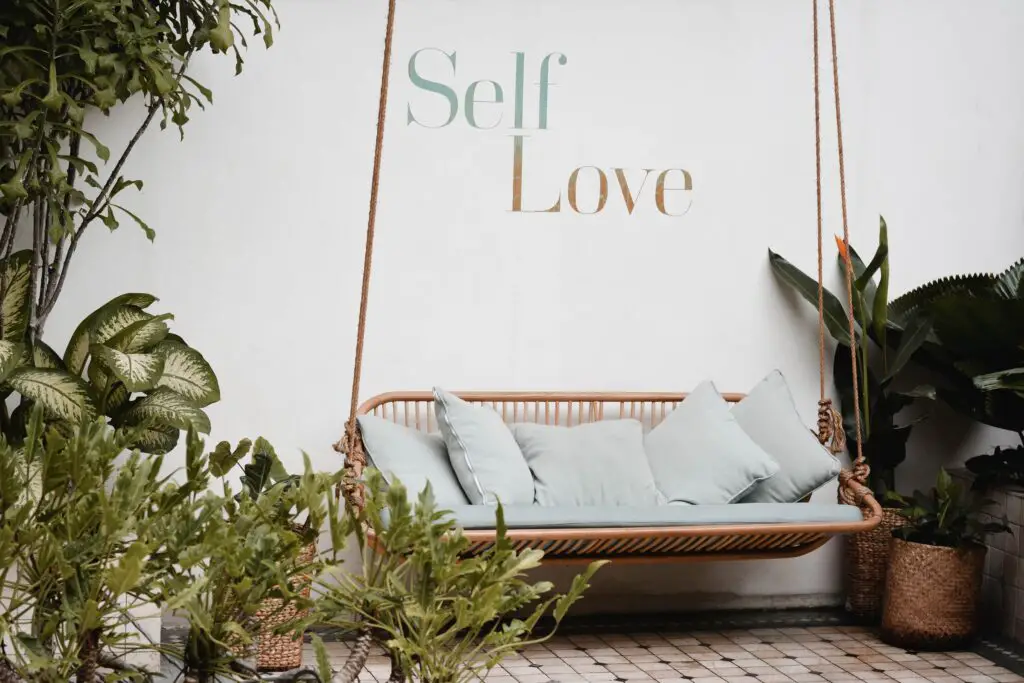 Positive affirmations won't instantly erase anxiety, but they can help us manage and lower our level of unpleasant feelings.
The words we tell ourselves are powerful and can either be healing or harmful. Affirmations are a simple way to build yourself up and show yourself grace.
They may not work for everyone, and that's okay. There are many strategies to help lower anxiety, such as deep breathing, visualization, and therapy, to name a few. Always remember to connect with a professional if you struggle with chronic anxiety or other mental health issues.
Self-love is one of the key reasons affirmations work. Loving ourselves can improve many areas in our lives, from how we feel about ourselves, to our emotional stability and our ability to give to others more abundantly.
Is There Science Behind Affirmations?
Yes, there is, and the specific area of science dealing with affirmations is the study of Positive Psychology. A well-known psychological theory that supports the practice of affirmations is called "self-affirmation theory"; Claude Steele developed this in 1988. (1)
The development of self-affirmation theory led to studies and neuroscientific research to determine if we can see changes in the brain when using positive self-affirmations.
A PositivePsychology.com article notes:
MRI evidence suggests that certain neural pathways are increased when people practice self-affirmation tasks. (2)
The finding is that the part of the brain involved in positive valuation and self-related processing called the "prefrontal cortex" is more active when we think about our personal values. (3)
In plain terms, research has found that affirmations impact the part of our brain responsible for positive thinking.
So let's dive into the 101 affirmations for anxiety I've created to help you along your journey. I covered four areas: anxiety relief, affirmations for social anxiety, spiritual affirmations for anxiety, and short positive affirmations for anxiety.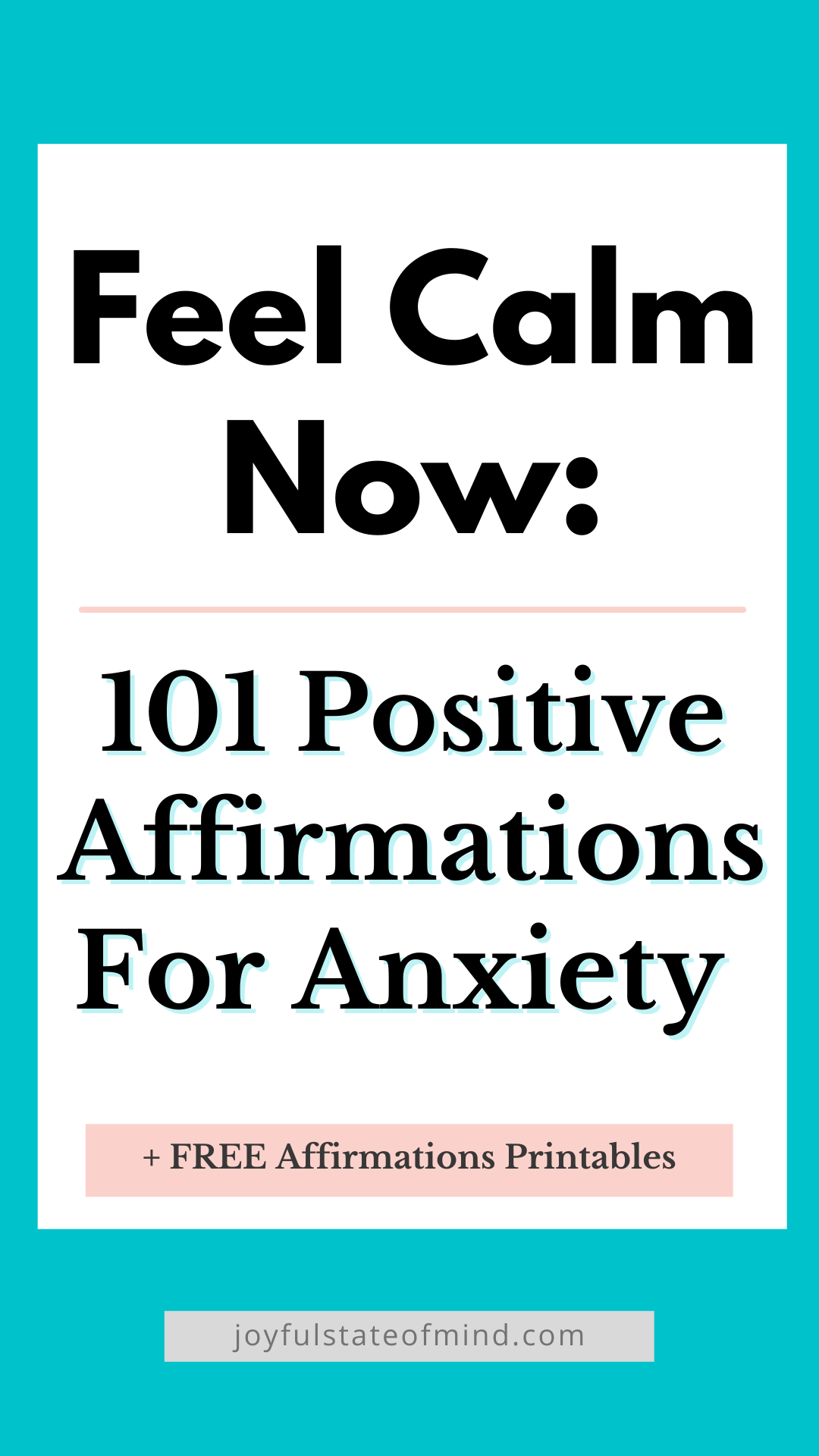 31 Affirmations for Anxiety Relief
Take your time and pick a couple or a few powerful affirmations for anxiety that resonate. There's no right or wrong when it comes to affirmations, and there's no need to overthink this. Just relax and take in those calming words that you're repeating to yourself.
I can handle whatever comes my way.
Everything will be okay.
I am safe right here. (Tip: Place your hand on your heart & try repeating this several times.)
I accept myself as I am.
My small steps, make a big difference.
I will not worry about things I can't control.
My past does not define me.
I am brave.
I'm wise and will make the right choice.
I'll turn my fear into faith.
I forgive myself for past mistakes.
I am worthy of happiness.
These thoughts are not reality.
It's okay to be nervous. 
It's just a bad day, and it will pass.
I take relaxing deep breaths and exhale negative energy.
I will pause and refocus. (Tip: Pausing or taking mini breaks throughout the day is an essential way to being more relaxed.)
I have a good support network that I can rely on.
This is just a feeling and will pass.
Just stay calm.
This situation is temporary.
My anxiety is my mind playing tricks on me.
I trust the process and will not overthink.
My feelings are not who I am.
I release toxic thoughts.
Tomorrow is a fresh start.
It'll all workout just fine.
I will not give in to these fears.
Healing takes time, and I'm on my way.
I am strong-willed.
I will let go as it's not mine to carry.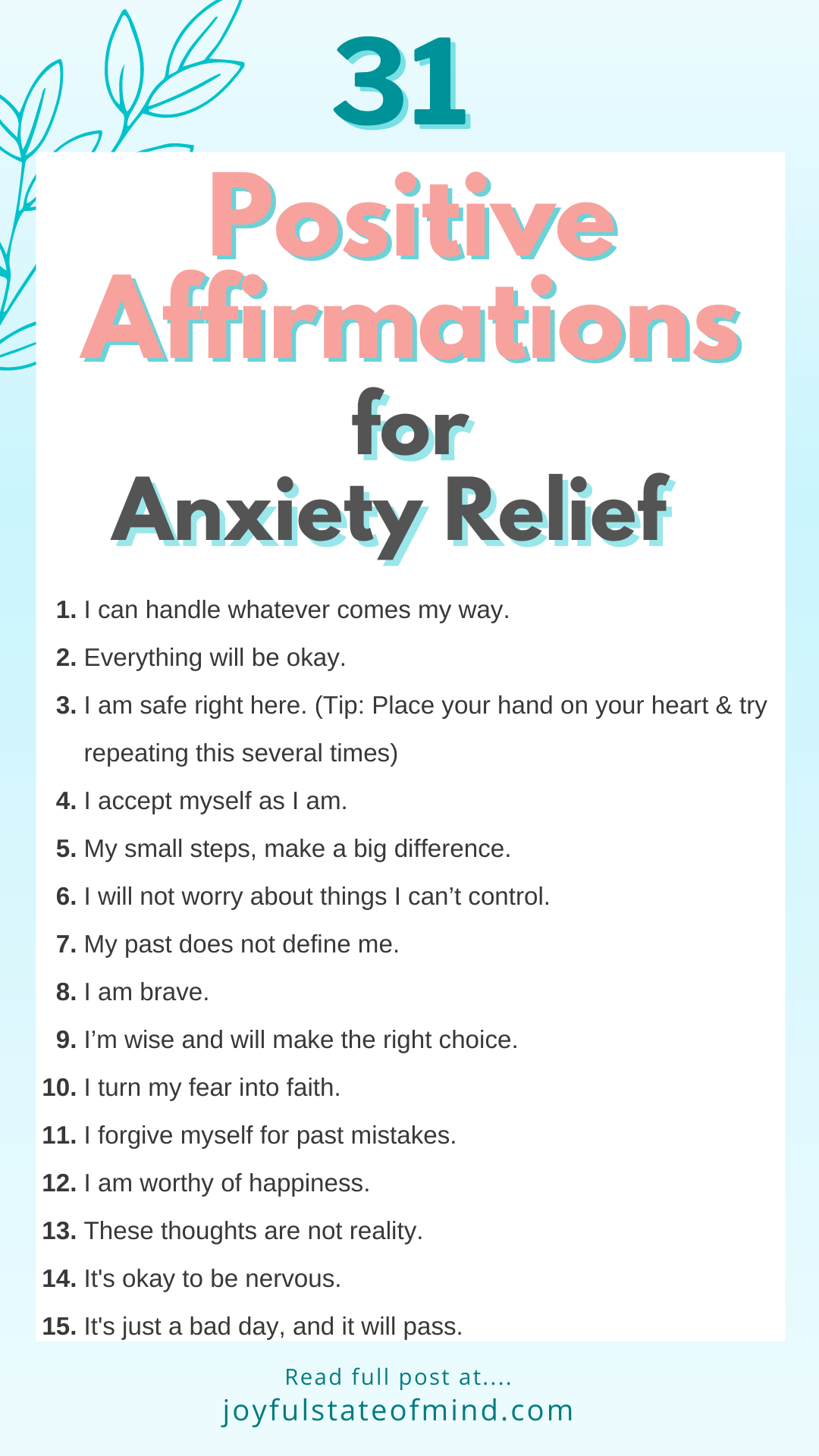 30 Affirmations for Social Anxiety
Challenges arise, but I can handle them.
I'll focus on inner peace no matter where I am.
I take one step at a time, and that's enough.
Everything I've been through has made me stronger.
I handle my feelings by remaining calm and breathing.
The power is within me.
I can do it.
It's okay, stay calm.
I won't let this ruin my day.
 I'm safe so there's no need to panic.
I can choose to leave an uncomfortable situation.
Anxiety is fleeting, and I won't give it power over me.
I release my worried thoughts.
This situation will pass.
I have what I need to handle problems.
I will prepare for new situations.
This situation will pass.I will prepare for new situations.
 I take deep breaths.
 I'm in control of my reactions.
 I've been brave in social situations all my life.
Panic is a signal to slow down.
I show myself grace even in tricky situations.
I will ask for help when I need it.
Everything happens for a reason.I will ask for help when I need it.
I do enough. I am enough
There's always a next time.
I can handle whatever comes my way when I'm in public.
Just let go.
I am a likeable person.
I won't let this overwhelm me.
My peace is overflowing.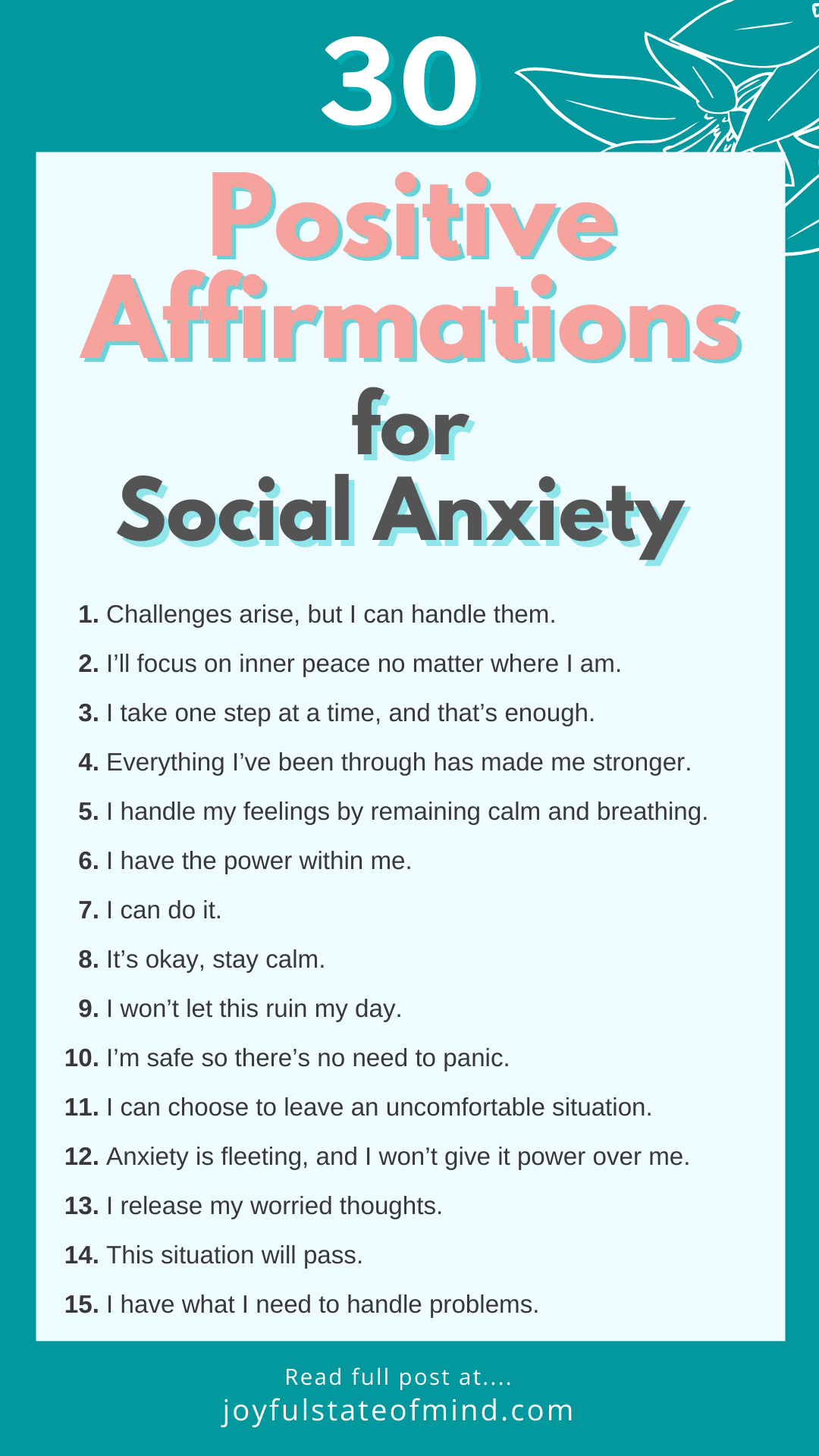 20 Spiritual Affirmations for Anxiety
Jesus is with me, I have nothing to fear.
I am protected.
God is bigger than this situation.
Trouble in this world is inevitable but remember God has overcome the world. (Inspired by John 16:33)
I am never alone.
The Lord watches over me.
Stay calm and believe.
I trust in him.
There's no need to worry as God is with me.
My faith is stronger than my fear.
I will turn my worry into worship.
I trust in the Lord with all my heart. (Proverbs 3:5)
I can do anything through Jesus.
I am a child of God.
Prayer is my best defense. (Tip: Say a small prayer when you start feeling anxious, it can be as simple as "Jesus I need you".)
I am humbled.
God is my protector and provider.
God comforts me.
My prayers are heard.
God is greater than my anxiety.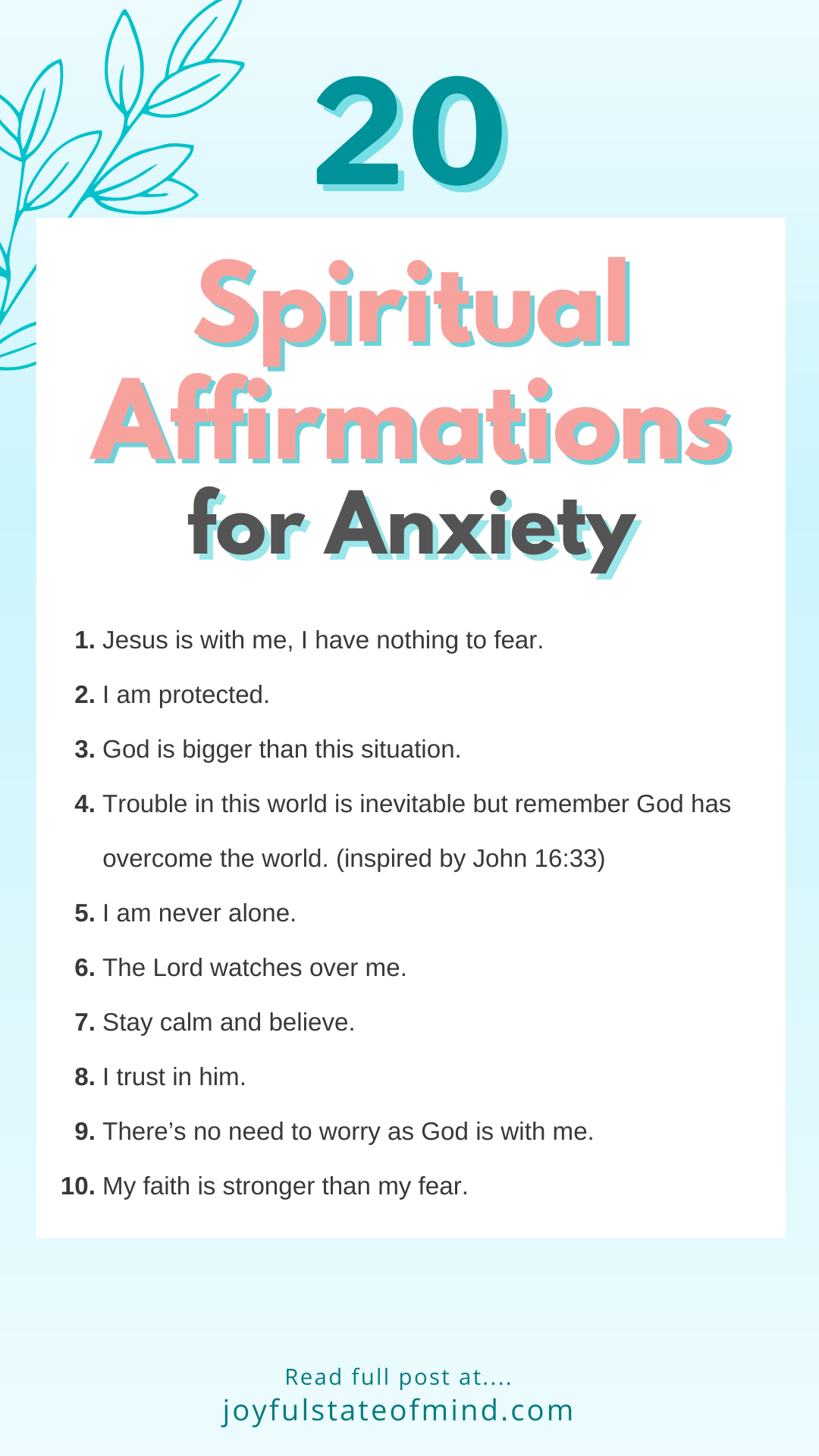 20 Short Positive Affirmations for Anxiety
Just breath.
Stay calm. (Tip: Simple phrases can be powerful if one specific one works try repeating it several times, this one always helps me.)
Everything is fine.
I can do this.
You got this.
I am safe.
This will pass.
I believe in me.
No need to worry.
I am strong.
Life is good.
I will overcome.
I am calm.
Have courage.
I will not worry.
Relax.
I will trust myself
I am at peace.
Tomorrow is a new day.
I am resilient.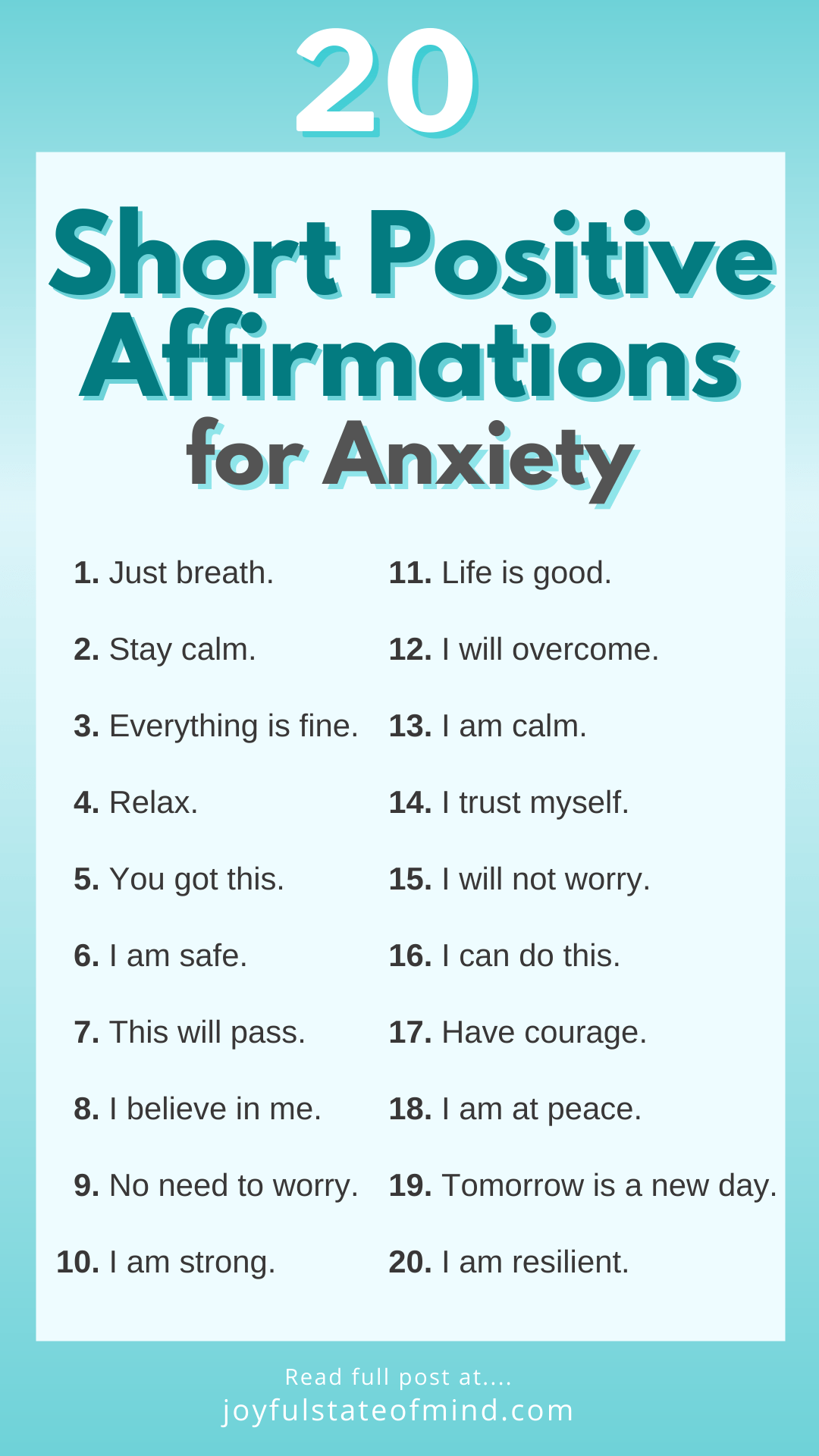 BONUS: Before you leave don't forget your FREE gift as a bonus for signing up for my newsletter including handy printables you can easily access:
The Surprising Key To Relieving Anxiety: 101 Positive Affirmations to Reduce Anxiety + Restore a Sense of Calm.
Positive Affirmations For Anxiety: The Real Magic Is In You
Although there's a science behind positive affirmations, the real magic is in you! ✨
Initially, I was hesitant and didn't give them much of a chance. But when practicing affirmations became a habit, I had a mindset shift because of them, and that's when I noticed a difference. They helped reduce my level of anxiety and stress and boosted my self-esteem.
They can make a difference in how you feel, so it's worth a try. If you've never tried affirmations, I encourage you to try them. If anything, it will empower you to be kinder toward yourself, and that's always a win!
References:
1. http://psychology.iresearchnet.com/social-psychology/social-psychology-theories/self-affirmation-theory/ 
2. & 3. Positive Daily Affirmations: Is There Science Behind It?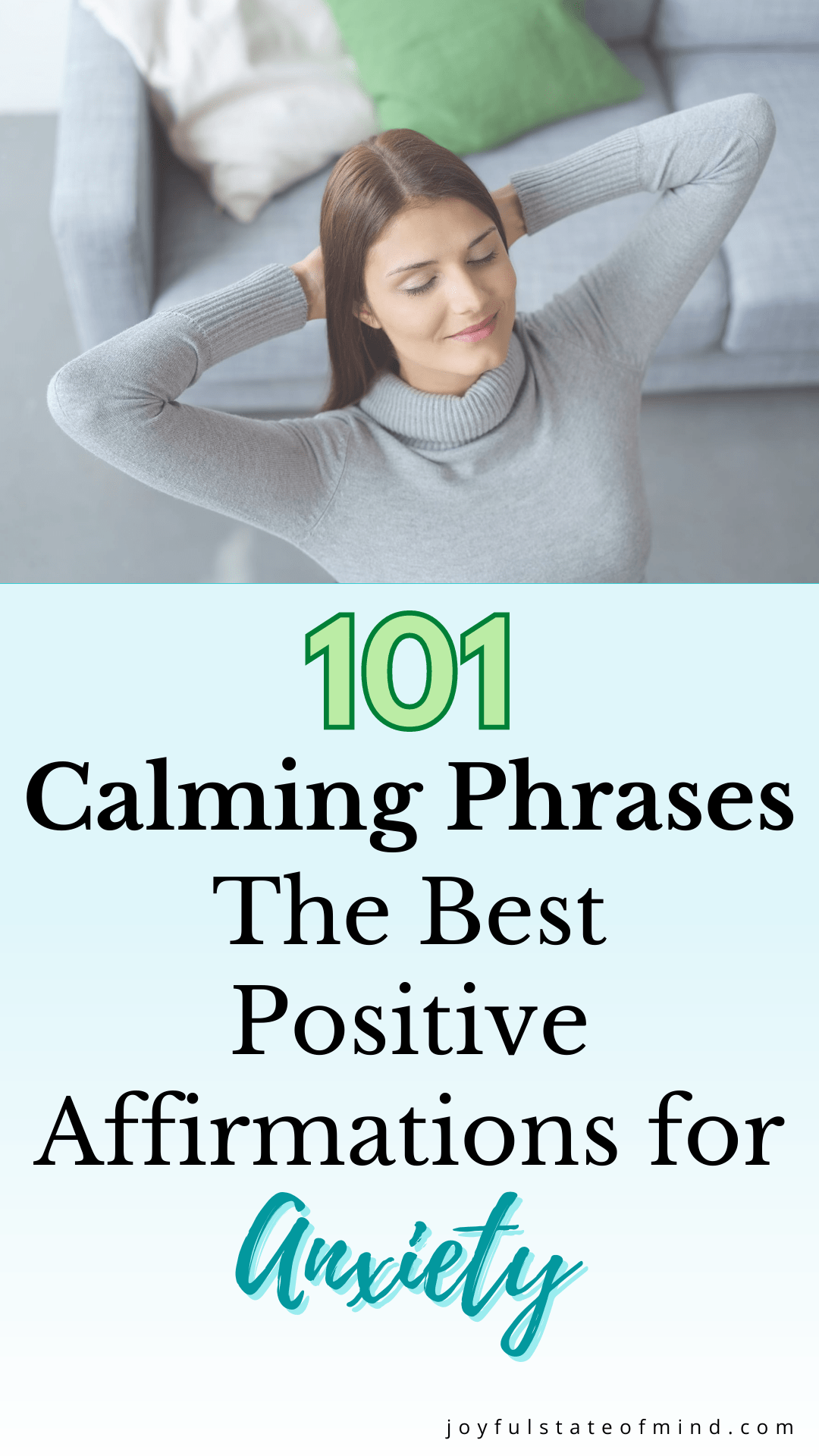 Positive sign photo Binti Malu 
Self-love photo Content Pixie