How To Reduce Anxiety In The Moment: 5 Simple, Powerful Tips
Isn't that the truth?! Yet, as much as we all know worrying does nothing positive, it's sometimes so hard to get off that slippery slope of worry.  Excessive worry is the main symptom of Generalized Anxiety Disorder (GAD) (1), the most common mental health illness in the US and Canada. So, I wanted to share 4 simple ways how to reduce anxiety in the moment.
Worrying is a part of our human nature, but it's what you do with it that counts. It's possible to stop worrying and be happy with some effort and good daily habits.
Worrying about anything is based on fear, and that fear triggers anxious thoughts, stress and other negative physical reactions, such as stomach aches, racing heartbeat, shortness of breath, back pain, irritability and more.
Anxiety Journey
I've always been a worrier, but after my father passed away in 2018, anxiety started hitting me more seriously. 
Sleepless nights. Panic attacks. Chronic stomach issues. Exhaustion. Constant overwhelm and more. It wasn't a fun place to be.
My doctor confirmed all of my symptoms were typical of GAD and that tragic or traumatic events often exacerbate the condition. 
As much as she reassured me, I still wondered if it was my fault for not being "strong enough." Even though, as a Social Worker, I know that's not true. 
I support people suffering from mental health issues, but experiencing it and feeling the stigma firsthand was a different story. So I'm passionate about keeping the conversation about mental health going and creating safe spaces for discussion.
It's been an eye-opening experience that inspired me to create this site.
Whether you have a clinical diagnosis or not, anxiety impacts everyone.  
But don't be discouraged, as there are professional treatments, therapies and strategies you can access. Most of all, there's always hope. ❤️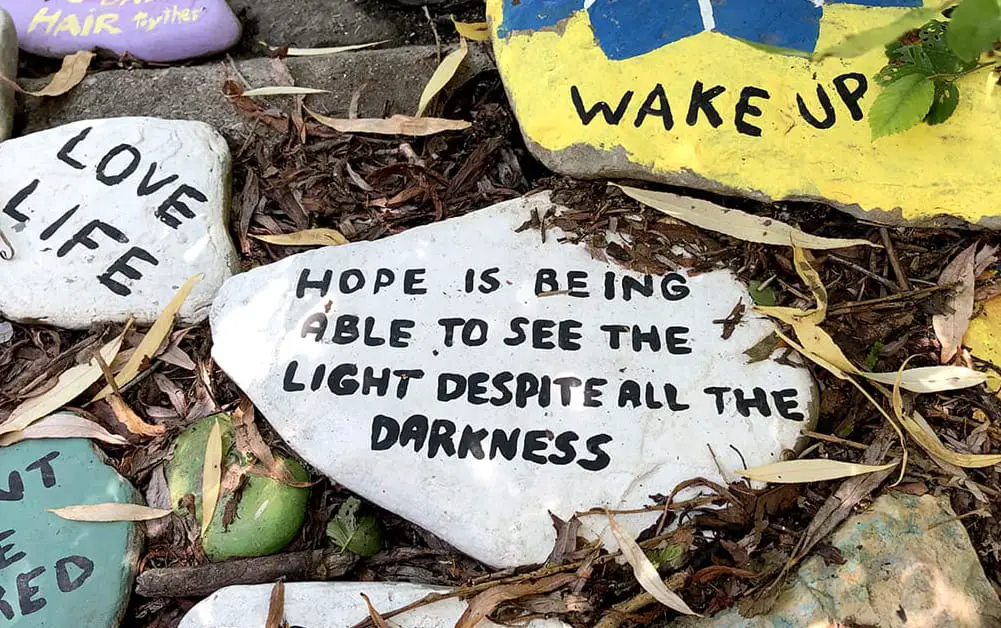 This post may contain affiliate links, which means I may earn a small commission if you make a purchase, at no cost to you. See my disclaimer for more info.
How To Reduce Anxiety In The Moment: 5 Simple + Powerful Tips
There's no pressure to try everything at once or master all of these techniques it's about trial and error to see what works best for you. Sometimes one is enough and other times a combination might work.
You can also try putting your own spin on them so they're personalized to what you need. For example, sometimes I'll blast an upbeat song I love and dance and other times I'll put on nature sounds and breathe or try a mindfulness activity.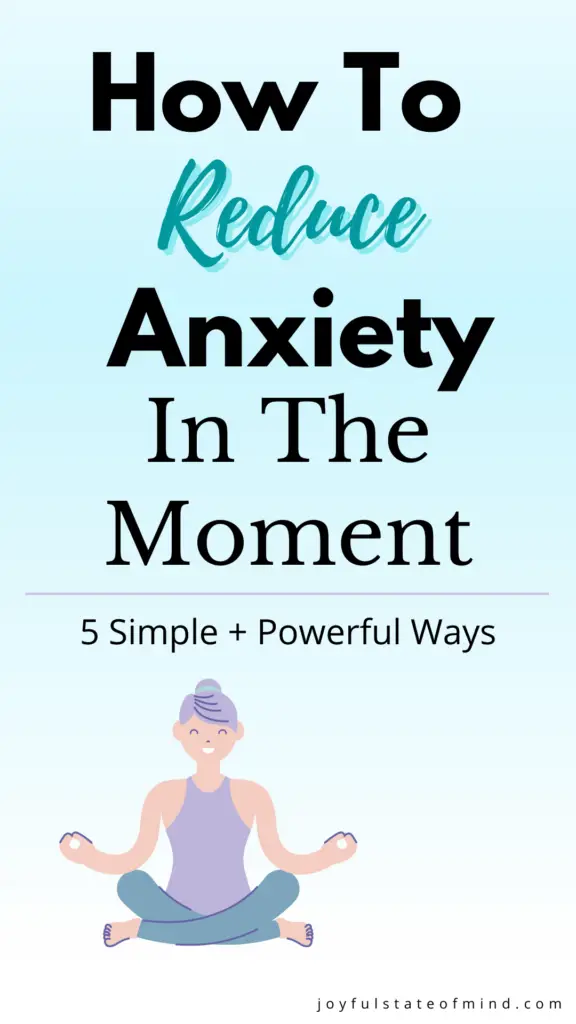 1. Inhale and Exhale with Purpose.
As fundamental as breathing is, we never give much thought to it, do we? But of all the strategies I've learned, deep breathing has been the most powerful way to reduce my anxiety in the moment.
When you're stressed and your anxiety levels start rising, your breathing becomes more shallow and rapid.
This type of breathing heightens your anxiety, so do your best to slow yourself down when you notice this. Take a step back, pause and focus on taking deeper breaths. 
In anxious moments if you inhale and exhale with purpose that type of intentional breathing can make all the difference.
How to reduce anxiety in the moment, the breathing method I use: 
Get comfortable in a chair and have good posture.
Take a deep inward breath slowly for 5 seconds (you can count with your hands). Focus on the feeling of the air filling your lungs.
Hold your breath for another 5 seconds (keep count with your hands).
Breathe out very slowly for 5-7 seconds (this exhale should last longer than the inhale).
Repeat until you feel more relaxed/calm. I usually do five in a row
2. Use Your Words.
Quickly writing your thoughts and experiences out is therapeutic and allows you to process what is happening. You can keep a daily journal, and here are some great ideas about starting to journal.
Talk to someone you trust so you can process your feelings. Having someone listen or share a new perspective can make all of the difference when you feel stressed and anxious.
Prayer is another way to reduce anxiety in the moment if you're comfortable with it. I will say a short prayer as soon as I feel my anxiety increasing. It helps me stay grounded and gives me a sense of peace. My faith has been a significant factor in reducing my anxiety. This book by Lysa TerKeurst was so insightful and gave me a fresh perspective on how to process painful situations and unexpected life events better. I highly recommend it.
💡TIP: If you struggle with regular anxiety and chronic worry connecting with a psychotherapist is an important step. They have the clinical expertise to process, guide and support you through your anxiety. Although having a session is not something you can do the moment anxiety hits, all the strategies you learn will be available to you so you can implement them to reduce anxiety in the moment.
3. Take Breaks In Intense Situations.
Taking a break may not be a common strategy referenced but I have found it to be a practical and powerful way to mitigate stress.
Taking breaks or physically leaving an intense situation, such as a heated argument or when someone verbally lashes out at you, is essential for reducing anxiety in the moment.
Staying in a situation like that and 'sticking it out' causes more harm than good and can trigger panic attacks.
Staying in stressful situations has caused me unnecessary high anxiety and emotional damage. Hindsight really is 20/20, and I learned the lesson the hard way. 🤦🏻‍♀️
When you're in a situation that escalates, becomes uncomfortable or is emotionally harmful, it's crucial to have clear boundaries of what is acceptable such as stepping away for a break but if that's not possible, remove yourself altogether.
People's harsh words are like sharp arrows, and once they have pierced through, they can take a significant amount of time to work through.
💡TIP: What you put up with is teaching people how they can treat you. Be mindful never to ignore your feelings. If things intensify or your stress/anxiety levels are quickly rising, take care of yourself.
4. Try Grounding Techniques.
Mindfulness activities are an excellent way to calm your mind and reduce anxiety in the moment. Here are some common ones:
5-4-3-2-1 Method: Name 5 things you can see, 4 things you can touch, 3 things you hear, 2 things you smell and 1 thing you taste (such as your lipgloss). This helps you focus on the present rather than being consumed by thoughts.
Touch something comforting: This can be anything that makes you feel calm and content such as a soft blanket, your pillow, your favorite top or a teddy bear. Then focus on how nice it feels and the sensation of it on your hands or face.
Repeat powerful self-love affirmations: Pausing and repeating some positive affirmations to yourself is an easy way to recentre your mind and focus on your blessings and strengths rather than drowning in anxious thoughts. To add to this put your hand over your heart while you repeat calming affirmations.
3-3-3 Rule: Look around wherever you are then name 3 things you can see, then name 3 sounds that you hear and finally move 3 of your body parts.
Mindful eating: Eat something (dark chocolate, raisins, apple, etc) and go through all five senses in detail so you're focussed on enjoying the food and all the pleasures it brings through smell, taste, touch, sight and sound.
5. Go With The Flow.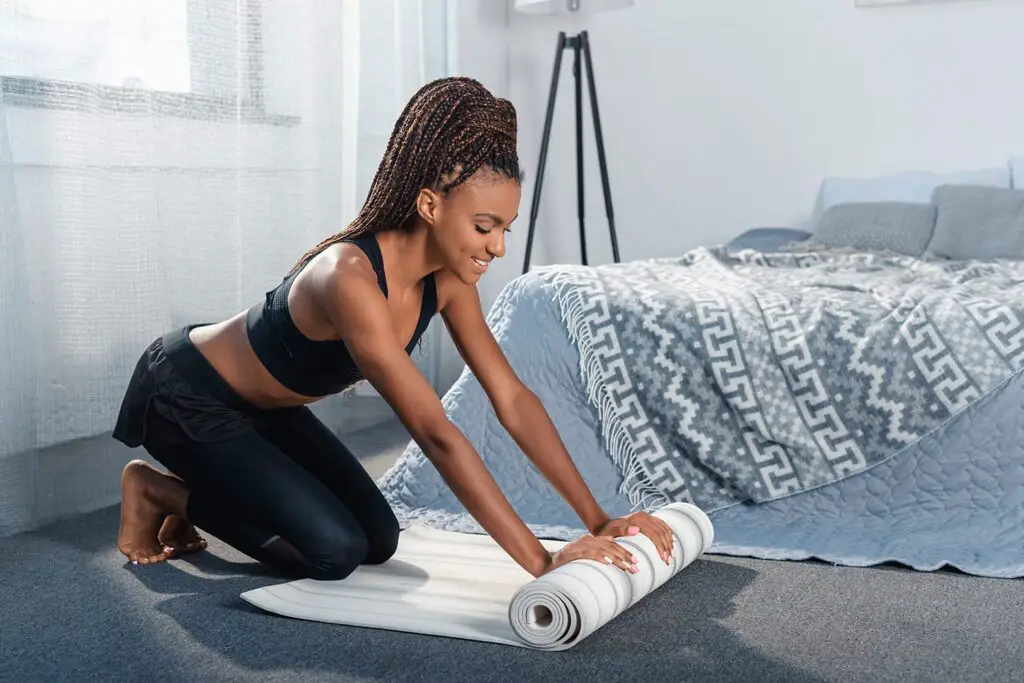 The best way to reduce anxiety in the moment is to get your body moving and go with the flow.
The type of physical flow you choose doesn't matter, just make it something you enjoy whether you go for a walk to clear your mind, do a short high-energy workout, hop on a treadmill or do some relaxing pilates.
Physical activity is essential for maintaining positive mental health and is the number one way to reduce stress and anxiety in the moment. (2)
It's up to us to take the best care of ourselves as we can because no one else will do that for us.
Choose something that is fun so you'll be more motivated to do it or try out something new.
I know many people like Yoga, so if you're interested check out Yoga with Adriene.
If you're not a gym person, try other ideas such as:
Jogging
Hiking in local woods
Cycling (It can be on a stationary bike or outside at local biking trails)
Weightlifting
Dancing
Swimming
Another fantastic site for anything from Pilates to dance fitness, core conditioning, Bootcamp and Yoga is YMCA360.
Or you can try this supportive Pilates group for women called The Balanced Life if you're interested.
I love walking and do some easy fitness at home, i.e. lunges, squats, jumping jacks, and basic pilates.
How To Reduce Anxiety In The Moment: You Hold The Power
When it comes to calming your mind and reducing anxiety in the moment you hold all the power. 💪
Although no one can help you relax or take away your worries when you begin to regularly use these techniques, they become powerful habits that reduce anxiety and get you focused on the here and now rather than being stuck on that slippery slope of anxious thoughts.
Some may work for you and some may not and that's perfectly okay.
Always be gentle and show yourself kindness and grace, cultivating a healthy self-compassion is a game changer and I'm your online self-compassion advocate and supporter. 💕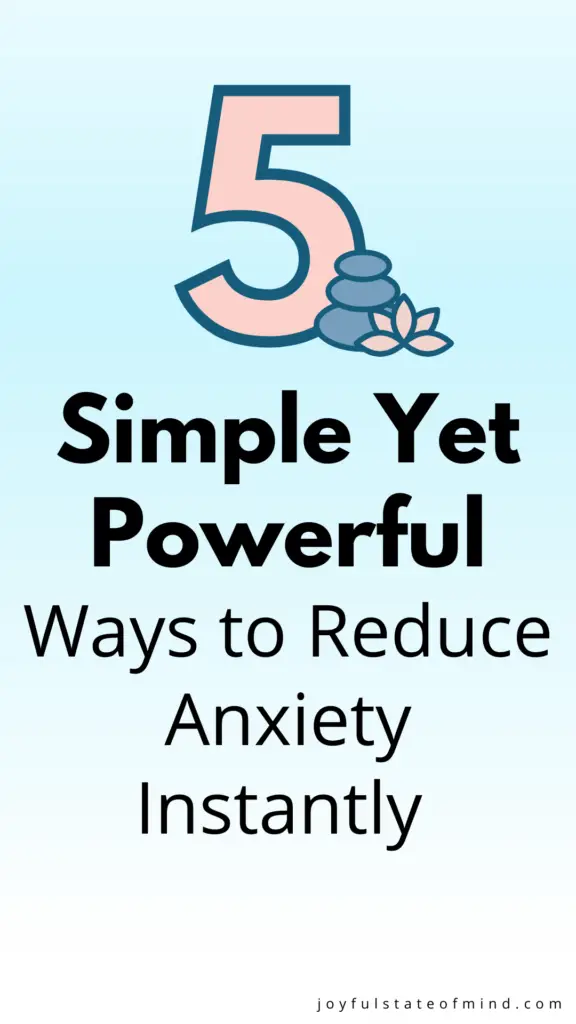 Disclaimer: If you suffer from anxiety or any other mental health issues, please consult with your doctor to receive professional treatment or support. This post is not medical advice, see disclaimer page .
Resources:
1. Burnout: The Secret to Unlocking the Stress Cycle. Nagoski & Nagoski (2019)
2. https://www.psychologytools.com/self-help/generalized-anxiety-disorder-gad-and-worry/