Easy 30 Day Social Media Detox (+ Free Planner)
Has your social media use increased in the last couple of years? Since the pandemic, I have to admit mine has, and I think it's safe to say that's the same for most of us. So here are simple strategies to start a 30-day social media detox to create more time during the day for what you love and what matters most.
Before anything else, show yourself kindness and don't be too hard on yourself for your time on social media. The fact that you know you're spending more time than you want is the first step to improvement.
There's nothing particularly "wrong" with social media. There are positives such as staying connected to friends and family abroad, using it to advocate for an important issue, learning something new, and having some fun.
The problem is how we use these platforms and how much time we spend on them.
Social media in moderation is fine and entertaining. However, over-consuming and mindlessly scrolling for hours is harmful to our mental health and seriously impacts our self-esteem. (1)
What Is a Social Media Detox?
It's the conscious decision to eliminate social media use for a set period. It's taking a break from using social media with the goal of creating better habits around social media use.
Ideally, this means you're eliminating any social media use or consumption. Think of it as a social media cleanse and something that will benefit you and those you spend the most time with.
The goal is a 30-day social media detox, but you can do it for a couple of days, a week or even longer. You might be motivated to do more after you do a day or two, but you won't know unless you try.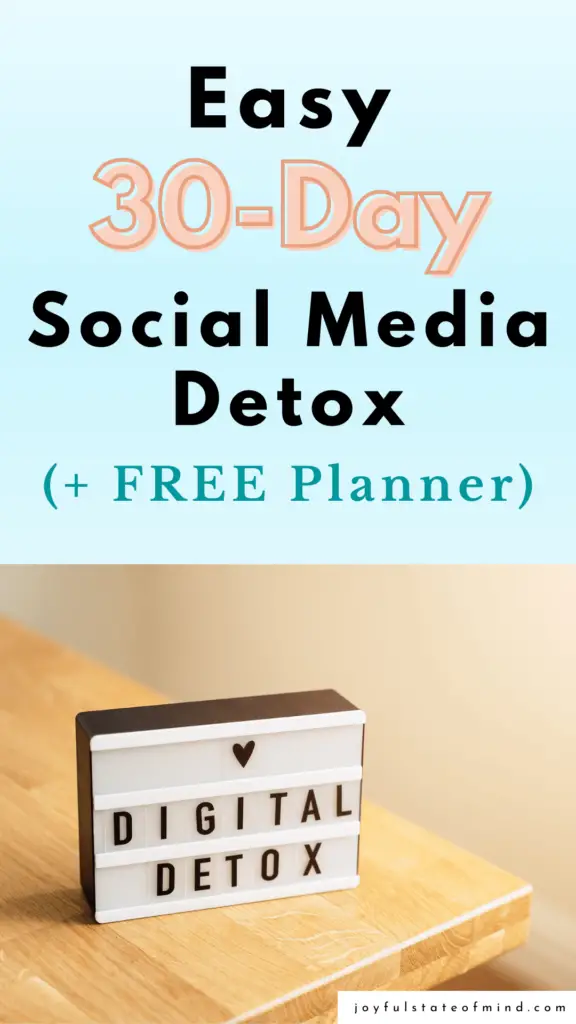 My Experience Doing a 30-Day Social Media Detox
I was hesitant about taking a month off social media after all…
What would I do if I wasn't scrolling through an endless feed of stunning curated pictures?
Maybe I'd miss some important updates.
How would I keep in touch with everyone?
How would I know what my friends were up to?
Although these thoughts sound really silly to me now, these are genuine fears for people, especially younger people and those who grew up in the digital age.
But now that I've been doing 30-day social media detoxes, it's been refreshing and eye-opening, so I highly recommend it (for whatever period you're willing to commit to).
I'm less anxious, more present with the people around me and spend more time doing things that feed my soul and increase my joy instead of taking away from it.
30-Day Social Media Detox Challenge + Free Planner
This is a simple social media detox challenge to follow where you're stepping away from social media for 30 days (or whatever length you choose). It doesn't require you to track new steps each day or go on different apps at different times. 
It may sound daunting, but there are many benefits to doing this (as outlined below), especially if you overthink things or struggle with anxiety and depression.
Being off social media for a set time will help motivate you to create better habits around your social media use. I'll help you through that below, and please feel free to email me here during your detox if you have any questions or want to share how it's going. 
If you can't commit to 30-days, don't worry, try a shorter period. The planner below is a simple and helpful guide for any length you do. Be sure to get it before you leave.
I've created a FREE printable planner for this challenge which includes:
Social Media Detox Planning Sheet
30-day Social Media Detox Calendar
An Activity Worksheet
A Review Sheet for once you have completed the challenge.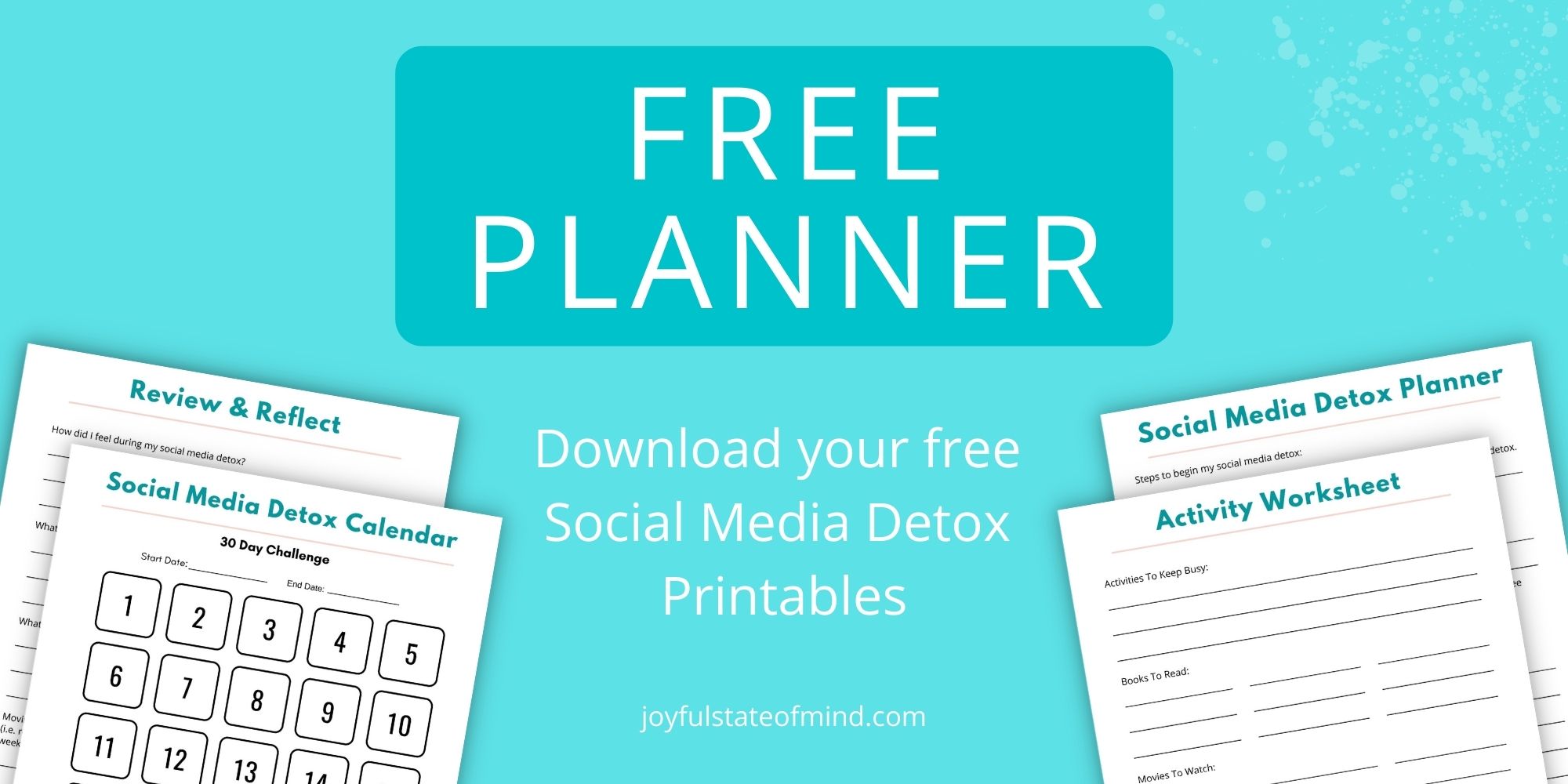 Click here or fill out the form below to download your free planner now!
Why Take a Social Media Detox?
If you're preoccupied with social media or constantly reaching for your phone, a social media detox is well worth it. It might just be what you need to be less worried, more satisfied with life and have more freedom with your time.
Here are some questions to think about:
Have you ever stressed over getting the perfect selfie or family pic to post on social media?
Do you check Instagram or other social media apps before getting out of bed and the last thing at night?
How about mindlessly scrolling that you lose track of time?
Or forgetting to do something because that quick check on Facebook or TikTok ended up being way longer?
Have you come off social media feeling stressed, upset or more anxious than when you went on?
Did something on social media trigger you?
If one or more of these resonate with you, it's an excellent time to try a social media detox.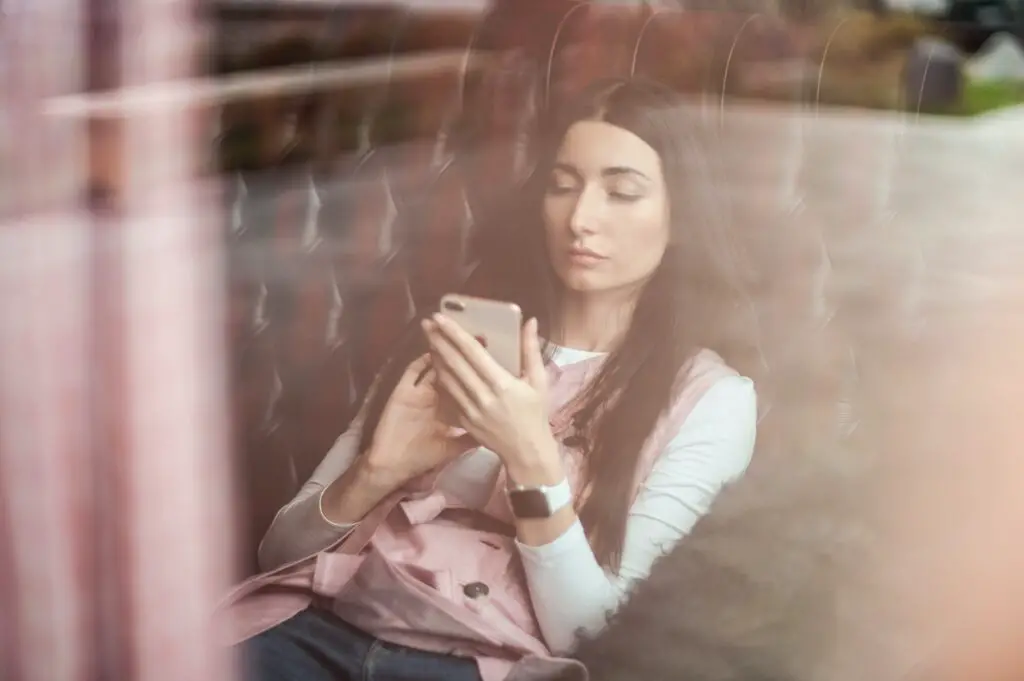 What Are The Negative Effects of Social Media
Harmful to Your Mental Health
You can find countless articles about social media's harmful effects on our mental health. There's a good reason for that.
So let's look at some information and statistics about social media's impact because our mental health is just as important as our physical health.
A 2017 study of 5,000 people found that higher social media use correlated with self-reported declines in mental and physical health and life satisfaction. (2)
An affiliate at Harvard Medical Hospital notes:
"Social media has a reinforcing nature. Using it activates the brain's reward center by releasing dopamine, a "feel-good chemical" linked to pleasurable activities such as sex, food, and social interaction. The platforms are designed to be addictive and are associated with anxiety, depression, and even physical ailments." (3)
A 2018 Pew Research study found that 59% of U.S. teens have been cyber-bullied on social media. These teens believe adults are not doing enough to address the problem. (4)
The Anxiety and Depression Association of America has reported that people suffer from "Social Media Anxiety Disorder." This disorder includes symptoms such as withdrawing from friends and family, using social media more than six hours a day and experiencing severe anxiety and withdrawal symptoms when not able to check social media. (5)
It Can Become An Addiction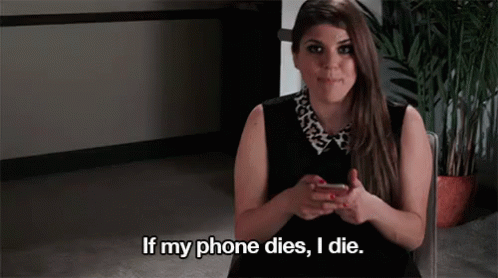 Social media companies' goal is to keep you on their network for as long as possible. They use tools such as advertising trackers, artificial intelligence and notifications when you're tagged or mentioned. 
These are strategic tactics to get you to go back as often as possible and then stay on longer, knowing that you'll click on advertisements they choose just for you.
I recently watched "The Social Dilemma," a fascinating film about the inner workings of these networks by experts in the field. Many of whom had high positions in some of these companies. If you get a chance to watch it, I would recommend it as it's insightful and a great motivator to try a social media detox. 
In a popular article on ComputerWorld, the author writes, "social networking is engineered to be as habit-forming as crack cocaine." (6) Yikes, talk about a harsh reality check right there for you! 🤦🏻‍♀️
It's estimated that over 210 million people worldwide suffer from social media addiction. (7) We are more than ever dependent on technology, impacting overall life satisfaction. 
Thief of Time
Balance and moderation are essential for anything we consume, such as social media. That takes self-discipline, and discipline can be challenging for social media use. It's easy to fall down a rabbit hole, isn't it? 
The average person spends almost 2 hours a day on social media, which adds up to over five years of an average lifespan. (8) Crazy, right?! I'm right there with those 2 hours, so this is a truth bomb I needed to hear. 💣
To help put your social media use into perspective, reflect on some of these questions: 
After spending an hour(s) scrolling through social media, how do you feel? 
Did anything beneficial come from it? 
What else could you have been doing with your time? 
Did you miss out on more quality time with your partner, kids or pet?
How often do you spend time on self-care?
Is there something important you want to do but never find the time for?
Are there things you keep putting on the back burner, and you're unsure why?
There are no guarantees in life, and we only have so much time to do what makes our hearts happy, accomplish goals, make a difference in someone's life, spend time with loved ones and have quality "me time." 
If you think a social media detox will help you prioritize any of these, it's worth a shot. 💯
The Comparison Trap (Intensified)
It doesn't matter how hard you try; comparison is inevitable when scrolling on social media, whether you're conscious of it or not. 
We've all heard the phrase that comparison is a thief of joy. When it comes to social media, the comparison trap is only intensified. 
So much of it is a curated facade with everyone only posting their beautiful pics or unforgettable moments. Everyone seems to be living lavishly and travelling every few weeks.
Please remember social media is not a realistic picture of what's going on, and many people are faking it. 
I used to follow every popular fashion, lifestyle and travel blogger, and it became emotionally exhausting. I wondered why my life wasn't as exciting, glamorous and perfect. 
So be mindful to follow accounts that bring something positive, inspirational, educational or entertaining to your feed.
There's nothing wrong with fashion/lifestyle or travel blogs; I still enjoy and follow many of them and I used to be a fashion blogger years ago. But, the difference is that my feed isn't saturated with superficial things and unrealistic, unattainable standards. 
When you're off social media, it's easier to appreciate everything you have, practice gratitude for all the little things and feel happier. 
Strategies For a Social Media Detox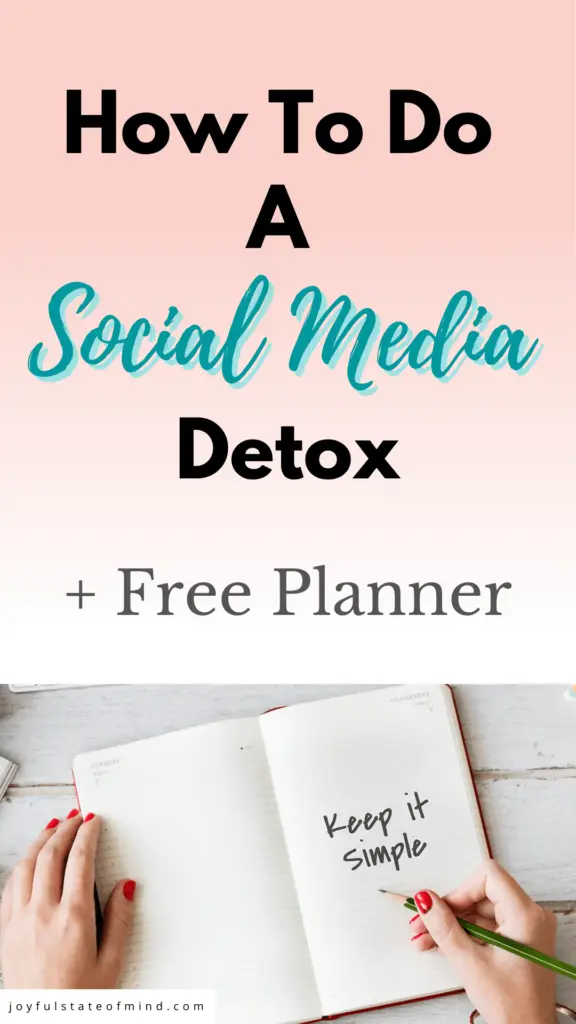 1. Delete Social Media Apps From Your Phone.
I know this idea sounds scary, but don't worry, it's not permanent. You're not deleting your account, just uninstalling the app, and you can install it back whenever you want.
My husband convinced me to delete my Facebook app off my phone, and it did wonders. Surprisingly I didn't miss it, and I have more time to do other things I love, like reading or watching movies. You'll be surprised how it gives you a sense of freedom and accomplishment.
Not everyone dares to do this, so give yourself credit and celebrate. Once you delete those apps, it helps you realize that limiting time on social media is very much doable.
2. Think of New Ideas to Replace Your Social Media Time.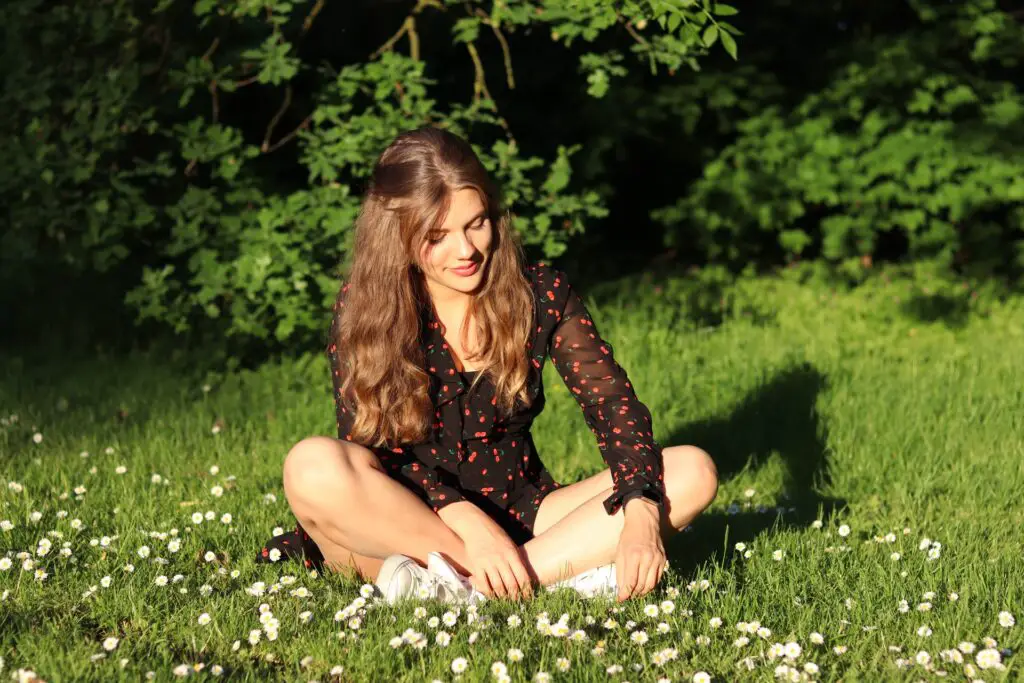 Two hours a day of scrolling is a significant amount of time, even if you only go on for 10-15 minutes at a time. So start brainstorming other recreational ideas for that time instead. 
If you use it as a break time, go out for a short walk or call a friend. Here are 70 of the best self-care ideas to get you started.
Some other ideas:
Start DIY projects for the summer season
Listen to inspiring podcasts or audiobooks
Join a book club
Learn something new such as playing an instrument or a new language
Start that blog or side hustle you've been thinking about for years
Redecorate or organize rooms in your home
Sit in the grass and relax
Soak your feet
Try these self-care gift ideas and products to make the most of your self-care time. I love, own and regularly use so many of them! ❤️
3. Have a Detox Partner. 
It can be challenging to start a social media detox as it's part of our social circles, and we don't want to miss anything. FOMO (fear of missing out) anyone?
If you try it with your partner or a close friend, you can encourage and hold each other accountable.
4. Break The Habit of Reaching For Your Phone.
If you need your phone during work, that's fine. But, when you're off work, try your best to keep your phone somewhere else so it's not always on you. We are attached to phones these days, so this will take some effort and discipline.
I've worked diligently on this one because I had a terrible habit of taking it with me everywhere.
It's unnecessary always to carry it, but it's also nearly impossible not to check it because it's accessible and tempting, especially when you get notifications.
Once you start making an intentional effort not to have it with you, it does get easier. The great thing is you'll have fewer distractions and better focus, and you may be surprised at how good you feel without it.

So just…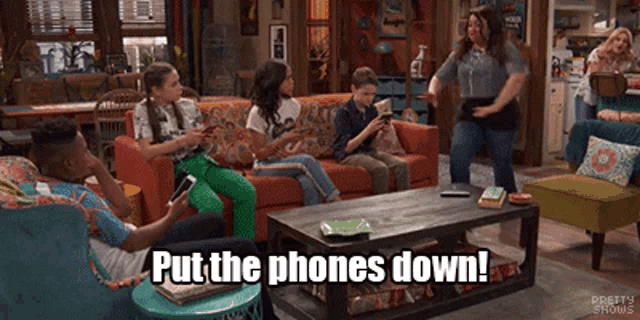 5. Let People Know You Are On a Break.
If you spend a significant amount of time on social media and always post, you can let close friends or family know you're on a break. Then they won't worry about what happened, and you don't have to worry that people may think you are rude or ignoring them.
This is your choice, but it's an option. You want to make a social media detox as painless as possible for yourself, so if it helps, go for it.
Benefits of a Social Media Detox
There are so many benefits of a social media detox, including more mental clarity and a sense of freedom.
You no longer have to be stuck in the FOMO (fear of missing out) mindset. Instead, it will help you embrace JOMO (JOY of missing out), yay!
JOMO is feeling pleasure and joy from spending time doing what you want and not worrying about what other people are doing or what you're "missing" out on. How empowering and amazing does that sound?! It's not easy to shift your mindset, but it's very doable.
1. More Free Time.
There's no denying that social media is a time suck. 
People's usage only seems to be increasing, and social media networks are working hard to ensure we stay on longer. They've created persuasive design techniques such as the endless scroll and push notifications that keep us glued to their apps. 
You may not notice how much time you're wasting away, but once you start your detox, it may astound you how much more time you have. 
2. Better Quality Sleep.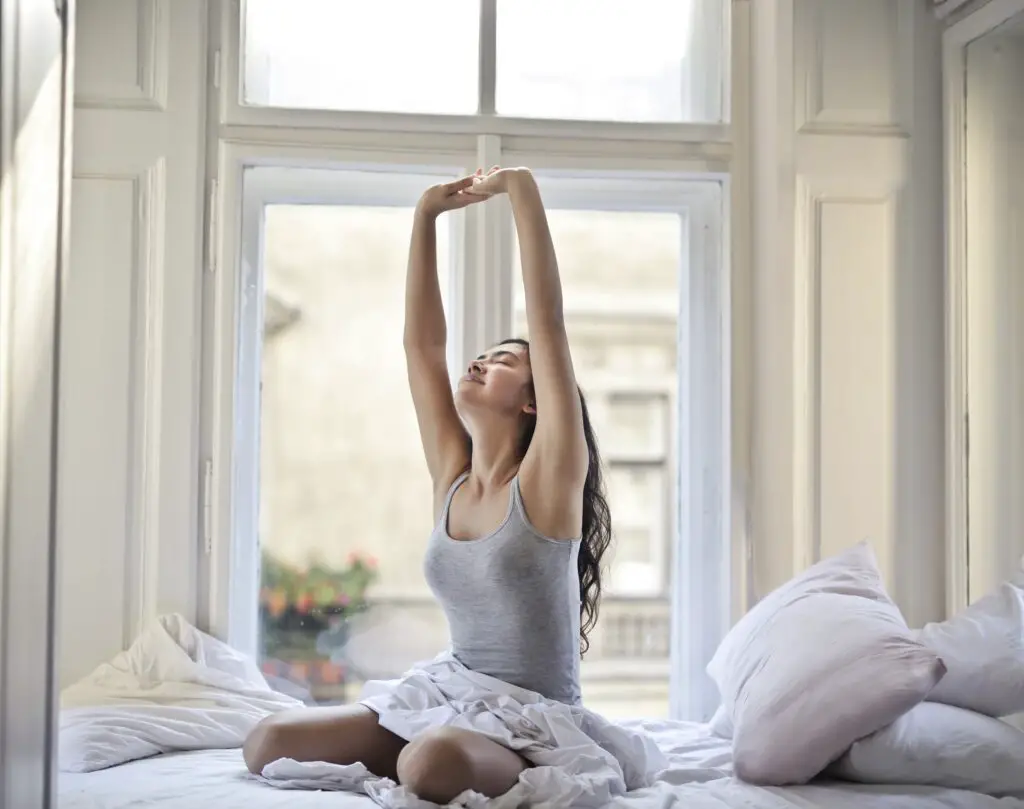 A 2011 poll conducted in America found that 95% of people regularly use electronics within an hour of bedtime. (9) The popularity of cell phones has intensified this. They note that 35% of adults have insufficient sleep. (10) Moreover, the blue light emitted by many devices disrupts the natural production of melatonin, the hormone that facilitates sleep and can throw off your circadian rhythm (11).
So, disconnecting from your phone and social media should also help you get a better night's sleep so you have more energy in the morning.  
3. Gain More Control.
If you constantly check social media, feel preoccupied with it, suffer from FOMO, and social media sometimes causes you stress or anxiety. It's safe to say these apps have some control over your behaviour.
For example, when I deleted the Facebook app from my phone, it made me feel more in control of the app and my use. Although I still go on maybe once a week for a quick check, I'm noticing I don't even really want to go on it anymore.
This is my experience and not meant to guilt or pressure anyone. If you feel your social media use is limited and doesn't impact you somehow, a detox may not be necessary.
4. Reduce Your Anxiety.
Since I've significantly reduced my social media use, I'm less anxious and more satisfied with everyday life. I'm not focused on what others are doing, nor am I bothered if I miss posts from people and honestly, that's been a game-changer.
As you read above, social media negatively impacts our mental health. Overconsuming social media increases anxiety, lowers your self-esteem and effects depression.  
We all have too much on our plate, so anywhere we can reduce our anxiety and improve our mental health is worth the effort. 
Social media is one of the most manageable issues we can tackle to help reduce our anxiety. 
5. Improve Your Relationships.
Social media can negatively impact relationships and can even destroy them.
There are endless ways social media can ruin relationships:
You can offend or hurt someone unintentionally.
Someone may randomly unfriend you and hurt your feelings.
It's easy to argue with people on social media over differences of opinion or beliefs.
A family member might post something you didn't want them to.
Maybe you stumble across pictures of events and wonder why you weren't invited.
Etc, etc., etc.
Social media is distracting and consuming. When you're concerned about keeping up to date, posting the perfect pictures and capturing those Instagrammable shots, this impacts those closest to you in those moments.
6. Be More Present.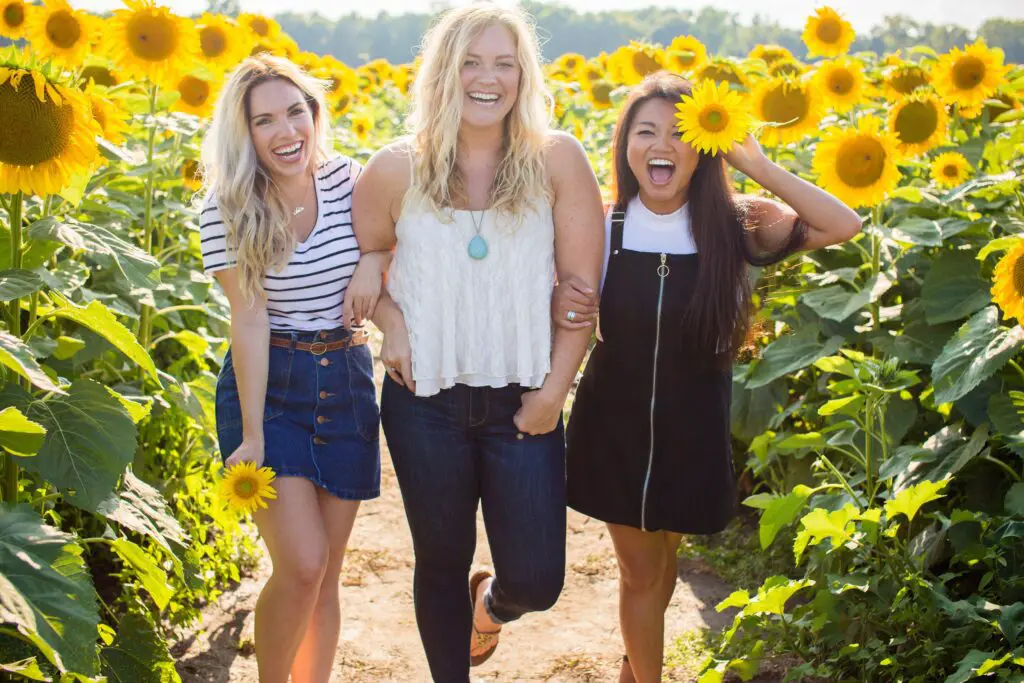 Like the point above, being off social media will improve how present you are in real-life situations. You won't be interrupted by notifications or the urge to check social media. 
Being present with the people you're with is essential and makes them know you value them and their time. 
When you're more present in the here and now, you'll enjoy yourself more and be more engaged with your people, a win-win! 💯
7. Experience More Joy.
When you're more present in the here and now, you'll enjoy yourself more and be more engaged with your people, a win-win! 💯
Social media negatively impacts our mental health, relationships, and sleep, which are essential factors in how joyful we feel.
Once you try a detox, it will help you experience more joy in everyday life and be more grateful for all the little pleasures and what you have. When it comes to helping you go from surviving life to having a more joyful thriving life, I'm all in! 😘
The Detox Is Over, Now What?
Number 1: Celebrate! 🎉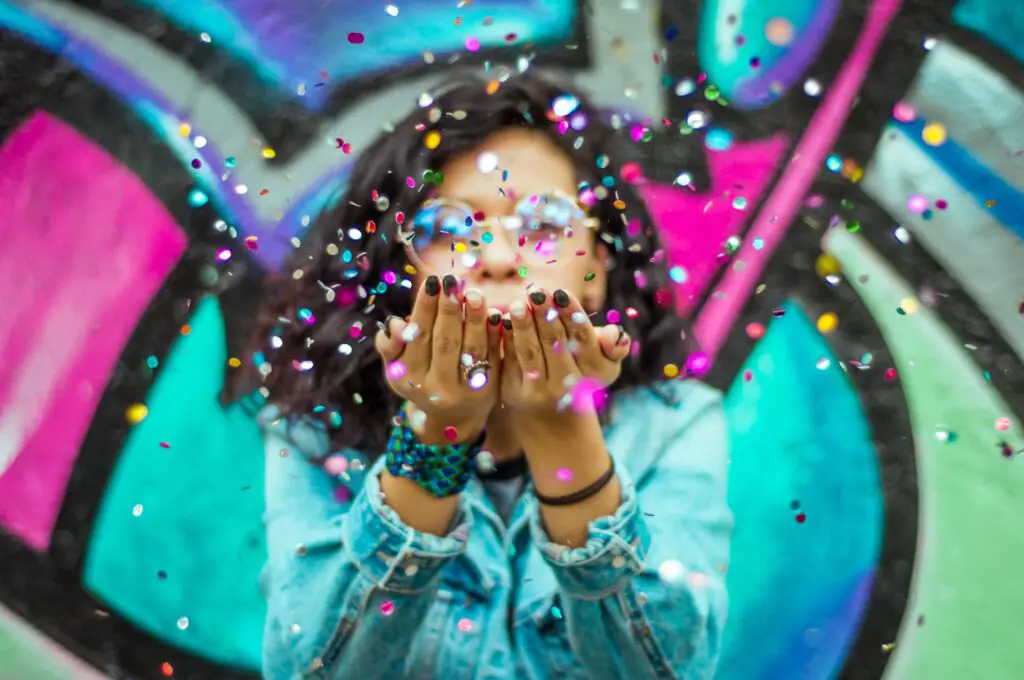 Anyone who has the courage and commitment to try a social media detox deserves to celebrate. It's not for everyone and takes more discipline than it should, and those are two great reasons to be proud of yourself.  
Number 2: Decide How You Want To Move Forward.
What was your experience being off social media? What were the benefits? Were there any disadvantages?
It probably wasn't as bad as you thought it might be. More likely than not, it was a positive and freeing experience.
But whatever your feelings are about it, one thing is for sure you now know you're capable of living without social media.
So the question remains, now what?
Although you'll likely get back on all of the apps, you'll probably now want to reduce your time on them. So let's look at ways to do that.
Ways To Reduce Over-Consuming Social Media
Completing a social media detox is a great starting point to reducing how often you're on social media. So that you'll have more time and freedom to do what you love and build stronger relationships with family and friends.
Here are a few ways how:
Set boundaries around your social media use and stick to them. For example, not going on first thing in the morning or before bed, never going on during meals, etc.
Have a designated detox day each week and stick to it. For example, no social media Sundays.
Have your accountability partner keep you in check to reduce your time on social media.
Put your phone down. So many of us are literally glued to our phones, which only reinforces regularly checking social media. Make it a habit not to take your phone with you everywhere.
Put your phone on do not disturb mode when you don't want to be interrupted, such as when you are out with family/friends.
In your cell phone settings, you can put daily limits on each app., or you can also check out these apps below:
Now BREATHE. You've got this! I'm rooting for you and know that this will be a good challenge.
Final Thoughts On a 30-Day Social Media Detox
We've learned that social media use has many adverse effects, particularly on our mental health. Millions have an addiction to it. It's also detrimental to sleep and social relationships and increases the toxic habit of comparison. 
If you are addicted, there's no need to feel bad, guilty or beat yourself up. You're willing to consider a social media detox which is a great start. So whether you try a 30-day social media detox or not isn't what matters; it's that you know there is a need to improve in this area, and you're willing to try. 👏
There are many benefits to participating in a social media detox but if 30 days is too much for you, try seven days or a weekend. You won't regret it, as it'll change your perspective and help you realize how social media impacts you.
To start a Social Media Detox and receive your FREE Planner, fill out the form below. You are also joining the Joyful State of Mind newsletter, but you can unsubscribe anytime. See privacy policy. 

References: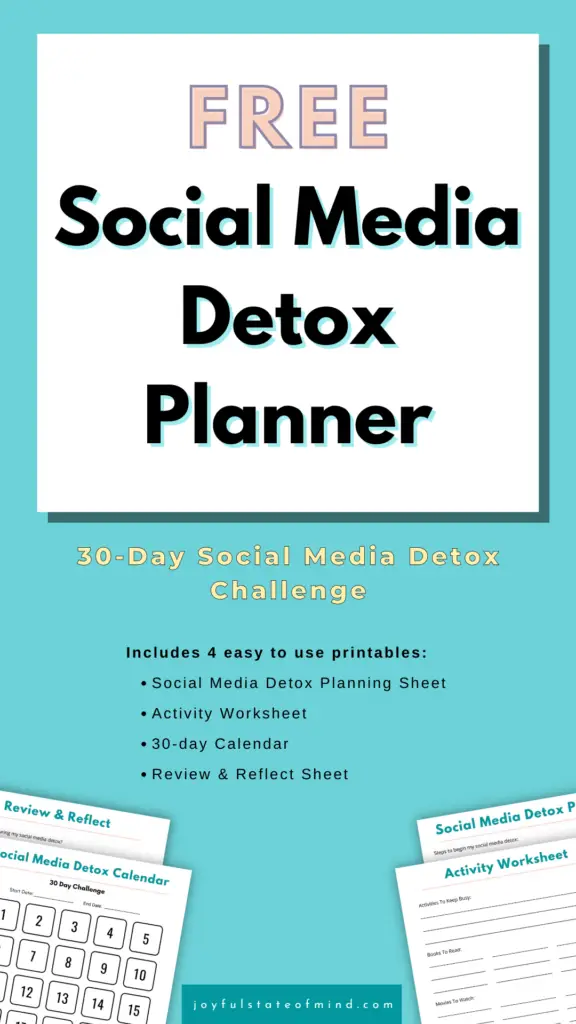 Header photo by Kindel Media 
Woman with cell phone by Vladimir Fedotov
Photo of girl in grass by Dennis Leinarts 
Three women by Courtney Cook
Photo of woman on bed by bruce mars
Woman with confetti by Hugo Ruiz