Discover How To Glow Up Mentally: 30 Transformational Tips
We've all seen jaw-dropping before-and-after photos of physical transformations or "glow-ups" flooding our social media feeds. But amidst the fixation on looking more beautiful and younger, there lies an even more compelling idea: the art of how to glow up mentally. 
Imagine a metamorphosis that leaves you feeling better, thinking better, and living better. Yes, it feels great to get dolled up but tending to your mental well-being is the ultimate act of self-love. 
This post is your guide on doing a mental glow up with 30 powerful yet simple tips that lead you to glow up mentally and pave the way for a brighter, more relaxed, and radiant you! Yay to that. 🎉
This post contains affiliate links, which means I may earn a small commission if you make a purchase, at no cost to you. See my disclaimer for more info.
What is a Glow Up? 
If you haven't heard of a "glow up" before, it's a relatively new phrase in pop culture. Although it's gained popularity recently, the concept is far from new. 
The meaning of "glow up" in UrbanDictionary.com is as follows:
A Glow Up is a mental, physical, and an emotional transformation for the better. Glow Ups can be both natural or planned. As well as being gradual and permanent, or fast and temporary.
In cyberspace, it's usually used to describe someone's physical transformation. Sometimes it's used for someone going through puberty and then maturing into an attractive adult. Or someone getting physically fit, shedding pounds, and looking like a new person.
Social media is obsessed with these kinds of physical glow-ups, but glowing up internally for an emotional transformation to improve your life, reduce stress, and live more joyfully is the focus of this post. 
My Unplanned Glow Up 
My glow up was more of an unplanned journey; as a young woman, I was all about my physical appearance–looking pretty, staying fit, keeping up with trends, etc.  
There was nothing wrong with that; the problem was that I wasn't putting half as much energy into my mental well-being, and after years that eventually caught up to me in the form of burnout and anxiety.  
My transformation happened haphazardly after a difficult period. 
I'll never forget the day I sat in a hospital room when the weight of everything just hit me like a ton of bricks. It felt surreal, but it also gave me unexpected courage. 
At that very moment, I knew a change needed to happen if I wanted a better life. 
My first step was a tiny one, a text message. It may sound silly that a text was such a turning point, but it was. 
That message changed the trajectory of my life and where things were heading. Before I knew or realized it, I was full on my journey to glowing up mentally.
So whatever might hold you back, go out and take that first step, as you never know where it'll take you.
Why You Should Try a Glow Up
Embarking on a mental glow up journey isn't about a one-size-fits-all formula; it's a process of trial and error. 
Instead of viewing it as an overwhelming task, consider it a series of gradual steps over time. These steps can significantly enhance your sense of joy and life satisfaction.
Starting a mental glow up can be about quick wins, but it's more about sustained growth. 
While you can immediately implement some tips below, remember that true transformation happens through ongoing personal development.
A mental glow up revolves around doing consistent self-check-ins and living more mindfully. 
You can do this by working on being aware of your emotions to pinpoint areas for improvement in your mental well-being—whether it's managing sadness, reducing anxious thoughts, or overcoming burnout. 
💡Tip: If you have concerns about your mental health, contact a doctor for professional support or treatment. A mental glow up is a way to focus on improving your emotional well-being. It's not meant to replace therapy or clinical intervention.
Benefits Of a Glow Up
The constant stress and anxious thoughts that once consumed me have considerably decreased and are more manageable, so I know the simple strategies below have the power to improve your mental health.
Drawing from personal and professional experience, a mental glow up is something everyone can benefit from. 
And I love that this term makes it feel modern, fun, and exciting rather than a chore. 💃🏻
Some Mental Glow Up Benefits:
Develop a more positive mindset.
Alleviate stress.
Boost self-esteem and confidence.
Cultivate new coping skills.
Reduce anxious thoughts.
Embrace the present moment.
Have more restful sleep.
Experience increased joy.
Improves your relationships.
Increase your self-compassion.
When you're committed to this path, you'll be on your way to improved mental wellness. Nothing is a cure, but small, consistent steps make a difference. You can do this! 💯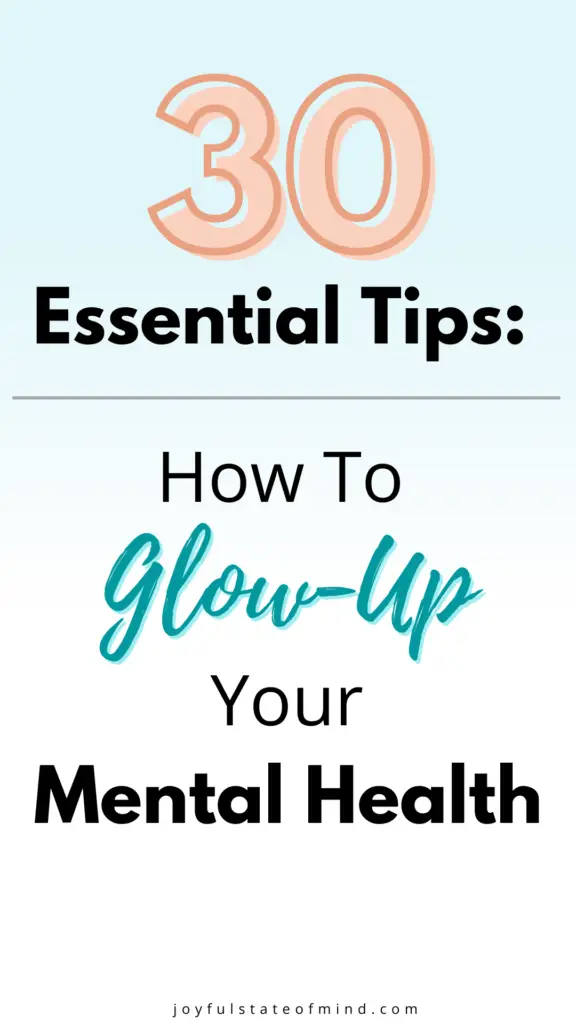 How To Glow Up Mentally: 30 Transformational Tips
1. Simplify to Glow Up.
Embracing the "less is more" philosophy has profoundly increased my peace and ability to focus on what matters most.
When we moved to a new city months ago, getting rid of unnecessary stuff and donating it to charity and a furniture bank was liberating and felt great.
Simplifying your life is crucial to having a successful mental health glow up, and here are some ideas to get you started:
Pick a room or small area of your home every weekend and declutter it. Throw out unusable things, donate the rest to charity, or hold a garage sale.
Track your time to see where you're wasting it and how to use it more wisely. You can use a time tracker such as Todist or TimeTree.
Break down long-term goals into doable steps and take small daily action on those goals.
Organize your belongings in categories and create designated areas for them. Try these organizing bins or these cute storage baskets.
Simplify your commitments by saying no to things that drain you.
Unsubscribe from unnecessary emails and notifications.
2. Bid Farewell to Negative Nancy's.
You can love them, forgive them, want good things for them…but still move on without them. –Mandy Hale
We've all known Negative Nancys or Donnie Downers and occasionally joined their complaints, but life's too short, and we have limited energy. So it's time to part ways with those toxic individuals who drag you down.
As Jim Rohn aptly put it, you're the average of your closest five companions. Surround yourself with positive influences.
Whether it's a childhood friend, sibling, or cousin, it's not easy but sometimes necessary to detach from these relationships. 
Please remember this choice isn't about revenge or unforgiveness. It's about safeguarding your inner peace and breaking free from energy vampires.
3. Embrace JOMO (Forget About FOMO).
JOMO is the "Joy of Missing Out," which means the pleasure and happiness you get from doing what you want without worrying about what other people are doing or what you're supposedly missing out on. Amen to that!
The "Fear of Missing Out" (aka FOMO) is everywhere, from songs to hashtags.  But it's an unhealthy mindset focused on comparing your life to others, so you constantly feel like you're missing out on something.  
Social media significantly increases FOMO as you scroll through beautifully curated feeds.
When you start to embrace the concept of JOMO you'll be better able to focus on the present moment and enjoy whatever you do, that's an empowering and freeing feeling.  
Some tips for embracing JOMO:
Pick and wear an accessory, such as a bracelet or ring, that will help remind you to stay present if your mind starts to wander.
Practice simple mindfulness techniques. For example, the "3-3-3 Rule" is where you look around you and name 3 things you can see, then name 3 sounds that you can hear, and lastly move 3 of your body parts. See here for more mindfulness ideas.
Refrain from having your phone on you at all times.
Do regular social media detoxes (even for a day a week or on weekends).
Get centered and clear your mind before doing something. Try deep breathing, relaxing music, prayer, or whatever calms you.
4. Seize Life's Invitations.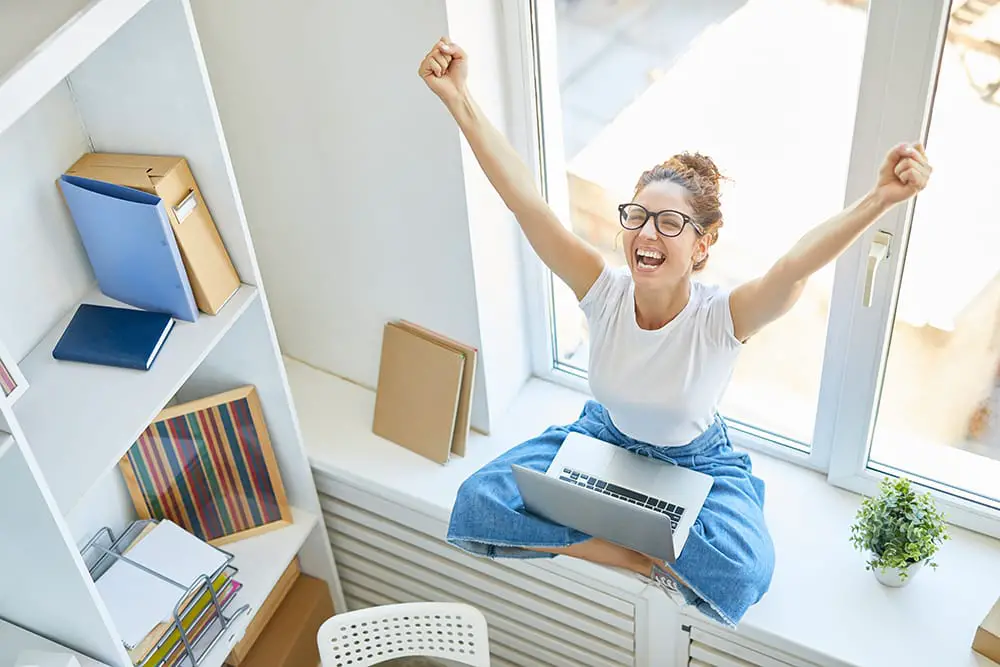 Say yes more to yourself! Our fears and limiting beliefs keep us from saying yes to new opportunities and trying new things. 
The next time you get the chance to do something that scares you, don't overthink it and do it whether it's going to an event or party that intimidates you, talking to a stranger in line, seeking new opportunities at work, or starting a small business or side hustle.  
You'll only know what it can be once you try. It may not work out, and that's okay. But what you learn and take away is guaranteed to be a good lesson. 
Side note: After years of hesitation, in 2014, I built up the courage to start a side hustle (fashion blog). Although it didn't work out the way I wanted it to, it opened doors, totally got me out of my comfort zone, and provided a wealth of knowledge for launching this personal growth site. 
5. Embrace The Power of the Pause.
The idea of being productive 24/7 is unrealistic and detrimental to our mental health. 
Start working on showing yourself grace and taking breaks more often.
Hustle culture has made us feel we must constantly work on goals to succeed, but getting comfortable with slowing down and resting is essential. 
These are my favorite game-changing quotes about embracing the power of the pause:
Besides the noble art of getting things done, there is the noble art of leaving things undone. The wisdom of life consists in the elimination of non-essentials. -Lin Yutang
Productivity is not how much work I do in a day but how well I balance what I need to stay healthy. Being productive is knowing when to rest. -Rupi Kaur
Related article: How to have more time in your day
6. Say Yes to Mentorship. 💯
There's no better way to hold yourself accountable than having someone else support you. 
Be sure it's a trusted person you know who is willing to invest in you so they'll follow up and help you on your growth journey. 
Staying on track regarding our mental health can be challenging because self-care, getting enough sleep, journaling, and taking vitamins may not seem important, but an encouraging mentor can help with gentle reminders and motivation.  
7. Share the Load. 
Seeking help and sharing the load is imperative if you want to improve your mental health, particularly as a parent. It takes courage to embrace the idea of asking for assistance.
So, start small and get comfortable with asking for help or delegating tasks when you need to. Society sometimes makes us feel differently, but being able to seek assistance is a strength, not a weakness.
💡Tip: Delegation at work is important so you don't burn out and it isn't just about lightening your load; it's also about fostering collaboration and trust in the workplace.
8. Seek Support to Unlock Healing.
Everyone has dealt with some sort of past trauma, disappointments, and toxic relationships, so talking to a therapist can benefit anyone at any age.  
Some benefits of individual therapy include developing effective coping strategies, gaining helpful insight into your issues, empowering yourself, and learning how to make healthier choices and set personal boundaries. (1)
💡Tip: If you're a person of faith, please remember that focusing on your mental health does not mean you lack faith. Just as we sometimes need medicine and treatment for physical illness, the same applies to mental illness.
9. Slay Financial Insecurity.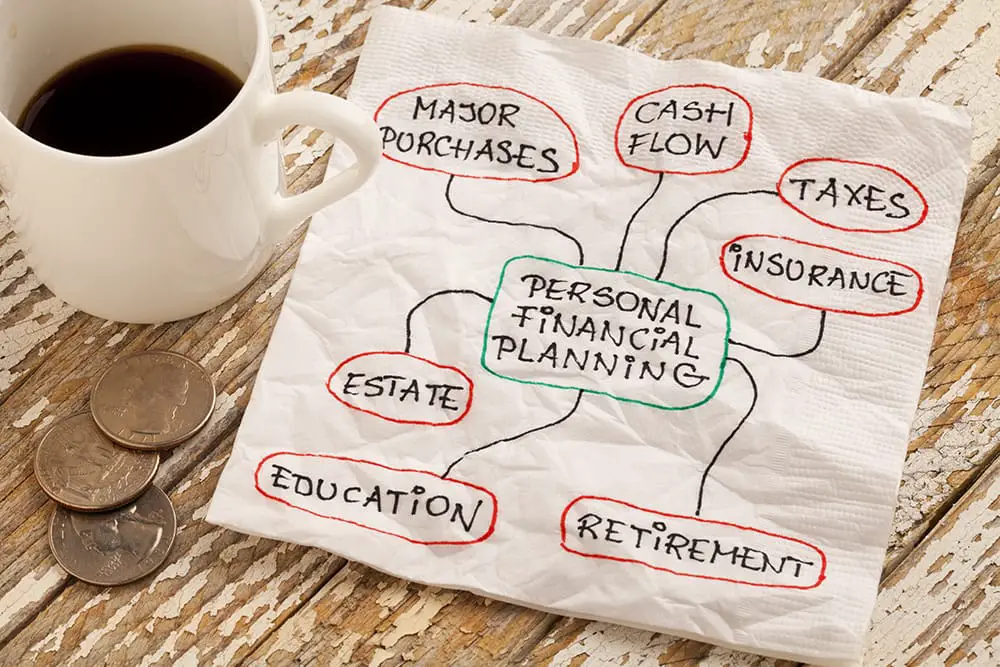 Most people worry about finances and future security. With all of the turmoil in the world, high inflation, and unaffordable housing, it's no wonder we worry about money.
Being sure you have an emergency fund can help take away from financial stressors and provide you with the peace of mind that if things go sideways, you have something to fall back on.  
It would help if you had enough saved for a year of unemployment, but I know that's challenging and unrealistic for everyone. 
So do your best to put aside 10-20% of your pay cheque. Go to your bank or speak to a financial advisor on how to invest some of it so that it will grow over time. 
Here are some helpful budgeting methods you can try to get you started on slaying financial insecurity. 
10. Elevate Self-Worth.
An empowering mental glow up starts with nurturing your confidence and self-esteem. Working on improving how you feel about yourself is a foundational step when you're in therapy for good reason.
An extensive research review by the University of California found that people with higher self-esteem are more successful in academics and their careers, have better social relationships, and improved mental and physical health. (2) 
One simple way to do this is to start being more accepting of yourself. Take time to celebrate your triumphs big or small and your unique qualities. 
If you accomplish something, have a productive day, or show someone kindness then acknowledge it and treat yourself. Be bold and embrace who you are even your quirks or weirdness, the people that matter most will always accept you for who you are.
Another way to start boosting your self-esteem is by challenging negative self-talk with positive self-love affirmations.
For 8 powerful but quick fixes to boost your confidence right now make sure you click on the related article below.
Related Article: How to boost your confidence as a woman
11. Establish Limits to Safeguard Yourself.
Developing healthy boundaries is an act of self-care that will protect your emotional wellness. Just like a fence keeps out unwanted intruders, your personal boundaries help shield you from negativity. 
Learn to say no without guilt and honour your limits. Stand up for what you believe, and be clear about what behaviour is acceptable to you and what is not. 
When you do so, people will have more respect for you, and more importantly, it builds self-respect, and that fosters your mental well-being.
Related article: How to stop being a people pleaser
12. Discover Podcasts That Ignite.
Try plugging into the power of podcasts for insights and fresh perspectives on different topics.  
Whether it's stories of resilience, expert guidance, or interesting discussions, a great podcast can help pave the way for improved mental health.
Some inspiring podcasts to consider:
13. Rest for Renewal. 🛌🏼
It's no surprise that getting quality sleep is vital (along with exercise and eating healthy) to improve your mental health. But the truth is we often neglect these areas or tend to minimize how much they impact mental health.
Do your best to prioritize a consistent sleep schedule to have a healthy and consistent circadian rhythm, your body's internal 24-hour clock.
Aim for 7-9 hours of sleep each night and have a regular bedtime and wake-up time. This kind of quality sleep improves how your brain performs and your mood. (3)
Not getting enough quality sleep also raises your risk of getting certain chronic diseases such as heart disease, stroke, and dementia. (4)
Other tips for healthy sleep:
Create a relaxing bedtime routine to signal your body it's time to rest. 😴
Keep your sleep environment comfortable, dark, and quiet.
If you have anxiety try using a weighted blanket.
Limit screen time before bed to avoid disrupting your sleep cycle.
14. Guard Your Privacy.
Oversharing can negatively impact your emotional wellness. Not everyone needs to know your business, maintaining a level of privacy in your life helps protect you.
Self-centered or manipulative individuals might exploit your vulnerabilities and past wounds to hurt or manipulate you.
I've learned the hard way to maintain a tight-knit inner circle and reserve open-heartedness and vulnerabilities for close relationships.
If someone asks you personal questions, you can say things such as:
I'm not ready to talk about that.
I'd rather not say.
Or ask them a question in response.
Remember, you're not obligated to answer personal questions from people you're uncomfortable with.
15. Cultivate Positive Daily Habits.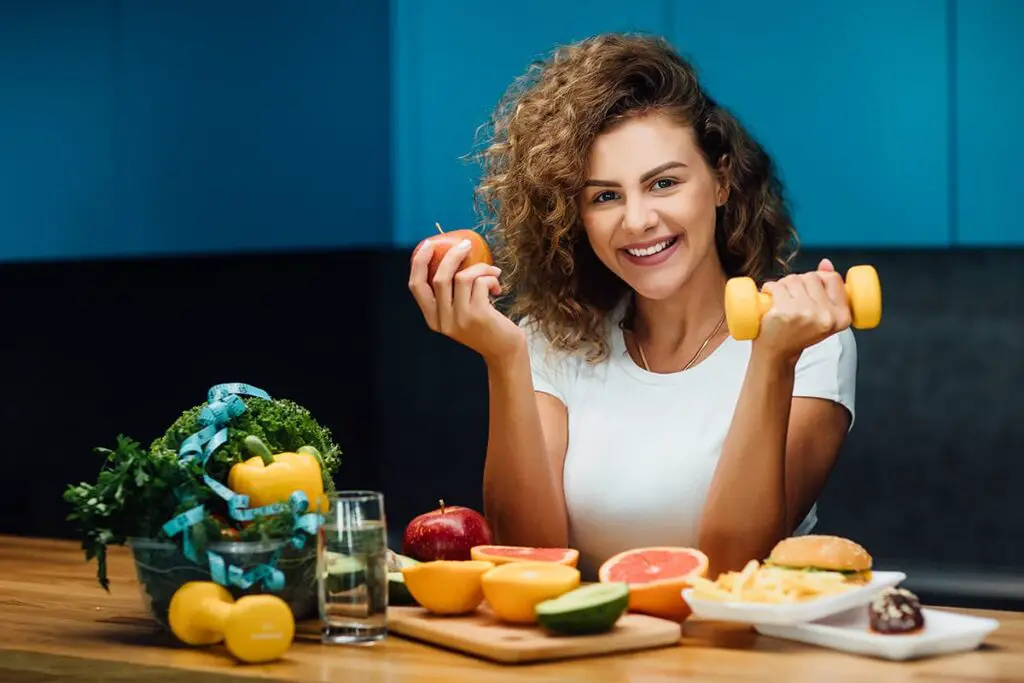 Positive habits are pivotal for your mental well-being and they amplify your productivity and energy levels. 💪
If you're interested in detailed guidance in this area, read "Atomic Habits" by James Clear to help establish better habits and understand the science behind how crucial they are for success and well-being.
Consider these positive daily habits:
Give and receive more hugs. Hugs have been proven to help reduce pain, boost self-esteem, relax muscles, and even strengthen your immune system. (5)  
Devote 15+ minutes daily to reading. Personal growth is essential to a mental health glow up. 
Maintain good posture. It may seem insignificant, but proper posture helps boost confidence and decrease the likelihood of neck and body pains. 
Move your body for 20-30 minutes a day. Think nature walk, solo dance party, bike rides, or any fun activity that gets you sweating and your heart rate up. 💃🏻
Pay bills promptly. Taking care of bills as soon as you receive them minimizes stress and frees you from worrying about missing a payment. 
Limit sugar intake. I admit I have a major sweet tooth but always feel physically and emotionally better when I cut down on sugar and processed goods. 
Incorporate daily vitamins. Talk to your doctor or a nutritionist for help.
Journal for a few minutes each day. This is an easy and therapeutic way to reflect and express yourself.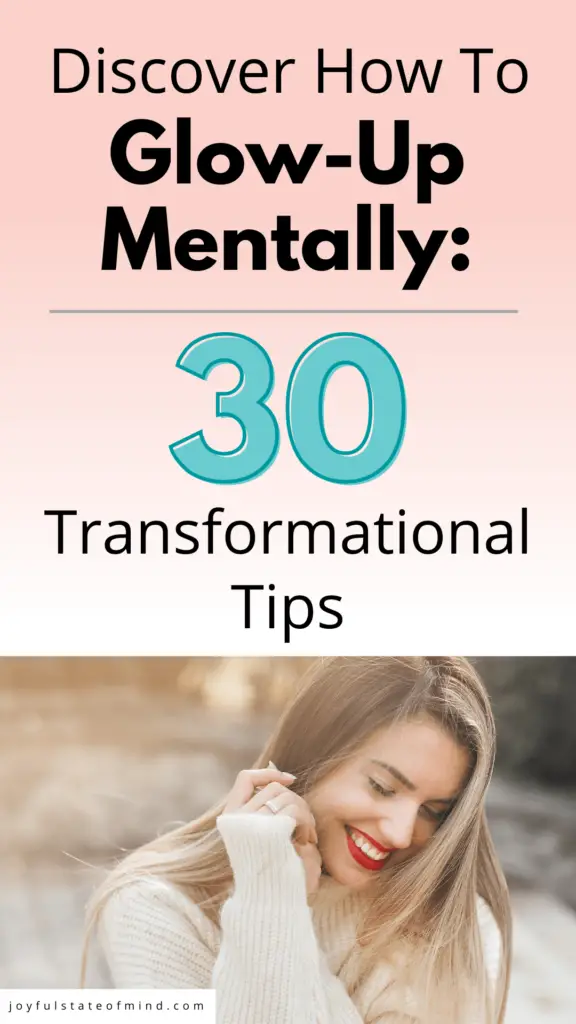 16. Glow from Your Own Heart. ❤️
Central to enhancing your mental health is cultivating self-love. There's power in being able to acknowledge your value, and it's not about being arrogant or having too much pride.
The transformative potential of self-love is something I strongly believe in.
Here are a few quick ideas I regularly use to develop self-love:
Engage in activities that make you feel good about yourself.
Set realistic goals and focus on your progress, not perfection!
Practice positive self-talk and challenge your negative thoughts.
You can read this detailed article for powerful tips on cultivating self-love to help transform your life for the better.
17. Small But Mighty Support System.
Having a supportive tribe is crucial for improved mental health. And you don't have to be popular or have a massive social group. 
As an introvert with anxiety, my tiny support system is often a lifesaver. I know who I can turn to in difficult times or if I need a shoulder to cry on, and I want that for you, too.
Here are some tips to start creating a better support system:
Consider joining a support group.
Join a book club or another small group for some uplifting social interaction.
Join a local Facebook group to build some new connections.
Surround yourself with positive people who build you up and make you laugh.
Offer your support to others to strengthen your relationships.
Cultivate and invest in close relationships with a few individuals you can trust.
18. Feed Your Soul.
Taking care of your soul and having a sense of purpose is another vital aspect of glowing up mentally. 
On a personal level, my faith in God has been the most transformational element in my mental glow up and one that has been life-altering. 
Some ideas to help feed your soul: 
Engage in activities that build on your sense of purpose.
Volunteer for a cause close to your heart.
Attend church and pray regularly.
Spend time outdoors and connect with nature.
Always try to be a light in this world by showing compassion, being generous, and helping people in need. 
Read scripture, a daily devotional, or inspirational quotes.
19. Prioritize Daily Leisure. 
Amid life's many competing demands, dedicating time to take care of yourself is crucial for your mental glow-up. 
Self-care isn't selfish; it's essential for recharging your energy. I'm your online self-care cheerleader, and here are my ultimate self-care tips and ideas for anyone to use:
So do your best to carve out moments for activities that bring you joy and relaxation. It can be 10-15 minutes a day of pampering yourself, reading, going for a walk, or anything that helps calm you and lift your spirits.
20. Refine Your Feed.
If you're following accounts or individuals that trigger insecurities or a sense of inadequacy, it's time to refine your feed.
When you're on Instagram, focus on accounts that are positive and helpful so you'll be flooded with a stream of enriching, uplifting, and educational content rather than things that make you feel bad.
Take a few minutes whenever you can to unfollow accounts that trigger you or are negative. This small action will totally enhance your mental well-being.
The culture of photoshopped images, cosmetic alterations, extravagant residences, and vacations on social media can easily trap you in the comparison cycle, which paves the way for discontentment, uncertainty, and envy.
21. Dive Into Empowering Reads.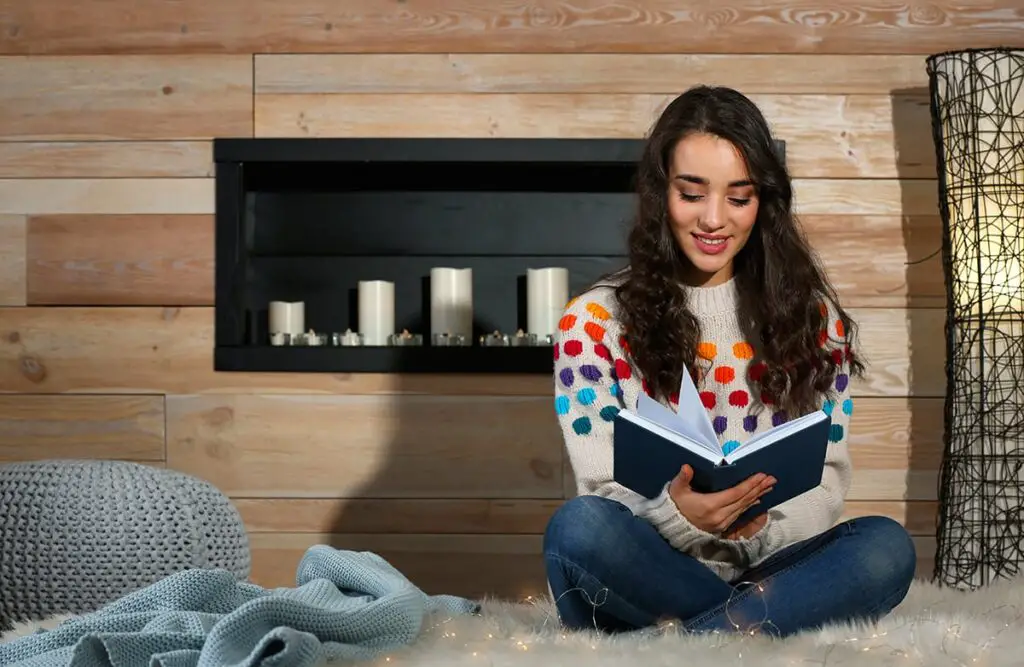 Delving into wellness or self-help books is a good way to boost your mental health. 
Trying to glow up mentally entirely on your own is challenging, so why not read what experts say to speed up your journey and how successful you are? 
Reading and researching have been significant factors in my mental glow up. Here are a few books I've read and have found helpful and uplifting:
Good self-help books offer insights, strategies, and perspectives that can reshape your thinking and provide actionable steps for personal growth. 
22. Embrace the Art of Monotasking.
In a world focused on multitasking and constant distractions, embracing monotasking—concentrating on one task at a time—becomes a powerful mental enhancement. 
As a working mom who was depleted and dealt with burnout, monotasking took time to get used to, but it does make such a difference. 
You may not always be able to monotask, especially with a young family. But knowing this concept and its benefits will help you be more protective of your time and not overdo it as we often do.
Concentrating on a single activity at a time improves productivity, reduces stress, and enhances the quality of your work. Be intentional to start doing this more often, and you'll notice how your anxiety and feeling overwhelmed decreases. 
23. Laugh-A-Lot. 😂
Laughter is underrated and something that can help maintain better mental health. According to MayoClinic, it has many benefits, such as improving our mood and…
Soothing tension in our muscles
Improve our immune system
Helps relieve pain
Improves our mood (6)
It's easy to get consumed by worry or negative thoughts, but when you're laughing, your brain releases dopamine, a feel-good chemical that can completely change your countenance. 
Laughing is a positive distraction and an easy way to lift your spirits on a bad day or during stressful times. 
Related article: The best funny stress-relief quotes
24. Make Your Needs a Priority.
If you want to glow up mentally, it's crucial to prioritize your emotional, physical, or psychological needs.
Try journaling or making a list of your needs in these areas, then you can begin to schedule time for them, and be firm with following through.
For example, if you suffer from anxiety and need more relaxation time, schedule it in your calendar so you don't forget. If you have an injury, ensure you're not overextending yourself physically and ask for help. If you're overwhelmed or depleted, take time off, take more breaks, or seek professional support. 
25. Cultivate a Mindset of Progress.
Instead of being discouraged by your mistakes or failures, do your best to embrace those challenges as opportunities for growth. That's the key philosophy of having a growth mindset.  
A person with a growth mindset believes anyone can succeed through hard work and drive. It's not about being "born" talented, or special.  
Shifting your thinking to a growth mindset is a potent way to glow up mentally and improve your life. 
Related article: How to develop a growth mindset
26. Be a Master of Affirmations.
If you've been here before, you know I love and believe in the power of positive affirmations, given the difference they've made in my healing and personal growth. 
Creating affirmations or finding fantastic affirmations online that resonate with you is a simple self-help strategy.
I'm all about making things easy for you so I curated comprehensive lists of affirmations, click on the links below:
These declarations counter self-doubt, nurture self-love, and enhance your mental outlook. 
27. Try Thought Reframing.
Overcoming the weight of negative thoughts-clinically known as cognitive distortions– is an ongoing process, but it is doable. 
Our brain tends to remember negative things more than positive ones to protect us from future harm. This is called our "negativity bias." (7)
To help combat this thinking and have a powerful mental glow up, first, you need to identify your negative patterns and then question their validity.
Some questions you can reflect on to challenge thoughts and gain a fresh perspective: 
Are these thoughts exaggerated or realistic? 
Are they based on clear evidence or emotions? 
Do they stem from old habits or facts? 
Here are a few common cognitive distortions:
Catastrophizing: Assuming the worst-case scenario will happen, no matter what, even if you have no evidence to support that.
Personalization: Taking everything too personally, thinking everything people do or say is a direct reaction to yourself. For example, if someone doesn't say hi to you, they're ignoring you or don't like you anymore.
Overgeneralization is when you assume things will always be a certain way or come to conclusions based on a single incident.
Disqualifying the positive: You consistently dismiss or minimize your success or good things happening; instead, you always notice and focus on the negative about yourself, a person, or a situation.
Polarized (black & white) thinking: It's all or nothing for you. You don't easily see the middle ground or learn a lesson from a problem. You're either a winner or a total failure.
28. Harness the Power of Organization.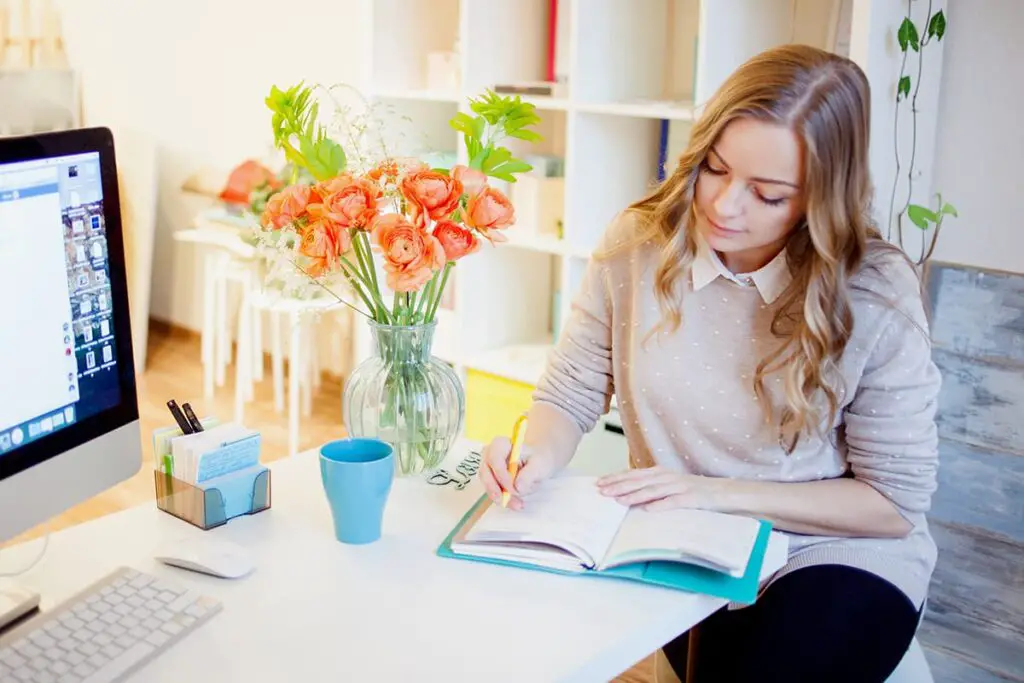 Organization is an area I still consistently work on, and there's no doubt I feel better and calmer when organized.
Here are a few ideas to help you stay organized. 
Use tools like planners or digital apps.
Create a good morning and evening routine.
Break down goals into smaller tasks. 
Try using a technique like the Eisenhower Matrix (see info below).
The Eisenhower Matrix is a prioritization and productivity framework you can follow to help effectively manage time and reduce your stress. It categorizes tasks into these four quadrants (8):
Urgent & Important: Tasks that need to be done immediately.
Important but Not Urgent: Tasks you can plan for later.
Urgent but Not Important: Tasks you can delegate or minimize.
Not Urgent & Not Important: Tasks you can eliminate or do during downtime.
By sorting your tasks based on urgency and importance, you'll use your time more wisely and work smarter, not harder, which helps reduce your stress.
29. Set Yourself Free from Others' Opinions.
While battling people-pleasing tendencies isn't easy, the transformation you'll have is profoundly empowering and worth it. 💯
Allowing others' judgments to dominate your thoughts is like living in a mental prison. It's an exhausting cycle of tiptoeing around words and actions, striving not to upset anyone or 'rock the boat.' Not fun!
Like all of us, my journey remains a work in progress, but I'm proud of the strides I've made. The relief from letting go of other people's opinions and being comfortable with who I am is liberating. 
Your self-worth is based on authenticity, self-awareness, and how you treat yourself and others. Remember, trying to please everyone will only harm how you feel about yourself.
30. Nurture Your Inner Ally.
Lastly, practice self-compassion, be kinder to yourself, show yourself grace more often, and forgive yourself for mistakes. Nurturing your inner ally is an essential part of having a mental glow up.
Showing yourself compassion is a focus of this site and the secret that has made a massive impact on my life, and I want that for you, too.
Dr. Kristin Neff, the leading expert on self-compassion, has extensively studied the benefits of self-compassion, which include feeling happier, more optimistic, having more curiosity and connectedness, and decreased anxiety, depression, and fear of failure. (9)
Many mental health struggles are rooted in insecurities, worries, and low self-worth, and self-compassion is vital to overcoming these things. 
Be your own BFF–love and accept yourself, enjoy time by yourself, and the rest begins to fall into place.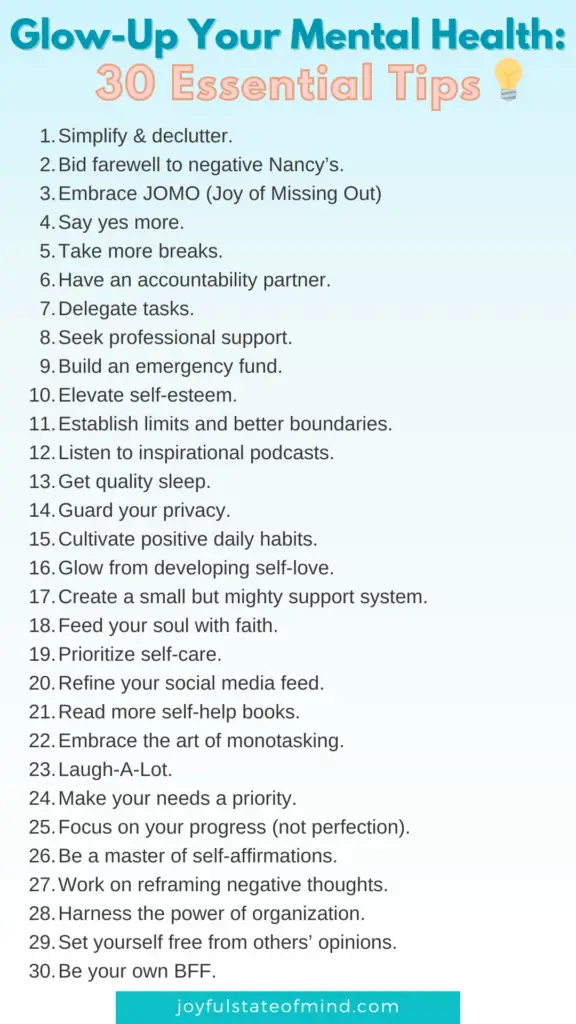 How To Glow Up Mentally Conclusion: Every Step Counts!
In your journey to glow up mentally, remember that transformation is a gradual process, and every step you take counts.

Self-growth is a lifelong venture – an ongoing commitment to becoming the best version of yourself, and even if you focus on a few of the tips above, that's a great start.

And remember to be proud of your resilience, capacity to overcome challenges, and dedication to fostering a healthier, happier you. 💪🤩
BONUS: Glow Up Quotes
References:
Same as above