Simple Self-Care For Introverts: 33 Calming Ideas
Stomach turning, mind racing, and overwhelmed. As an introvert, I often feel this way before a social event. Fellow introverts, can you relate?
You're not alone if you're less than excited to receive invites to big parties and events. Don't get me wrong, I love to celebrate and have fun, but loud parties are just not for me.
After social events, I feel drained, and that's when I most need downtime and some relaxing self-care.
So I'm sharing 33 simple self-care ideas for introverts to replenish, gather their thoughts and unwind in the best way.
This post contains affiliate links, which means I may earn a small commission if you make a purchase, at no cost to you. See my disclaimer for more info.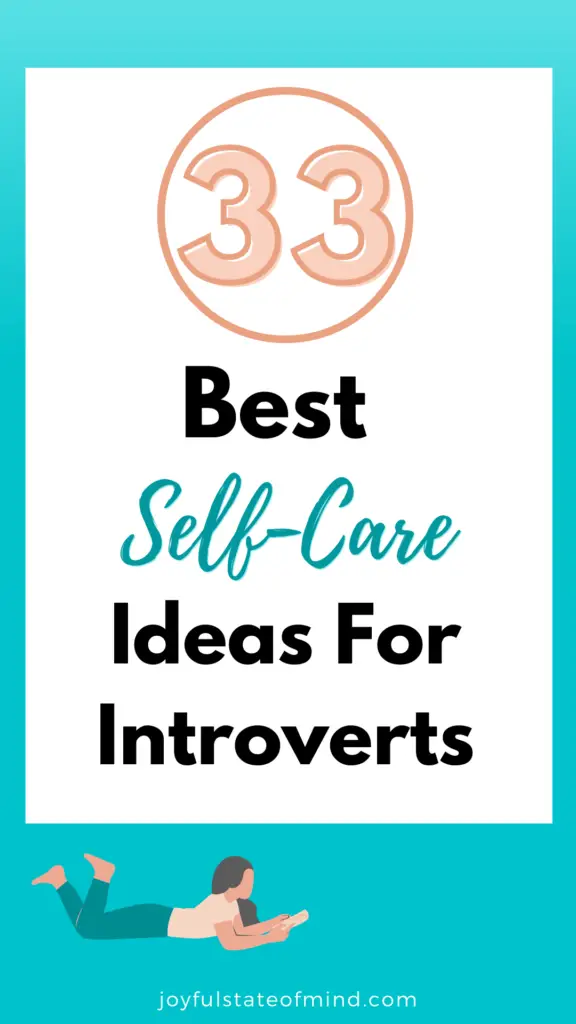 Who Are Introverts?
They are your friends, co-workers, children, spouse, boss, politicians, and clergy. So many people are introverts, but it's not always obvious.
I highly recommend it if you haven't read Quiet: The Power of Introverts in a World That Can't Stop Talking by Susan Cain. It's an insightful read for all introverts, parents of introverts or anyone who wants to understand the introvert spectrum.
Susan did in-depth research and states that according to various studies, one-third to one-half of Americans are introverts meaning one of every 2 or 3 people are introverts. Those are huge numbers and reassuring for anyone who's ever struggled or felt alone because of being an introvert. 
She notes that the USA is known to be one of the most extroverted countries; therefore, these numbers must be higher in other world areas. You can watch her inspiring TEDx video in the section below.
Some of the most successful and influential people are introverts, to name a few: Rosa Parks, Warren Buffet, Barbara Walters, Eleanor Roosevelt, J.K. Rowling, Dr. Seuss, Meryl Streep, Lady Gaga and Michael Jordan. Not a shabby group to be a part of!
How Is An Introvert Defined?
Dictionary.com defines an introvert as:
'A person who prefers calm environments, limits social engagement, or embraces a greater than average preference for solitude.'
I wasn't always comfortable sharing that I was an introvert because it seems to conjure negative images.
Being an extrovert is glorified by society while being an introvert is seen as less desirable. There are many misconceptions about what it means to be an introvert.
Think of some of the common stereotypes society places on introverts, such as:
All introverts are super shy
An introvert can't be a good leader
Introverts are loners
All introverts are antisocial
Introverts are boring
These are oversimplified and negative depictions of personality traits that some introverts may or may not have.
Introversion is a spectrum, many introverts are quiet or soft-spoken, but that doesn't mean we're all shy or antisocial. Yes, we like solitude and quiet, but that doesn't make us all loners.
My Experience As An Introvert.
My story began in childhood; I was quiet and intimidated by meeting new people. People around me constantly told other people how shy I was, making me feel awkward and as if something was wrong. As a result, I was labelled "very shy" by family, friends and teachers.
Society embraces extroverts, so I hated being an introvert and was hard on myself. I felt pressure, so I tried to hide that I was an introvert, especially as a University student where everyone was outgoing. I was what Susan Cain calls a "closet introvert."
Any introvert knows it's not easy going through life labelled as shy and having condescending comments made to you, for example:
"Is something wrong with you?", "Why are you so quiet?", "Why don't you speak more?"
As if any of these questions are encouraging…I think not. They only made me feel more uncomfortable, which led me to avoid certain social situations.
A few years ago, someone put it in perspective for me, eloquently saying, "Being an introvert is a personality type it's NOT A DEFICIT."
Being introverted is part of our personality, but it doesn't define who we are, our strengths, and everything we have overcome.
There are many types of introverts. For example, I love going out to restaurants, movies, festivals in the city, museums, and vacations. You name it, and I'm there.
Whereas some introverts are homebodies and always prefer the serenity of not being surrounded by too many people.
Please know that being an introvert does not make you "lesser than" anything.
Why Is Self-Care Important For Introverts?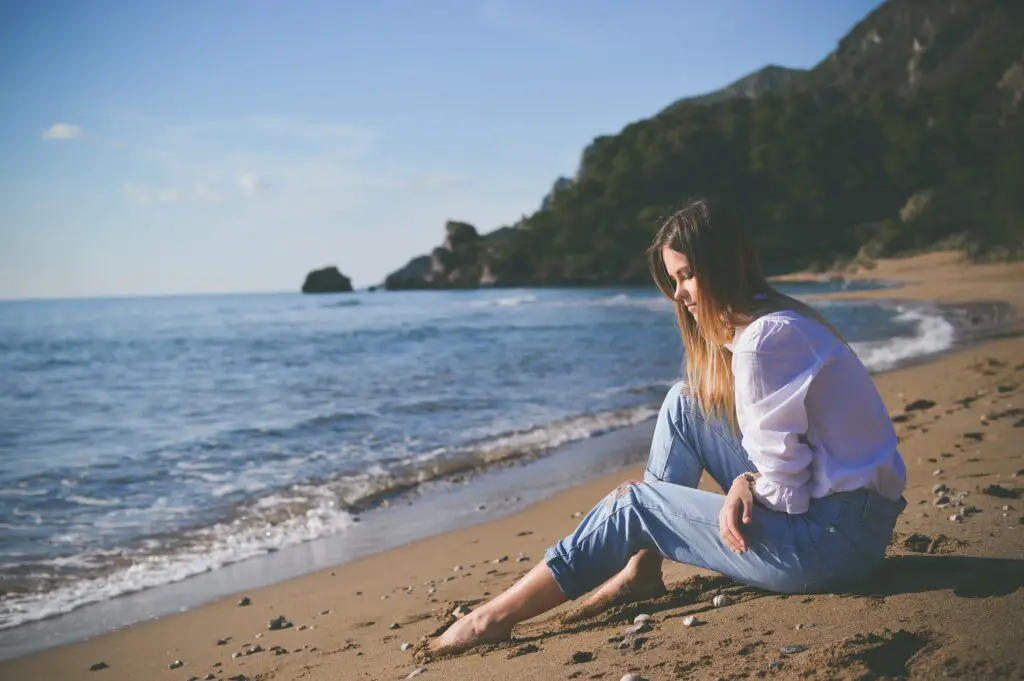 Self-care is something we all need, whether you're introverted or not. However, I've learned that self-care is essential for introverts to recharge and replenish emotionally after social time.
Parties, weddings, business events, conferences, large meetings and so forth are overwhelming and emotionally draining for introverts.

Although some introverts do very well in those situations, social events are not where we shine. It's all dependent on your specific personality traits, anxiety level, etc.
We turn inwards rather than looking for external stimulation, such as parties; this is why self-care is crucial for introverts.

We need to recharge, gather our thoughts and enjoy the quiet alone time because the noise and chaos of the world quickly deplete our energy.
Simple Self-Care Ideas for Introverts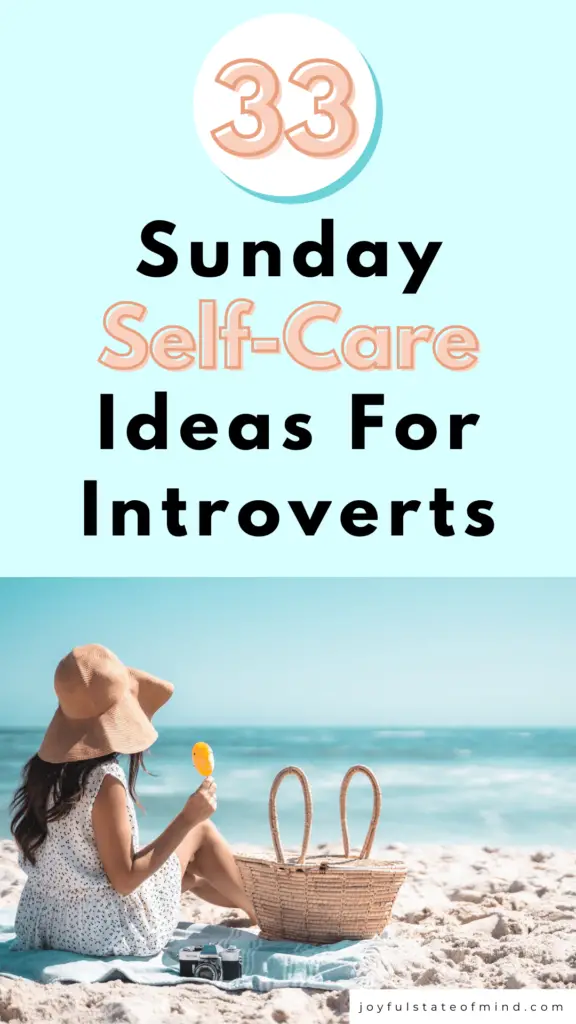 1. Art Journaling Outdoors.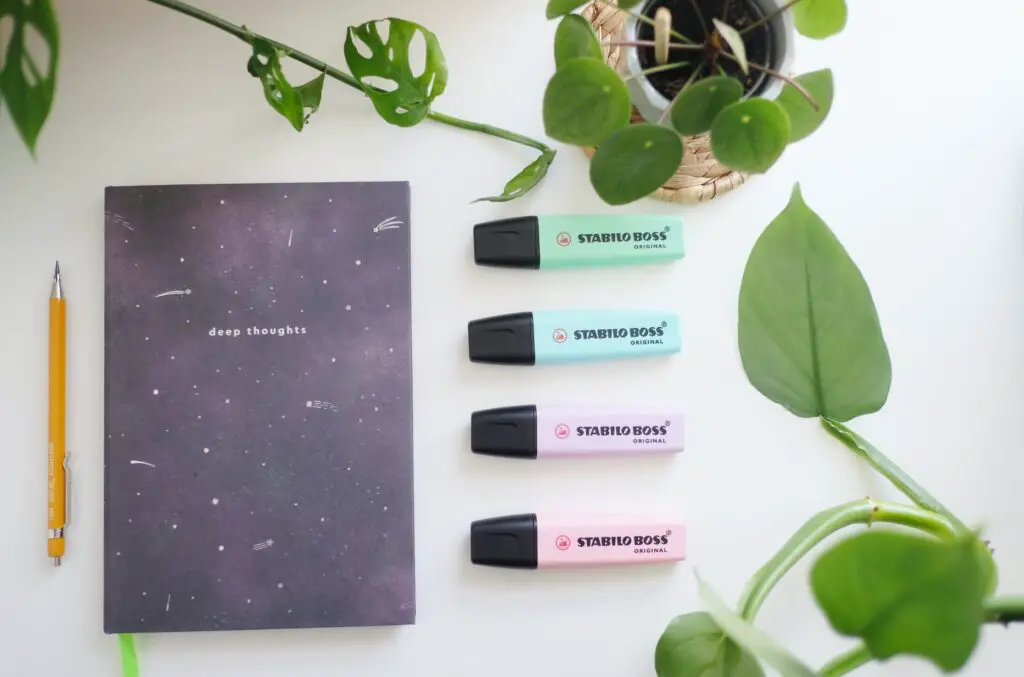 Journaling is a perfect pastime for introverts because we can unwind and pour out our thoughts. To add to this, try art journaling outside in your backyard or balcony. It doesn't have to be perfect; get some highlighters, stickers, and markers and create some pretty art.
2. Nature Walks In the Early Morning.
Head to a nearby park, trail or walk in your neighbourhood in the morning when not many people are out. I prefer going to places that aren't crowded so enjoying a lovely walk in the morning is the perfect self-care time for introverts.
3. Go To a Coffee Shop and Read. ☕📚
Changing your scenery and heading to a coffee shop is a great way to enjoy a refreshing drink and do some recreational reading. Coffee shops/houses are ideal for introverts who like getting out but prefer somewhere calm instead of a busy restaurant or mall.
4. Practice Deep Breathing.
Deep breathing is a stress reliever and very helpful if you struggle with anxiety. Open the windows or try doing this outside. Deep breathing is a great way to unwind after social events as it helps recenter yourself.
Related article: Relaxation Technique: Deep Breathing Exercise To Reduce Anxiety
5. Watch an Inspirational TedTalk.
Who doesn't love an inspiring TedTalk? Since introverts are deep thinkers and good at reflecting, listening to a motivational TedTalk is an excellent way to relax while learning and gaining new insights. Both of these talks below from Susan Cain and Brene Brown are must-watches, so take your time and do enjoy.
6. Stretch Outdoors or With the Windows Open and Play Calming Music.
Stretching is a great habit and an easy way to gather your thoughts and unwind. This is a good habit before heading to work or going to a social event to get your mind in a suitable space.
7. Meditative Coloring.
This is one of my favorite self-care ideas for introverts because it's calming but fun. It's a peaceful activity as my thoughts are on what I'm creating instead of the noise from the outside world.
Here are some great meditative adult coloring books:
8. Have Regular Social Media Detox Days Throughout the Summer.
Social media can be anxiety-inducing and toxic because it tends to be an overstimulating space, and that's not conducive to creating a peaceful atmosphere. Try deleting social media apps off your phone.
If you want to try a social media detox click the link below to receive a FREE planner to keep you organized.
Related: Social Media Detox Planner
9. Call a Close Friend to Catch Up.
Hearing a familiar voice and chatting is not only fun but good for your soul. Introverts thrive on those meaningful connections, so keeping in contact with close loved ones is an important self-care activity.
10. Learn a New Outdoor Hobby.
Having hobbies you love are an easy way to increase your quiet time while doing something that makes your heart happy. Some ideas:
Geocaching
Hiking
Fishing
Painting
Nature scrapbooking
Photography
11. Do Some Organizing and Donate What You Don't Need.
There's something therapeutic about organizing, it can relieve stress, improve your focus, and it gives you serene "me time" to get away from the craziness of life. It can also be so much fun, like finding old pictures of things you have forgotten about, some extra pocket change or something you lost.
12. Do Some Bird Watching At a Park or In Your Backyard.
Who doesn't love birds? They are so pretty and peaceful to watch. Get outside, sit comfortably and enjoy watching these cute little creatures.🦜
13. Walk In The Grass Barefoot.
There's something therapeutic about taking off your sandals and walking in the grass. Self-care is about quality 'me time' and restoring your energy, getting out in nature is relaxing and has healing power.

14. Diffuse Some Essential Oils and Try Visualization.
Visualization is a technique I use to help reduce stress and anxiety. It's a relaxing and simple technique that is perfect for introverts.
I love this beautiful and affordable essential oil diffuser and humidifier.
Related Article: Relaxation Technique: Simple Visualization Exercise
15. Buy Yourself Flowers.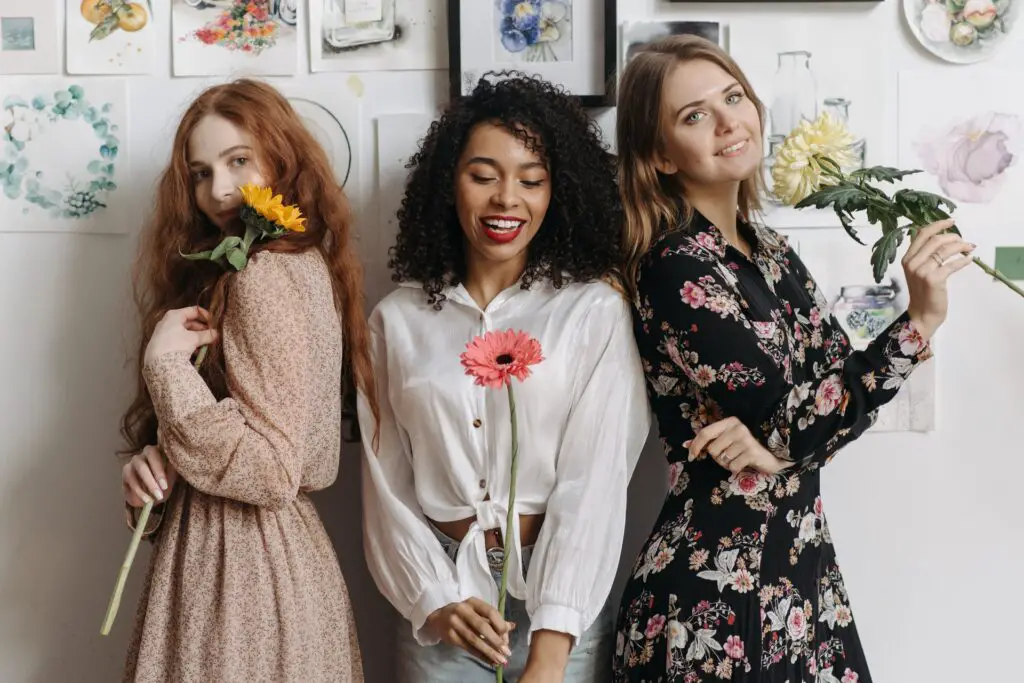 Treat yourself to some beautiful blooms that make you happy because you deserve them! You can also pick up a vase at the dollar store if you want to be fancy. Colourful flowers are a fantastic way to lift your spirits as they add some natural beauty to the house.
16. Practice Self-Love Affirmations To Lift Your Spirits.
If you have been here before, you know I love positive self-affirmations because they are an effective way to build your confidence and a more positive mindset.
Related article: Be Your Own Best Friend: 65 Powerful Self-Love Affirmations
17. Create a Fall Bucket List.
It's always fun making a fall bucket list because there's so much to do and it gives you something to look forward to. We love baking anything with cinnamon in the fall, visiting pumpkin patches or apple orchids and going on nature walks in the forest to take in all of the beautiful fall colours.
18. Watch The Sunset or Stars Snuggled In a Throw Blanket.
This self-care for introverts idea is great because you can unwind, relax and enjoy the beauty of this universe with no distractions and plenty of time to reflect.
These are perfect outdoor waterproof blankets for summer activities like this:
19. Buy House Plants, Decorative Pieces and Redecorate a Nook In Your Home.
There's something refreshing about creating a new space in your home. It gives you time to focus on something positive and create an area that is meaningful for you.
20. Go For a Leisurely Bike Ride In the Country or Near Water.
This is a peaceful way to get exercise, enjoy nature and reenergize from the chaos of the workweek.
21. Create An Online Photo Book of One of Your Favourite Vacations.
Going through all of your beautiful memories and being taken back to a vacation you loved helps calm you and focus your attention on something joyful.
22. Take a Virtual Online Tour.
If you've wanted to travel somewhere but didn't have a chance to yet, taking a virtual tour is a simple option. It gets you to focus on something interesting, learn new facts and have some enjoyable downtime on your own.
23. Try Making Homemade Popsicles or Simple Ice Cream. (Or any dessert) 😋
Baking is enjoyable and also therapeutic. Baking up a storm is an easy way to have 'me time' and also treat those you love most. Not to mention how amazing your house smells afterwards.
24. Learn A New Skill Like Crocheting, Origami or Knitting.
Learning a new calming skill is an easy way to have some quiet time and these kinds of solitary hobbies are great for introverts.

25. Go To The Beach and Read.
This is always one of the best self-care ideas for introverts (or anyone) to enjoy. Make a list of summer books so that you have them ready to go and dive into the book, enjoying a great story and the beautiful weather.
26. Make a Fresh Fruit Salad.🍓🍇🍉
Yum! One of the easiest and most delicious summer self-care ideas for introverts.
27. Get Your Body Moving.
Stretching, pilates or yoga are beneficial to calming and recentering yourself. It gives you time to focus on your wellness both physically and emotionally.
28. Try Gardening.
Gardening provides quiet time and connects you with nature. If you are a novice gardener, try picking up kits at local bookstores and learning on YouTube.
29. Go To a Lake and Sit On The Rocks.
Water is my happy place. Sitting on rocks by a lake, watching the water, and listening to the constant sound of the waves is healing for your soul. As an introvert, this solitude helps restore energy because it connects you to nature and how you are feeling.
30. Spend Time In Prayer.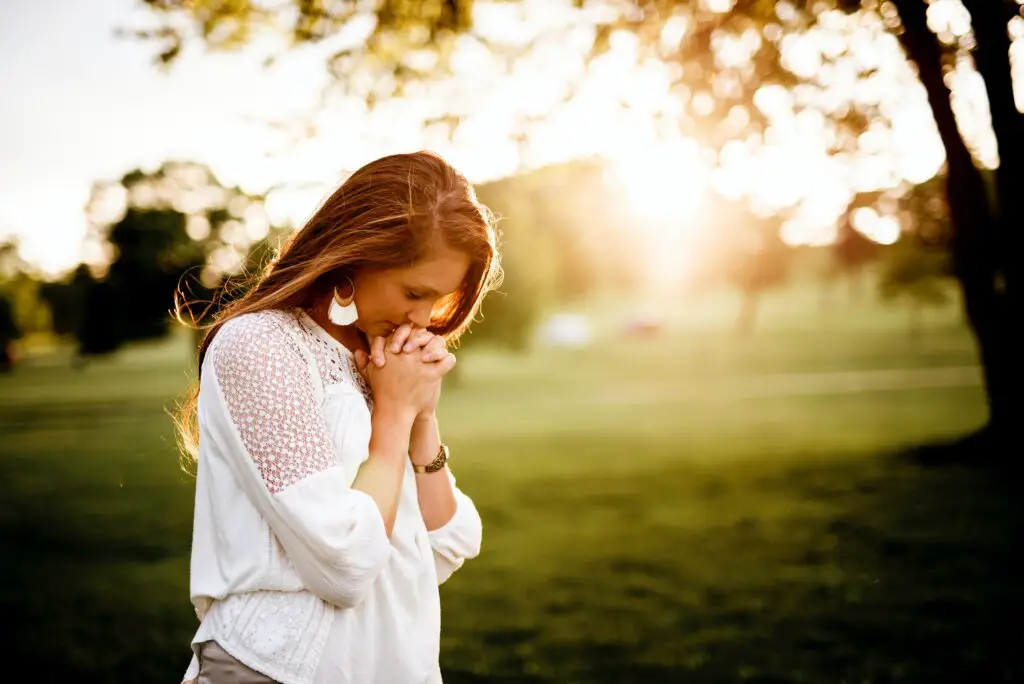 Spiritual self-care is always a good idea but one that is often overlooked. Prayer first thing in the morning and reading a daily devotional is the perfect quiet time for reflecting and starting my day on the right foot. As an introvert, my spirituality and connecting with God have strengthened me and given me a sense of peace as nothing else can.
31. Create a Relaxing Playlist of Nature Sounds.
Sometimes as introverts, the emotional and physical exhaustion we can feel from socializing means we need to have calming downtime to re-energize. Having a playlist of nature or spa sounds is a peaceful backdrop of white noise whether you are reading a book, stretching or just cuddling up in your favourite blanket.
32. Sunbathe (With Sunscreen, Of Course).
I love sitting out in the sun during summer and just relaxing with the sounds of birds, bees buzzing, the sprinkler on or your kids playing in the background. Vitamin D is a natural mood booster, too, so it's a win-win. ☀️
33. Spread Some Kindness.
Paying it forward with random acts of kindness. 💝
Related article: 30 Simple Ways To Spread Kindness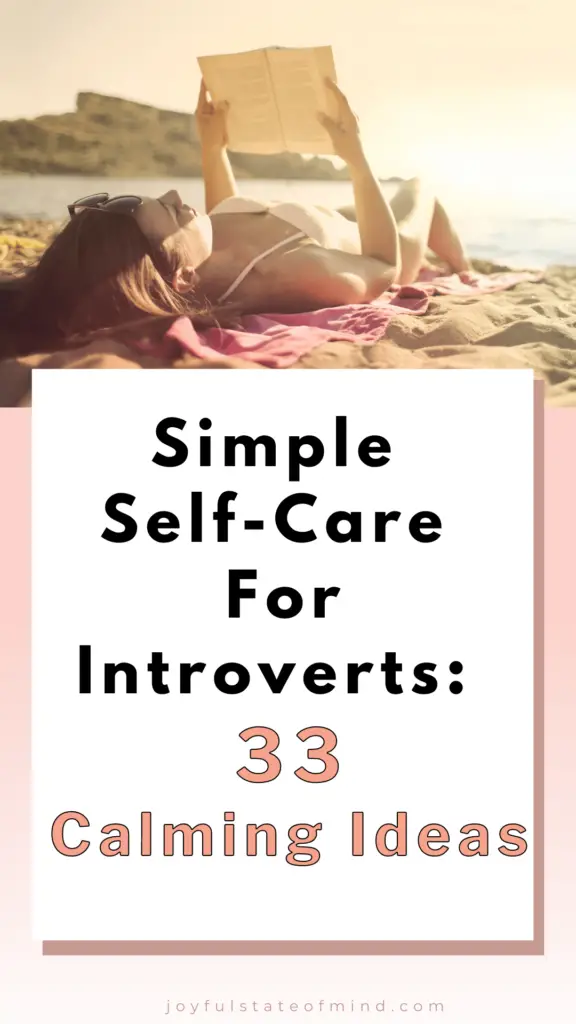 Final Thoughts On Self-Care For Introverts
An introvert's energy is quickly drained by social events and the chaos of the outside world. So take time for self-care and do what works best for you. I hope these ideas will come in handy all year round.
When we feel better and tend to our emotional needs, we can abundantly give to those around us and function at our best as introverts.
You can also use these ideas for a 30-day self-care challenge and let me know how it goes, contact me here.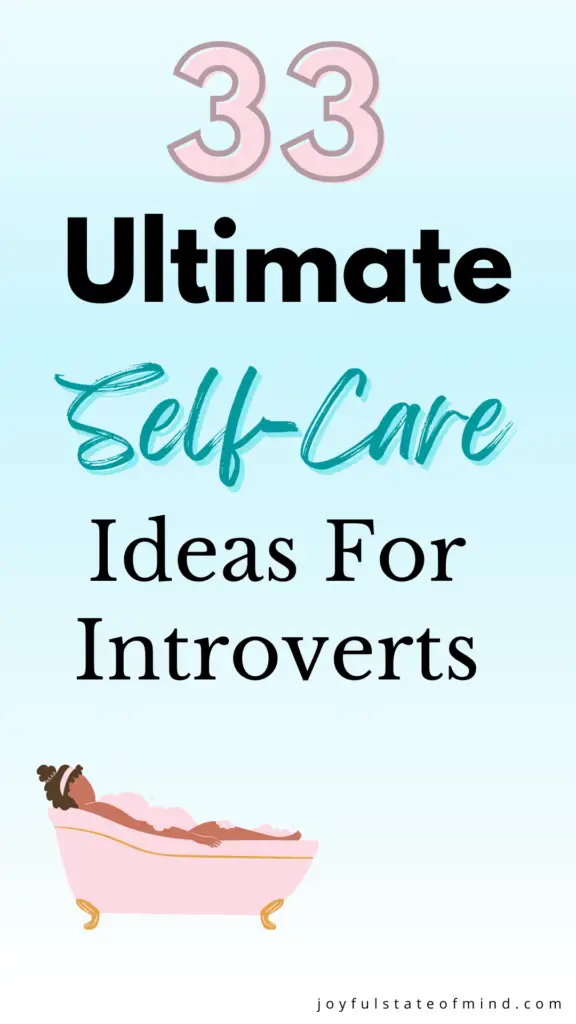 Header photo by Taryn Elliott