20 Simple Self Care Day Ideas To Relax & Destress
Did you know July 24 is International Self Care Day? To celebrate, I put together the best self care day ideas to help you relax, destress and make the most of your self care time, especially when planning a full day of self care.
This post contains affiliate links, which means I may earn a small commission if you make a purchase, at no cost to you. See my disclaimer for more info.
Self-Care Definition:
Self-care is providing adequate attention to one's own physical and psychological wellness. (Beauchamp & Childress, 2001) (1)
It means taking the time to do things that help you live well and improve your physical and mental health. Regarding your mental health, self-care can help you manage stress, lower your risk of illness, and increase your energy. Even small acts of self-care in your daily life can have a significant impact. (2)
What Is A Self Care Day?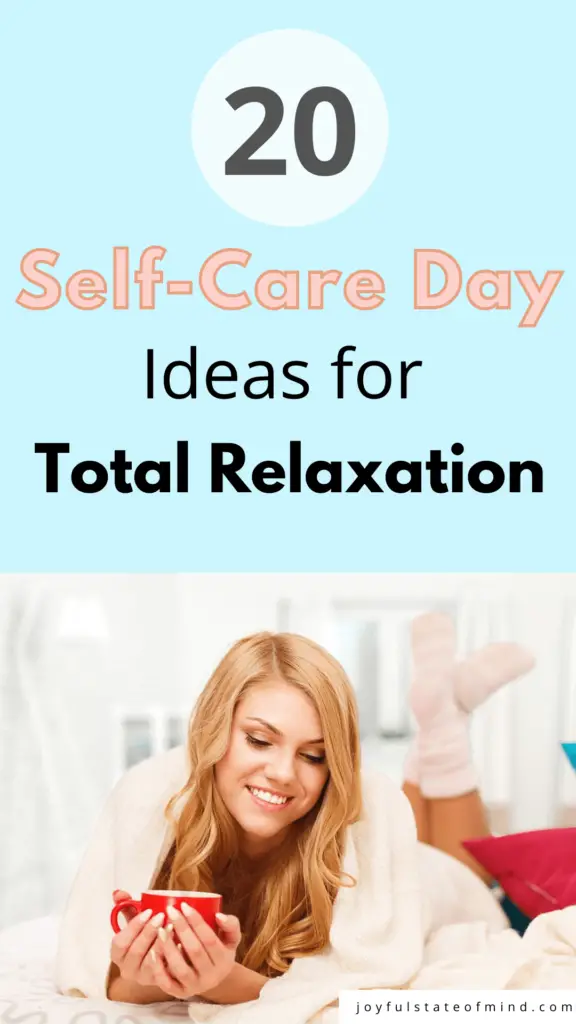 A self care day is a day set aside to take care of yourself and focus on an area that you need improvement in, whether physical, emotional, social, or spiritual self-care.
Daily self-care is essential. However, we also deserve to treat ourselves to full days of self care throughout the year to refresh and recharge.
It doesn't have to be a long 12-hour day, but it means spending most of your day unwinding and doing something you enjoy. It can be on a weekend, vacation, or just a day off to revitalize yourself.
Taking self care days is becoming more widely accepted, and mental health professionals have always advocated for taking time off for emotional wellness, so there's no need to feel guilty.
How To Have a Self Care Day: 3 Easy Steps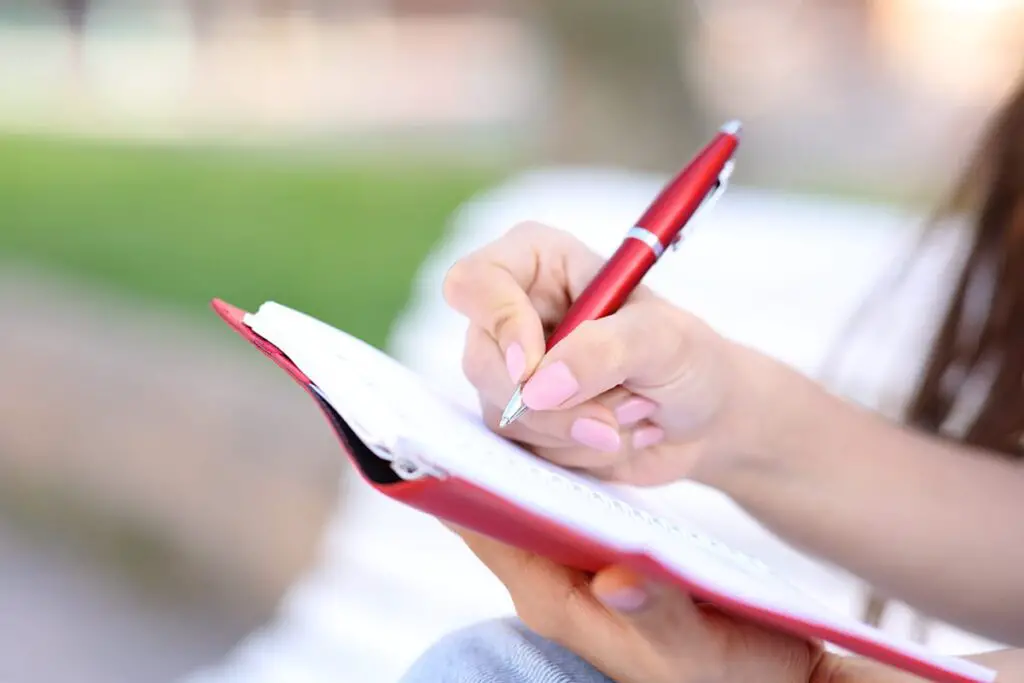 1. Schedule/Book it Off On Your Calendar.
Just as you would set aside time for work obligations, medical appointments, or volunteering, let others know you're unavailable that day and turn off distractions such as social media or email notifications.
2. Organize Your Day. 
Be prepared and have time blocks for the different activities you will do.  If you need something or certain self care products, get them beforehand. Put your phone on airplane mode; if you can, it's even better not to have it on you. Did you know phone addiction is an actual condition that is on the rise? (3) So do your best to have time away from your phone.
Side note: Last year, on a family day trip, I forgot my phone at home (something I never do). I panicked in the car when I noticed, but we were too far to turn back. Surprisingly, it was one of the best, stress-free, and enjoyable days ever! The day felt lighter without my phone. I was more fully present and not constantly checking my phone out of habit. Try it sometime, you won't regret it. 🙌
3. Let Go of Guilt. 
Remember, self-care is not selfish. It's necessary to live a full, less stressful life and experience more daily joy. It's okay to say no to other people to take time to care for yourself, and if you choose to spend a self care day with someone else, make sure they're a positive and uplifting person.
💡Tip: Do your best not to waiver on your day if something else comes up (unless it's urgent). It's a necessary mental health day to help restore your energy and help put your mind at ease. 
Essential Dimensions of Self-Care
Self care and wellness are large topics to cover, so I like to focus on a useful model to help break it down into smaller bite-sized chunks.
Dr. Peggy Swarbrick created a model known as the eight wellness dimensions, which focuses on building and strengthening people's habits and routines in eight areas. (4)
These are the 8 Dimensions of Wellness:
Physical
Emotional
Spiritual
Social
Occupational
Intellectual
Environmental
Financial
Here for the self care day ideas below I'm focussing on the four key areas:
Mind (Mental health) To continue to learn, grow, and evolve into the best person you can be.
Body (Physical) To be physically active, breathe, and feel alive.
Heart (Emotional/Social) To focus on love, your need for nurturing and deepening the relationship with yourself and others.
Soul (Spiritual) To have meaning and purpose in your life and to connect with God. 
The Importance of Self Care
I usually feel depleted in January, and I'm sure you can relate, given the busyness of the holiday season.
It wasn't until a few years ago that I connected that my lack of energy wasn't only because of the chaos of the celebrations but also because I entirely neglect self care that time of year.
Then last year, we moved during the holidays, and when you're in the middle of moving to a new city plus the holiday season, squeezing in time for myself went out the window.
Within a few weeks, I was sick, had little energy to explore the city, and spent the long winter days feeling lonely and drained.
The biggest culprit in how I felt was that I wasn't taking care of myself.
So I revived my routine and became intentional about self care. Even though it was only 10 minutes each morning by March, I felt better and was less anxious.
Let's face it, though, with competing demands and responsibilities, we often neglect self-care. We minimize its importance, and that's why it's more an afterthought until we burnout or get sick. I'm here to help you move past that and be proactive with self care, so it never has to be out of a crisis that you start to care for yourself properly.
20 Simple Self Care Day Ideas To Relax & Destress
I divided the ideas for your self care day into four areas of focus:
Physical Self Care
Emotional/Social Self Care
Mental Health Self Care
Spiritual Self Care
Under each category, you will find 5 theme day ideas and many self-care ideas to book your itinerary for your day.
For example, under Emotional/Social Self Care Day Ideas, you'll find a theme day called "Let Your Imagination Soar (#6)," focused on a day of creativity, with various ideas you can use to plan your self care day.
You can make an itinerary based on my suggestions below to suit whatever works best for you.
For optimal wellness on a self care day, prioritize the area you need the most improvement. Then you can always book an additional day to focus on another area.
✅ My challenge for you is to take three to four self care days a year.
💡Tip: Be mindful not to book anything intensive or stressful for the rest of your day.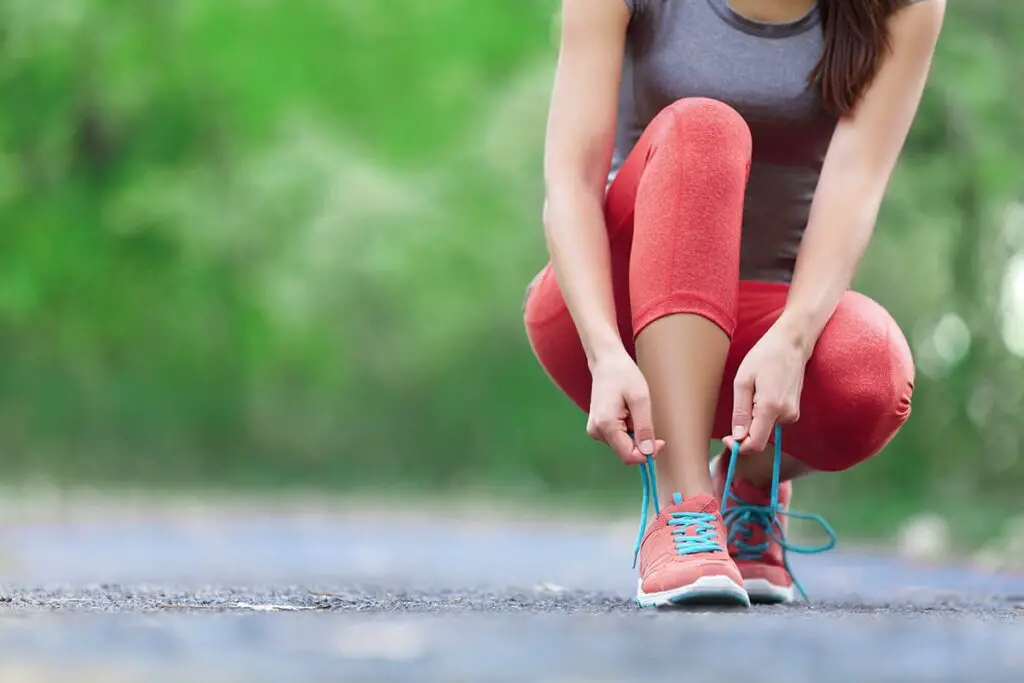 Physical Self Care Day Ideas:
1 Keep Fit & Enjoy Fare.
Make it a light-hearted health and wellness day focused on getting your moving your body and eating new healthy but yummy foods.
Ideas For Your Self Care Day Itinerary:
Drink a glass of water first thing in the morning to flush out your system and get hydrated. (A great daily habit! ✅)
Try some of these YouTube dance channel videos to learn different dance styles for inspiration and energetic physical activity.
Try indoor rock climbing.
Have fun experimenting with a new healthy recipe(s) for meals.
Listen to an audiobook while walking on the treadmill or using an elliptical machine.
Make a delicious vegan smoothie.
Get a pretty vitamin box and put it somewhere visible so you won't forget to take your daily vitamins or supplements.
Go old school and do jumping jacks, squats, lunges, or skipping.
Use an ergonomic hook cane massager to relax and relieve muscle tension.
2 Wander & Roam.
Spending time in nature has many benefits, and a day of wandering (walking) or roaming (hiking) outdoors is perfect for a physical self care day. I'm a fan of enjoyable physical activity that doesn't feel like a chore. 
The American Psychological Association clearly outlines many benefits of time in nature:
"From a stroll through a city park to a day spent hiking in the wilderness, exposure to nature has been linked to a host of benefits, including improved attention, lower stress, better mood, reduced risk of psychiatric disorders, and even upticks in empathy and cooperation." (5)
Ideas For Your Self Care Day Itinerary:
Go for an early morning stroll in your neighbourhood and end at a cafe to grab a smoothie or refreshing drink.
Go geocaching or do nature rubbings on your walk.
Be a tourist in your city and walk around for the day enjoying the sights, people-watching, and treating yourself to yummy street food.
Listen to an interesting podcast on a lengthy hike.
Plan a hike at a nearby trail or research great local spots for hiking and sightseeing. Pack a backpack with water and energizing snacks. Stop at peeks to reflect on the beauty or take some pics.
Visit a nearby city or town and play tourist there.
Go for a sunset walk in the country and stay to stargaze. 
💡Tip: Remember to get your steps in, and if you have never tracked your steps, try it for fun! You'll be surprised how far you can walk.
3 Adventurous Waterplay.
Spending a day at the beach or by a lake is always a good idea. Instead of laying on a sun chair in the shade, make it a more adventurous day of physical activity.
Ideas For Your Self Care Day Itinerary:
Try something daring like wakeboarding, rafting, or water skiing.
For a good but fun workout, go swimming throughout the day. Have a relaxing time with a book in between and seasonal fruits like watermelon, berries, or mangos. 
Rent a kayak or paddleboard to work out your upper body while enjoying the beautiful scenery.
If you're near the ocean, take a surfing lesson.
Walk along the beach, build sand castles, or hunt for seashells.
Do some yoga or pilates at the beach. Bring your mat or anything else you might need.
Sign up for a rowing lesson.
4 Redefine the Gym.
Head to the gym for a day of working out without any pressure but to try new things and get inspiration for exercise ideas. If you don't belong to a gym, take advantage of free trial gym memberships and spend the day learning exercises and trying different machines.
Ideas For Your Self Care Day Itinerary:
Speak to a personal trainer to discuss your goals and ask for tips on the best exercises.
Try a rowing machine for a few minutes.
Take one of their free fitness classes.
Try light weight lifting.
If they have a pool go swimming.
If you're up for it, chat with a regular gym goer for helpful advice about fitness and also to start making social connections.
Sign up for a boot camp.
5 Soak in the Sunshine. 
Being outside on a beautiful day is a great motivator to get your exercise or daily workout. Choose things you love doing or try something new so it's a fun day of physical activity.
Ideas For Your Self Care Day Itinerary:
Try pickleball or frisbee tag.
Invite someone to play badminton or tennis for the day.
Go for a picturesque day of jogging or bike riding somewhere new.
Head to a lake and go fishing for the day.
Take your dog out for a day of walking and playing catch.
 Go retro and enjoy a day of things you used to do at school. Such as hopscotch, shooting hoops, hula hooping, playing catch against a wall, or walking around searching for little treasures as you did when you were a kid. 
Emotional/Social Self Care Day Ideas: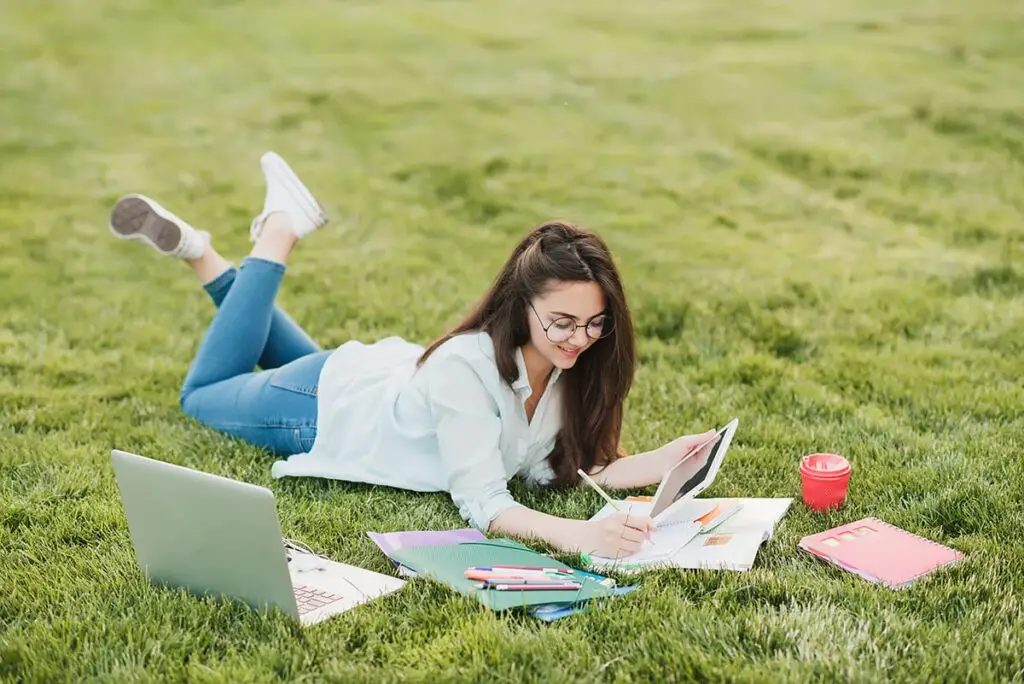 6 Let Your Imagination Soar.
A day of creativity is a perfect self care day for people who love art, crafts, writing and making things. It can combine a couple of activities or use it to tackle a more extensive DIY project you've been wanting to do. 
Ideas for Your Self Care Day Itinerary:
Make homemade birthday cards.
Write an encouraging letter to your teen self with things you've learned along the way, or write your future self a letter.
Try one of these adorable and practical crafts: 50 Amazing Craft Ideas For Adults
Do some relaxing outdoor journaling or scrapbooking with tea and light snacks.
Head to Pinterest and create a DIY board with ideas to keep you busy. Choose one and make it.
Do some adult colouring to see what you come up with.
7 Celebrate the Good Times. 
What makes your heart happy? What brings you joy and laughter? This self care day idea is about having a day of frivolous entertainment and releasing the problems and worries in your life. Laughter is the best medicine, and sometimes, as we get older, we can take ourselves too seriously or be more pessimistic, so this is an excellent idea if you need to lighten up and smile more. 
Ideas for Your Self Care Day Itinerary:
Watch a few of your favourite feel-good movies. Go all out and treat yourself to popcorn, your fave chocolate or candy, and a soda.
Watch a popular stand-up comedian or catch a live comedy show in town.
Have a mini solo dance party, don't be shy; no one's watching. Play the music you love and enjoy yourself.
Do a little retail therapy at the shop(s) you love.
Watch or rewatch a whole season of your fave show.
Head to a water park and enjoy the lazy river.
8 Thankful Theme Day.
Practicing gratitude is essential to living joyfully and being present in each moment. There are many scientifically proven benefits of thankfulness, including improved physical and psychological health, sleep, reduced aggression, and higher self-esteem. (8)
Ideas for Your Self Care Day Itinerary:
Create a gratitude vision board.
Call a friend or two to catch up and say thanks for being there for you.
Have a gratitude visit with someone you care about but haven't seen in a while. Your presence and time are the most valuable gifts you can share.
Send random thank you and appreciation texts to loved ones. Some message ideas:

Thanks for being you.
I just wanted to tell you how awesome you are.
I'm grateful for having you in my life.

You make me smile:)
You're the best!

For fun, make a pretty gratitude jar.
Write yourself a thank you letter for all that you've overcome in your life. List your strengths, accomplishments, and people you love.
9 Solo Celebration.
Being able to enjoy alone time is empowering and therapeutic. Alone time increases independence and helps build confidence. (6) It helps you relax, relieve tension, and regulate your emotions for greater peace. (7) 
Ideas for Your Self Care Day Itinerary:
Splurge on yourself and spend the day at a spa. I've done this a couple of times, and it was heaven; it's ultra-calming and peaceful to get pampered all day and enjoy a meal on the spa's patio or terrace. 
Print out some of your favourite photos and pick up picture frames at a home store to put them around the house.
Spend some time at a park. Bring light snacks, your favourite book(s), or a journal to write or draw in.
Go to a drive-in movie theatre. 
Learn calligraphy.
Redecorate a small room that needs a refresh.
10 Share the Love. ❤️
Nothing can put a genuine smile on your face quite like random acts of kindness can. As the famous saying from Mark Twain goes, "The best way to cheer yourself up is to try to cheer somebody else up."
Ideas for Your Self Care Day Itinerary:
Support a small business or local artist. Head to a local mom & pop shop to treat yourself but, more importantly, to support the hard-working people running the business.
Make a relaxing stress relief gift basket for someone in need.
Leave a larger tip for a server, hairdresser, or anyone in the service industry.
Help a neighbour with their garbage, gardening, or washing their car.
Apply to be a mentor for a child or teen at a Big Brothers Big Sisters or similar organization.
Contact your local animal shelter to see if they need help walking the dogs or if you can spend some time with a furry cutie. Affection with pets can be healing for you and the cute critter.
Clean up your home and donate good clothes and items to a charity.
Comment on a great blog post or email a small business to say thank you-that can go such a long way for someone working hard.
Be a good citizen and volunteer for the day (food bank, shelter, church, hospital, school, etc.)
Mental Health Self Care Day Ideas: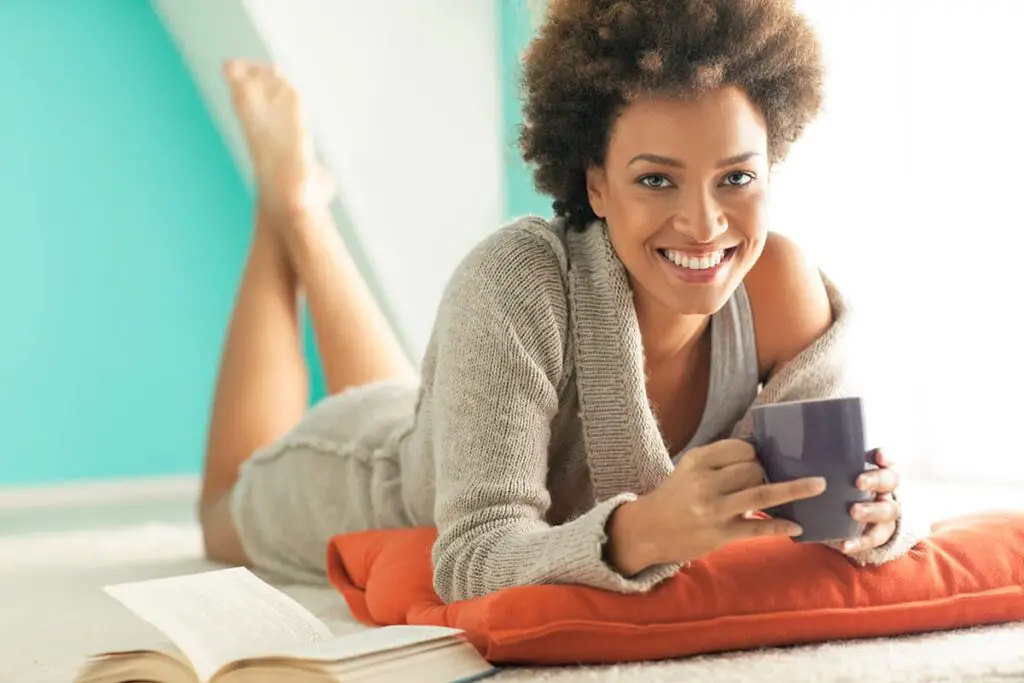 11 Destress You. 
Relaxing benefits your mental and physical health; using relaxation strategies helps you to destress, stay calm, and quiet anxious and negative thoughts. (9) It's not easy to unwind when you're a super busy parent, student, or at a hectic full-time job. Still, relaxation should be a priority for your wellness plan.
Ideas for Your Self Care Day Itinerary:
If tidying up calms you, organize a small area in your home. Head to a home store, pick up some pretty bins and boxes, and decorate that space.
Give yourself a massage. Check out the self-massage video by Ann Swanson, a licensed massage therapist.
Have a fancy British high-tea time. Drink some green or chamomile tea with scones, light sandwiches, or biscuits.
Do some simple stretching.
Lounge in your fave PJs, plush robe, or snuggly slippers all day.
Snuggle with your pet
If it's a nice day, sit outside with a drink, lay on a lounge chair or hammock, bask in the sun, and enjoy doing nothing.
12 Chill with Your Companions.
Social self-care is key to our wellness and satisfaction in life; having meaningful relationships and positive interactions with other people benefits our mental health and improves our mood. (10) So connect with a cheerful friend(s) and set up a day to hang out together and bond.
Ideas for Your Self Care Day Itinerary:
Head to an amusement park for a day of fun, enjoying the rides, games, and indulgent treats. (Think funnel cakes, ice cream, and warm mini donuts, yum! 😋)
Take a cooking or painting class together.
Host a girls' or guys' night at your house and make it a potluck.
Head to an art gallery where you can leisurely chat and enjoy the works of art.
Tour a vineyard and spend the day relaxing and enjoying good food and drinks.
Go to a local festival or event you're both interested in.
Plan a scavenger hunt in nature and print out cute lists to check off items once you find them.
13 Engage in Mindfulness.
What is mindfulness? And how do I have a day of mindfulness? 
Even though that word might sound fancy, practicing mindfulness is nothing complicated. It's simply learning to be fully present in the moment by engaging and paying closer attention to your five senses. You can do easy exercises to become a mindful person and live with more intention.
Mindful.org defines mindfulness as:
"…the basic human ability to be fully present, aware of where we are and what we're doing, and not overly reactive or overwhelmed by what's going on around us. Mindfulness is a quality that every human being already possesses….you just have to learn how to access it."
Ideas for Your Self Care Day Itinerary:
Start with simple mindfulness activities, such as the Five Senses or 3-Step Mindfulness Exercise.
Whenever you eat, make it mindful eating. Look at the food you're eating and take notice of all the colours and textures, take in the aroma, notice how it feels when chewing slowly, and savor the tastes.
Try a pottery class.
Go on a mindful walk where you focus on your breath and the environment around you. Soaking in the sensations such as the intricate details of what you're seeing, the sensation of the sun on your face, how the grass feels, and the smell of the fresh air and flowers.
Other mindfulness activities to try: yoga, gratitude journaling, and gardening.
14 Get Lost in a Book. 📚
If you're an avid reader and want to learn some skills or get expert tips on improving your mental health, having a bibliotherapy day might just be what you need. Which is a leisurely day of reading as therapy, learning or just getting lost in a great book.
Ideas for Your Self Care Day Itinerary:
Head to the library and pick up some books that focus on an area you struggle with.
Go to a bookstore and treat yourself to a self-help book(s) you want to invest in. Some ideas:
Re-read an uplifting or exciting book or series. Then watch a movie remake of one of them.
Write out some affirmations and practice saying them out loud. I created a simple guide to help you write affirmations; you can get it here.
Try doing a brain dump to release and get out all of your thoughts on paper.
15 A Spa Soiree.
Spend a quiet at-home spa day doing nothing but pampering yourself. Here are the best self-care products for daily use or to help you have a fabulous spa day at home.
Ideas for Your Self Care Day Itinerary:
Try a dry-brushing session to exfoliate your skin.
Try making a homemade sugar scrub.
Research the best ways to pamper your skin type. Then spend the day spoiling your skin such as exfoliating, doing a facial and eye mask, and keeping your skin hydrated.
Soak your feet in a luxurious foot bath.
Take a long shower and deep condition your hair.
Make flavourful spa water with cucumber or orange slices or a mix of fresh berries.
Make a healthy but super delicious dessert with no sugar.
Spiritual Self Care Day Ideas: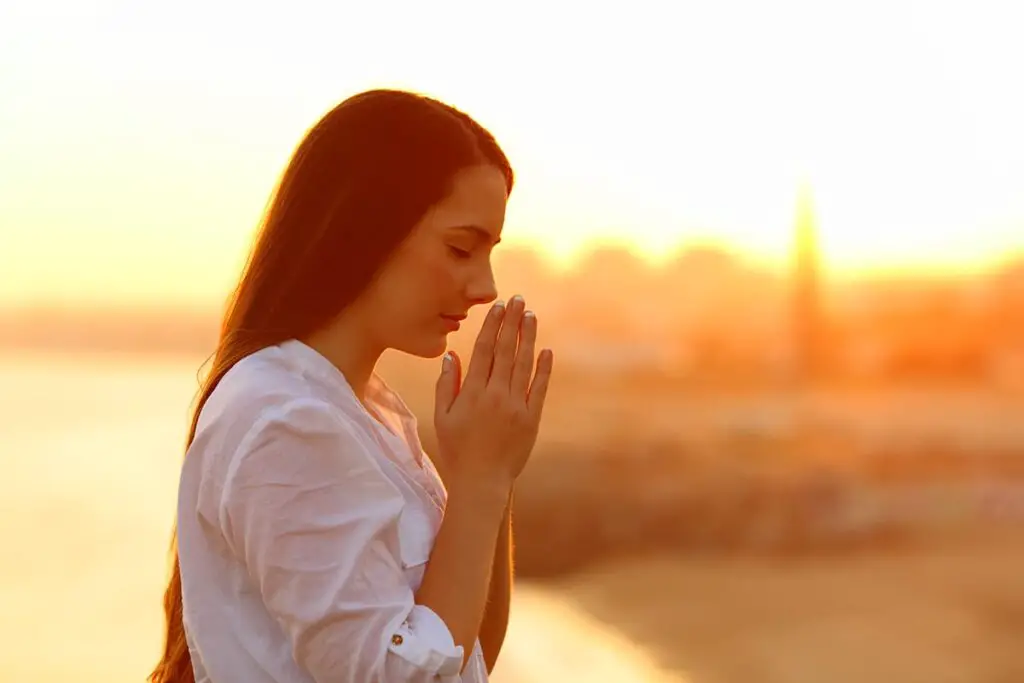 Spiritual wellness and purpose are essential to living a satisfying and peaceful life, whether you're a person of faith or not.
This type of self-care isn't about a particular religion or new-age philosophy. It's about connectedness, meaning, and caring for our souls. Spirituality means different things to different people. There are also dark spiritual practices, so be discerning with this area of self care.
My Christian faith is my focus for spiritual wellness. However, yours may be to connect more with nature, advocate for a cause, or be more mindful and intentional in everyday life.
Below are spiritual self-care day ideas that anybody can use to nourish their soul, and some that focus on deepening your faith and connection to God.
16 Brighten Your Community.
Volunteering for the day is a rewarding way to spend spiritual self-care time. Helping people in need and being part of a good cause always feels good for your soul and helps put things into perspective, increasing your gratitude.
Ideas For Your Self Care Day Itinerary:
Visit a senior's residence and read to them, play cards, chat, and listen to their stories and life experiences.
Put together female hygiene kits for homeless girls and women.
Help an elderly person learn to use technology such as a smartphone or laptop.
Serve or stock food at a local food bank or soup kitchen.
Help plant a community garden.
Clean up a local park. It's a great way to give back to the community and enjoy a day outdoors. Organize a few neighbours to come with you so you get to know them better.
Create and maintain a little free community library on your lawn.
17 Turn Your Worry Into Worship. 🙏🏻
Having a church and/or supportive faith community is essential to your spiritual journey. It's a home base for deepening your relationship with God, learning, growing, and bonding with other believers.
One way I cope with anxiety is by turning my worry into worship through prayer, listening to music, reading the Bible, or doing something spiritual.
Ideas For Your Self Care Day Itinerary:
Get involved in the church's social events and philanthropic work.
Read a daily devotional to strengthen your faith. A few I love:
Attend a church service. If you don't have a church, research online to ensure the church aligns with your values and ask people in local community Facebook groups for recommendations. It's important to attend a church that you feel comfortable in.
Spend quiet time each day with God by praying. A prayer can be as simple as whispering "Jesus I need you to help me through this day." Prayer is meant to come from your heart and be like a personal conversation with the Lord. If you're interested in some prayer ideas, guidance and inspiration here is a helpful book I use:
Volunteer to help at church or your place of worship.
Have some daily worship on your own by listening to modern gospel music, which is similar to country and light pop. Some of my faves: For King & Country, Lauren Daigle, Chris Tomlin, Brandon Lake, and Cory Asbury. There are many genres of Christian music to cater to anyone's musical preferences including Hip-Hop, R&B, and hard rock or metal.
18 Be At One With Nature.
Spending time in nature has many therapeutic benefits. It is a great way to connect to a higher power than yourself and reflect on the magnificence of the universe.
Ideas For Your Self Care Day Itinerary:
Be a nature photographer for the day and capture some outdoor beauty, from a stunning sunrise and dew on a flower to different trees, butterflies, green grass, and so much more.
Enjoy some time at a mini-golf course.
Collect a few flat rocks and paint them or create gratitude rocks for people.
Camp out in your backyard. Roast hot dogs and try making s'mores. Pitch a tent for the day even if you don't plan on sleeping in it overnight.
Sit on the rocks by the lake, take deep breaths, and take it all in.
Run through the sprinkler as you did as a child or walk on the beach barefoot.
Start to grow a beautiful and fragrant indoor herb garden.
Go to a seasonal nursery and pick up new house plants.
19 Have a Sweetheart Rendezvous.
Spending quality alone time with your spouse or partner strengthens your spiritual connection as a couple. It doesn't have to be extravagant or planned out. One of my favourite things is having a spontaneous date day with my husband. They keep things playful and fresh and that's important for maintaining a healthy relationship.
Ideas For Your Self Care Day Itinerary:
Have a fun tournament. Go bowling, go to the arcade, play tennis or pool. The winner gets to choose where to eat dinner.
Visit a flea market and antique stores to hunt for some treasure.
Catch a baseball game, eat hot dogs, or enjoy your fave snacks and drinks at the concession stand.
Plan a mini road trip to somewhere you've yet to go. Go sightseeing, try new cafes or restaurants, stroll the streets, check out some cool shops, and be playful. Laughing together is a wonderful way to bond and can be healing in our hectic, stressful lives.
If you both love nature, go on an adventurous hike on a new trail. Pack a picnic lunch.
Go to a concert together and dance the night away.
If you're into DIY, tackle a cool home project together.
20 Embrace Peace & Calm.
Calming and meditative activities are a great way to nurture your soul and find daily peace.
Ideas For Your Self Care Day Itinerary:
Self Care Day Ideas: Choose-Your-Own-Adventure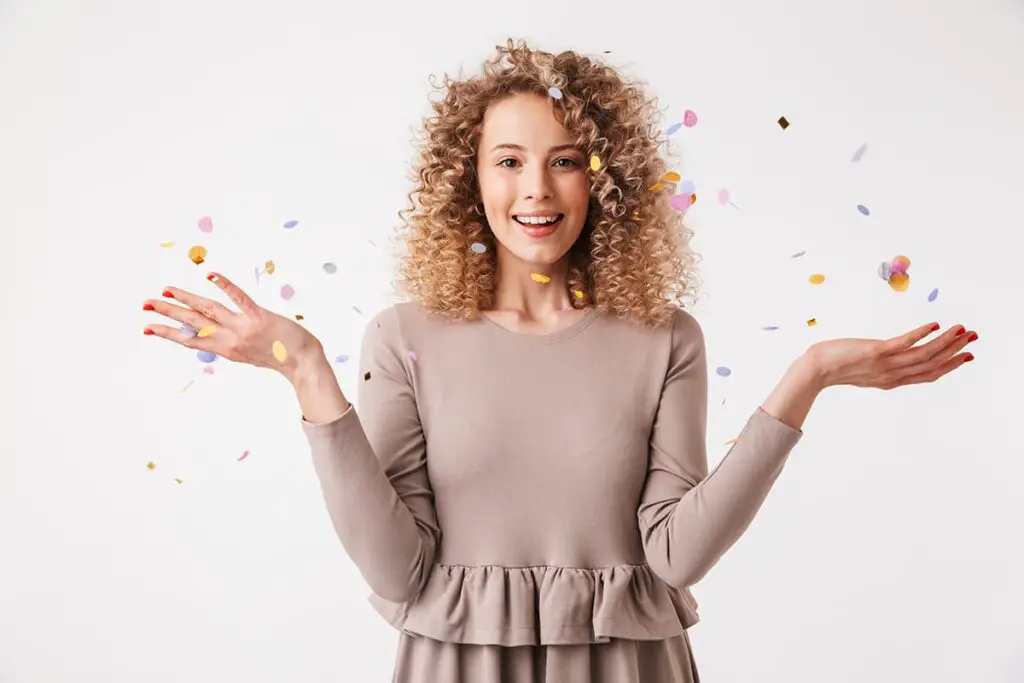 What I love about self care is that there are endless things you can do! Do your best to practice daily self care and be intentional in booking regular self care days, even if that's once or twice a year. 
For some amusement and spontaneity make it a choose-your-own-adventure day!
Throw some of the self-care day ideas I shared above in a box or jar, and pick one out. If you're spending the day with someone, get them involved in choosing.
A self care day of relaxation is a treat, but remember the importance of daily self care to help you destress and relax.
Bonus: Self Care Quotes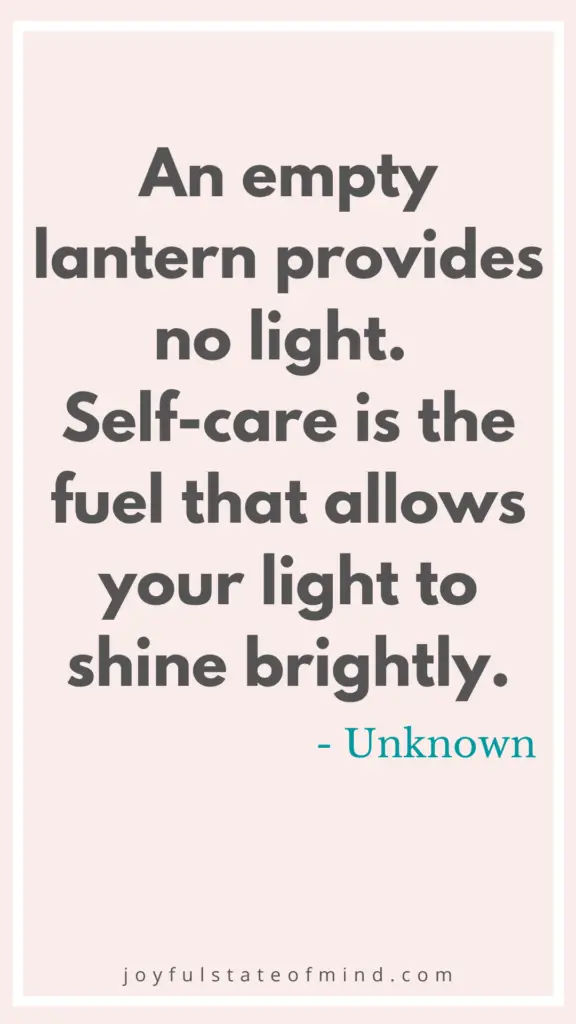 More Self Care Quotes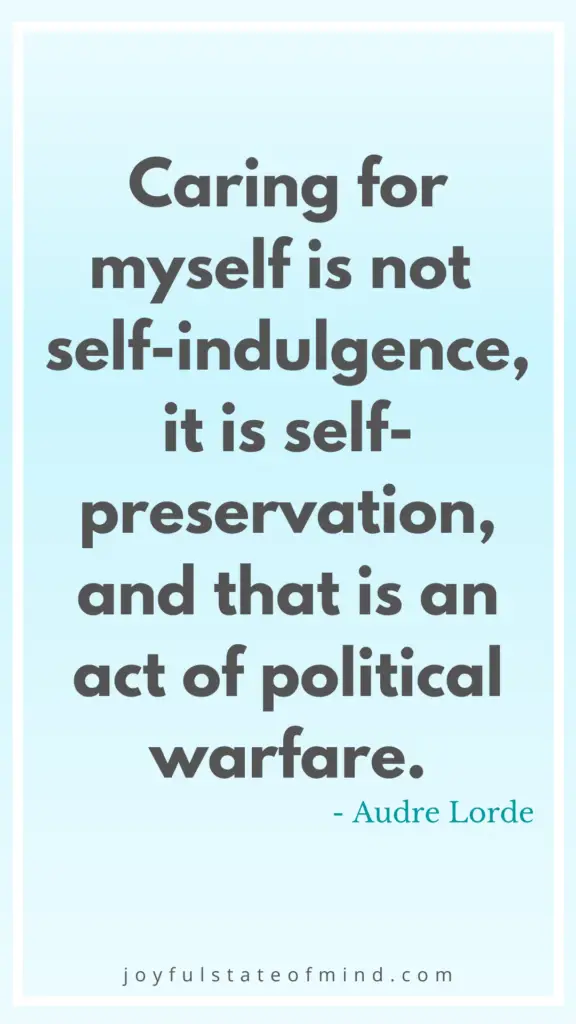 Bonus: Self-Care Affirmations
Self-care is an investment in me.
I will ask for help when I need it.
I will take good care of myself.
Saying no is not rude or selfish.
I will nourish my mind, body, and soul with all that is good.
My words have power, and I use them wisely.
Every day, I focus on having a grateful heart.
I prioritize myself so I can give more to those around me.
Every day, I learn and grow into a stronger person.
I have everything I need to succeed.
I will cherish every part of my body.
I know my limits and seek assistance when needed.
I wake up with a positive attitude for the day ahead.
I will be patient with myself.
Living a healthy life is a choice I am making.
I show myself the grace that I give to others.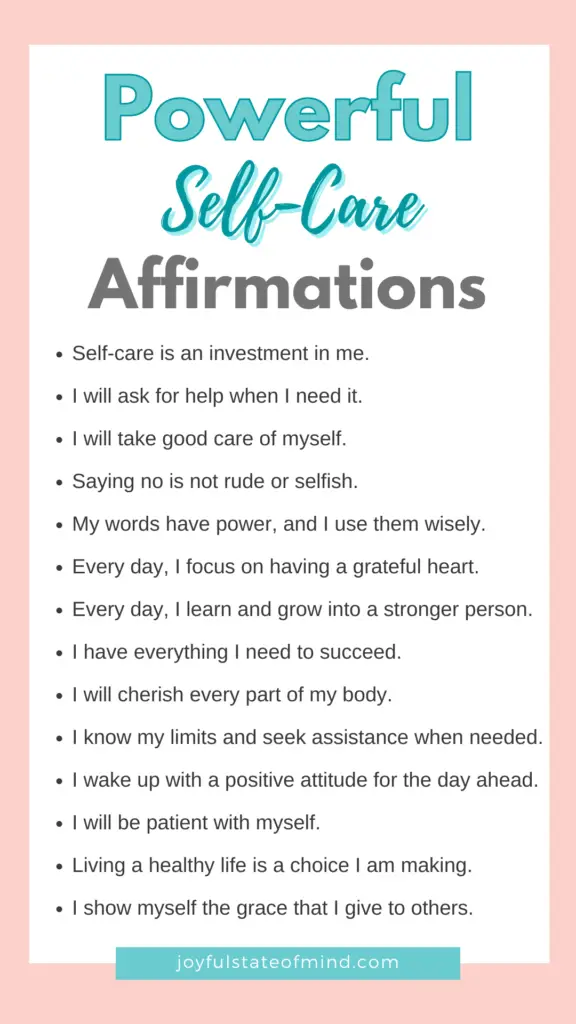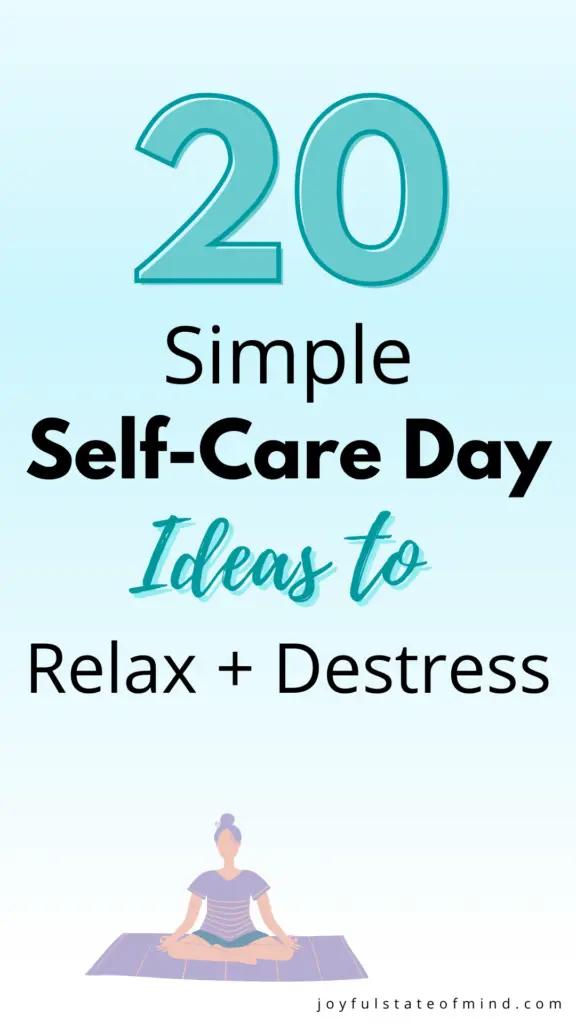 References
1. https://www.apa.org/gradpsych/2014/04/corner
2. https://www.nimh.nih.gov/health/topics/caring-for-your-mental-health#:~:text=Self%2Dcare%20means%20taking%20the,illness%2C%20and%20increase%20your%20energy.
3. https://www.addictioncenter.com/drugs/phone-addiction/
 4 https://alcoholstudies.rutgers.edu/mapping-mental-health-dr-swarbrick-the-eight-wellness-dimensions/
5. https://www.apa.org/monitor/2020/04/nurtured-nature
6.https://psychcentral.com/health/signs-you-need-a-little-me-time#benefits-of-alone-time
7. Same as above.
8. https://www.psychologytoday.com/us/blog/what-mentally-strong-people-dont-do/201504/7-scientifically-proven-benefits-of-gratitude
9  https://psychcentral.com/lib/relaxation-make-time-and-take-time-for-self-care
10  https://www.medicalnewstoday.com/articles/321019