8 Fun Self-Care Ideas To Try
Self-care… I know some people think it's an overused, gimmicky term. But the reality is, we often neglect to take better care of ourselves when it should be high on our to-do list. So today, I wanted to share these 8 fun self-care ideas and help you get more comfortable with prioritizing your needs.
As a mom, I know it can be difficult to make time for yourself while managing and taking care of everything and everyone else.
We sometimes forget that balance in life is essential to our overall well-being.
Think about self-care as the equivalent of putting on your oxygen mask in an airplane before helping anyone else. It's necessary to do this so that you can then help your child.
The same goes for self-care. If you are depleted and overwhelmed, it'll impact the level of care you can provide to others and the level of energy you'll do it with.
Before we begin with the 8 fun self-care ideas, there are two things that you first need to get comfortable with that will help ensure you prioritize self-care.
These 2 Points Are Essential To Practice Self-Care
1. Schedule or Block Time in a Calendar.
If you don't block time in for self-care, the less likely you are to follow through because of all the other competing demands you have.
It's important to schedule it just as you would a medical appointment or meeting.
It doesn't have to be a whole day (although once in a while, a full day of self-care is awesome); book in 10-15 minutes, 1 hour or a few. It depends on what you're planning to do and what works best for you.
2. Learn to Say, "No."
If you want to take to better care of yourself, you also need to get comfortable with politely declining other commitments, attending events or groups you join.
You can read more about the power of saying no in this article.
When you're overwhelmed by everything you have going on and your daily to-do list, it's a good time to rethink and start eliminating things that are draining or not a priority.
8 Fun Self-Care Ideas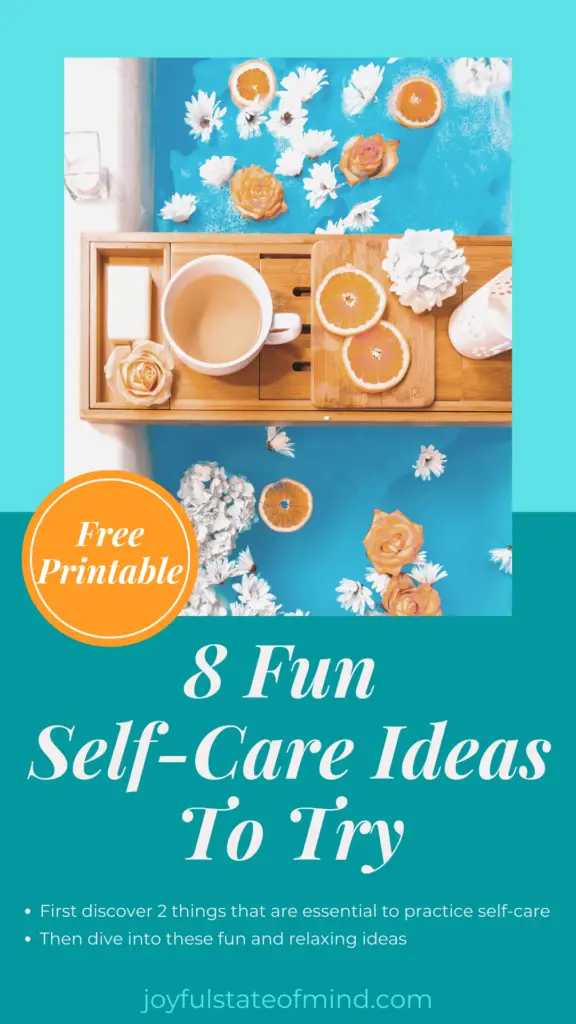 1. Have Regular Dates With Yourself.
Dates on your own are a great way to enjoy things that you love doing and make you feel joyful.
Sometimes it's hard to find people that want to do what you enjoy, so why not make time to do some of those things yourself.
Maybe it's going to your favourite local cafe for a treat, the bookstore, visiting botanical gardens, catching a flick on your own. Whatever makes your heart happy.❤️
This is one of my favourite fun self-care ideas!
I personally love going on my own for a pedicure or massage. I feel well-rested afterward. Then, I'll treat myself to lunch or head to my favourite bakery.
You'll feel refreshed and be in a better mood when you do spend time with your family or friends.
2. Go on Local Road Trips.
Why not explore some beautiful local areas and learn some history. This is something you can do by yourself or with your partner.
Self-care doesn't necessarily mean you have to do it alone, as long as it's relaxing and without stress.
We've been taking local road trips, and it's time that I don't have to worry about what to make for lunch, chores or keeping the kids busy.
Try going on guided tours in conservation areas, old castles or visiting public gardens. It's a peaceful time to connect with nature and learn some new facts about local sites.
Just search for local spots on Google, and you'll be surprised how many new ideas you'll find.
3. Do Some Daily Light Exercises.
We all know how important it is to be physically active for both our physical and mental health, but it can be a challenge to get to the gym, go for a long run or do other time-consuming activities.
Instead, do some daily simple light exercises for 15-20 minutes at home: stair climbing, burpees, lunges, squats, light weights, or watch a yoga or pilates video.
If you can invest in a Peloton, treadmill or a home gym, these can also be great motivators to get you going.
Exercise gives you more energy and instantly makes you feel good as it releases "endorphins," which trigger positive feelings in the body.
4. Create an Energetic Playlist.
Music is food for the soul. I'm a firm believer in that. 🎶
As a music lover, I know how powerful and uplifting music can be when I'm feeling down or stressed.
You can try retro '80s or Coldplay to get you dancing, movie soundtracks, and disco is always fun. Whatever it is that puts you in a great mood, and you can dance to.
You can use AppleMusic or Spotify to build your own playlist or type in what genre of music you are looking for, and they have amazing curated playlists.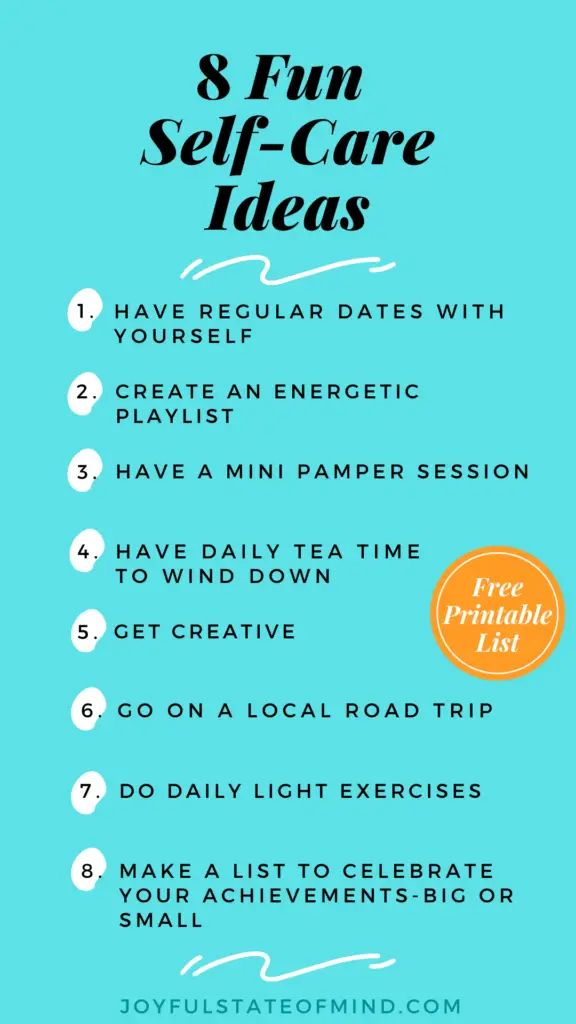 5. Get Creative.
Using your creative energy is a great way to unwind and lift your spirits. Here are some ideas:
You can try adult colouring books (which I love and find very relaxing). You can find some free printable pages here and here.
Start a DIY project you've been putting off.
Make a homemade candle.
Create a photo wall in your home.
Make some homemade cards for upcoming holidays or birthdays.
Learn to paint with videos on YouTube.
Try origami.
Put together a complex puzzle.
Go on nature walks and take pictures of things you come across.☀️🌸
6. Have Daily Tea Time to Wind Down.
There is something so soothing and relaxing about sipping your favourite tea.
You can read something uplifting or listen to calming music. If it's a nice day, sit outside and enjoy the fresh air.
Fun tradition at my house: My girls and I have a "British tea time" some weekends, where the three of us will put on our best British accents, have our favourite tea and a sweet treat.
7. Enjoy a Mini Pamper Session.
We can all use more relaxation and pampering time so have a mini spa session at home. 🧖‍♀️
You can light candles or diffuse some essential oils in your bathroom, put on some calming music such as spa or nature soundtracks.
Some ideas for your pamper session:
Soaking in warm water with a bath bomb.
Putting on a face mask.
Having your partner give you a massage.
Doing some deep breathing.
Listen to guided meditation and imagery. You can try Calm, Headspace, and for a faith-based option, there is Abide.
Deep condition your hair with a hair mask.
Soak your feet in bath salts.
Treat yourself to some calming tea while curled up on a chair with a throw blanket.
Here is a list of some self-care essentials for having a spa day at home.
8. Create a List to Celebrate Your achievements-Big or Small.
Positive self-affirmations and acknowledging things you have achieved are great ways to celebrate yourself, your strengths and help boost your confidence.
Adulting is exhausting and no easy task, let's be kinder to ourselves and acknowledge all the hard work we do that often goes unnoticed.
This is also a great way to end your day on a positive note.
It can be as simple as celebrating that delicious dinner you made, the compliment your boss gave you for a job well done, getting something on your to-do list completed, your child saying I love you and so forth.
I created this free printable achievement list for you to download and print as many as you want. Just click on the links below the image.
When I say super-power on the list, that can be your generosity, how compassionate you are, how you advocate, volunteer, or your creative abilities. We all have superpowers that bless those around us!