Be Your Own Best Friend: 65 Powerful Self-Love Affirmations
We often forget the most essential type of love is the love we show to ourselves, so here are 65 inspiring and powerful self-love affirmations to help you remember to show yourself, love.
One morning years ago, I sat face-to-face with a therapist for the first time. I felt awkward (umm hello cliche comfy couch 😬) and a bit nervous but also hopeful for what was to come. I'll never forget the simple task she assigned me: list 8 of my positive attributes and recite them to myself. I thought okay that's easy-peasy, but I wasn't convinced it would actually help.  
Now years later after that first little task, I regularly use positive affirmations to build my self-esteem and experience more joy each day. That was the beginning of my own self-love and self-acceptance journey and my first step towards healing. 
Practicing positive affirmations has been a fundamental part of my transformation.  
And the best thing is that I didn't have to join an intense course, read books or scientific studies, or do anything too time-consuming. Because let's be real: when you're an overwhelmed working mom, the last thing you need is to add more to your to-do list. Can I get an amen?🙌
Instead, I just needed to take 30 seconds to repeat some encouraging affirmations. Totally doable. ✅
As time went on, those seconds a day made an immense impact on my self-esteem and how happy I felt. Affirmations remind you of your strengths and help control that negative inner self-critic. Yay to that!🎉
Before you go, don't forget to sign up for my biweekly newsletter to receive your FREE bonus with all 65 self-love affirmations:
The Quick Start Guide to Self-Love Affirmations: Boost Your Confidence + Feel Better About Yourself.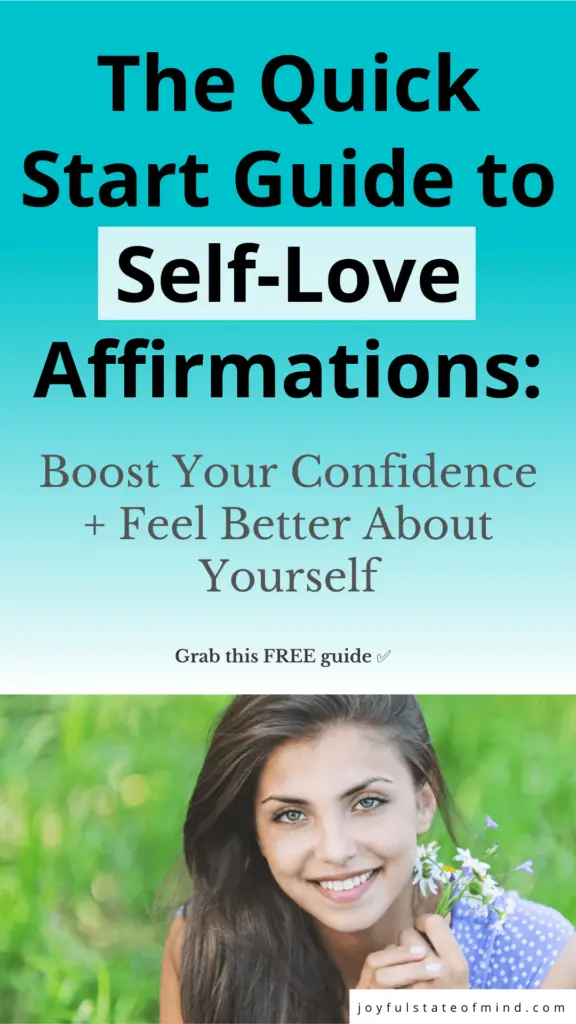 Disclaimer: Please note this post is not medical advice and you should connect with a professional doctor or therapist if you are struggling with any mental or physical health concerns. See our disclaimer page.
Why Is Self-Love So Hard?
The main reason we struggle to love ourselves is what psychology experts call our negativity bias. (1) Simply put, negativity bias is our tendency as human beings to focus on negative information or experiences far more than positive ones. (2) Fun, right?🤦🏻‍♀️
The negativity bias is why we remember and think about insults more than compliments, dwell on traumatic events more than pleasant ones, and more strongly respond emotionally and physically to unfavourable experiences. (3)
With that said, if you're struggling with issues of low self-worth, have been a victim of any abuse, and/or are dealing with trauma, it's always best to speak to your physician for support and a treatment plan. 
Having a professional support system can be life-changing. There's zero shame in that; it's a sign of your strength and bravery. 
Even as a professional who helped others manage their own mental health, I decided it was time to try therapy. But, I have to admit I was hesitant and probably waited longer than I should have. Don't be hard on yourself for waiting or being scared, just celebrate that you are aware you need support and are willing to try.
What I've learned through personal experience with anxiety and therapy has made me feel more equipped to help others, ironically more so than receiving my Master's in Social Work.
Don't get me wrong; I'm team-education all the way!👩🏻‍🎓📚
However, living through and experiencing something gives you an in-depth understanding and knowledge that you can't have otherwise.
The Surprising Role of Self-Care and Self-Compassion
When I heard people throw around the word "self-care," I often rolled my eyes. I asked myself: "Where will I find extra time for self-care?" and "Who has the money for expensive spa days and trips?" 
And when it came to self-compassion, it wasn't even on my radar. 
I was definitely not showing myself much compassion or grace. As a Social Worker, I gave both of those in abundance to clients but neglected myself. No wonder I felt emotionally depleted and tried to soothe myself with unhealthy habits like comfort foods, retail therapy, and binge-watching television. 
But now, I clearly see the essential role self-care and self-compassion play in our lives. They are both keys when it comes to your well-being and emotional stability and practicing powerful self-love affirmations is a great place to start. 
Self-care and self-compassion are interconnected and lead to living a more joyful life:
Self-compassion means having an attitude of kindness and consideration toward yourself and;
Self-care refers to the actions that embody being kind and considerate to yourself. (4)
Self-care can be as easy as taking a few seconds to repeat positive affirmations or slowing down and taking a 5-minute break during stressful times.  
You just need to take a few minutes to pause. Work will always be there, but if you forget to take care of yourself, you may not be able to continue doing your job. 
Taking care of your physical and emotional health should never be an option but a priority.
So let's embrace being kind and becoming our own valentine…
Learn To Be Your Own Valentine❤️
One way to develop or improve your self-compassion is by practicing powerful affirmations for self-love. 
You don't need a fancy card, flowers, or anything lavish to be your own Valentine. Repeating encouraging statements will do, and the best thing is they're free and quick. Win-win!
Below, you'll find a list of the most powerful affirmations for self-love to help get you started.
RELATED: The Importance of Self-Love: 11 Ways To Start
Do Self-Love Affirmations Actually Work?
Like many of us, I also used to think affirmations were overused verbiage that people just threw around. But there's a good reason you can find millions of articles, including scientific studies and articles in reputable psychology publications, validating their usefulness.
That said, affirmations are not magic and don't work instantly. As with anything, it takes commitment, effort, and an open heart.
It may seem simplistic and awkward at first, but in my experience personally and professionally, they do work and impact how you feel and how loving you are towards yourself. 
There's a science behind our words' healing power and the impact they have on our brains. Words can actually change how your brain works.
According to Dr. Andrew Newberg, who co-authored the book, Words Can Change Your Brain:
Tip: It's important to be consistent and choose powerful affirmations for self-love that genuinely feel right and realistic for you.
In an insightful TEDx talk, a wise young woman, Caitlyn Roux, from Cape Town, South Africa shares her journey with personal growth and self-love. 
She also speaks about the value of positive affirmations and overcoming negative thoughts then shares two good questions to reflect on at the end of the video.
So here are the powerful self-love affirmations you can choose from to inspire and positively impact your self-love journey.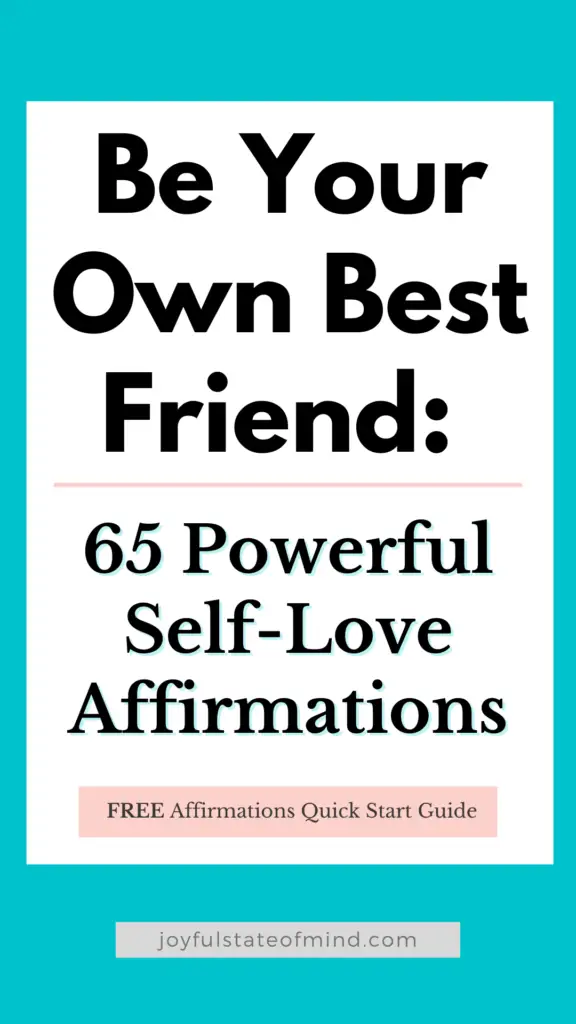 65 Powerful Self-Love Affirmations
Take your time and pick a couple or a few powerful affirmations for self-love that resonate. There's no right or wrong when it comes to affirmations, and there's no need to overthink this. Just enjoy and take in those words that you're repeating to yourself.
Affirmations for Self-Love and Confidence
Confidence is an area we can all use a little boost and these powerful affirmations for self-love and confidence are a great place to start.
I am worthy of my dreams.
I'm an insightful person.
I have overcome so much and am still standing.
I am unapologetically me.
My superpowers are compassion and kindness. (fill in with your qualities)
I have what it takes to face my problems.
I am capable.
I can accomplish my goals.
I bet on myself.
I get stronger every day.
I have everything I need to succeed.
I am brave in the face of adversity.
My resourcefulness has always come through.
I have the power to create change.
I am confident in my abilities and accept my weaknesses.
I trust my judgment.
I do not need the validation of others.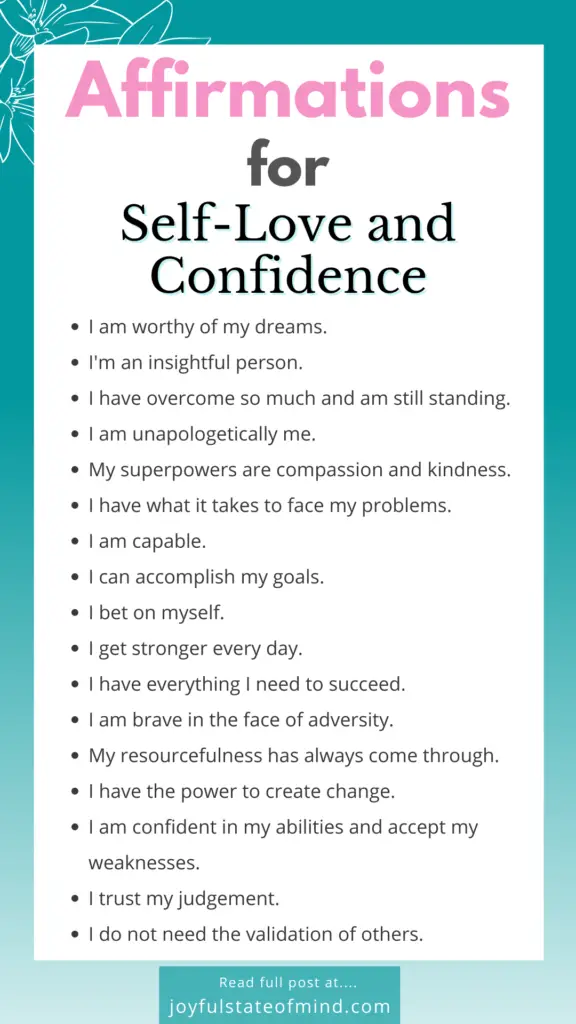 Self-Love Affirmations for a Positive Mindset
Our mindset is essential to living a joyful and more relaxed life. Try these positive mindset affirmations to help shift your perspective.
My life is full of blessings.
I release myself of self-doubt.
I am my own best friend.
I create joy for myself.
I am worthy of happiness and success.
I am right where I am supposed to be.
The journey is for me to enjoy and learn from.
I have centred my life around peace and positivity.
I am grateful for my life and my loved ones.
I choose to see the good even in hard times.
I am a light in this world.
Happiness is a choice, and I choose happiness.
I will not worry about things I cannot control.
I nurture a positive mindset.
Putting things into perspective has helped me soar in life.
I choose to have lighthearted fun each day.
I know the best is yet to come.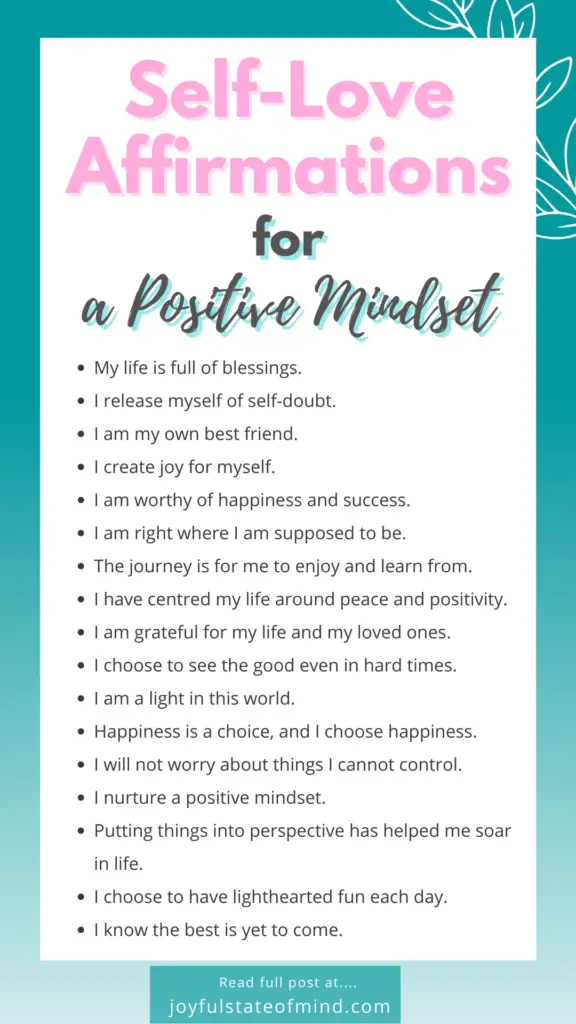 Self-Acceptance Affirmations
The first step in a journey to self-love is fully accepting yourself including any quirks or imperfections. These self-acceptance affirmations are a reminder that you're amazing.💯
I love the person that I am.
I forgive myself for past mistakes.
My family loves and accepts me.
I am proud of my accomplishments, big and small.
I am beautiful inside and out.
I have clear boundaries as I deserve to be treated with respect.
I love and accept 100% of myself.
With every mistake, I get stronger and wiser.
I embrace my imperfections as they make me unique and interesting.
I have friends because I am a fantastic person.
I release myself from the trap of comparison.
There is no other me.
I am creative and have many talents.
I no longer criticize myself; instead, I speak blessing over myself.
I will be patient with myself.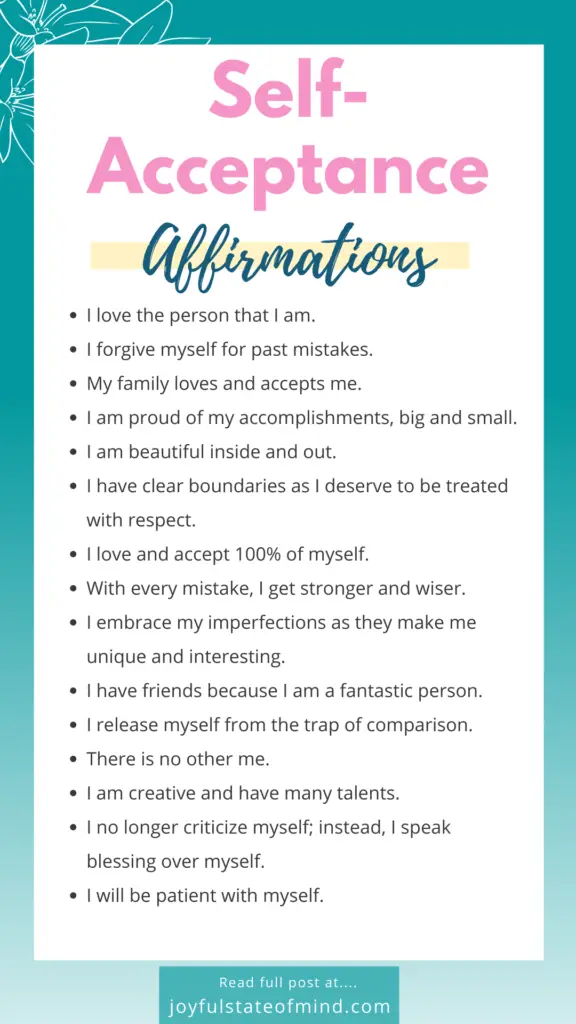 Spiritual Self-Love Affirmations
Taking care of your spiritual self (or soul) is a wonderful way to feel calmer and more at peace. Anyone can use these spiritual self-love affirmations, whether religious or not.
I am a child of God.
I am beautifully and wonderfully made.
My heart and mind are my home. I nourish them through faith which brings peace.
I show myself grace.
My spirit is strong.
All of my blessings humble me.
Forgiveness is my superpower and sets me free.
I let go and trust in God.
I have nothing to fear as God is watching over me.
My Heavenly Father deeply loves me.
I am a prayer warrior.
There is no need to worry as God has it under control.
I can do all things through Christ who strengthens me. (Philippians 4:13)
My spiritual growth guides me with wisdom.
God delights in me.
My prayers are heard, and keep me safe.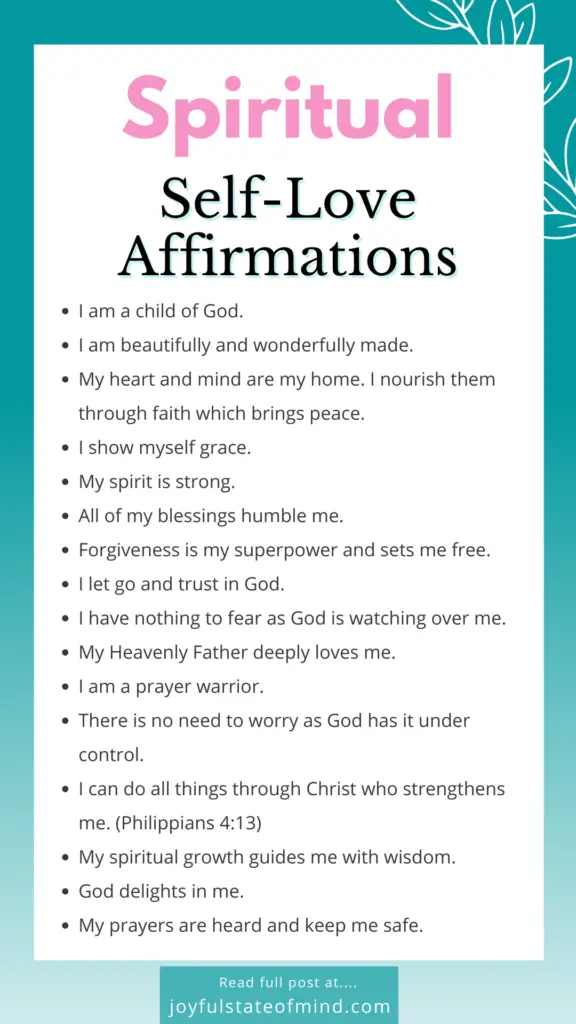 ---
Powerful Self-Love Affirmations: The Real Power Is In You
Self-love affirmations are an easy self-help strategy but you hold the real power to change how you feel about yourself. When you develop self-love and self-acceptance, it's a game-changer and that's where the real magic starts to happen. 
I'm excited and hopeful for your journey of being kinder to yourself and know that it's going to take you from merely surviving the rat race of life to thriving! That's the beauty of being kinder to yourself.
Before you go, don't forget to sign up for my biweekly newsletter to receive your FREE bonus with all 65 self-love affirmations:
The Quick Start Guide to Self-Love Affirmations: Boost Your Confidence + Feel Better About Yourself.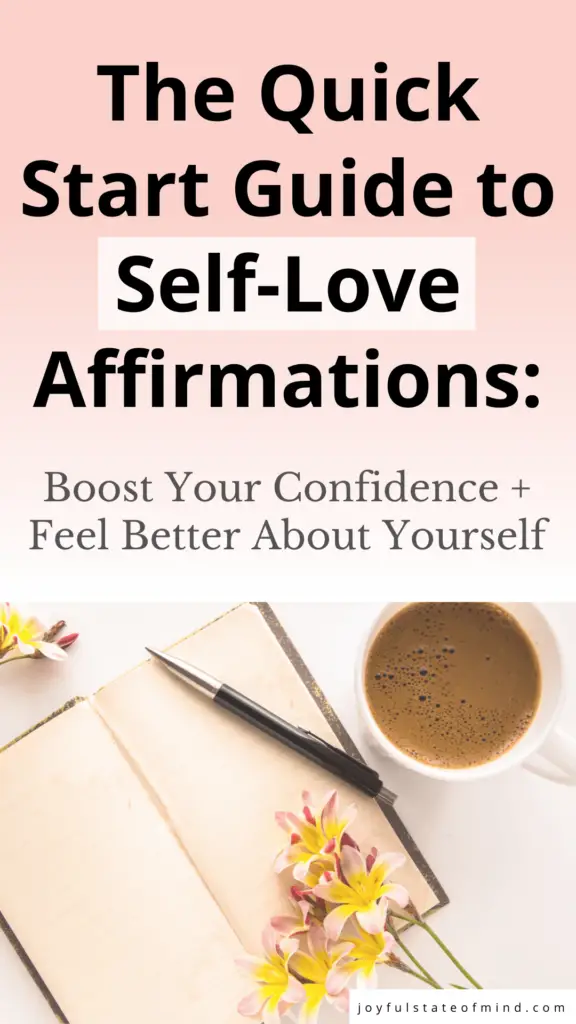 Bonus: Empowering Self-Love Quotes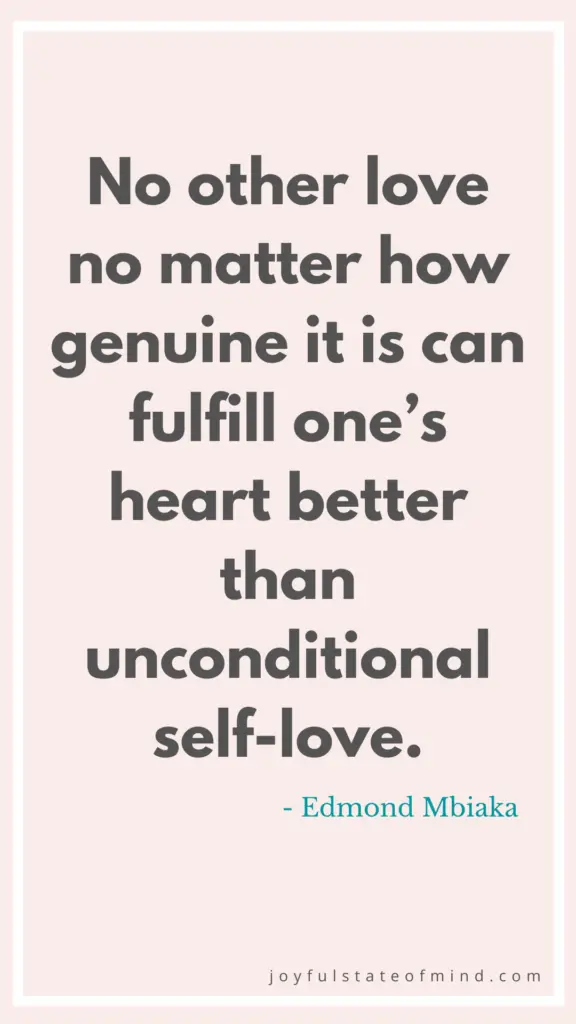 No other love no matter how genuine it is, can fulfill one's heart better than unconditional self-love. –Edmond Mbiaka
Love yourself first and everything else falls into line. You really have to love yourself to get anything done in this world. –Lucille Ball
If you have the ability to love, love yourself first. –Charles Bukowski
You're always with yourself, so you might as well enjoy the company. –Diane von Furstenberg
How you love yourself is how you teach others to love you. –Rupi Kaur
Accept yourself, love yourself, and keep moving forward. If you want to fly, you have to give up what weighs you down. –Roy T. Bennett
Owning our story and loving ourselves through that process is the bravest thing we'll ever do. –Brene Brown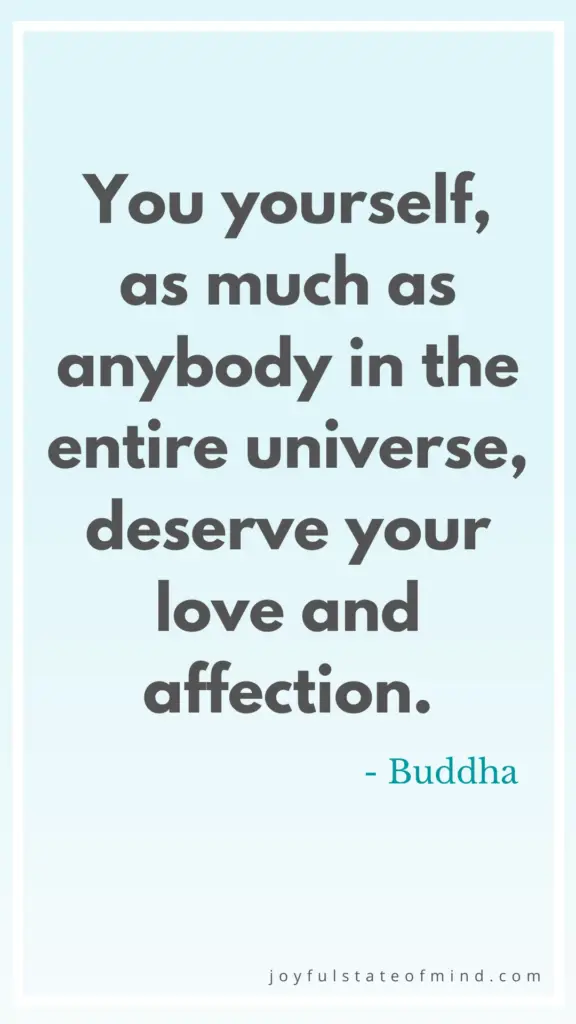 You yourself, as much as anybody in the entire universe, deserve your love and affection. –Buddha
If you don't love yourself, nobody will. Not only that, you won't be good at loving anyone else. Loving starts with the self. –Wayne Dyer
Falling in love with yourself first doesn't make you vain or selfish. It makes you indestructible. –Unknown
The real difficulty is to overcome how you think about yourself. –Maya Angelou
It's not selfish to love yourself, take care of yourself and to make your happiness a priority. It's necessary. –Mandy Hale
Self-love starts and ends with the dialogue we have with ourselves. –Kathryn Eisman
Love is the great miracle cure. Loving ourselves works miracles in our lives. –Louise Hay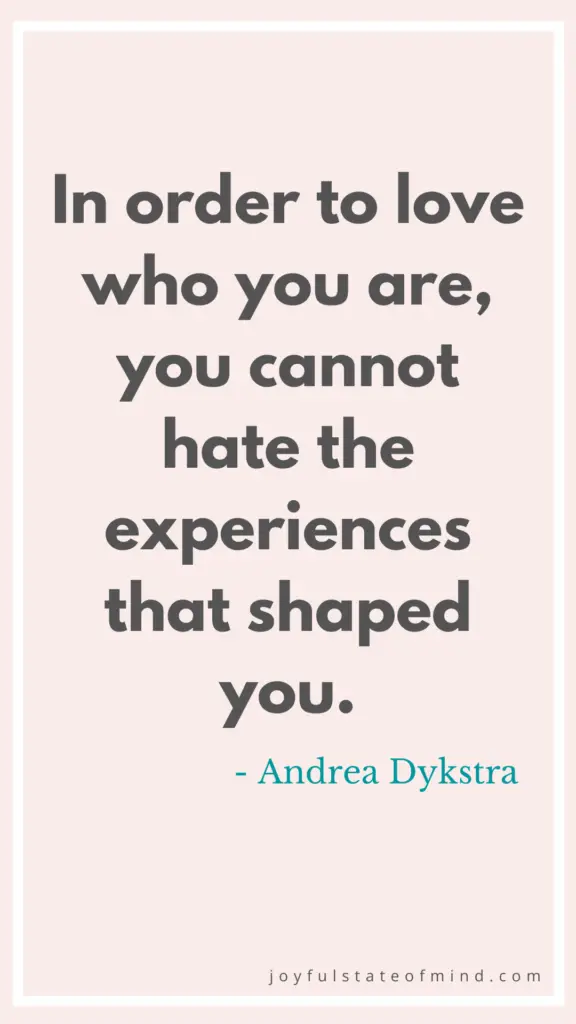 In order to love who you are, you cannot hate the experiences that shaped you. –Andrea Dykstra
RESOURCES:
1.https://www.psychologytoday.com/ca/blog/intimacy-path-toward-spirituality/201908/why-is-it-so-darn-hard-love-ourselves
2. https://positivepsychology.com/3-steps-negativity-bias/
3. https://positivepsychology.com/3-steps-negativity-bias/
4.https://www.socialworker.com/feature-articles/self-care/self-compassion-heart-of-self-care/