15 Powerful Ways To Overcome The Sunday Scaries
It's a beautiful relaxing Sunday afternoon, and we've picked up a delicious meal and dessert to treat ourselves. Life is good! Right? Not so much for me. My stomach is in knots as I'm worried about everything I have to do this week. A feeling of dread sets in as the weekend is ending, and tomorrow is the most infamous day of the week. Ughh Mondays. Back to the grind, knee-deep in paperwork, emails, and meetings. 
Does any of this sound familiar? If so, it's called "Sunday Scaries" or Sunday depression, and today, I'm highlighting powerful ways to overcome your Sunday Scaries.
This is a real phenomenon that impacts most people who head back to work on Monday. So know that you are not alone and are in good company. 
A 2018 study conducted by LinkedIn reported that 80% of professionals worry about the week ahead on Sundays. Gen Z and Millenials worried the most, with over 90% experiencing the Sunday Scaries.
What Exactly Are The Sunday Scaries?
Dictionary.com defines them as:The Sunday scaries are the anxieties one experiences on Sunday when thinking about the impending workweek, school week, or other obligations that await in the week ahead. 
This post focuses specifically on the feeling of Sunday Scaries when returning to work on Monday. The reasons for this feeling can be different for youth returning to school the next day after a fun weekend.
It doesn't only happen Sunday night, often these thoughts and Sunday depression can start creeping in earlier in the day, taking away from thoroughly enjoying the rest of your free time. Total bummer, I know!👎  
The transition from a relaxing weekend to a week of work ahead triggers stress. Our minds tend to start racing with anxieties thinking about all the not-so-fun responsibilities we have. 
It sure does for me, and it's something I've worked diligently to beat, so I wanted to share these tried and true ways to overcome the Sunday scaries with you.
This GIF sums up this feeling beautifully…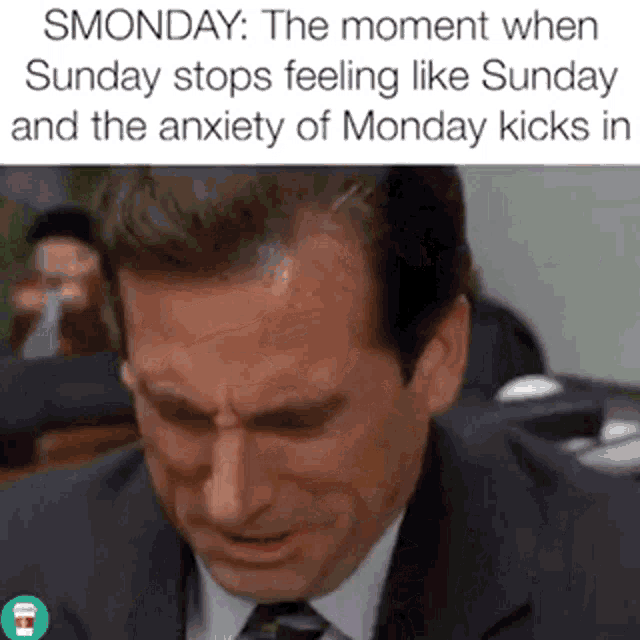 What Causes The Sunday Scaries?
Understanding where this feeling comes from is an essential piece in overcoming the Sunday Scaries or at least reducing them as much as possible.  
There are many reasons you may struggle with this feeling on Sundays. Healthline.com notes that the Sunday Scaries are a form of anticipatory anxiety.
Anticipatory anxiety is the fear or worry about something before it happens. For example, before a job interview, waiting for test results, before a date, before a big presentation and so forth.
Anticipatory anxiety is the primary reason behind the Sunday Scaries. However, the reasons for this kind of anxiety can vary for everyone.
Some causes of anticipatory anxiety leading to the Sunday Scaries can be:
Feeling overwhelmed with all the things you have to do at work.
You feel disconnected at work.
You are under-appreciated.
Your boss is unsupportive.
You feel burnt out.
Work is boring and mundane.
You feel stuck in your job.
Being unhappy in your current position.
It can be one or a combination of these stressors or other reasons. 
Now let's look at 15 practical and powerful ways to overcome the Sunday Scaries and start enjoying your free time worry-free.
BONUS: As a bonus for joining my biweekly newsletter, get this FREE  cheat sheet with five proven quick fixes to melt stress away on a bad day.
Disclaimer: Please note this post is not medical advice and you should connect with a professional doctor or therapist if you are struggling with any mental or physical health concerns. See our disclaimer page.
15 Ways To Overcome Sunday Scaries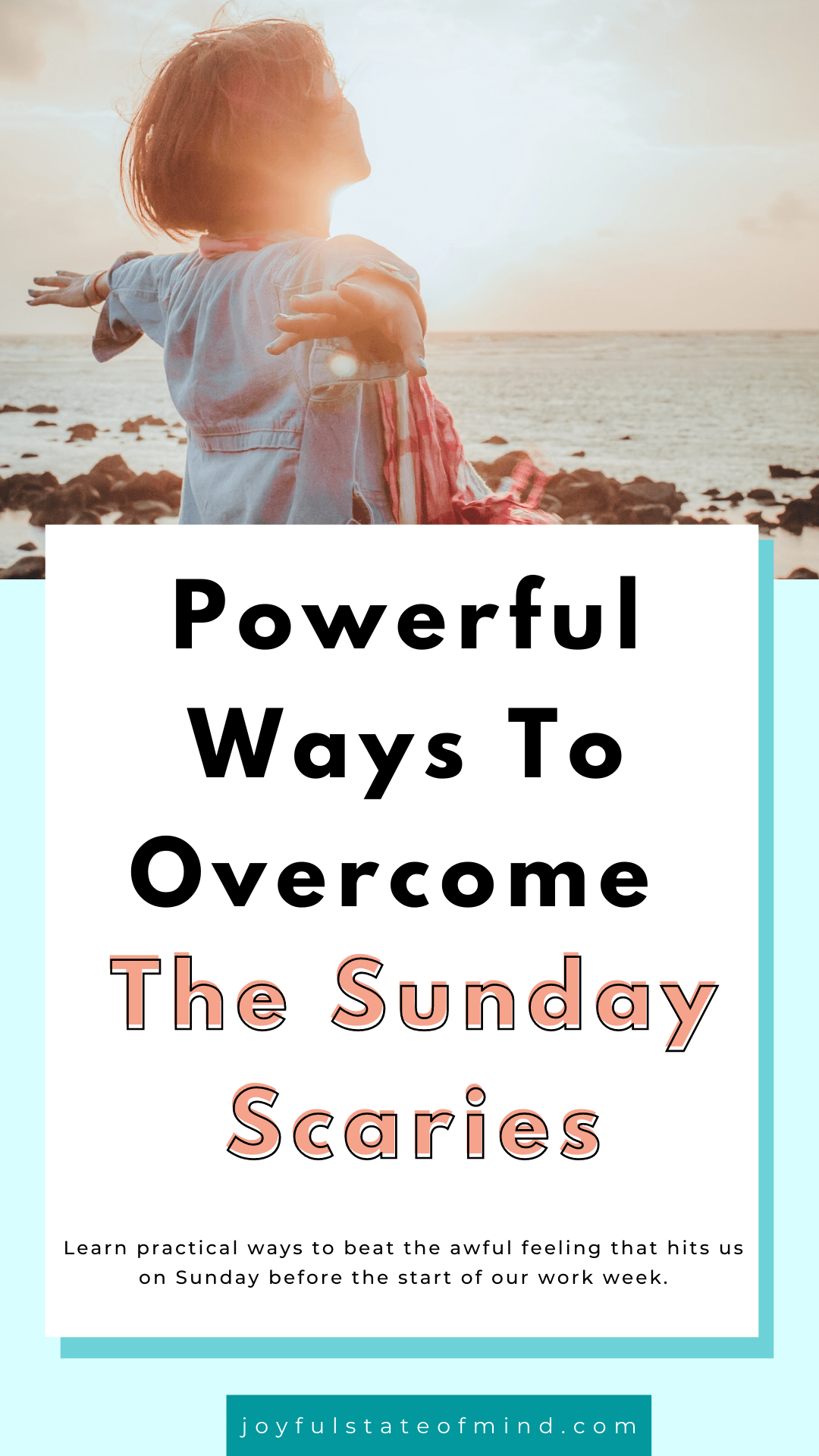 1. Understand What Triggers This Feeling and Journal About It.
Being aware of where this feeling comes from is an essential step to managing or overcoming it. 
Take some time to reflect on what bothers you most about the thought of going back to work on Monday. For example, I listed some common reasons above. Is it any of those? 
Maybe it's the sadness that comes with a fun weekend coming to an end? Perhaps it's a stressful meeting or task you have on Monday? Or making small talk with coworkers you have nothing in common with? 
It could be something on a deeper level, such as being unhappy in your job, feeling you made the wrong choice in careers or that you haven't accomplished goals because of this job.
Whatever it is, try journaling about it. Writing out your thoughts and feelings is not only therapeutic but a great way to get to the bottom of your Sunday Scaries and start working on overcoming them. 
If you struggle with intense anxiety over the thought of work and it's impacting your life, take time to reflect on this and don't ignore it. It may be related to a more serious issue. Speak to your doctor or a therapist for professional support.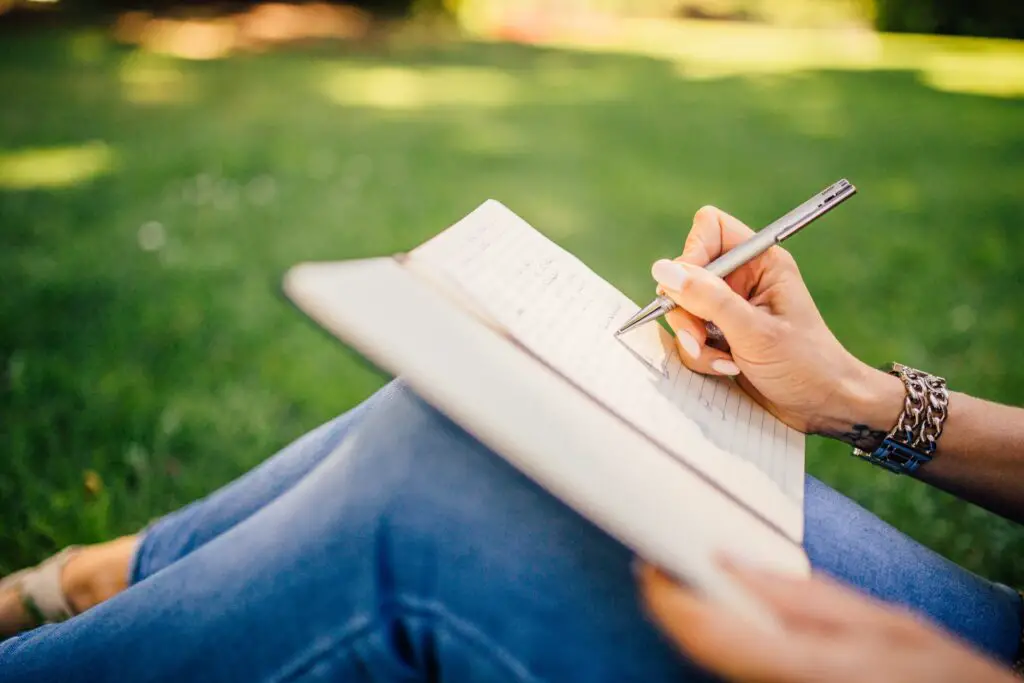 2. Reframe the Negative Thoughts to Overcome The Sunday Scaries.
Once you've pinpointed the triggers, reframing those negative thoughts and feelings is the next step to overcoming these pesky Sunday Scaries.
Here are some examples of reframing:
If your job is mundane, try to find new opportunities you can get involved in at your workplace. 
When you feel stuck or disappointed where you are, try learning a new skill in something you love to build your confidence. Hopefully, this will lead to a new path for other work opportunities.
If it's thoughts about a big project coming up, try breaking it down into smaller steps or asking for some assistance if possible.
If you feel disconnected at work, think about ways to change this. For example, join a committee to get more involved or ask coworkers out for lunch or a short walk during the day.
Feeding the negative thoughts or complaining will only make your Sunday Scaries worse, so try your best to turn this around. 
Practicing gratitude is helpful when it comes to dealing with these feelings of doom for the workweek.
Often our negative thoughts and worries turn minor issues into more severe problems than they are. Therefore, changing your perspective helps you reframe those thoughts and feel better.
3. Create an Easy Self-Care Sunday Routine.
Generally, we all have more free time on Sunday to do things. Instead of sleeping in too long or laying in bed mindlessly scrolling through social media, create a calming self-care Sunday routine.  
This gives you something to look forward to and will help you relax because self-care is an effective way to reduce stress and anxiety.  
Try to schedule it when you experience the Sunday Scaries most, often that's nighttime.  
Some self-care ideas:
Soak in a bubble bath and read your favourite magazine.
Light some candles and do some pilates or yoga.
Pray and take time to reflect on all of your blessings.
Give yourself or go to a spa and get a mani and pedi.
Be creative try painting, knitting or any calming activity that keeps your mind busy.
Read an inspiring book.
If you can, try to invest more time on Sundays to combine self-care activities that focus on your emotional, physical and spiritual needs. 
Taking care of your needs is an essential part of overall wellness. It will undoubtedly improve your frame of mind on Sunday and decrease your worry for the week ahead. 
4. Practice Self-Kindness.
We are our own worst critics and can be harsh on ourselves about something we forgot to do, a mistake we made or an awkward moment. 
Practicing self-kindness is the most important thing we can do to boost our self-esteem and live more joyfully. 
You can do this by showing yourself grace and forgiveness when you make a mistake, speaking to yourself as you would a loved one and prioritizing relaxing "me-time" to focus on self-care ideas for stress reduction. 
I've discovered the life-changing power of self-compassion and I'm on a mission to help improve your life with this mindset shift which I call "being your own BFF." Read more about my story here. 
5. Plan Something to Look Forward to On Mondays.
Why not plan something to look forward to on Mondays? This is a great way to help overcome the Sunday scaries and even the Monday blues that most of us experience at work. 
Did you ever watch the movie Office Space? There's a scene on Monday morning where random people keep saying to the main character who hates his job, "Sounds like somebody's got a case of the Mondays!". 😂
Of course, this only irritates him further and adds to his already awful Monday. That movie is hilarious because it's relatable for anyone who suffers from the Sunday Scaries and the dreaded Monday blues. A bad combination indeed!
Some ideas for making Monday's better:
On your way to work, treat yourself to coffee/tea or energizing smoothie.
Join a Monday night book club.
Order in for dinner on Monday's so you don't have to worry about what to make.
Plan a coffee date with a friend.
Call a friend or family member that always makes you laugh. 
Join an art, dance or exercise class that you love.
Book a Monday night massage to unwind from your day.
Make it a movie night either at home or at the theatre.
Do a little retail therapy on Mondays after work. Think small, like picking up some fun crafts at the dollar store, picking up some flowers, a house plant or a new book.
Make Monday's a baking night. You can bake many simple things in no time, like banana bread or breakfast muffins. Then you have a little treat to bring to work for the rest of the week instead of buying overpriced and overly sugary treats.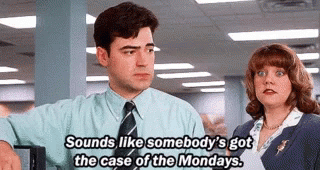 6. Get Some Sunshine.
Have you ever noticed that your Sunday Scaries are worse in the winter? That's probably because there's less sunshine, and you can't go outdoors as much (unless you're an avid winter sports person.)
Sunshine and fresh air are natural mood boosters. So enjoying the outdoors is a simple way to help overcome the Sunday scaries.
Sunshine increases the hormone in your brain, serotonin. Serotonin is known to boost your mood and help you feel calmer and focused. Getting vitamin D from the sun also has health benefits (don't forget the sunscreen).☀️
Nature walks, breathing in the fresh air, the smell of fresh flowers, a light jog, walking barefoot in the grass or at the beach are all things that lift your spirits and give you a sense of peace. 
7. Forget Work Emails.
Sundays are for relaxing and being refreshed for the week ahead. If you're checking work emails, your mind is back in work mode, and that makes it hard, to overcome the feeling of Sunday depression. 
Yes, there are emergencies or tight deadlines that, at times, you can't avoid. If, however, you have a habit of checking work emails on Sunday just 'cuz, this generally only increases that feeling of dread for the next day.  
Not only that, but it takes away from time with your loved ones or your downtime. Work obligations and tasks are there no matter what.  
Side note: I used to think that checking my emails was helpful as I got a head start on the week, but I realized it wasn't worth it.  
All of my work demands were still there on Monday, yes maybe I got a few emails out of the way, but I lost out on more time with my hubby and girls, even more, "me time." Since changing this habit, Sundays are definitely more enjoyable.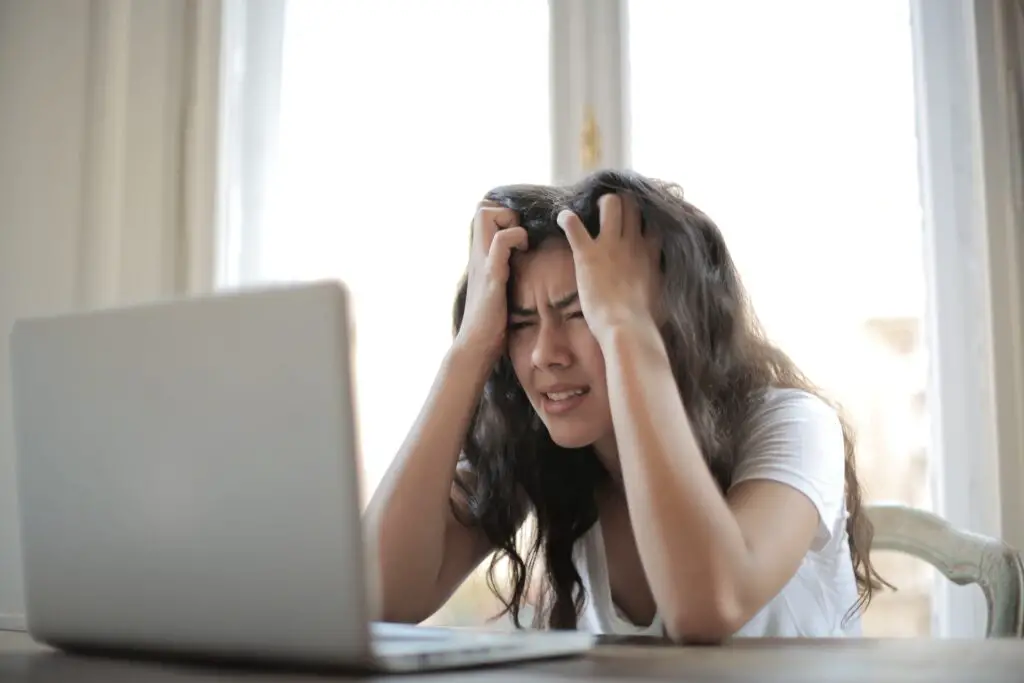 8. Freshen Up Sunday Nights.
If you dedicate Sunday nights to learning a fun new hobby or skill, this helps eliminate the dread you feel on Sunday nights. It gives you something enjoyable to keep busy with and gets your mind off the week ahead.
Think of something relaxing or fun and not too complex or laborious, so you're not tired on Monday morning.
9. Just Say No to Social Media. 
Picture this; you're mindlessly scrolling on Instagram on Sunday, seeing all of the influencers, celebrities, travel bloggers or whomever you follow and their amazing lives. They are looking stunning, on lavish vacations, dining at the best restaurants, attending the most glamorous parties and adventuring in unique places, just to name a few. 
Then Boom💥 , you're hit with the reality that you're headed to your stressful 9 to 5 tomorrow. Talk about depressing! 
No matter how hard you try it's a challenge not to compare your life to others so do your best to make Sunday a day you say no to social media and stay off the apps. Once you keep doing this it becomes a healthy habit and you'll have more time for what matters most. 
Social media can be anxiety-inducing, which is not what you need on a day that's already being interrupted by other anxieties about the week ahead.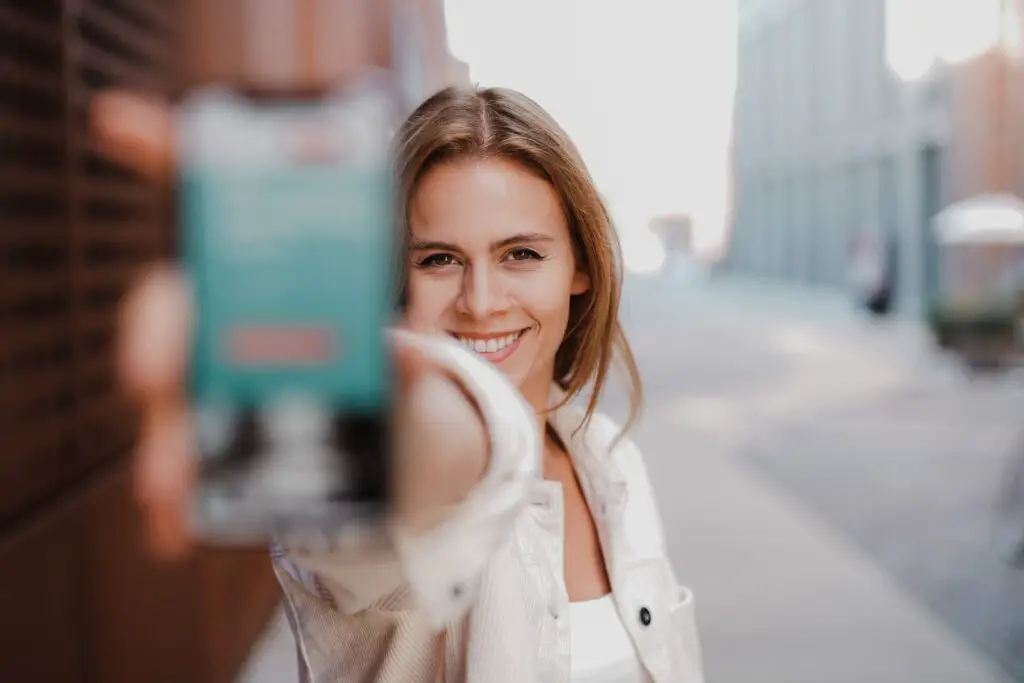 10. Plan Some Fun Outings or Activities During the Week.
If you can, plan some small outings during the week to look forward to as this helps lessen that feeling of dread for the week ahead. 
You can plan a dinner out, catch a new movie, have tea/coffee with a friend, plan a fun DIY project or have a Netflix night and so forth.  
11. Release Feel-Good Chemicals.
Being physically active is proven to lift your spirits and decrease your level of stress. So it's a simple way to stay positive and overcome the Sunday Scaries or Sunday depression.
Exercise releases endorphins, the feel-good chemicals in your brain. These help to reduce anxiety and make you feel more relaxed.
Keep it light and fun, hop on the treadmill, get some home gym equipment and weights, go for a brisk nature walk. Many people swear by the Peloton bike, so it's a good investment if you can.
You can also register for online memberships at places such as YMCA360. 
FitnessBlender is a site that offers tons of free workout videos.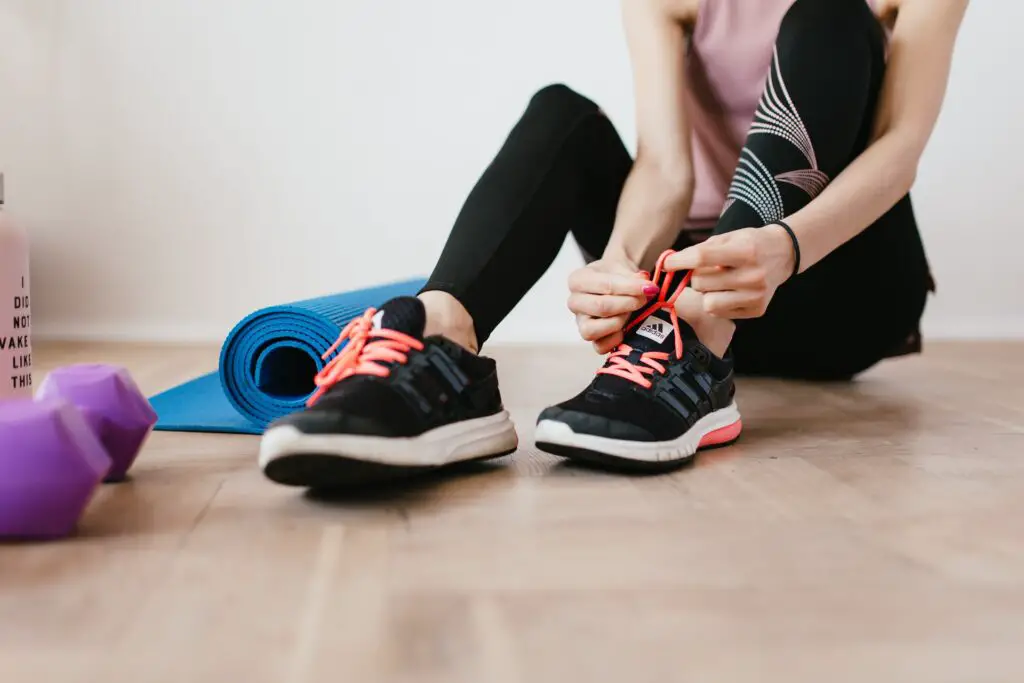 12. Organize an Area in Your Home.
Organizing a room or area in your home can be a great way to get your mind off the week ahead. It feels good to organize, and it's fun too.
I love finding things I forgot about, old pictures or mementos, or just freshening up a space to make it feel new and exciting.
13. Try a Brain Dump.
With so much going on in our minds, getting it all out can be beneficial to release some of the tension, stress, and negative thoughts.  
It doesn't have to be fancy, well written or thought out. It's about letting go of things that may be weighing you down. 
If you can then talk about it with your spouse or a loved one who can help you debrief. It's therapeutic to express your feelings, and they may have some fresh ideas or a perspective that you never thought of.
14. Prep for Your Week Ahead. 
If you have time and are up to it, you can do some planning for the week ahead. For example, you can plan meals for each day, and if you have time, you can cook in batches. 
Plan what you'll bring for lunch, your outfits, your kids' outfits and so forth.
Prepping will help relieve some mid-week stress and give your more time for self-care and others things you love to do.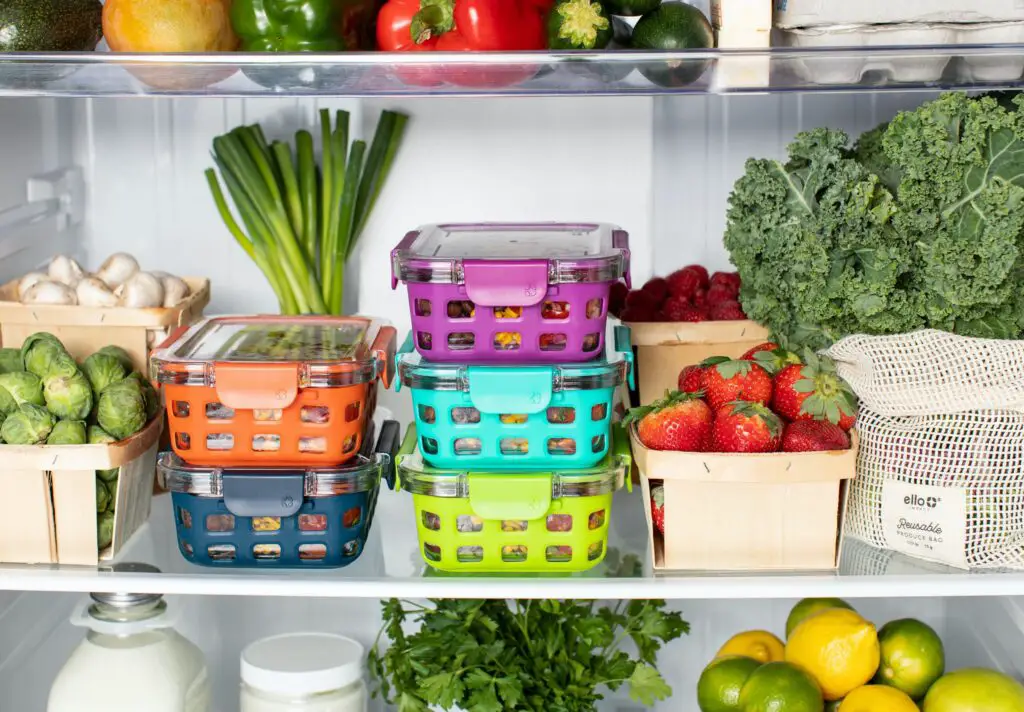 15. Talk To a Therapist. It May Be More Than The Sunday Scaries.
Finally, if the Sunday Scaries or feeling of depression on Sunday seriously impacts you and causes chronic anxiety, physical ailments (headaches, stomach issues, back pain), or sadness, these may be signs of deeper rooted issues such as chronic depression or an anxiety disorder. Connect with a therapist or speak to your doctor about it, who can make suggestions or a referral for you.
BONUS: Before you go, get my FREE printable cheat sheet as a gift for joining my newsletter: 
The Bad Day Reset Button: 5-Minute Proven Fixes That Melt Stress.
Ways to Overcome Sunday Scaries or Sunday Depression
As a recap, the Sunday Scaries are the feeling of dread and worry you get the day before heading back to work. So you can feel sad and depressed on Sundays. This is a form of anticipatory anxiety, which means being concerned about a future event. This feeling then negatively impacts the rest of your free time on Sunday. 
If you're aware of what triggers these feelings, you're on your way to decreasing and overcoming them. Try some of these practical and powerful ways that have helped transform how I feel on Mondays, so you can start to take back your weekends.
You work hard enough and deserve an entire weekend to enjoy, relax and do what makes your heart happy. I hope these ideas will be useful for you. Remember to always show yourself compassion when trying to overcome or reframe this feeling.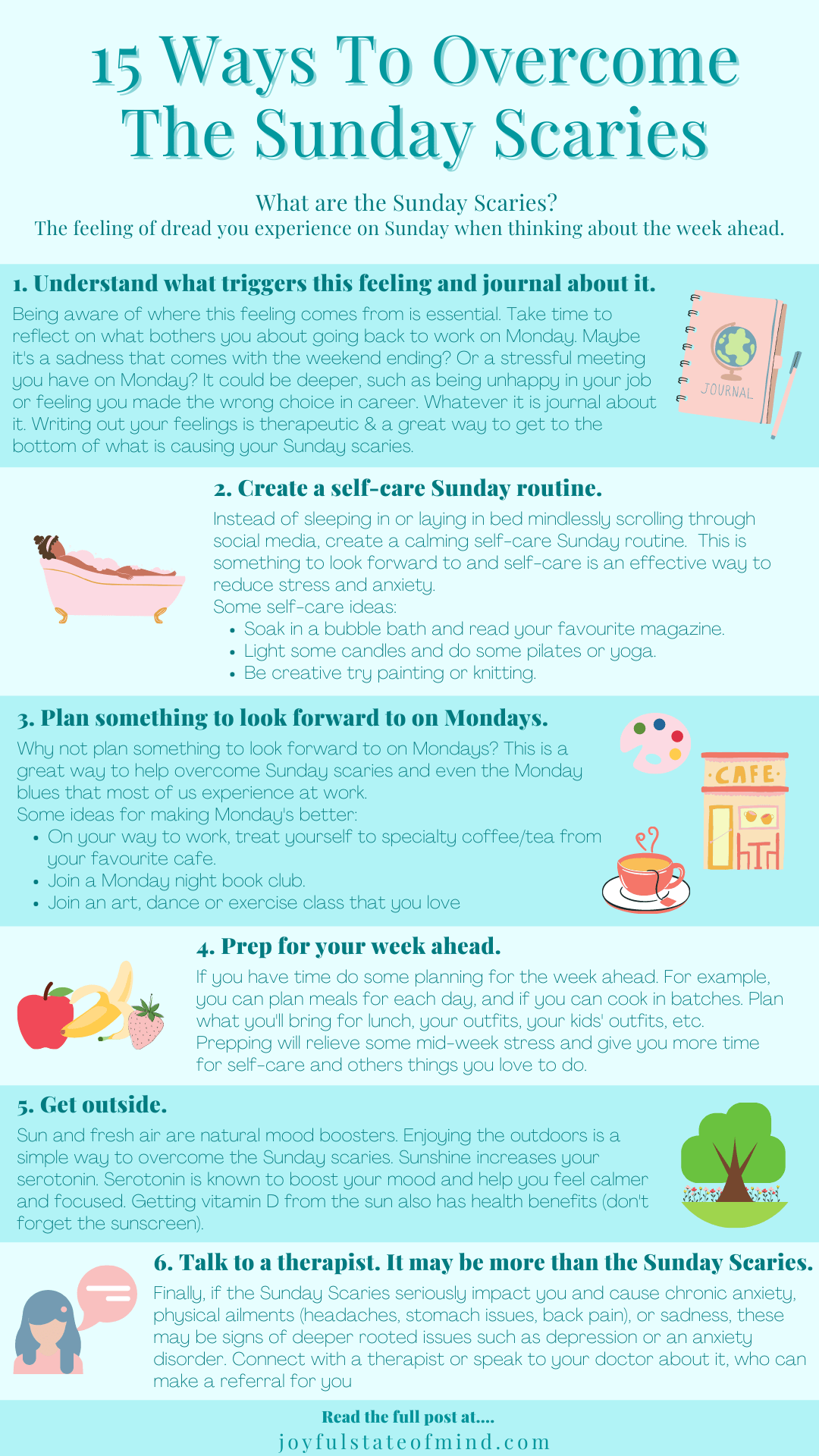 Header photo by Fuu J 
Girl on laptop photo by Andrea Piacquadio 
Journaling photo by Negative Space
Exercise photo by Karolina Grabowska 
Girl with cell phone photo by Jenny Ueberberg 
Fridge photo by Ello