8 Quick Fixes: How to Boost Your Confidence as a Woman
No one's born with infinite amounts of self-confidence. Some of the most successful people have tackled low self-confidence, including Oprah, Albert Einstein, Leonardo Da Vinci, and John Lennon. In this post, learn how to boost your confidence as a woman by practicing a few simple techniques.
I clearly remember the cold winter morning my confidence started to shift. I was looking in the mirror at my no make-up, hair-in-a-bun, just-got-up self and started to list some of the difficult things I had overcome and accomplished over the years.  I'd done this before, but this morning was different. My eyes welled up with happy tears. That was a turning point for my self-confidence, and it happened in minutes.
Everyone has pain and faces adversity in life. While some experience more than others, it doesn't diminish what you've overcome to get where you are.
Boosting your confidence takes some effort, but it isn't as hard as you may think. It begins with the decision to build yourself up instead of tearing yourself down.
The secret is to show yourself kindness. I'm a firm believer that self-compassion is the key to creating and living a life you truly love. 
So stop being hard on yourself up for not being confident enough. Once you can show yourself grace, the real magic starts to happen. 
And the great news is that there are many ways to boost your confidence right now! After you try a few of these techniques, you'll see your confidence begin to soar even within those first 10 minutes of trying—Yay to that.🎉
How is Confidence Defined?
Dictionary.com defines confidence as:
Belief in oneself and one's powers or abilities; self-confidence; self-reliance; assurance.
Self-confidence is the attitude you have towards your abilities or skills. You know your strengths, are comfortable with your weaknesses and have an overall positive view of yourself. You believe in yourself and aren't afraid to take on challenges.💪
How Do You Improve or Cultivate Self-Confidence?
It's essential first to ask yourself a few key questions to understand why your confidence isn't where you want it to be or why your confidence is low in certain situations. 
When you're aware of that, you can begin to improve and focus on those areas.
Some questions to reflect on:
Try to figure out where your lack of confidence stems from:

Were you bullied at school?
Were your parents hard on you?
Did you lack support or encouragement?

When do you struggle most with your confidence?

Is it public speaking? 
Meetings at work? 
Social gatherings?

How does that look?

Do you get panicked? 
Start sweating? Get an upset stomach?
Try to avoid the situation?

These are all tough questions and if this is an area you significantly struggle in, make sure to speak to a therapist for support. This article isn't meant to replace medical advice.
I worked diligently over the last years in overcoming my lack of self-confidence and have come a long way. And yet, I still feel insecure at times. 
It's common for even the most outwardly confident women to struggle with a feeling of inadequacy now and then. Please keep in mind that having bouts of insecurity doesn't invalidate or diminish your self-confidence. 
Be kind to yourself when insecurities show up, and keep working on overcoming them through simple strategies like those I'm sharing below.
Building self-confidence is all about practice and persistence, as Dr. Ivan Joseph in the TEDx video (below) says. He shares some powerful insights on self-confidence, so it's worth the watch.
Disclaimer: Please note this post is not medical advice, you should connect with a professional doctor or therapist if you are struggling with any mental or physical health concerns. See our disclaimer page for more details.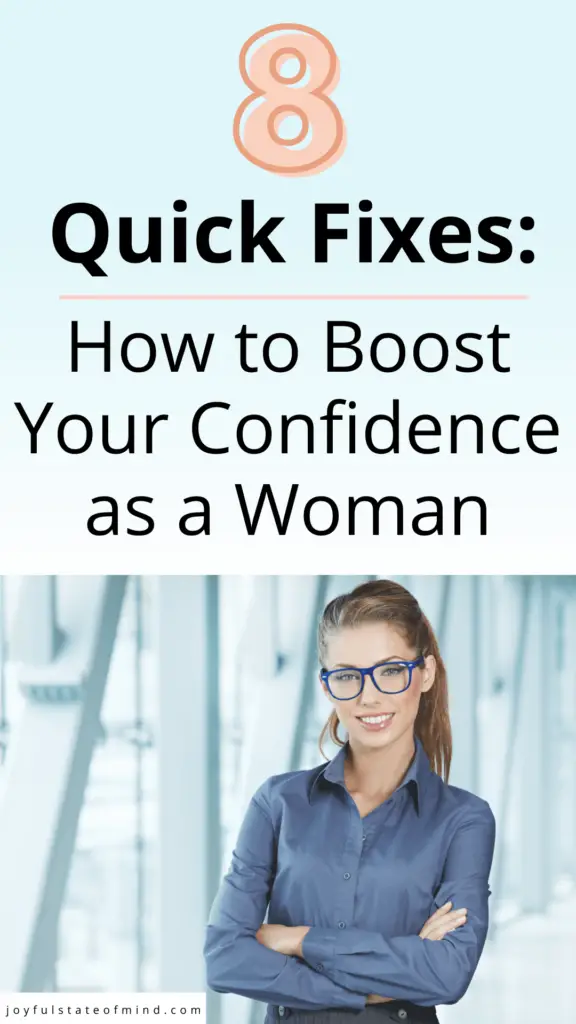 How To Boost Your Confidence As a Woman
Keep in mind there's no pressure to do all of these at once. Please keep it simple. Just try one and see how it works. Then add or try other ones as necessary.
1. Practice Daily Positive Self-Affirmations.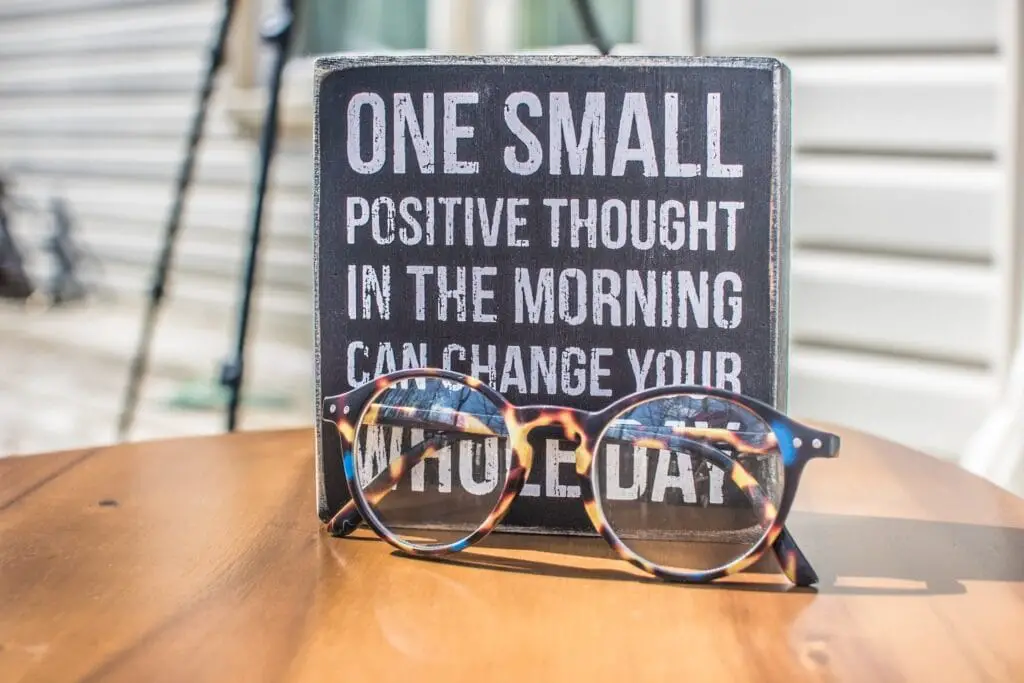 This is quick and easy, and although it may feel a bit awkward at first, it works. This is my essential strategy when it comes to how I boost my confidence as a woman.
One morning years ago, my therapist gave me a deceptively simple task: list 8 of my positive attributes and recite them to myself. I wasn't convinced it would help, but now years later, I regularly use positive affirmations to build my confidence and self-esteem. 
And the best thing is that I didn't have to join a course, read books or study, or do anything too time-consuming. Because let's be real: when you're an overwhelmed working mom, the last thing you need is to add more to your to-do list. Can I get an amen?
Instead, I just need to take 30 seconds to repeat some encouraging affirmations. Totally doable.✅ 
Our words have power. Did you know that words can actually change how your brain works? According to Dr. Andrew Newberg, who co-authored the book, Words Can Change Your Brain:
"By holding a positive and optimistic [word] in your mind, you stimulate frontal lobe activity.
And as our research has shown, the longer you concentrate on positive words, the more you begin to affect other areas of the brain. Functions in the parietal lobe start to change, which changes your perception of yourself and the people you interact with." (1)
There is a science behind our words' healing power and the impact they have on our brains. Practicing daily positive affirmations (even a minute a day) can boost self-confidence.
I encourage you to try them. Below are some quick examples to get you going: 
I am brave
I'm strong and resilient
My past does not define me
I can accomplish anything I focus on
I'm a beautiful person inside and out
BONUS: When you sign up for my newsletter I'll send you this FREE guide with positive affirmations:
The Quick Start Guide to Self-Love Affirmations: Boost Your Confidence + Feel Better About Yourself.
2. Stand Up Tall.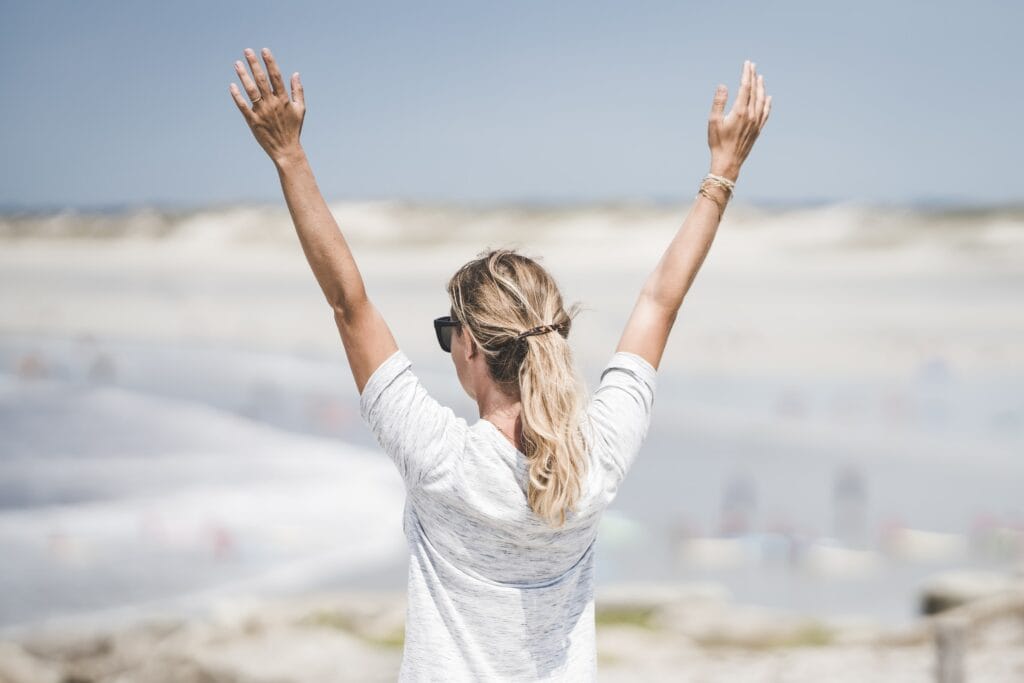 It turns out moms were right about posture! Not only do you look more attractive when you stand tall or sit up straight, but experts have also found a correlation between good body posture and confidence. (2)
This study from Ohio State University found that sitting up straight even gives you more confidence in your thoughts.
Just think about red carpets and how celebrities strike bold poses with excellent posture. For example, remember Angelina Jolie's fierce pose at the Oscars with her amazing legs? Her confidence is practically oozing onto the red carpet. These celebrities exude confidence, which also makes them look more powerful.
The same is true for everyday life. If you think about a person you admire, they are usually comfortable in their skin, and it shows in their posture and how they carry themselves.
3. Ask Two Loved Ones To Describe You.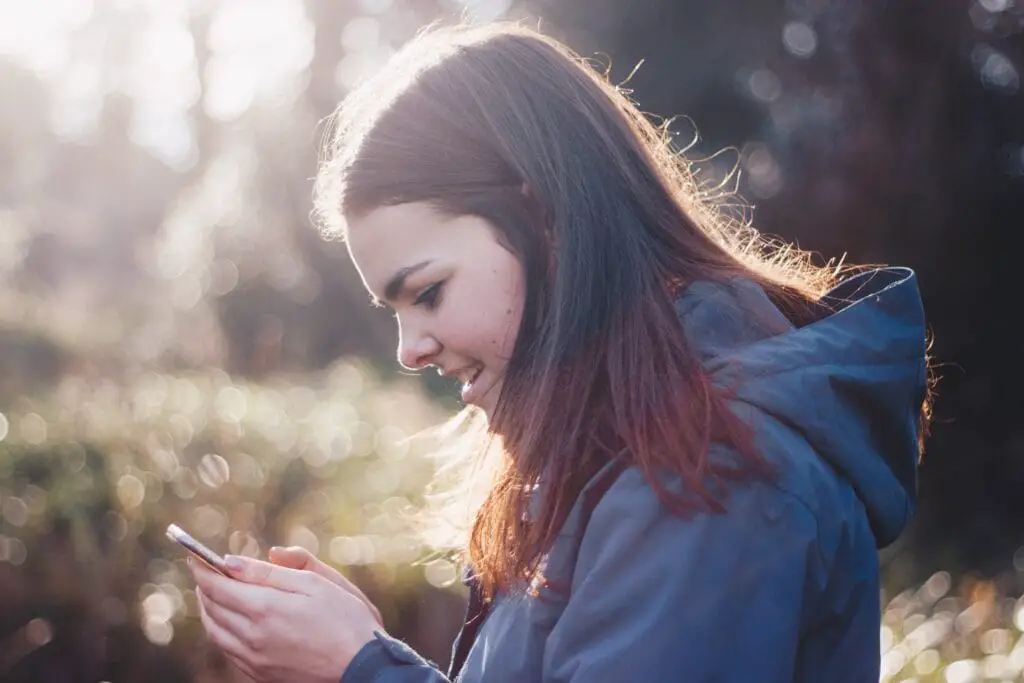 A couple of years ago I was taking an online course and was assigned a task I didn't think much of, message two people that know me well and ask them this question:
I'm working on an assignment and wondered if you can describe me and some of my qualities.
When I received the two text messages back, boy did they make me feel great and gave my confidence quite a boost. It was a pleasant surprise, especially when they mentioned qualities and strengths that I didn't necessarily see in myself. 
How blessed we are to have people in our lives who love us for who we are. Please pause and make sure you reflect and take in what they say. 
You can even start a list of your good qualities to check on when you're feeling down, which leads me to my next point…
4. Develop Your Inner BFF To Boost Your Confidence.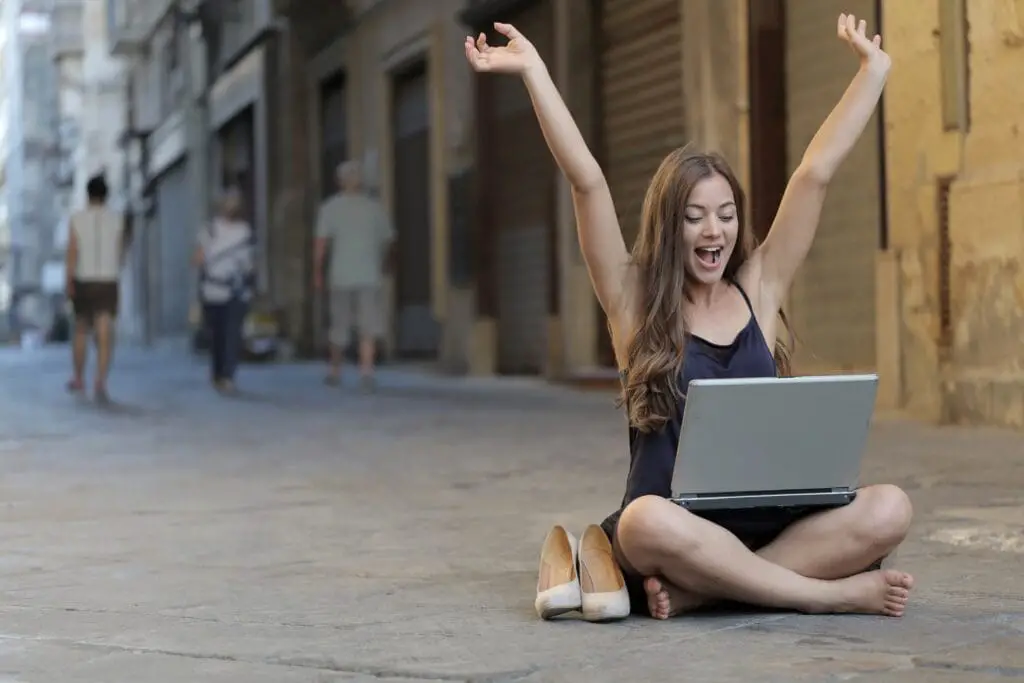 Who doesn't wish they had a BFF who always supports and cheers them on no matter what? If you're lucky to have one of those, that's awesome, but if you don't, not to worry as becoming your own inner BFF is also essential to living a more joyful life. 
How can you develop an inner BFF to boost your confidence as a woman? It's a simple mindset shift focused on developing self-compassion.
Here are 4 ways to develop self-compassion:
Be kinder to yourself by challenging negative thoughts and replacing them with encouraging ones instead.
Show yourself grace when you make a mistake or fail at something by practicing positive self-talk instead of beating yourself up. Remember, there's always a next time.
Forgive yourself. Our inner critic/voice tends to be harsh and not forgiving. Take a deep breath and remind yourself to let things go. We don't have control over others or events, so holding bitterness or anger towards yourself is a surefire way to feel down and lower your confidence.
Make a list of great qualities you have, what your skills or strengths are, and what you have accomplished.  Writing it down is always a good idea so you can reference it when you need a pick me up or just think about them and say some out loud. This list is like having that supportive friend who lifts your spirits except it's now your inner BFF that's talking.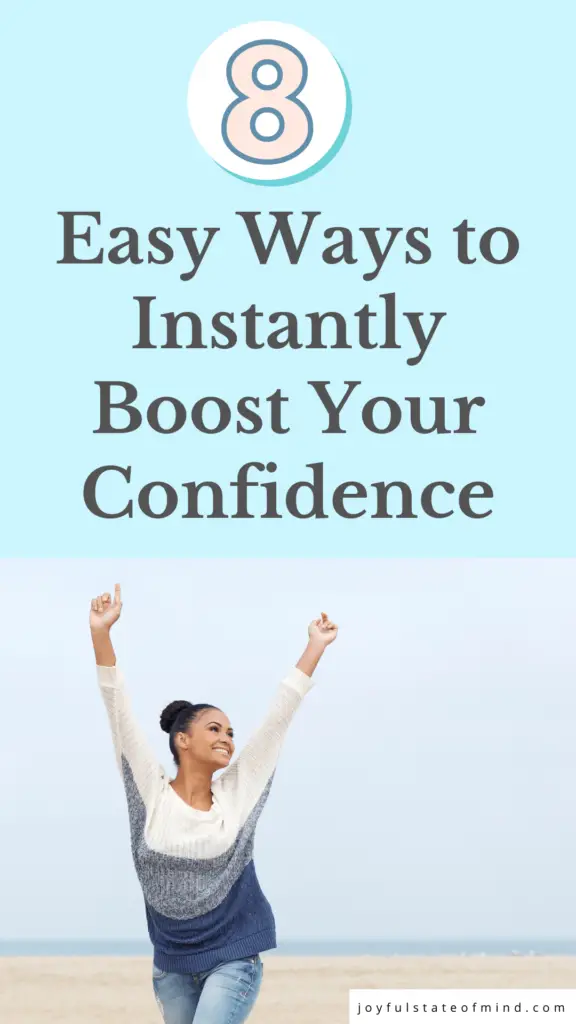 5. Keep Notes.
I mean literally, keep and save encouraging notes you receive to boost your confidence as a woman. 
Go to a dollar store and get a folder – that's where you'll keep important notes that instantly boost your confidence. That could include uplifting emails, thank you cards, text or social media messages, or any note with positive feedback or praise. 
Keep that folder somewhere easily accessible like on your nightstand or on top of your dresser, or maybe you want to keep a small sheet in your wallet where you'll always see them.
💡Bonus Tip: To add to your folder, take 5 minutes to jot down some of your achievements and superpowers. 
Some examples of superpowers: Are you compassionate, generous, loyal, kind, funny, resourceful, or smart? 
Some examples of achievements: Did you graduate high school? Get a degree from college or university? Do you have a good job? Did you survive being bullied? Have you gone through IVF? Do you have great children? Have you received a promotion or award? Do you volunteer? 
This list can go on and on; don't forget that you're stronger and more courageous than you give yourself credit for. This exercise is as fun as it is empowering.
6. Make It a Mini.
Often when you think of exercise it's an hour at the gym, going for a long run, or doing an intense boot camp session–but it doesn't have to be something time-consuming. 
Make it a mini–a mini 10-minute workout session that is and have fun.🏃🏻‍♀️
Getting your body moving is an easy and healthy way to give your self-confidence a boost. Exercise helps release tension, and stress and lowers anxiety because it releases endorphins, the "feel-good" chemicals in your brain, helping you feel more energetic and good about yourself. 
Here are two amazing and simple workout videos to get you going (both under 10 minutes):
Other resources for free workout videos (varying in length):
Some other fun and quick workout ideas:
A brisk walk around the block while listening to your favorite music
Have a dance party to 2 upbeat songs
Hop on your elliptical or treadmill for 10 minutes
Do some jumping jacks 
Try push-ups or burpees 
Try skipping
Jump or jog on the spot 
Do a 10-15-minute combination of exercises you enjoy
7. Flip The Script on Failure.
Scientists have found that failing is an essential part of success and that the key is not necessarily persistence but learning from your failure and then working smarter, not harder. (3) 
Making mistakes is a normal part of growing and evolving. The more you accept that not succeeding at something is okay, the easier it will be to build long-lasting confidence.  
Failures and downfalls are what teach us the most valuable life lessons. So cut yourself some slack and stop being hard on yourself when you mess up. 
Instead, try your best to see mistakes or failures as opportunities to improve.  It's a simple mindset shift but will make a world of difference when it comes to your confidence.
8. Reflect on The Good.
Although gratitude may seem an unlikely way to boost your confidence, it changes your perspective and outlook on life, which is directly related to how you feel about yourself.
Feelings of gratitude and feelings of confidence are related. One 2011 study found that participants reported higher self-esteem and life satisfaction after four weeks in a gratitude intervention program. (4) 
When you practice daily gratitude, it improves how you feel about yourself, and your life, and you're less likely to compare yourself to others. Comparison is not only a thief of joy; it's also a killer of self-confidence and gratitude is a good defense against the comparison trap. 
Start each day thinking about a few things that you're grateful for. 
Side note: I do this first thing in the morning and it's a fantastic way to start the day. You can say them out loud in front of the mirror, write them down or combine them with a morning prayer. Whatever works for you.  This isn't meant to be time-consuming. It's quick and can be as simple as being thankful for your comfy bed or the yummy breakfast you ate. 🛌🏼 🥞 🍎
Self-Confidence Quotes For Women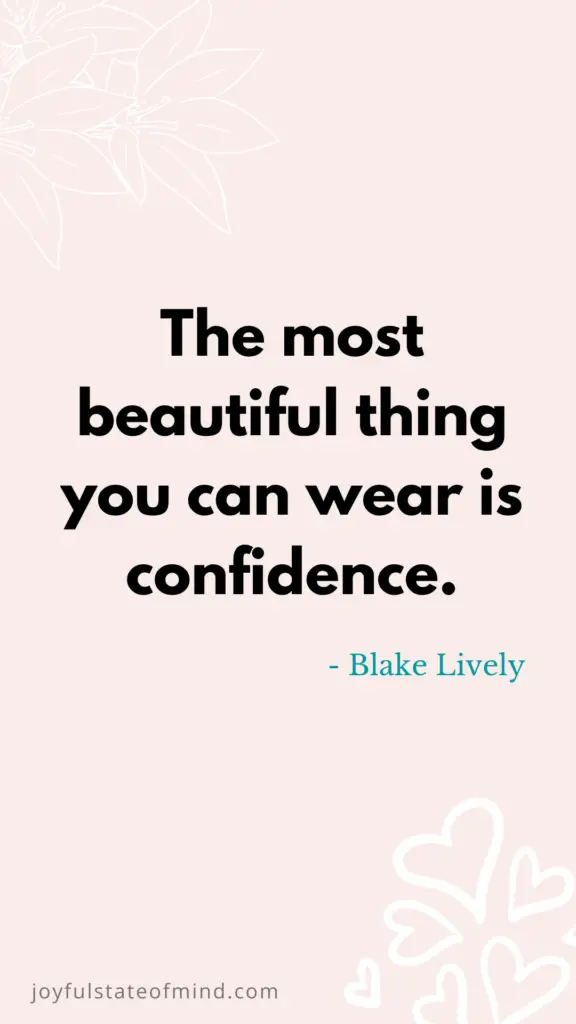 The most beautiful thing you can wear is confidence. –Blake Lively
No matter how many mistakes you make or how slow you progress, you are still ahead of everyone who isn't trying. –Tony Robbins
If you believe in yourself and feel confident in yourself, you can do anything. I really believe that. –Karlie Kloss
Kindness in words creates confidence. –Laozi
Believe in yourself, your abilities and your own potential. Never let self-doubt hold you captive. You are worthy of all that you dream of and hope for. –Roy T. Bennett
Great things are done by a series of small things brought together. –Vincent Van Gogh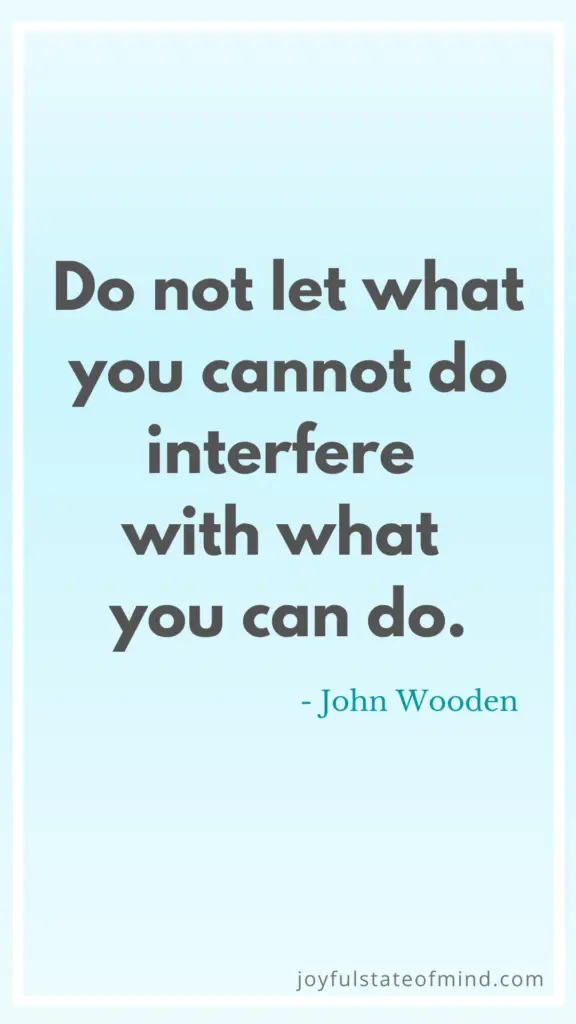 Do not let what you cannot do interfere with what you can do. –John Wooden
You alone are enough. You have nothing to prove to anybody. –Maya Angelou
What lies behind us and what lies before us are tiny matters compared to what lies within us. –Ralph Waldo Emerson
True abundance isn't based on our net worth, it's based on our self-worth. –Gabrielle Bernstein
Confidence is a skill you build through action. –Mel Robbins
Optimism is the faith that leads to achievement. Nothing can be done without hope and confidence. –Helen Keller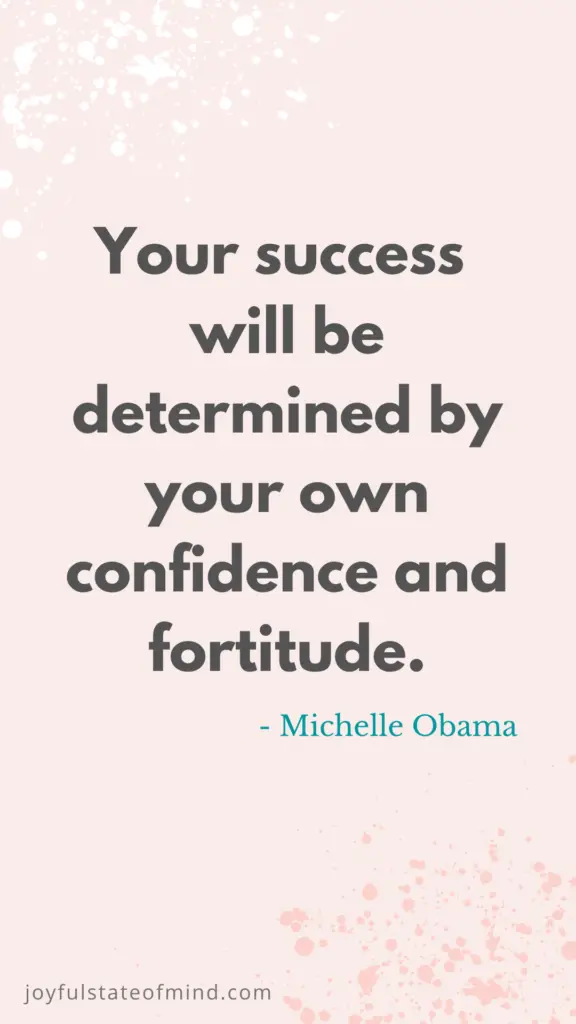 Your success will be determined by your own confidence and fortitude.–Michelle Obama
How to Boost Your Confidence As a Woman: You Can Do It💪
After that cold winter morning when my confidence started to bloom, I can confidently say all of these proven strategies were a part of that shift. I know you can do it too. 
When you adopt some of these strategies your mindset will begin to shift in a positive direction and this increases self-confidence. 
Please remember, that self-confidence is a feeling and skill that can be improved. Building self-confidence takes persistence, but it's not a complicated process. 
Always believe in yourself as no one else can do that for you.🤩