15 Powerful Ideas To Simplify Your Life
Living a peaceful life means simplifying and focusing on quality rather than quantity. So I wanted to share these essential and powerful ideas to simplify your life.
It takes some effort and reevaluating what you do have in your life, but it's worth it because, as I shared here, it's about enjoying our journey, not focusing on the final destination.
Simplifying creates a more meaningful life as you are investing in what you value most.
15 Powerful Ideas To Simplify Your Life
1. Identify your priorities.
I spoke about the importance of defining your core values here, and this idea is quite similar. Before you start trying to simplify or eliminate things, you need to identify what you value most.
Writing things down is always a helpful tool; make a list of your priorities. For example, having more dates with your partner, reading books that inspire you, spending more time with your children, committing more time to God and your faith, exercising more, volunteering etc.
Once you have that list, you can begin to carefully and intentionally eliminate the things that are not adding fulfillment to your life or are toxic.
2. Examine what you spend your time on during the day.
Are you on social media too often? Are you part of a club that doesn't bring much enrichment to your life? Do you often procrastinate? How do you spend time each day?
Whatever does not line up with your priorities are the things you can start to step away from. If it involves people, you can politely decline or let them know you no longer have time to commit.
3. Learn the power of "no."
Simplifying your life won't be easy if you are not comfortable or feel guilty, saying no. Saying no to commitments, events, and the like is not selfish; it's an integral part of self-care.
I love this article by Tony Robbins that helps put this all into perspective.
Keep your focus on the priorities you listed above, and if anything comes up that will take away significant amounts of time from those, then politely decline with a "no, thank you" and move on (without feeling guilty).
4. Organize your home.
Walking into a clean and organized home can lift your spirits and help you feel less stressed. I love walking into my home after I've cleaned. It gives me a sense of peace.
The first step to this is decluttering. You don't want to start organizing everything you have before eliminating junk or donating items you no longer use. Organizing can actually be quite fun, and you often find sentimental things you forgot about.
After decluttering, it's easier to manage and do a thorough cleaning.
5. Breakdown your long-term goals into smaller steps.
It's easy to feel overwhelmed by life changes or goals you have. Often people get stuck and procrastinate when they are overwhelmed by their goals or they think they are too difficult to achieve.
Breakdown goals into small tasks that you can work on in small increments.
Creating an action plan is also beneficial. For example, if you are trying to get healthier and lose weight, start with short walks around your block. You can then begin building on that, such as looking into clean recipes, buying a home gym and so forth.
6. Have a budget you follow.
Budgeting can seem like a scary task, but it will simplify your life and help you manage finances more efficiently once you start. You can try this or this app.
Budgeting has helped keep me on track, and I highly recommend having an emergency fund set aside so you have room to breathe if anything changes, such as job loss, illness, etc.
7. Prepare for work and school the night before.
With two young daughters, not only is this necessary; it is such a time-saver. I pick their outfits, make their lunches, pack their bags and prepare anything they need the night before.
This routine also goes for me and work. That way our mornings are chaos-free and we can enjoy breakfast and have a calm start to the day.
8. Set monthly goals.
We all have so much on the go and if we are disorganized, it can become overwhelming and even counterproductive.
If you set monthly goals, this can help streamline all the chaos. This way, you are focused on priorities rather than running around trying to do anything and everything.
Try setting 2-4 goals a month or whatever works best for you, even if it is one to begin with.
9. Choose inexpensive options for (family) outings.
Planning lavish trips or expensive day trips can be stressful and time-consuming and obviously hard on the wallet.
As much as possible, try to get out and find free things to do or ones with minimal cost.
We often go to lakefronts in different areas to have a picnic, go on nature walks or find local museums or companies with a small fee or free days for children or families.
If you are local to Toronto, we love Kortright Centre for Conservation for beautiful nature walks and organized seasonal events. St. Catherines Museum and Welland Canals Centre is also an option where you can visit the cute museum for free, pick up unique souvenirs in the gift shop and if you're lucky catch massive ships going through the canal-so fun!
10. Stop trying to please everyone.
This is a losing battle and will only cause you to feel dissatisfied and never "good enough."
There will always be someone who doesn't like you for no reason, someone that is jealous or wants to judge your choices. Simplifying life means letting go of this and focussing on what's most important.
When someone is judgmental towards you or hard to please, it's best not to spend time trying to change their opinion or make them happy.
Some people are intent on not changing their ways or thoughts. As Mrs. Obama eloquently puts, "When they go low, we go high."
11. Spend time disconnected.
Take a day, weekend or week off from social media, TV, emails, radio, Internet-these can be so consuming and even be detrimental to your emotional well-being.
You can limit your time on social media by only using certain apps on alternating days so that you're not spending time on all of them on the same day.
12. Find a creative outlet that energizes you.
Having a hobby that you love to do gives you something to look forward to and adds fun to mundane daily routines.
Never underestimate the power of lighthearted fun, and creativity-we all need more of that in our lives. Here are some great hobby ideas.
13. Be intentional not to spend time with toxic people.
We all know someone toxic and life-draining. If you can eliminate them from your life, that is ideal.
However, if they are a close family member, friend, or co-worker, do your best to distance yourself and spend as little time as possible with them.
In some cases, you may need to make a difficult decision and cut that person out of your life. When it comes to simplifying life, be protective of your inner peace and let go of the dysfunctional and toxic relationships.
14. Have a morning routine to simplify life.
This helps save time, avoids any morning chaos or stress and gives a sense of stability for you and your children.
15. Make time for your mental health.
This is one of the essential powerful ideas to simplify your life; it's crucial to first take care of your well-being before trying to help others.
Be careful not to brush off your feelings of being overwhelmed, down or anxious.
Learn what helps destress and relax you most, then take some time each day to do these things.
Maybe it's a long bath before bed, reading an inspiring book, listening to your favourite music or talking with a friend.
Whatever it is, be sure to build it into your daily self-care routine. It's vital to get ahead of mental health issues before they begin to impact you on a more serious level.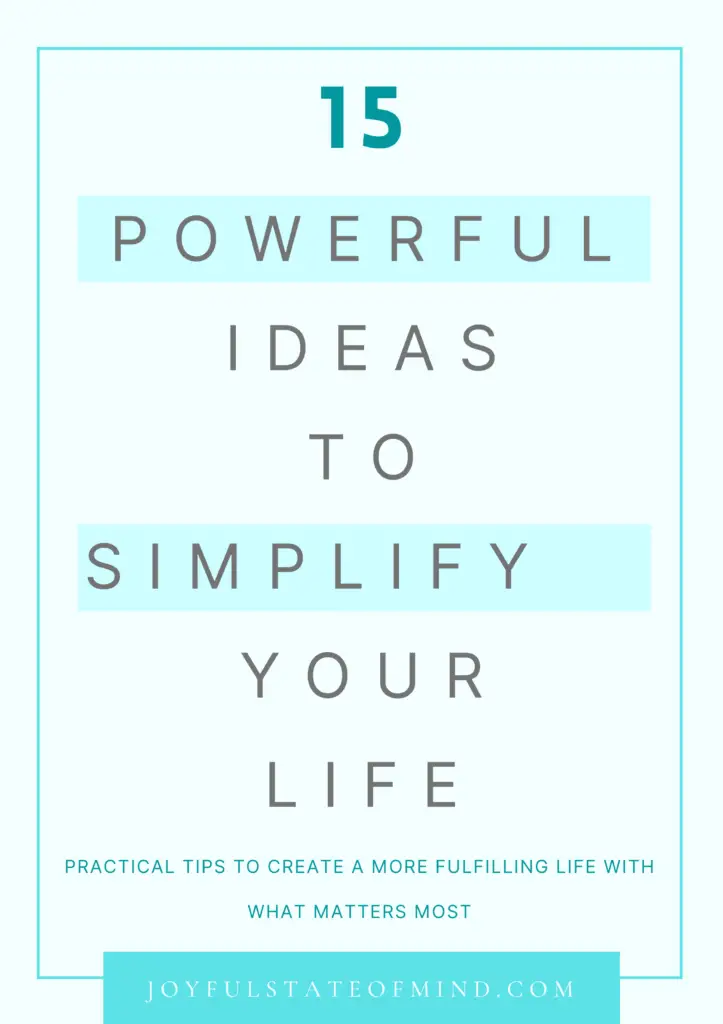 Final Thoughts on Powerful Ideas to Simplify Your Life
When you simplify life and focus on quality rather than quantity, you will live a happier and more meaningful life. We all want to have peace and joy in our lives, and the more you have does not necessarily equal the better…often it's the opposite!
Try to work on the areas you struggle with most when it comes to simplifying, and in time you will be able to see and feel the difference. Creating a life you love, and living happier are goals we all strive for and simplifying is an excellent place to start.
I'd love to hear your thoughts or some more powerful ideas to simplify your life? Please share in the comments below.
---