5 Easy Steps to Making Positive Life Changes
It takes courage to change and improve your life so today I wanted to share 5 easy yet powerful steps to making positive life changes.
In the past two-plus years, my life has significantly changed. Mostly for the better. Though at times, the changes felt like the absolute worst.
Just before my father passed away and after that, there was a period of darkness in my life. That's when it became clear that things needed to change. I needed to take steps to make positive life changes, some of which were long overdue.  
I think the word change sometimes conjures up grandiose images of us moving mountains, leaving little recognizable. But change isn't usually that obvious or dramatic, and more often, it's a progression.  
Of course, there are exceptions and things that will change your life in the blink of an eye, but I'm not talking about those types of changes. I'm referring to the changes that you want to make to improve something, simplify, or even start fresh in an area.  
These types of changes can start with small steps. It can be something as simple as reading more often or exercising a few times a week. Maybe it's something on a larger scale, such as quitting your job, starting your own business, or going back to school.  
My Experience With Making Positive Changes
As insignificant as it may sound, the small step I first took was sending a text message. It wasn't dramatic, it was a polite message and would seem ordinary to anyone who read it, but I knew it would be a problem. Not because of anything I wrote, but because of this person's irrational thinking.  
That was the beginning of a strange season. At times I questioned if I should've just kept 'going with the flow' and trying to maintain a false sense of peace in a dysfunctional unit. Maybe that would have been better.
Well, many years later and there's no doubt everything happened for a reason. I'm glad I followed my heart as it brought about positive improvements for myself and others.
Here are the 5 Easy Steps to Making Positive Life Changes
1. Identify what you want to change and understand why you want to change it.
I knew I needed to identify what needed to change, and that was removing toxic things in my life.  I understood why that change was vital because I clearly defined my core values, how I wanted to live, and what I wanted to focus on. 
Clearly defining your values and intentionally living by them is essential to making positive changes and living a meaningful life.
Suppose you are fickle when it comes to values. Then you're more likely to compromise on them to appease others and maintain relationships and circumstances that aren't enriching your life in the first place. Ultimately this will cause you pain and unnecessary stress.
This first step is crucial when it comes to following these suggestions to make positive life changes. Take time to think about and determine your core values. Not only for making a change but for living your most authentic life and being true to what matters most.
Here are my fundamental core values that I outlined and now guide the choices I make:
Living a peaceful life and sharing that peace with others (actively pursuing this, not just saying it, i.e., surrounding myself with great people and distancing or removing negative people).
Spiritual growth.
Building and nurturing positive relationships in my life. 
Ongoing personal growth. Having the desire to pursue my dreams, gain more wisdom, and not stagnate so I can continue evolving into the best person I can be.
Being of service to others whether that is volunteering, donating or just being a good listener and friend to someone in need.
2. Write it down.
I recently read that you are 42% more likely to achieve your goals when you write them down. Isn't that amazing?
This simple action gives you a much higher chance of successfully making the changes you want, so be sure not to skip it.
This information came out of a study done by psychologist Dr. Gail Matthews. Here is an article that goes into more detail about this interesting fact and provides other links to read.
The process of taking time to think about something and then taking pen to paper is also therapeutic. It can be a brief sentence of what you want to change, bullet points or whatever works for you.
For anyone not fond of writing on paper, another option is making notes on your phone or laptop.  
3. Set goals as your guiding light on your journey to positive life changes. 
Imagine the satisfaction of losing weight, landing that dream job, or liberating yourself from a draining relationship. The path to success begins with crystal-clear goals that light your way.
Make them SMART, an acronym that stands for goals:
Specific
Measurable
Achievable
Relevant
Time-bound
For example, instead of just aiming to "lose weight," set a goal to go on morning runs/walks at 7 a.m. and explore new, clean vegan recipes. Try breaking it down further, and you'll be able to see your progress more vividly.
If you're working on improving your romantic relationship, set actionable goals such as having deep conversations once a week and then coming up with a small task for the following week, such as doing a fun activity together, tackling a DIY project, or just chilling out together.
Remember, consistency is your ally. Take one step at a time, and celebrate every milestone when making positive life changes. Your journey is uniquely yours, and you've got this! 💪
4. Create a simple action plan.
An action plan is a checklist of the tasks you need to complete to achieve the goals. Having a simple thought-out checklist is beneficial as it will help you stay on course and not feel overwhelmed.
Start small; for example, if you are making a change in a relationship, your first task can be: "Schedule a time to talk" and "Write down the topics I want to discuss," and so forth.
Then you can schedule a time to work on those tasks on your phone calendar or planner to help keep you accountable.
5. Work on your goals in small increments every day. 
Taking small steps every day or a few days a week (making sure you schedule it in your calendar & set the alarm) will help keep you motivated and productive.  
I like to set aside 15-30 minutes to work on a task. It's much easier to follow through with small chunks of time, rather than feeling overwhelmed with the 3 hours you scheduled and then procrastinate.
You'll find when you start small like this, you get into a good rhythm and often end up working longer and getting more done!
It feels great to work on something you're committed to changing, and having that sense of accomplishment motivates you to keep going with these positive life changes.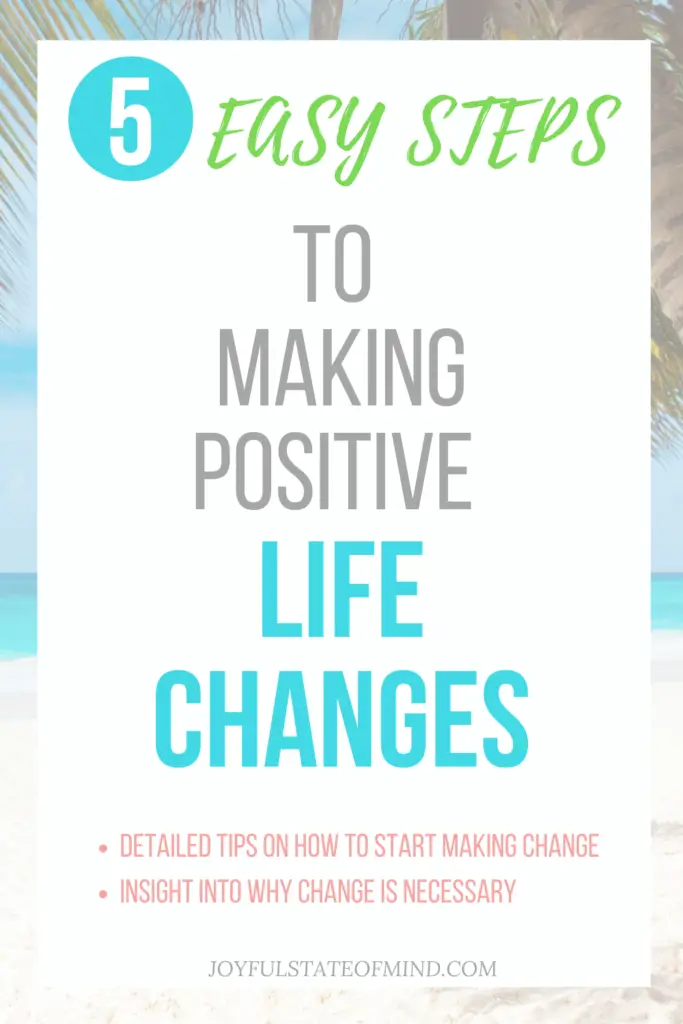 Lessons Learned: 
1. Change is necessary to evolve and worth it.
When I look back on the changes I've made over the past years, I can confidently say as tricky as some of those periods have been, it was all necessary in creating the life I love for my family.  
From becoming a healthier person with better boundaries, letting go of toxic relationships, being more present with my daughters and husband, and my faith growing on a deeper level.
I don't want to give a false sense that making significant change(s) is easy because it isn't. However, it's essential to do your best to persevere; having an accountability partner can help. This takes me to my second lesson.  
2. Change comes with hardships. 
When it comes to relationships, and you start to create healthy boundaries, you will experience resistance from people.
If you take a different path than the people surrounding you, you'll inevitably get pushback.
Or how about the people who passive-aggressively put you down, talk behind your back, or say things like "you're just not the same person" with a condescending tone?
Sadly some people are consumed with negativity and are intent on bringing others down.
No matter what you are changing, you will receive criticism or discouragement. Use that to fuel you rather than take it to heart. 
Please remember it's not your job to manage other people's opinions or be a people-pleaser.
It's your job to follow your heart and do what is right for you, even if that means losing or unintentionally hurting people (which can happen when you take a stand and set clear boundaries). 
If you stay focused on making positive life changes, soon those hardships will become triumphs.