Things to Let Go Of and To Keep in the New Year
I can't believe it's already mid-January, if 2020 taught us anything it's that we need to make the most of our time. If you read this post, you know I'm focused on personal growth and being intentional this year. I also want you to have your best year yet, so today I'm sharing these 7 things to let go of and 7 things to keep in the new year to make that happen.
I love how a new year brings excitement and hope for what's to come, and although much is still the same with the pandemic, we can still choose to make it a fresh start and focus on the positives.
Remember, it's essential to let go of some of the negative and draining habits, people, or situations in our lives to have more time and energy for all the good stuff! Which I'm pretty sure after last year everyone wants more of, right?
I've created two free printables (find below) to write out your goals and what you want to lose and keep this year; they are a gift, so print as many as you like and share with friends. 😊
Things To Let Go Of and To Keep in the New Year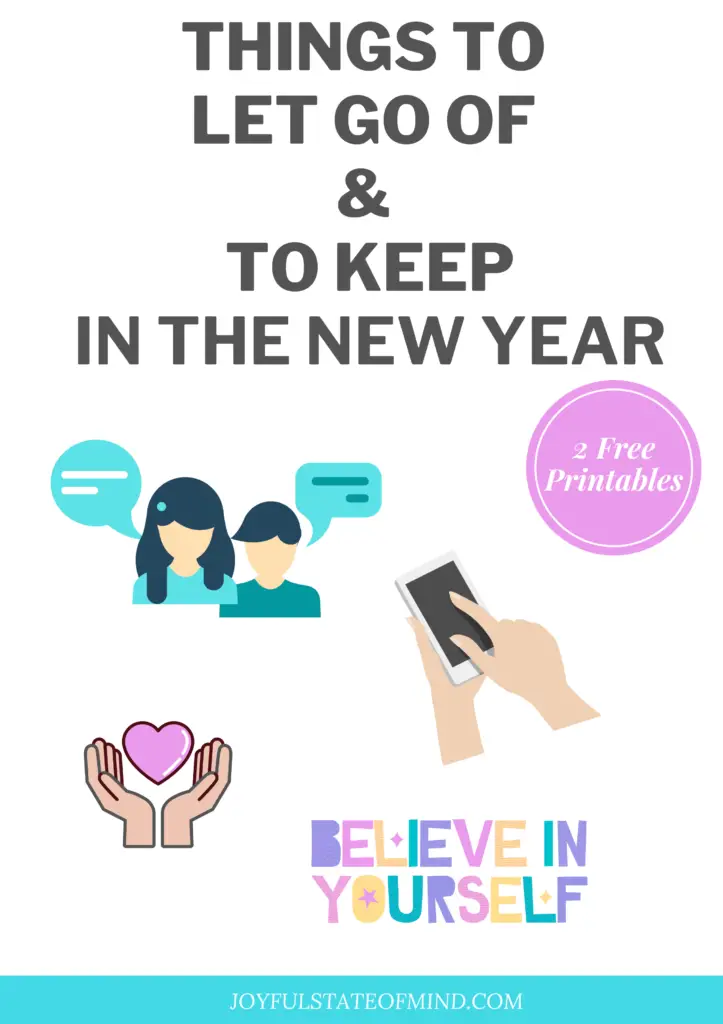 Things To Let Go Of:
1. Toxic people.
I know I have mentioned this in previous posts, but I really can't say enough about the harm toxic people cause.
They bring you down, impact your emotional well-being and make your life harder.
Distance yourself from the toxic people in your life. You don't want to get caught up in their issues or negativity, and when necessary, move forward without them altogether.
2. Being hard on yourself.
You are your own worst critic and harsher on yourself than others tend to be.
Instead, in the new year, focus on self-love, acceptance and celebrating all you have accomplished. You made it past last year despite adversity, major life changes and challenges.
You are so much stronger and more awesome than you give yourself credit for-don't forget that!💪
3. Caring about what other people think.
It's not your job to change people's feelings about you or get everyone to like you-this is one of the essential things to let go of.
If you care about what others think, it will impact the choices you make and how you live life, and that's a big no-no!
Ultimately, it doesn't matter what people think of you. People will judge and not like you for the silliest of reasons, so their opinions are not worth a second thought-trust me on that.
As the saying goes it's none of your business what others think of you.
4. Getting caught up in drama or gossip.
Choose your battles wisely and steer away from people who are always involved or responsible for some type of drama.
Some people have no intention of backing down and thrive on arguing and having drama in their lives.
I have found those are often the same people who love to gossip about others. Gossip and drama are certainly two toxic habits to avoid if you want inner peace and contentment.
5. Letting fear control you.
Fear is the root of worry, anxiety and stress.
Focus instead on your strengths and courage, build yourself up with daily positive affirmations and gratitude.
An important step is to acknowledge your fears and then challenge any negative thought patterns such as catastrophizing or all-or-nothing thinking, which only heighten fear.
You can read this helpful article on facing your fears and anxieties.
6. Social media accounts that trigger insecurities.
If you are following social media accounts that trigger insecurities or make you feel bad about your life in any way, it's best to stop following them.
Many accounts, especially when it comes to fashion or lifestyle, are deceptive as they only post the most stunning, highly filtered photos, which distort reality.
They often push unrealistic ideals of beauty, living the picture-perfect life or having immaculately renovated and decorated homes, all of which is unrealistic and generally out of reach for most people.
If you have a roof over your head, food, family and friends who love you, a job, nice clothes and so forth, you are doing fantastic and have so much to be grateful for.
Please don't let what the media is continually feeding (to make money) make you feel down, unworthy, or not beautiful enough because that's all nonsense.
7. Giving time to "fake" friends.
Our time is precious, and our energy is limited, so spend it on those who genuinely care and invest in you.
When a person cares about you and is a true friend, they will also make time for you and put effort into the relationship.
If you have to chase someone consistently or you feel you're just an option for them, those are clear signs that it's best to move on from them.
Things To Keep or Cultivate:
1. Investing more time in those that love and support you.
We are social beings by nature; nurturing meaningful relationships is an easy way to bring more joy and satisfaction into our lives.
If you have children, you can give them no better gift than investing in them as individuals and supporting their dreams and talents.
2. Saying "no" to things that don't serve you well.
I read somewhere that saying no is the new yes and thought that was funny and an insightful way to look at it.
Overcommitting, overworking yourself, attending every event you're invited to, saying yes to every request from friends or family, and the like has caught up to people. That's why there is more focus these days on the importance and power of saying no.
If you want to simplify to prioritize what truly matters and what brings joy into your life, you'll want to read this article, which also speaks to the power of saying no.
3. Self-compassion.
Self-compassion has been a big one for me in the last year. As a Social Worker, I was very good at showing compassion to others, but it was much more challenging when it came to myself. I would easily blame myself or get angry at myself for common mistakes.
Self-compassion is powerful and vital to cultivate for your emotional well-being. Remember to show yourself the grace that you give to others.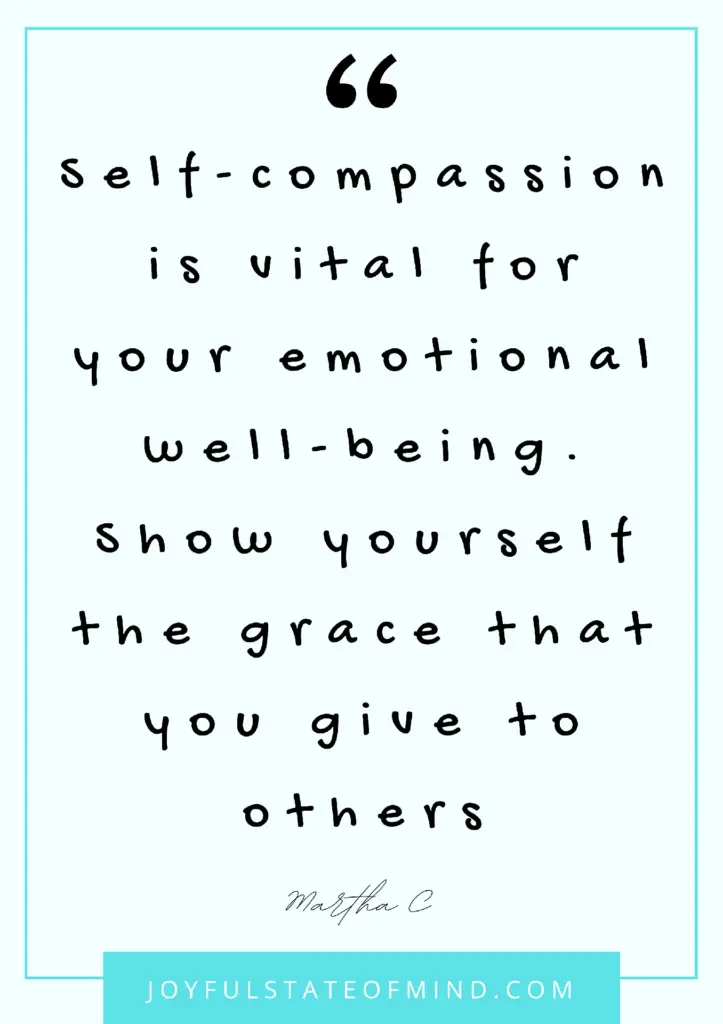 4. Setting clear boundaries.
Having boundaries is crucial when it comes to your mental health. If you allow others to treat you poorly, take advantage of or manipulate you, it's essential that you reevaluate and begin setting more firm boundaries to protect yourself.
People who are hurt often hurt other people, and if they know you're an easy target, you'll be at the receiving end of it, which is emotionally exhausting.
I struggled with this for years, and it impeded me from moving forward healthily. That changed about three years ago when I finally took a stand against a toxic person, which then had a positive ripple effect on those around me.
Boundaries are not only beneficial for you but also for protecting those closest to you.
5. Taking care of your spiritual needs.
Everyone defines spirituality differently, and I respect that. Taking care of our spiritual needs can be easily overlooked, but it's an important aspect of self-care.
There are many ways to tend to spiritual needs from prayer, focusing on inner peace, connecting with nature, meditation, inspirational reading or being a part of a faith-based community.
On a personal level, I define spirituality as my personal relationship with God. My faith was a significant source of comfort and strength during last year, and I'm thankful I had more time to devote to spirituality.
6. Believing in yourself.
You have a special gift(s) to share with this world. We all do!
There's no better time than now to invest in yourself and be confident in who you are. There's no one else exactly like you, and that's pretty cool if you ask me.
There are many online courses, free tutorials and ways to learn more about what you are passionate about.
Take the time and follow some of those dreams or goals you have always wanted to achieve. Then take action daily, even if it's just 10 minutes a day. We need more people to share their gifts and talents to make this world a little brighter.
7. Practicing daily gratitude
As cliche as it may sound, an attitude of gratitude has countless benefits, including living a more satisfying life, improved sleep, and lower stress levels.
I wrote this article detailing three important ways gratitude improves your life.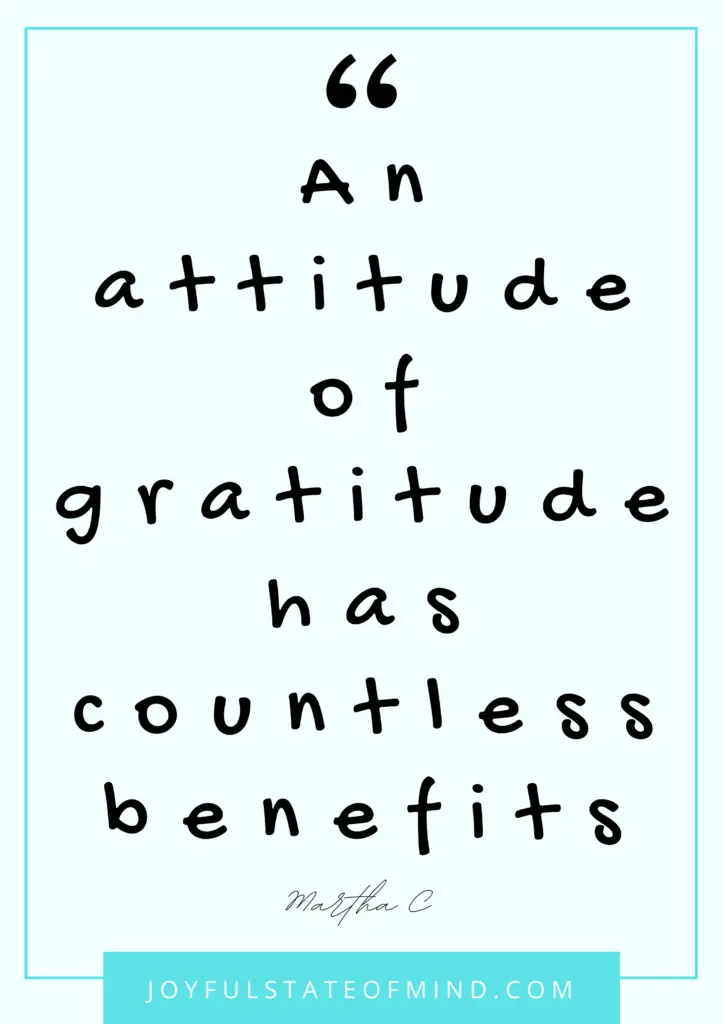 Bonus:
8. Having more fun.
If you've been here before, you know I believe that fun is a key element to living a fulfilling life. I'm a serious not-so-serious type of girl, and we laugh a lot at my house. My hubby is a jokester and has a great sense of humour.
Life is for living, enjoying what makes you happy and also being a light to those around you.
My favourite fun hobbies include: watching movies, listening to music, having at-home dance parties, sightseeing in Toronto, discovering new shops and cafes, dates with my hubby, and playing badminton and going tobogganing with my family.
What do you love to do? What makes your heart happy? Do more of those things, whether on your own or with loved ones.
I know it's been a rocky start, but I wish you all the very best in 2021. I'll be here with you, so stop by every week for new posts; you can also follow me on Pinterest or Instagram to stay connected. Don't forget to grab your printables below.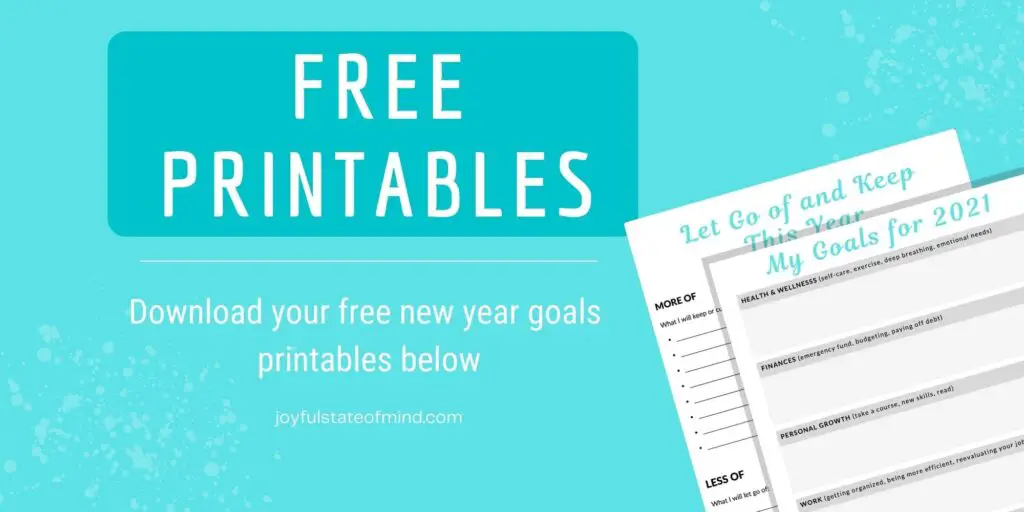 I would love to hear your thoughts on things to let go of and to keep in the new year, please share below.
RELATED ARTICLES:
If you enjoyed reading this and found it helpful, please use the icons below to share it on Facebook. Pin it. Tweet it or e-mail it to a friend. Thanks, I really appreciate every share!