75 Family Fun Activities To Do
How many times have you heard "I'm bored"? Or how many times have you felt that yourself since the pandemic hit? I've heard it from my girls and thought about it myself many times too. So, today I wanted to share these 75 family fun activities to do during the pandemic or anytime, really!
I think the pandemic has made us think out of the box, and that's a great thing for sure because it's inspired us to be more creative.
Sometimes though, the ideas can start to run out, and it's a challenge to try to put a new spin on the same activities or games.  How many times can you really play hide-and-seek without starting to lose it a bit–parents, do you feel me on this?🤦🏻‍♀️ 
Please don't get me wrong, as I've loved the extra time with them. I just want to make sure it's quality time rather than the same activities on a daily repeat.
This is a list you can reference for times like those and share it with other parents who may be struggling because we can all use a bit of help now and then.
75 Family Fun Activities To Do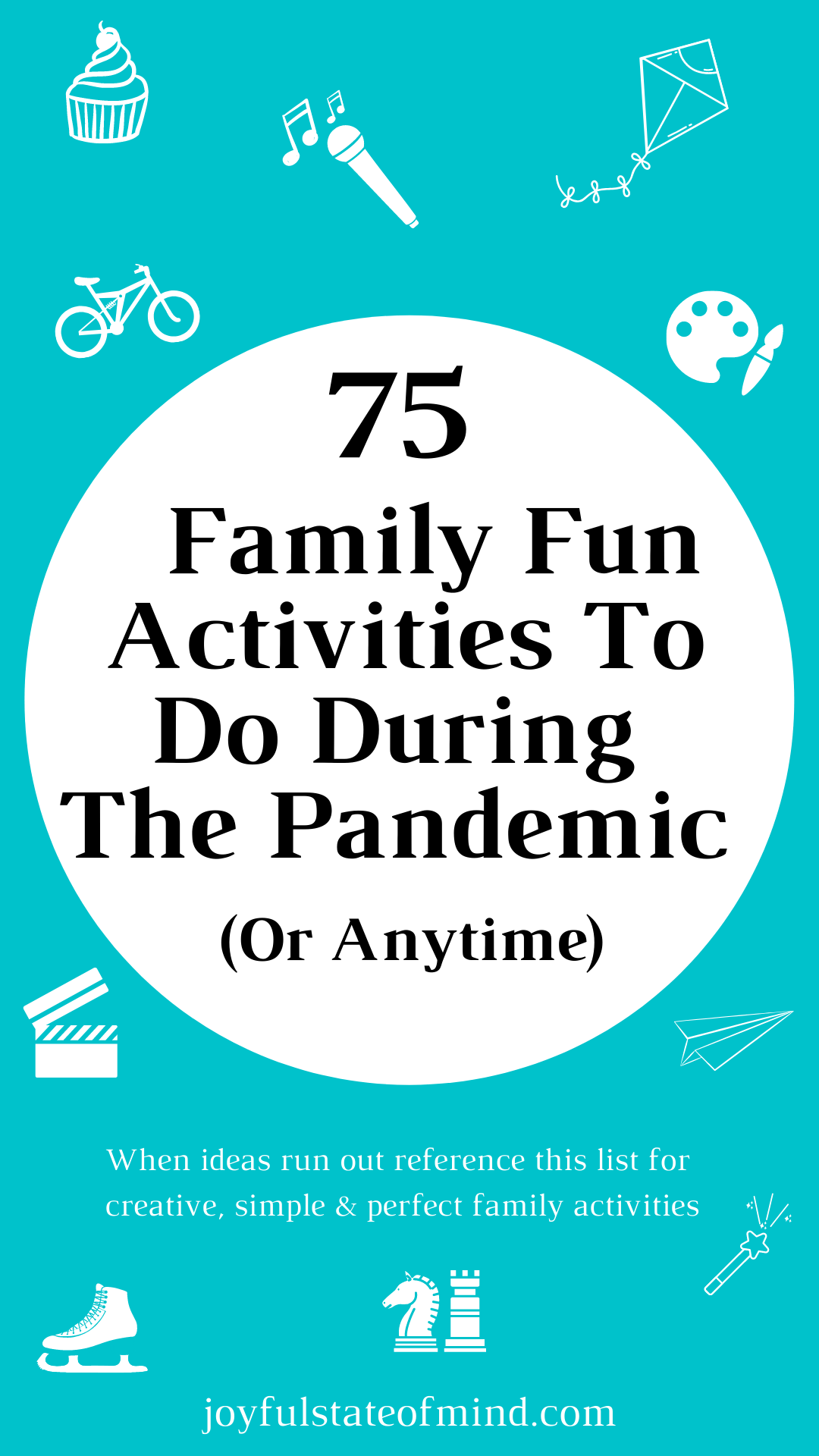 1. Have a picnic in your backyard or at the park
2. Take up a family sport (e.g. badminton, basketball, volleyball, mini-golf)
3. Host a game show or personalized trivia at home with Kahoot.com.
4. Have karaoke nights
5. Go on a nature walk
6. Bake together
7. Have an at-home dance party💃🏽
8. Put on family talent shows
9. Family craft time (e.g. family tree with photos, holiday cards, DIY candles, jewellery making or bath bombs).
10. Play board games (e.g. Monopoly, Scrabble, Battleship, Candyland, or Pictopia-Disney Edition)
11. Go bike riding and find some new trails
12. Movie night with popcorn and the works🍿
13. Do a 3-D puzzle 
14. Go kite flying
15. Learn to play chess or checkers
16. Play "I-Spy"
17. Visit a local farm to pick fruit
18. Do science experiments. You can sign-up for a KiwiCo monthly subscription box.
19. Go tobogganing
20. Make homemade instruments (you can use plastic cups, empty boxes, rice, beans, pasta, etc) so you can start a family band.
21. Go ice skating⛸️
22. Build a family fort with blanket and pillows
23. Paint kindness rocks
24. Play card games (e.g. Uno, GoFish, War, Crazy 8's, etc.)
25. Do some organizing and donate to charity
26. Have a jump rope contest
27. Play musical chairs
28. Have breakfast for dinner
29. Put on puppet shows
30. Make a family vision board
31. Build things out of cardboard boxes
32. Learn some easy magic tricks
33. Have an all-day PJ party
34. Make s'mores
35. Do a scavenger hunt inside or in the backyard
36. Create spelling tests or choose from many options at Spelling Training
37. Make a family time capsule
Half-Way There😘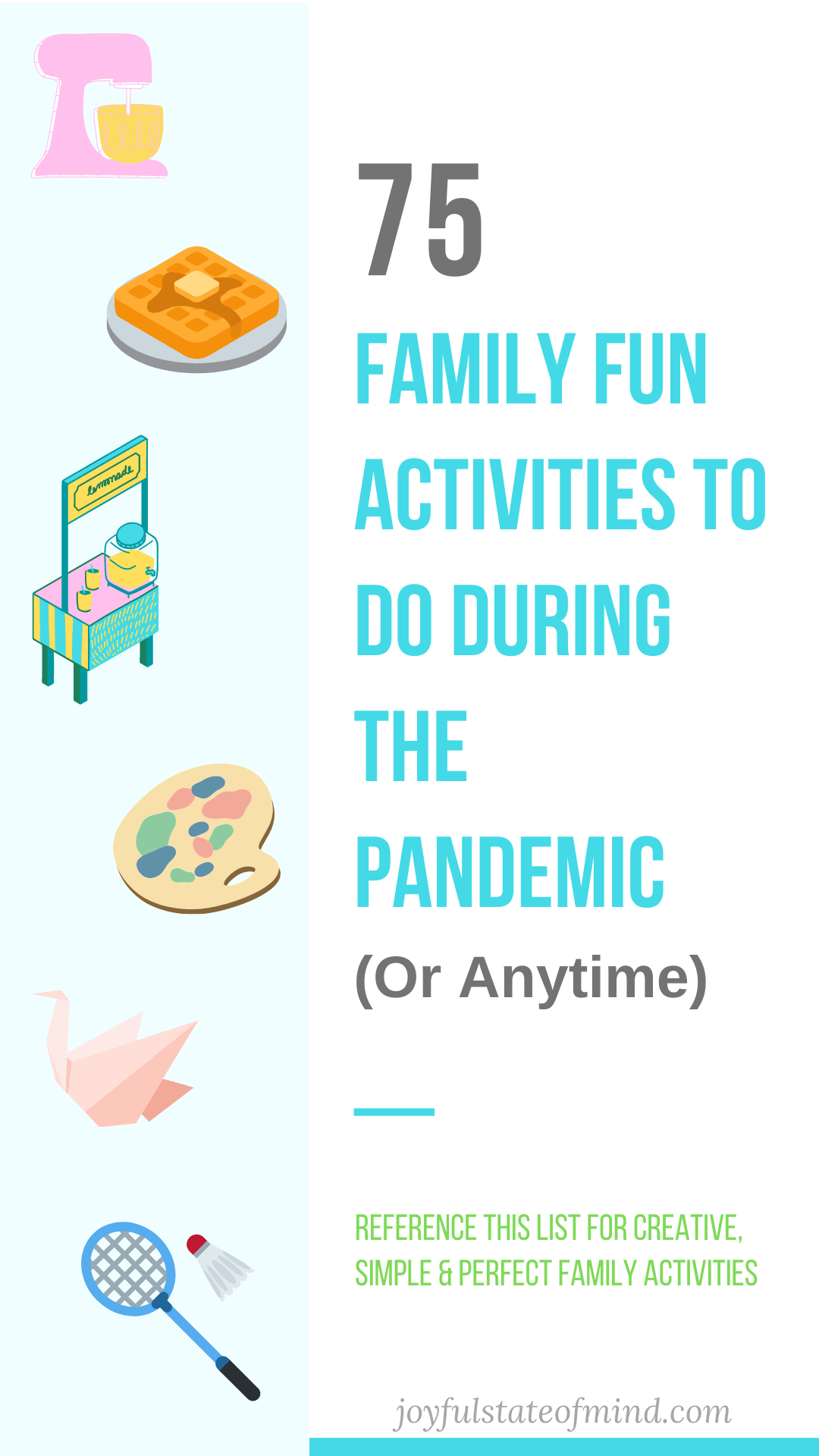 38. Have fun in the dark with glow sticks
39. Do some finger painting
40. Pop bubble wrap (who doesn't love bubble wrap?!)
41. Do some hula-hooping
42. Stream family-friendly workouts, try Cosmic Kids Yoga
43. Create a mural with sidewalk chalk in your neighbourhood
44. Play charades
45. Build structures with toothpicks or popsicle sticks
46. Have a water balloon fight🎈
47. Make paper airplanes and have a contest
48. Learn origami
49. Have a family spa day where you each take turns pampering each other
50. Start an indoor herb garden
51. Learn how to juggle
52. Have the kids do Show & Tell
53. Learn how to write some simple poetry
54. Make homemade popsicles
55. Create a family memory book with photos, mementos, and other special things you have collected.
56. Set up a lemonade stand🍋
57. Go on a virtual tour, try Yellowstone National Park, Smithsonian National Museum of Natural History , Georgia Aquarium or explore Mars.
58. Create a family comic book
59. Play freeze tag
60. Decorate individual gratitude jars
61. Put on a fashion show
62. Learn Yo-Yo tricks
63. Have a build-your-own pizza station for lunch or dinner.🍕
64. Have a dress-up day
65. Play frisbee
66. Have a proper fancy British tea party with accents and all
67. Go seashell hunting by a lake
68. Set up a waffle station buffet for dinner
69. Have LEGO building competitions
70. Set-up a mini-golf course in your basement or backyard
71. Pick a nearby town to visit for the day
72. Write cards to family or friends
73. Blow bubbles using a DIY mix
74. Make homemade play-dough, here's a recipe
75. Interview each other and record it
Bonus idea: Create a family fun jar where everyone can brainstorm activities, jokes, or dares to do and write them on paper pieces. Then when boredom strikes, pick out a sheet and have some fun!
Final Thoughts 
Some good things have come out of this pandemic, and one has been more quality family time since we have all been home much more often. Making it fun and modeling an attitude of resilience for our children is essential because they look and learn from our example.
It's also exciting for children to discover new activities and learn new skills because it builds their confidence and independence. I hope these family fun ideas will come in handy for those days you just can't think of anything because we all have those!
Linking up here.
Photo by Jessica Rockowitz