31 Uplifting Spring Quotes to Brighten Your Day
Spring has officially sprung, and there are many reasons to celebrate this season. After a long winter, it's a time of year that we all long for. To help celebrate, here are 31 uplifting spring quotes to brighten your day.
These are all reminders of the beauty and serenity nature brings. Not to mention how new beginnings can be a wonderful thing.
One powerful lesson the pandemic taught us is the healing power of nature and the importance of savouring each day out in the fresh air and sun.
It makes me happy to see everyone is out enjoying the outdoors.☀️🌸🌲
Strolling. Chatting. Bike riding. Laughing. Reminiscing with their loved ones.
Enjoying nature isn't just about being outside but interacting with nature, whether that's planting something, watering your grass, picking up some litter or even hugging a tree.
When you immerse yourself in nature, it has many benefits for your health. Read more about that here.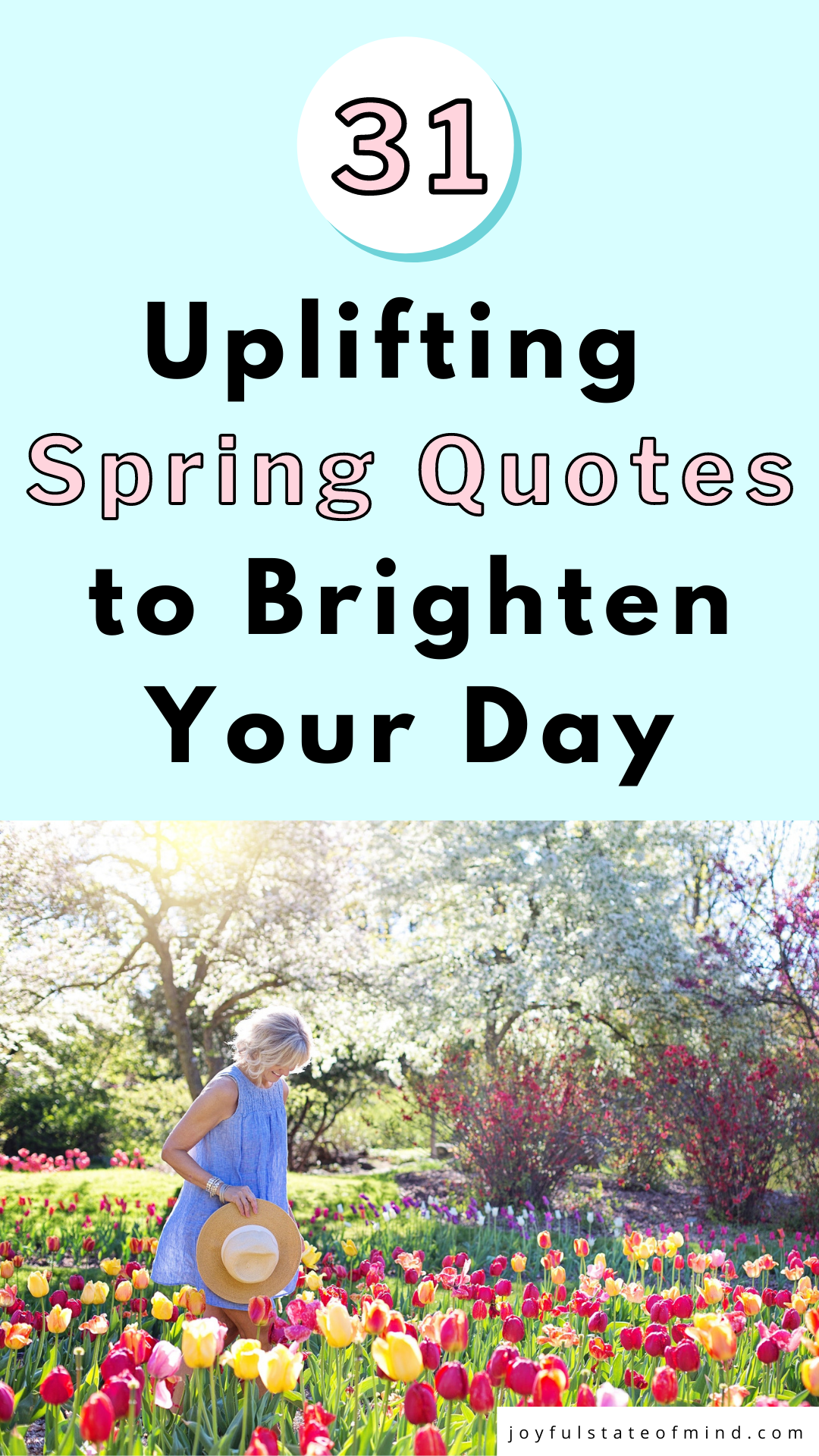 Uplifting Spring Quotes
1. The promise of spring's arrival is enough to get anyone through the bitter winter! —Jen Selinsky
2. You can cut all the flowers but you cannot keep the spring from coming. —Pablo Neruda
3. A kind word is like a spring day. —Russian Proverb
4. Winter is on my head, but eternal spring is in my heart. —Victor Hugo
5. Spring shows what God can do with a drab and dirty world. —Virgil A. Kraft
6. Spring will come and so will happiness. Hold on. Life will get warmer. —Anita Krizan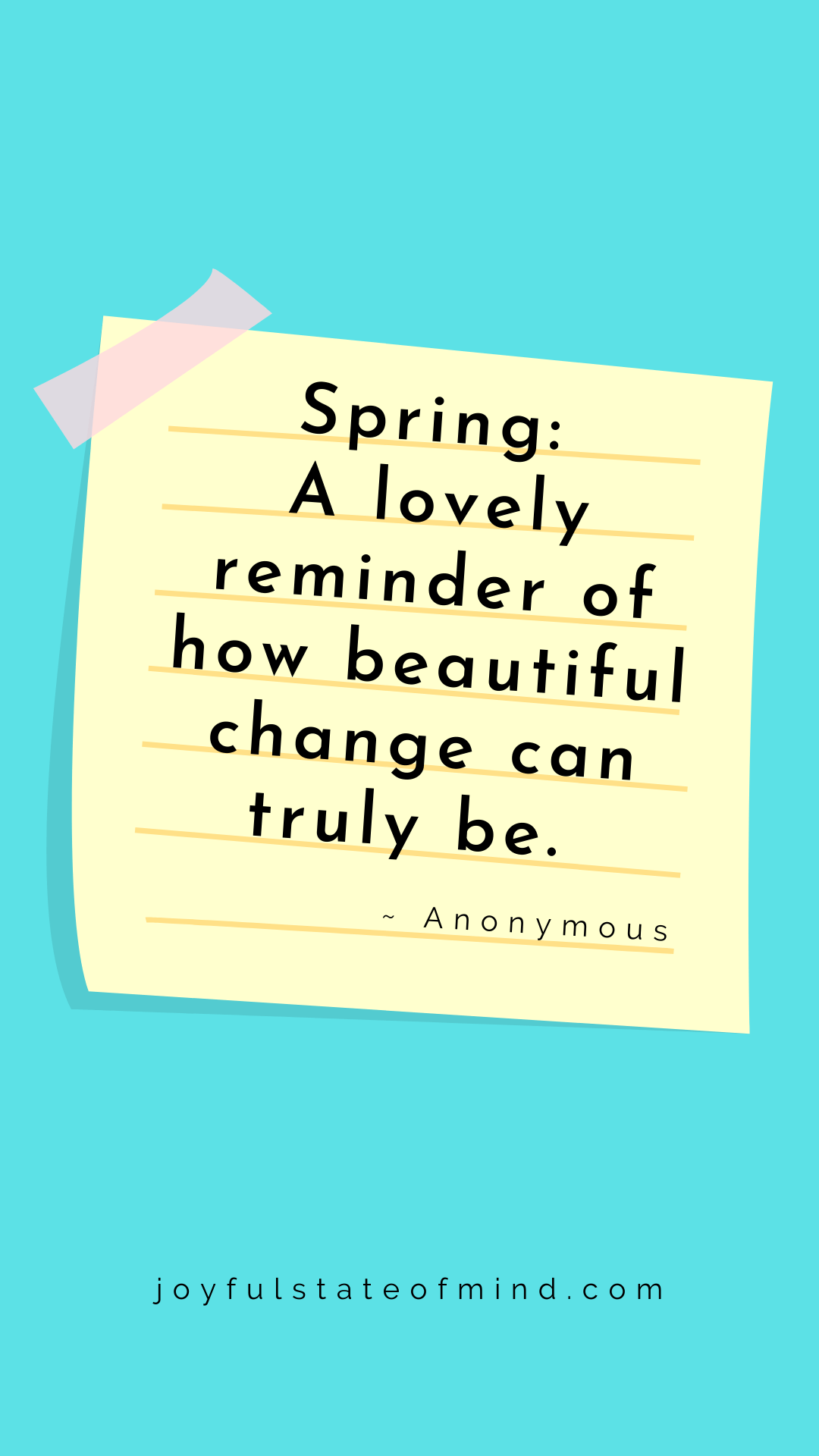 7. Spring: A lovely reminder of how beautiful change can truly be. —Anonymous
8. Spring adds new life and new beauty to all that it is. —Jessica Harrelson
9. Some old-fashioned things like fresh air and sunshine are hard to beat. —Laura Ingalls Wilder
10. If we had no winter, the spring would not be so pleasant; if we did not sometimes taste adversity, prosperity would not be so welcome. —Anne Bradstreet
11. Where flowers bloom, so does hope. —Lady Bird Johnson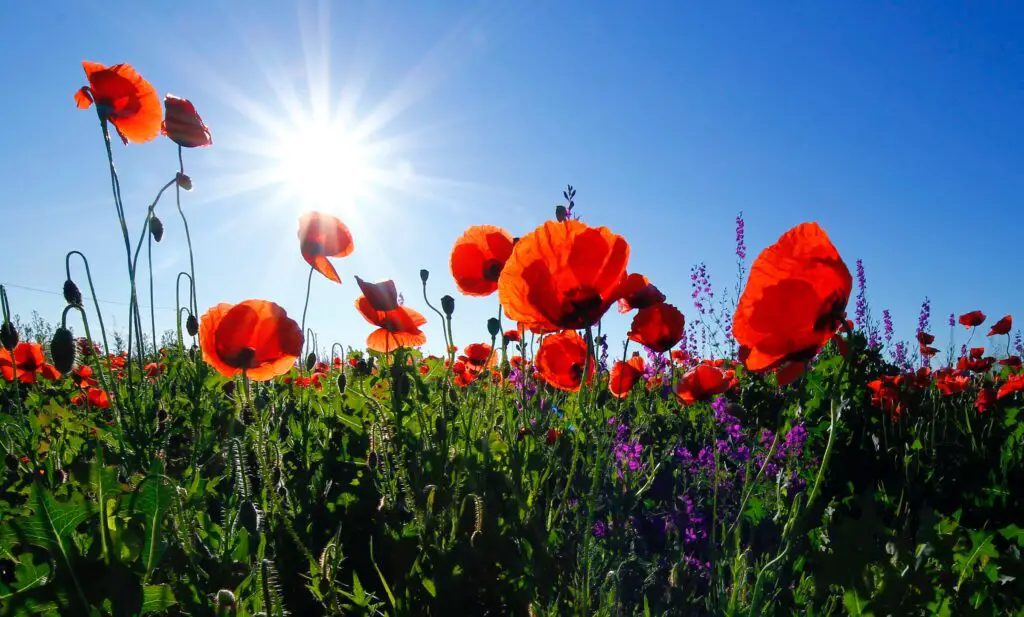 12. Science has never drummed up quite as effective a tranquillizing agent as a sunny spring day. —W. Earl Hall
13. With the coming of spring, I am calm again. —Gustav Mahler
14. My favourite weather is bird chirping weather. —Teri Guillemets
15. The first blooms of spring always make my heart sing. —S. Brown
More Uplifting Spring Quotes To Enjoy
16. The beautiful spring came, and when nature resumes her loveliness, the human soul is apt to revive also. —Harriet Ann Jacobs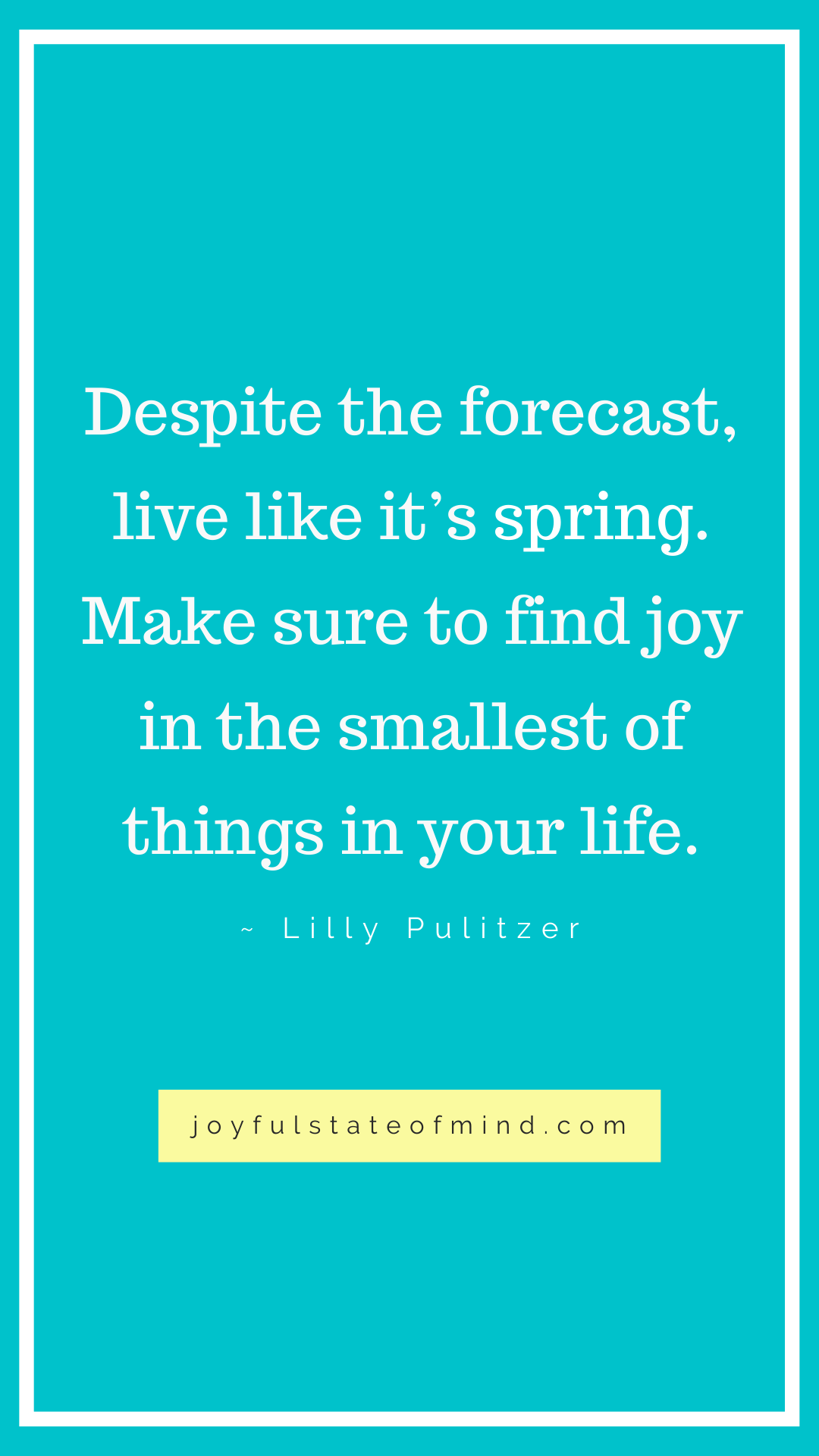 17. Despite the forecast, live like it's spring. Make sure to find joy in the smallest of things in your life. —Lilly Pulitzer
18. The day the Lord created hope was probably the same day he created spring. —Bernard Williams
19. Spring is the time of plans and projects. —Leo Tolstoy
20. I see trees of green, red roses, too / I see them bloom for me and you. —Lyrics by Louis Armstrong
21. Spring's greatest joy beyond a doubt is when it brings the children out. —Edgar Guest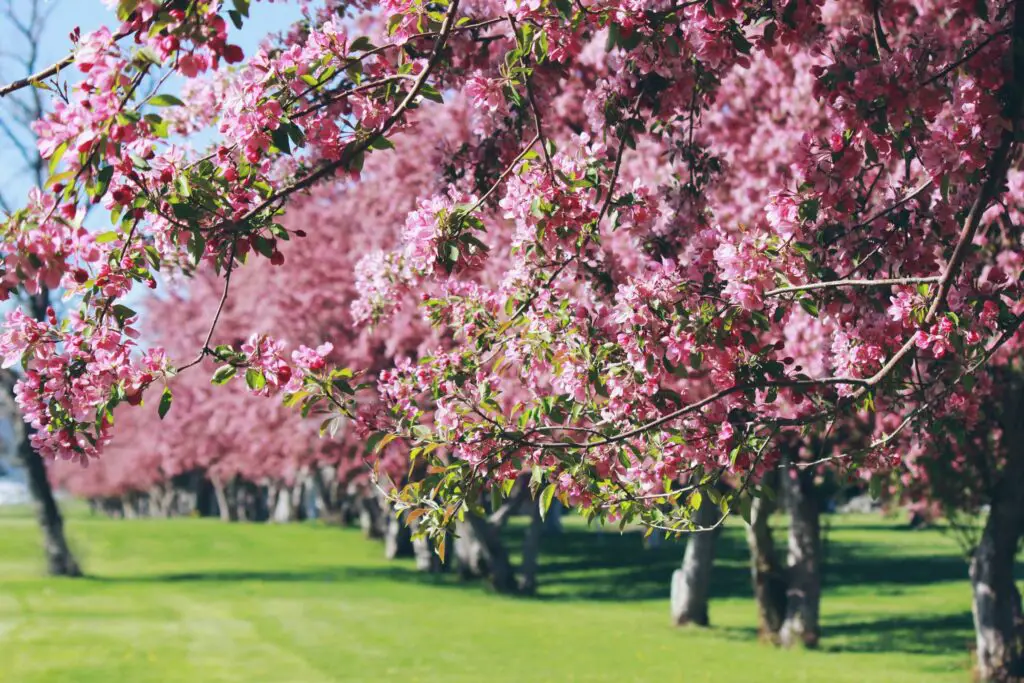 22. Spring is when life's alive in everything. –Christina Rossetti
23. The spring came suddenly, bursting upon the world as a child bursts into a room, with a laugh and a shout and hands full of flowers. —Henry Wadsworth Longfellow
24. There's nothing more beautiful than watching trees getting dressed up for the Spring and Summer. —Charmaine J. Forde
25. The frozen mountain dreams / Of April's melting streams, / How crystal clear it seems, / You must believe in spring! —Lyrics by Barbara Streisand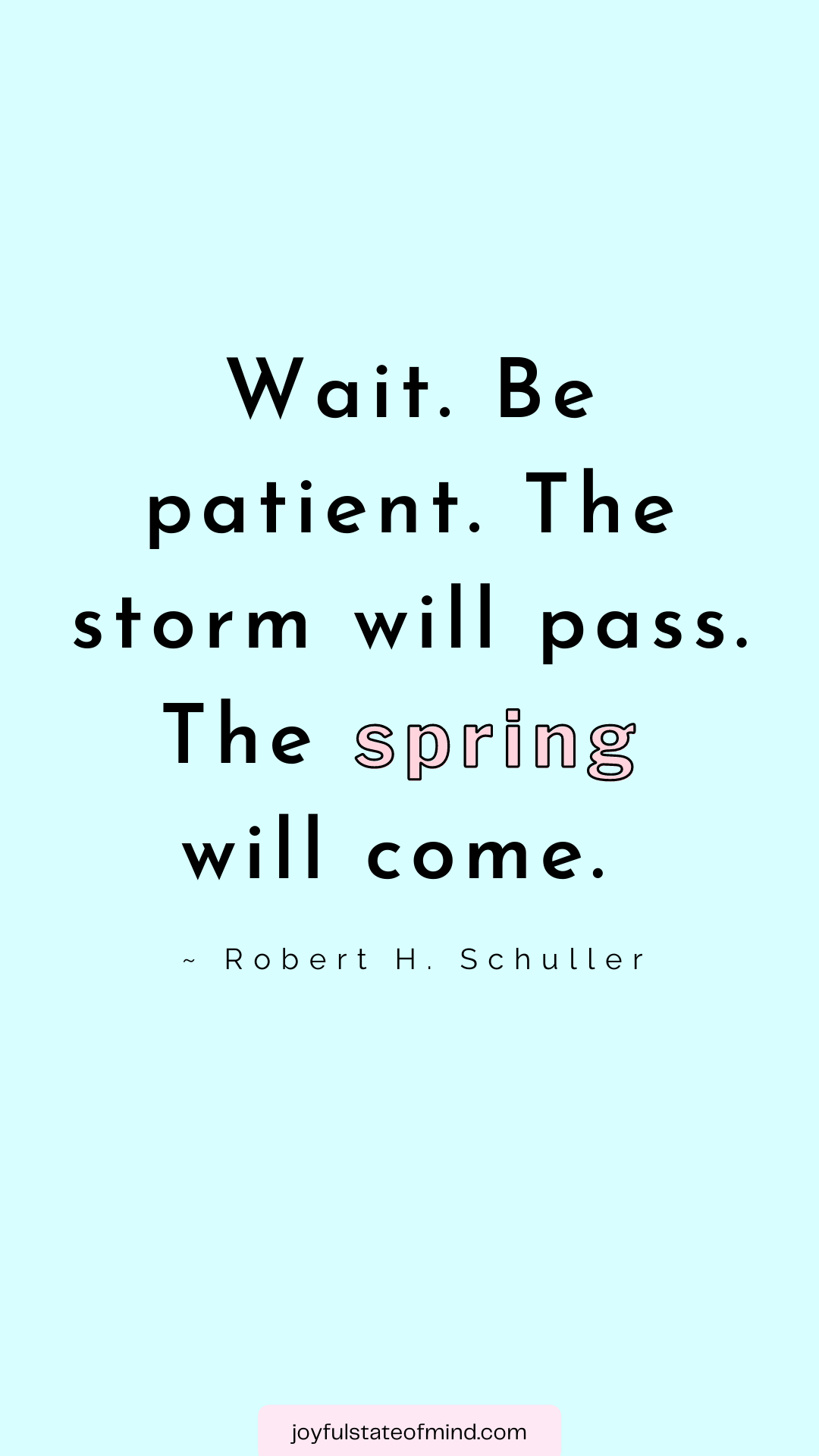 26. Wait. Be patient. The storm will pass. The spring will come. —Robert H. Schuller (This is my favourite of the uplifting spring quotes)
27. To plant a garden is to believe in tomorrow. —Audrey Hepburn
28. No winter lasts forever; no spring skips its turn. —Hal Borland
29. Expect to have hope rekindled. Expect your prayers to be answered in wondrous ways. The dry seasons of life do not last. The spring rain comes again. —Sarah Ban Breathnach
30. But the true nature of the human heart is as whimsical as spring weather. All signals may aim toward a fall of rain when suddenly the skies will clear. —Maya Angelou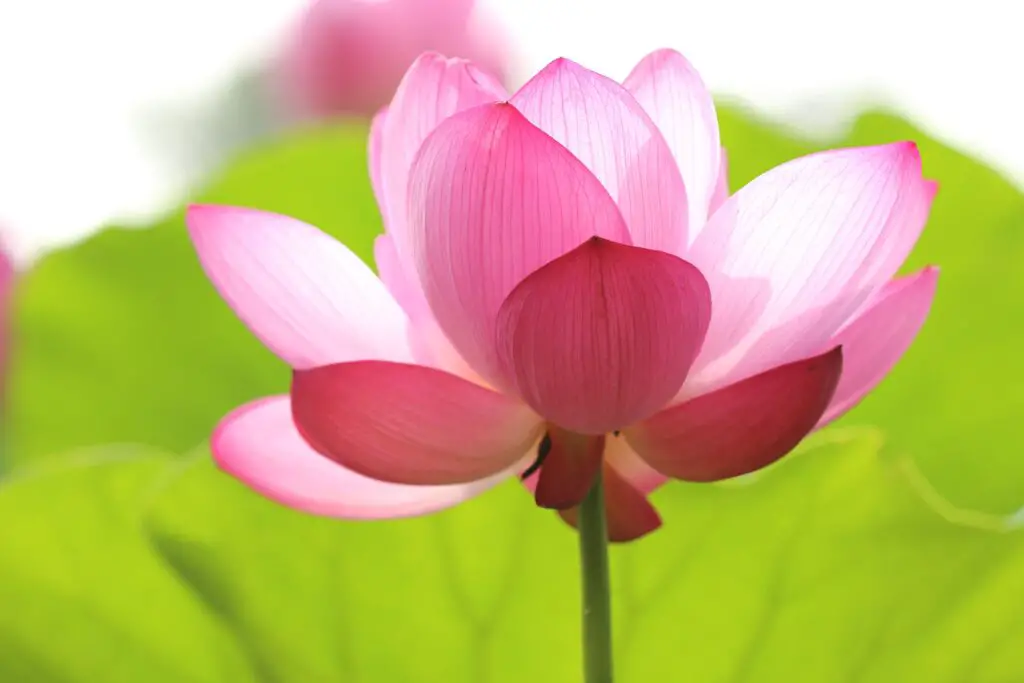 31. Blossom by blossom the spring begins. —Algernon Charles Swinburne
Bonus Funny Spring Quotes
Finally, my winter fat is gone. Now I have spring rolls. —Unknown😂
Spring is nature's way of saying, "Let's Party!". —Robin Williams🎉
Final Thoughts
One of the main takeaways from these spring quotes to brighten your day is that this season is a metaphor for life changes. No matter what you are going through, it will pass. Better and brighter days are ahead.
Spring sunshine and blossoming flowers are beautiful reminders of the hope new beginnings bring. Go out and enjoy the spring with family, friends, pets or on a peaceful self-care nature walk by yourself.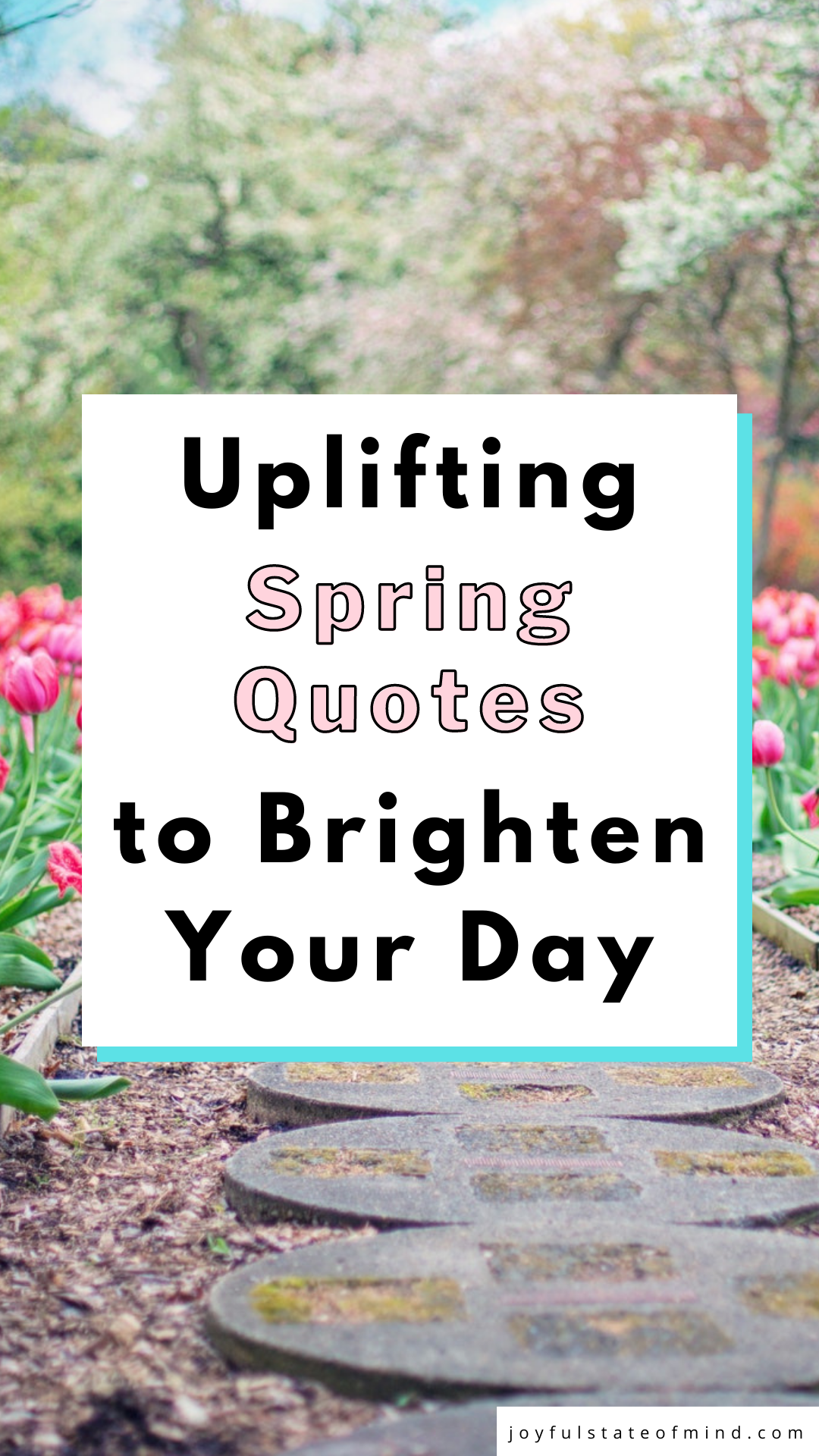 Header photo by Jill Wellington 
Red flowers by Corina Ardeleanu
Trees by Jessica Fadel
Pink flower by kazuend